Over the last few months so many of us, including myself, have been cooking non-stop. Being at home under shelter-in-place orders has forced us to rethink meals, and what's better is that it has really gave us a chance to experiment in the kitchen! I haven't been going too crazy making sourdough from scratch or whipping up Dalgona coffee on the reg, but I have been baking a ton (expected) and grilling (yep, that's right!).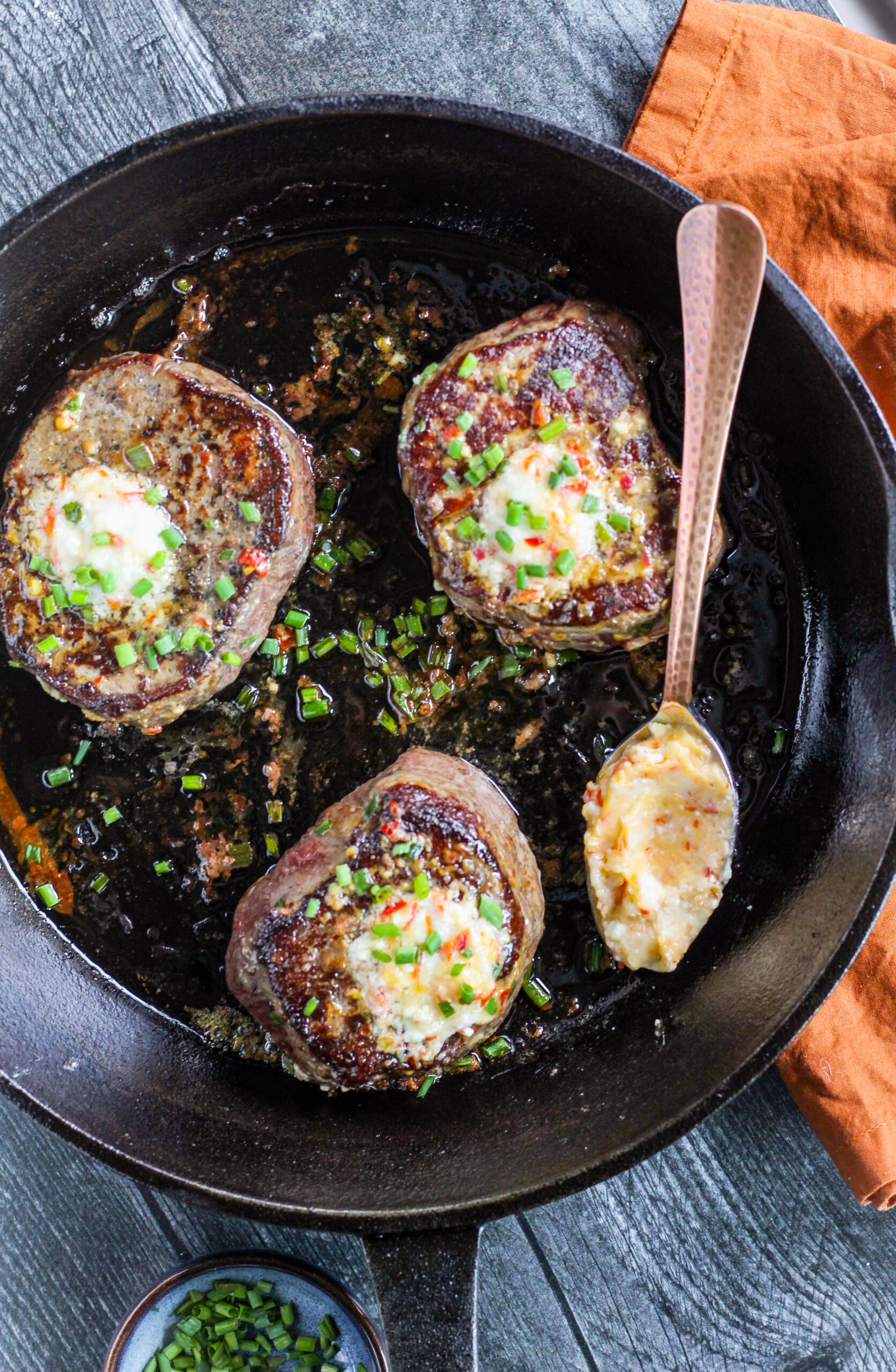 I'm sure you saw my Grilled Pizza post from Father's Day where we topped a nicely grilled pizza crust with pesto, cheese, and fresh peaches and tomatoes! Oh, it was so good! But we've also been going more traditional, and grilling up some darn good steaks!
Summer has officially started so it's time we let our ovens rest, and give our grills some love. Well, a lotta love! I've partnered with Pre Brands to show you how easy it is to make high quality, steakhouse-style beef at home. With their Grill Together campaign you can watch chefs and bloggers like myself make their favorite beef recipes, and learn a few tips too! My recipe for Filet Mignon and Blue Cheese Calabrian Chili Butter is simple and drool-worthy! You will want to make this ASAP!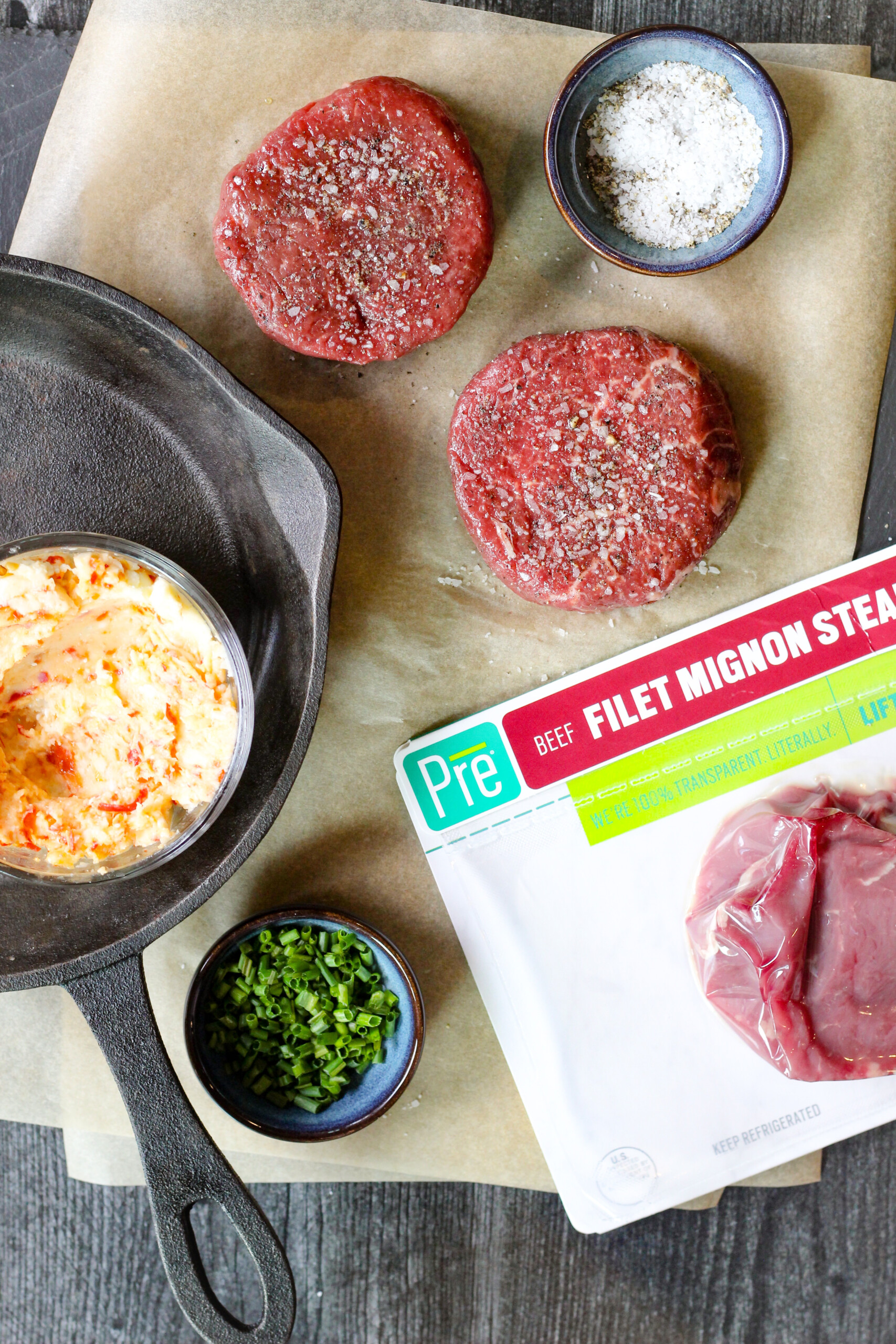 Filet Mignon with Blue Cheese and Calabrian Chili Butter
Tender filets are seared to perfection in a cast-iron skillet (place on the grill) and smothered with a blue cheese and chili compound butter.
Ingredients
Filet Mignon
2

5 oz.

Pre Brands Filet Mignon

salt and pepper

to taste

canola oil

to sear
Blue Cheese and Calabrian Chili Butter
1

stick

unsalted butter

1/4

cup

blue cheese

1

tbsp

calabrian chilis

drained, and chopped

1

tsp

garlic (about 2 cloves)

crushed or grated

1/4

tsp

salt
Instructions
Filet Mignon
Remove filet mignons from transparent packaging and pat dry.

Season with salt and pepper and set aside. Keep at room temperature if using right away. You can also season the filets overnight in the fridge, and let them come to room temperature before cooking.

Bring an outdoor grill to at least 500 degrees.

Place a cast iron skillet on the grill, and let it get extremely hot.

It's ready when you add some canola oil in the pan and it smokes.

Quickly (and carefully) add seasoned, room temperature filet mignons to the skillet.

Sear for 3 minutes per side with the lid of the grill open.

After both sides have seared turn off the grill, and using oven mitts transfer the cast iron skillet to a heat proof surface.

Remove the steaks from the cast iron skillet, and transfer to a board. Spoon blue cheese and calabrian chili butter over the steaks.

Let the steaks rest for 5 to 7 minutes before serving.

You can also directly transfer the steaks from the cast iron skillet to a board or plate, and leave the skillet on the grill.
Blue Cheese and Calabrian Chili Butter
Bring the butter and blue cheese to room temperature.

Using a hand mixer whisk together butter, blue cheese, garlic, and salt until everything is combine. The butter will be smooth and have a whipped consistency.

Swirl in the chopped calabrian chilis.
Notes
You can store your leftover butter in the fridge in an airtight container for up to 7 days or in the freezer for 6 months. 
A great tip is to freeze the butter  in pre-portioned chunks so you can use just enough when you want!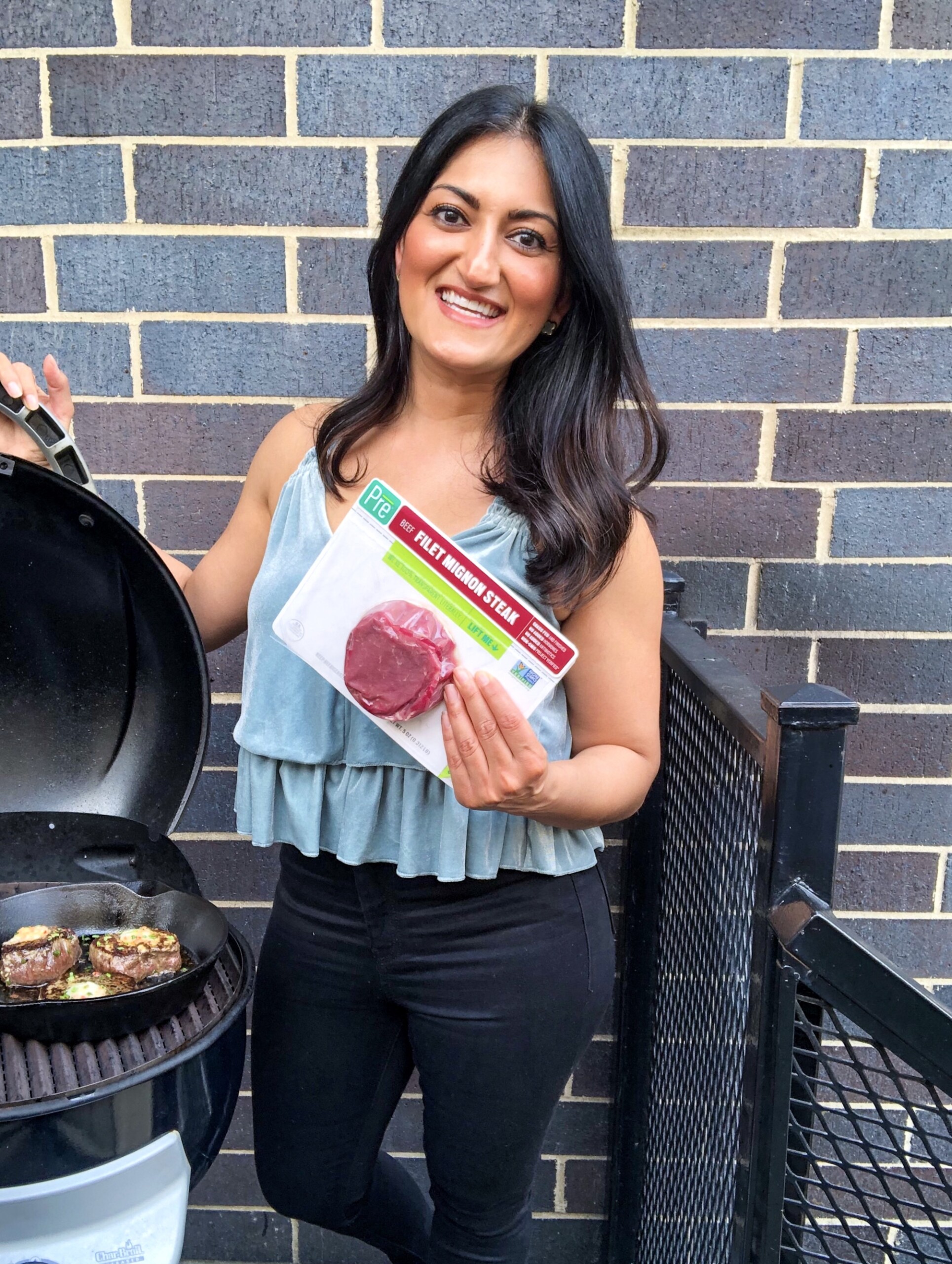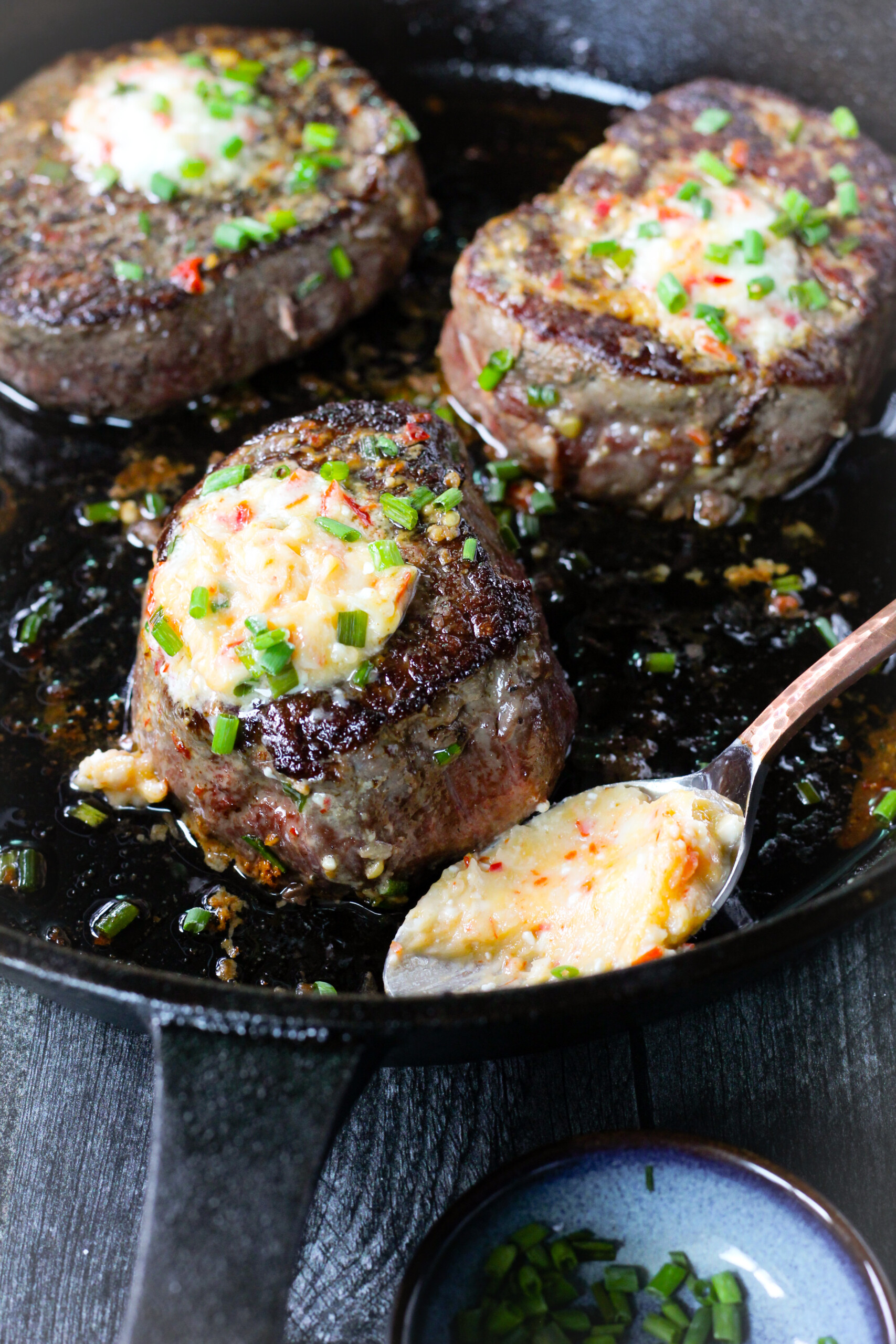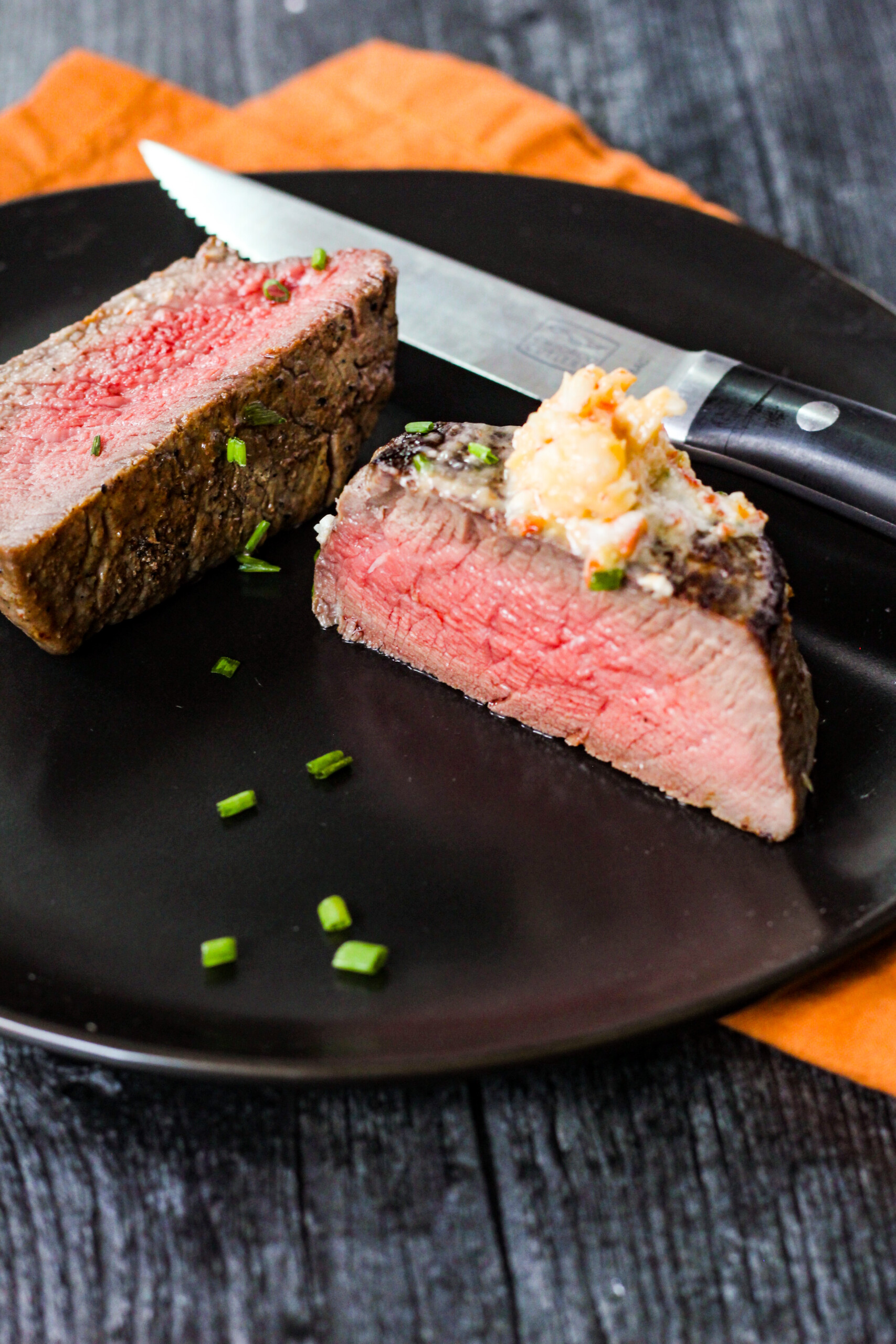 Pre Brands Beef
I love all of Pre's beef products because the beef is 100% grass-fed, grass-finished and pasture-raised in Australia and New Zealand. Their beef is wet-aged and trimmed or ground in Chicago and packaged in the cleanest way I have seen. The packaging is literally transparent so you can see exactly what you're getting. Read more about Pre and their products here.
I tested the Blue Cheese Calabrian Chili Butter on their NY strip and it was phenomenal! Here's a photo I snapped on my phone: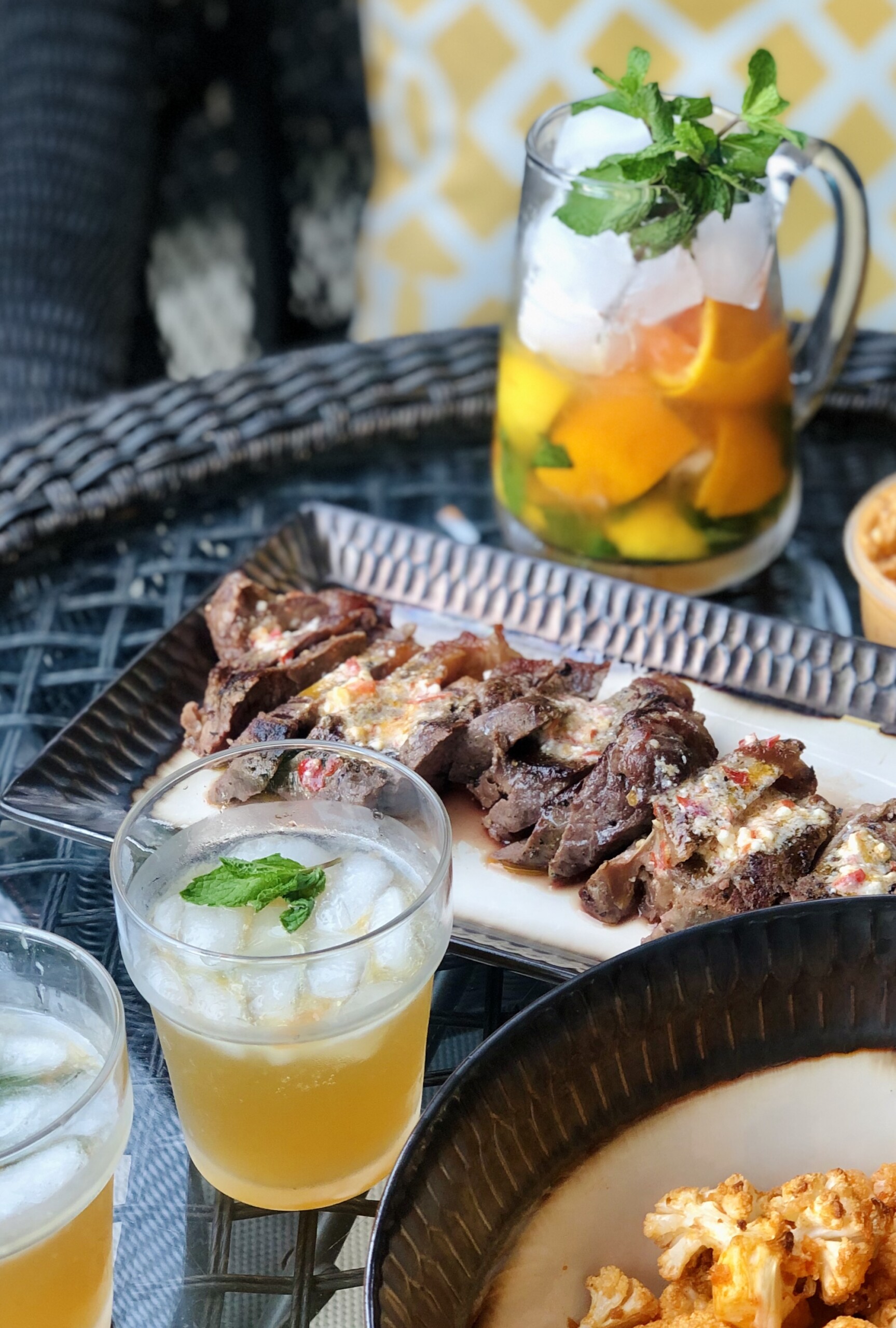 I've used their ground beef in several recipes, and the one that I currently have on the blog is an easy Keema Paratha that I made using pizza dough.
They have a seasonal chuck roast which is divine! Check out this Instant Pot Mole Style Chuck Roast I made last year. This is one of my favorite recipes because you get the deep, rich, and complex flavors of mole in a healthy and relatively easy recipe.
If you love ribeye you definitely want to make these Brown Butter Honey Chipotle Steak Bites! OMG, they are so good! Need I say more?