The summer feels have been in full effect for us, and we made this incredibly tasty meal for Father's Day. The man of our house loves a good 'za so we decided to grill one! This Peach and Heirloom Tomato Pizza is so easy to make, and the best way to put that seasonal produce to good use. It's easy too which is always a bonus! Grab some prepared pizza dough, pesto, and good cheese from the store to make this perfect pie.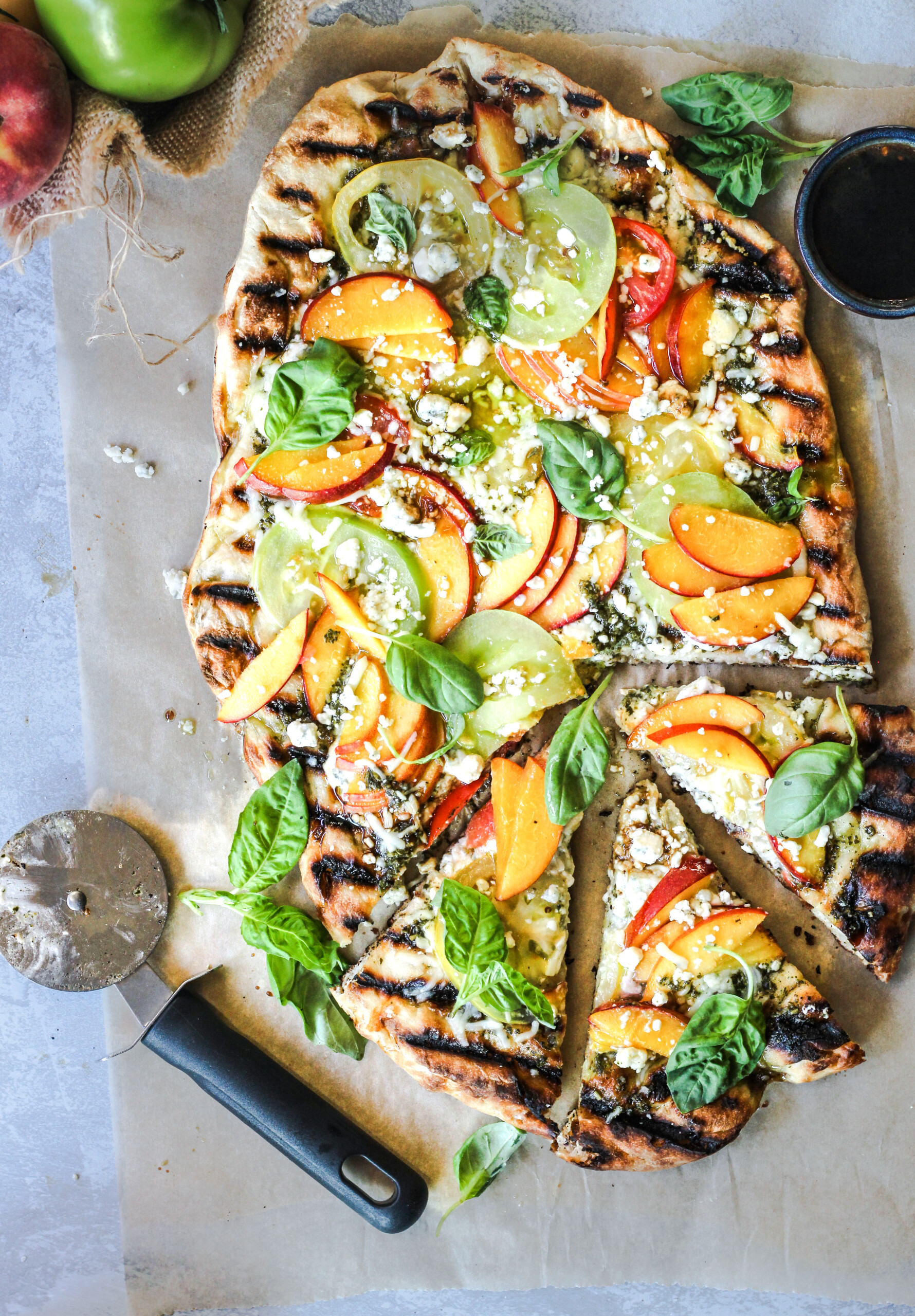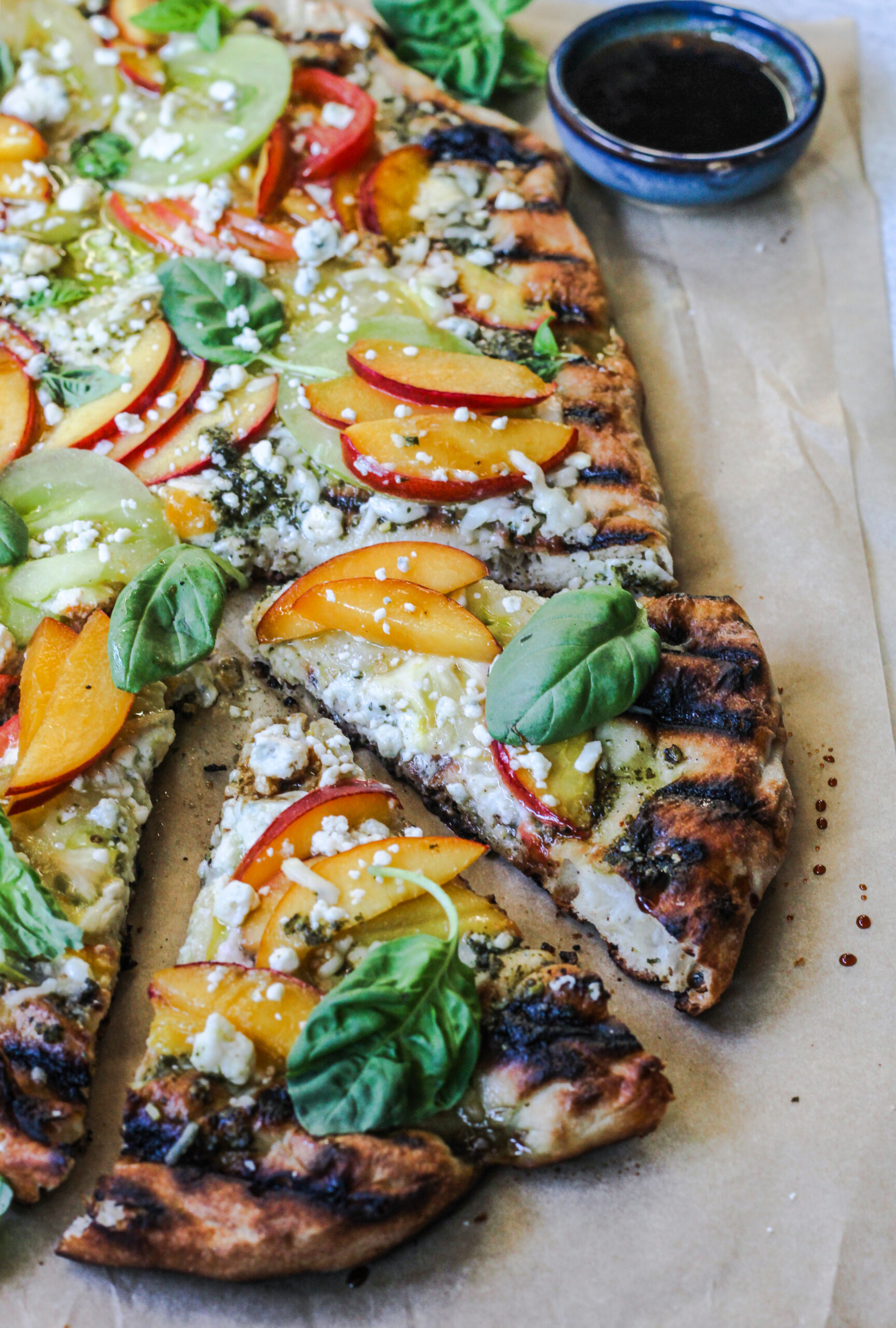 I love to use prepared products to help me out in the kitchen. It's such a great feeling to be able to throw together a gourmet meal in under 30 minutes! With this recipe I went to the market to get prepared pizza dough from the refrigerated section, and found some fresh basil pesto there as well. I used part skim shredded mozzarella because fresh mozzarella has too much water content, and would make my crusts soggy. I also grabbed a 100 day aged gorgonzola cheese from Litehouse foods. This cheese is rich and creamy, but also affordable!
I find that if the dough is left at room temperature for too long before rolling out because then it tends to get more sticky and you have to use more flour to roll the dough out easily. So I let the dough sit out for a few minutes to soften up a bit, but is still cool to touch. The crusts end up being about 1/4 inch thick. This is a perfect thickness to hold up to the grill, but also give that authentic wood-fired texture of crunchy edges and a chewy crust. You guys will love this pizza…it's savory and a touch sweet from the peaches and the honey balsamic. The glaze isn't a must when it comes to this pizza, but adds a nice (fancy) touch!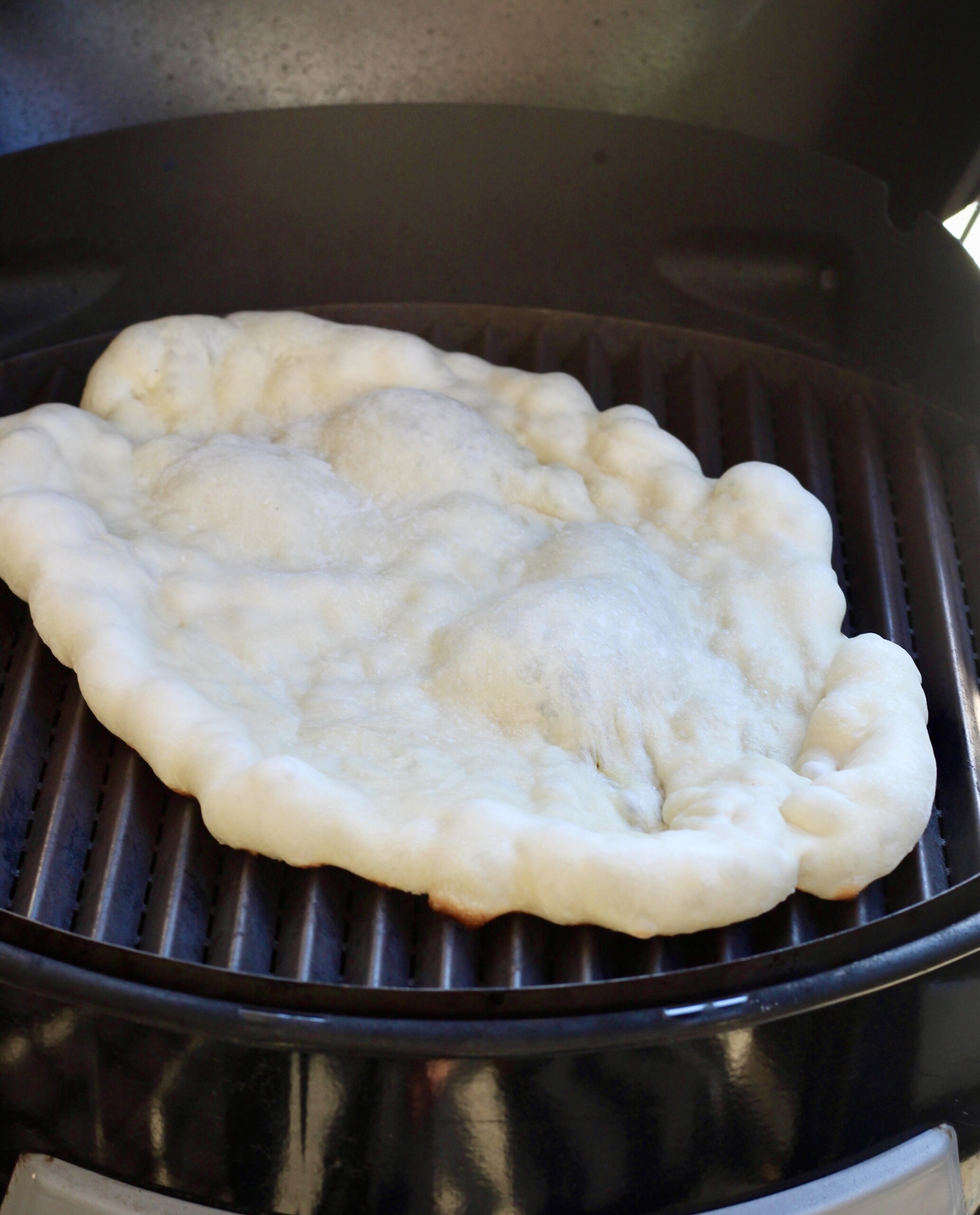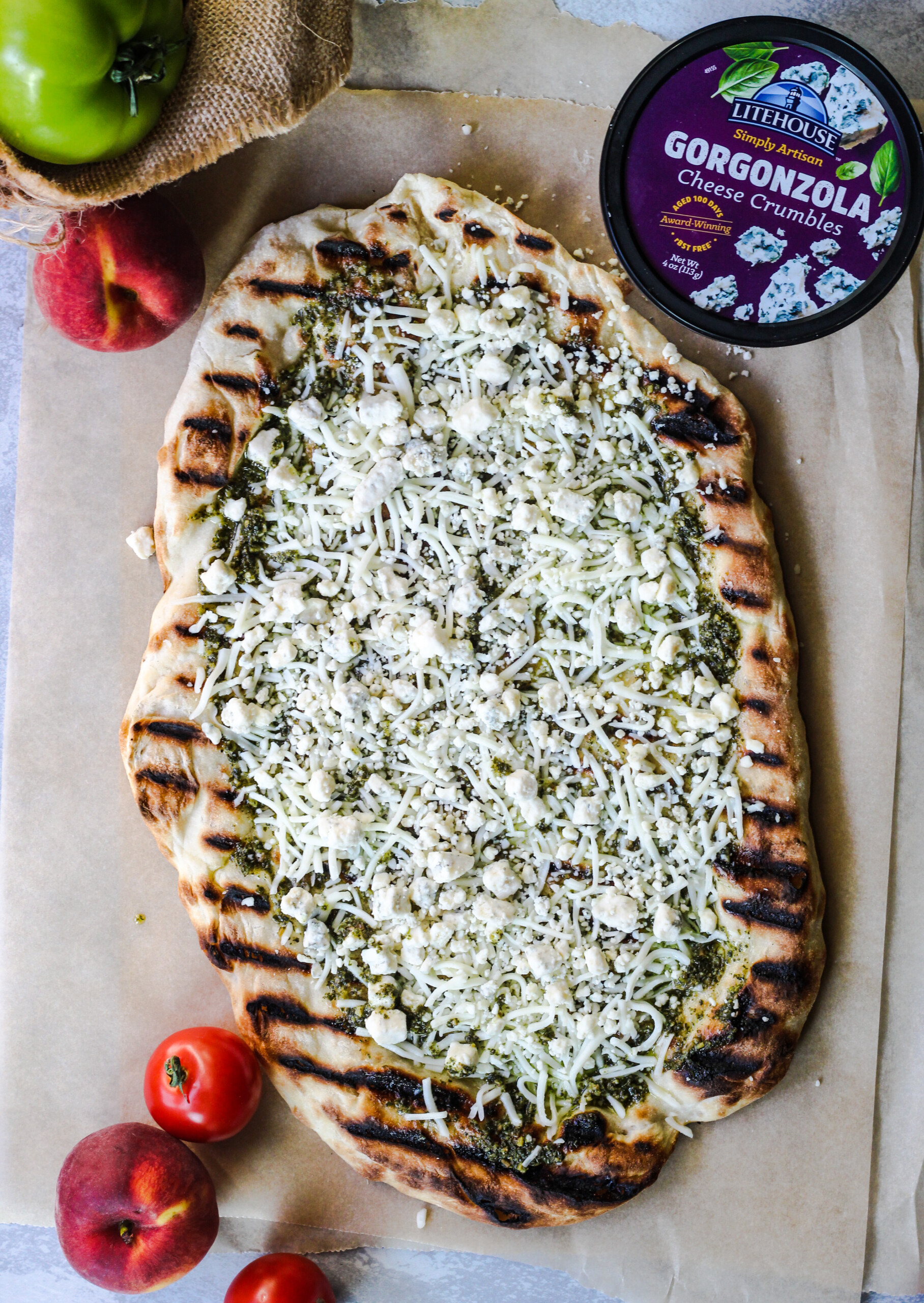 Peach and Tomato Grilled Pizza with Honey Balsamic
A seasonal pizza with fresh peaches, heirloom tomatoes, and basil pesto made right on the grill!
Ingredients
20

oz.

prepared pizza dough

separated into equal portions

2

large heirloom tomatoes

thinly sliced

3

ripe peaches

thinly sliced

1/2

cup

prepared basil pesto

8

oz.

mozzarella cheese

4

oz.

gorgonzola cheese

crumbled

Fresh basil

for garnish
Honey Balsamic Glaze
1/2

cup

balsamic

3

tbsp

honey

Pinch

of salt
Instructions
Grilled Pizza
Heat grill to about 500 degrees (high direct heat).

Separate dough into 2 equal sized balls.

Place dough on a floured surface and roll each portion out to 10- 12 inches in diameter.

Using a paper towel lightly grease grill with oil and then slide dough onto the heated grates using the bottom of a baking tray or pizza peel.

Close the lid and grill pizza dough for 2 minutes. Remove pizza crusts, and place on a flat surface grilled side up.

Spread 3-4 tablespoons of pesto onto each crust and top with 4 ounces of mozzarella and 2 ounces of crumbled gorgonzola cheese.

Now top each crust with an equal amount of tomato and peach slices. Sprinkle with salt.

Place back onto the grill and cook with the lid closed for 3-4 minutes until the cheese is melted.

Remove from the grill, drizzle with honey balsamic glaze, and top with fresh basil.
Honey Balsamic Glaze
In a small pot simmer balsamic vinegar and honey on medium heat until reduced by half (about 10 min).
Notes
Gorgonzola cheese can be substituted with blue cheese, or a milder cheese such as goat cheese (chevre) or queso blanco. Feta cheese would work as well! 
To make this pizza indoors heat your oven to 450 degrees.  Follow the same directions as with the grill, but allow more time for the pizza crusts to cook through. 
I would love to see your Peach and Tomato Grilled Pizza photos so if you make this recipe please tag me! My family and I enjoyed our meal to the fullest. You can catch some snippets from Father's Day dinner al fresco down below!