I know there are a TON of tomato soup recipes out there, but I want to give you one more to have in your cooking arsenal! Mine is a little different and I think you will love it. This tomato soup recipe is easy, easy but with Indian spices and some spice from green chilis it tastes like you've spent all day letting it simmer.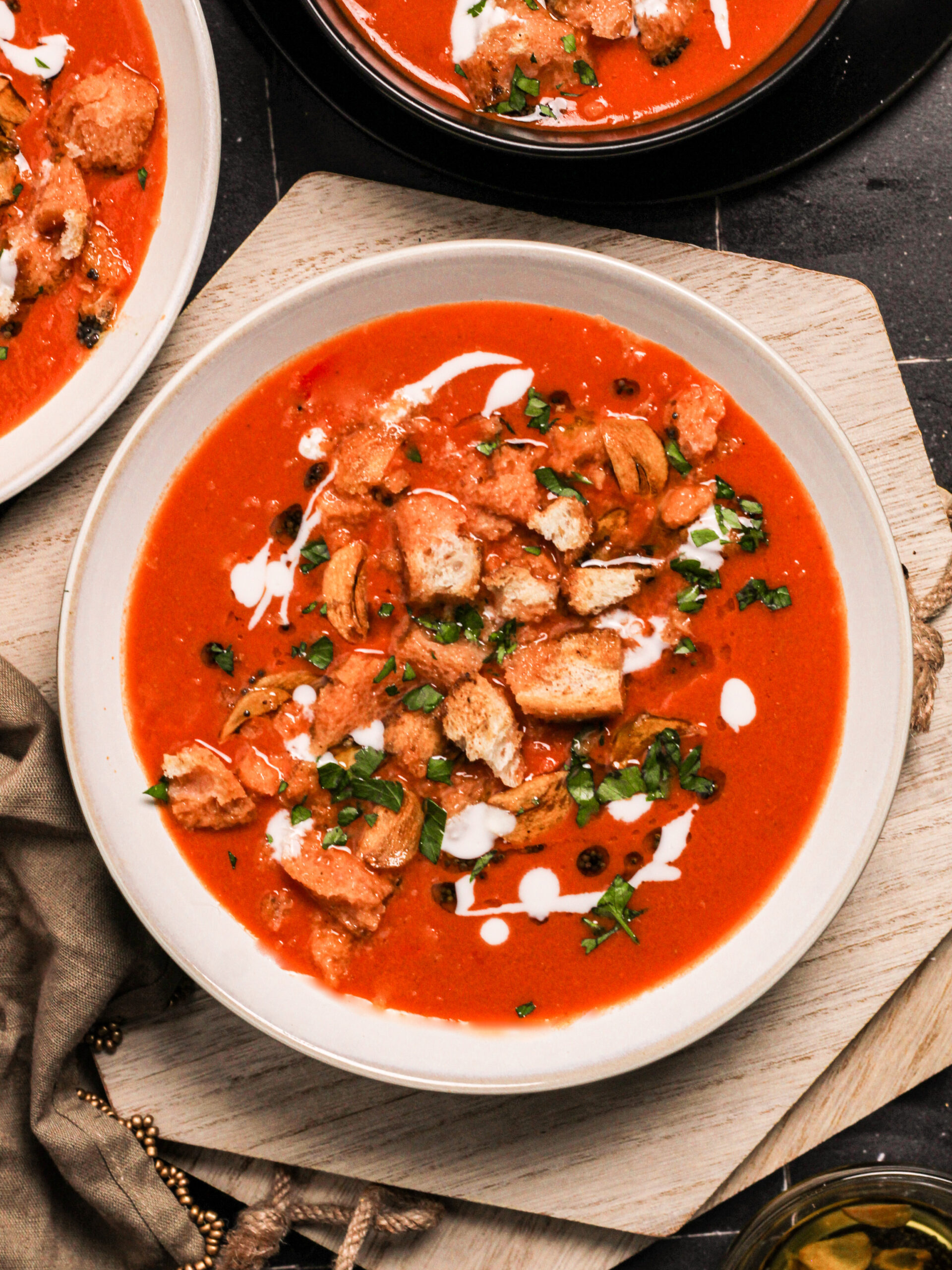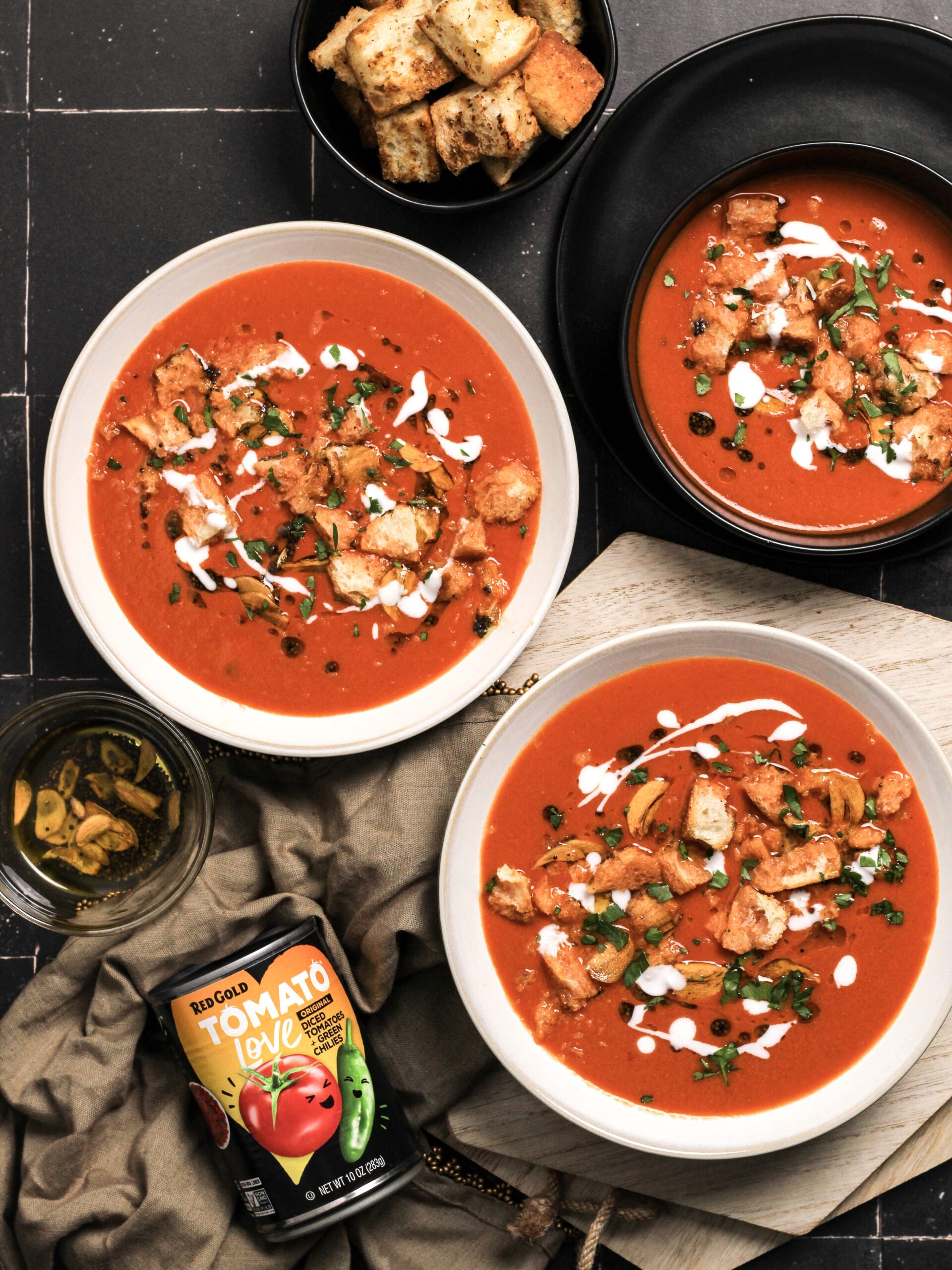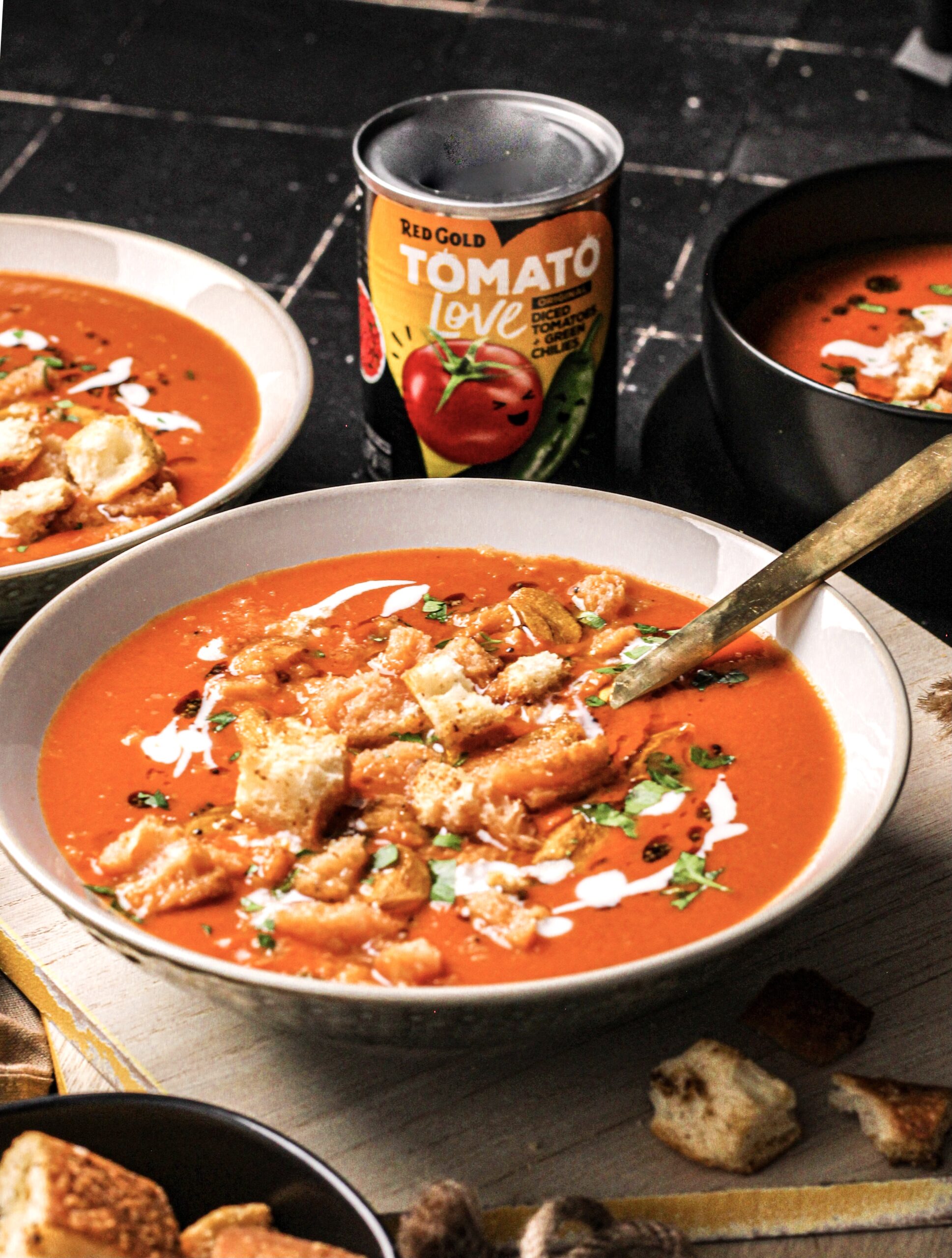 Indian Spices
Let's just get right into what might be the more complicated part of the recipe….the Indian spices. I realize that not everyone keeps specific spices around especially when they aren't being used regularly. I do recommend using the spices I've listed in the recipe, but if you don't want to look for them or can't find them NO PROBLEM!
If you are willing to purchase some Indian spices then I suggest grabbing the garam masala. This is available on Amazon and other even at some larger grocers. Substitute 1.5 tablespoons of premade/store-bought garam masala for the cumin and coriander in the soup. This is a great sub because you can use that same garam masala powder for the croutons.
Curry powder is also an option. Note that both garam masala and curry powder have additional spices in the mix (curry powder also contains turmeric so the color of the soup will be more slightly more orange/brown) but I would use this as a good replacement for the cumin and coriander.
This soup is served with fried mustard seeds and garlic chips. Leave the mustard seeds out if you can't find them! The croutons even be simply seasoned with salt and pepper.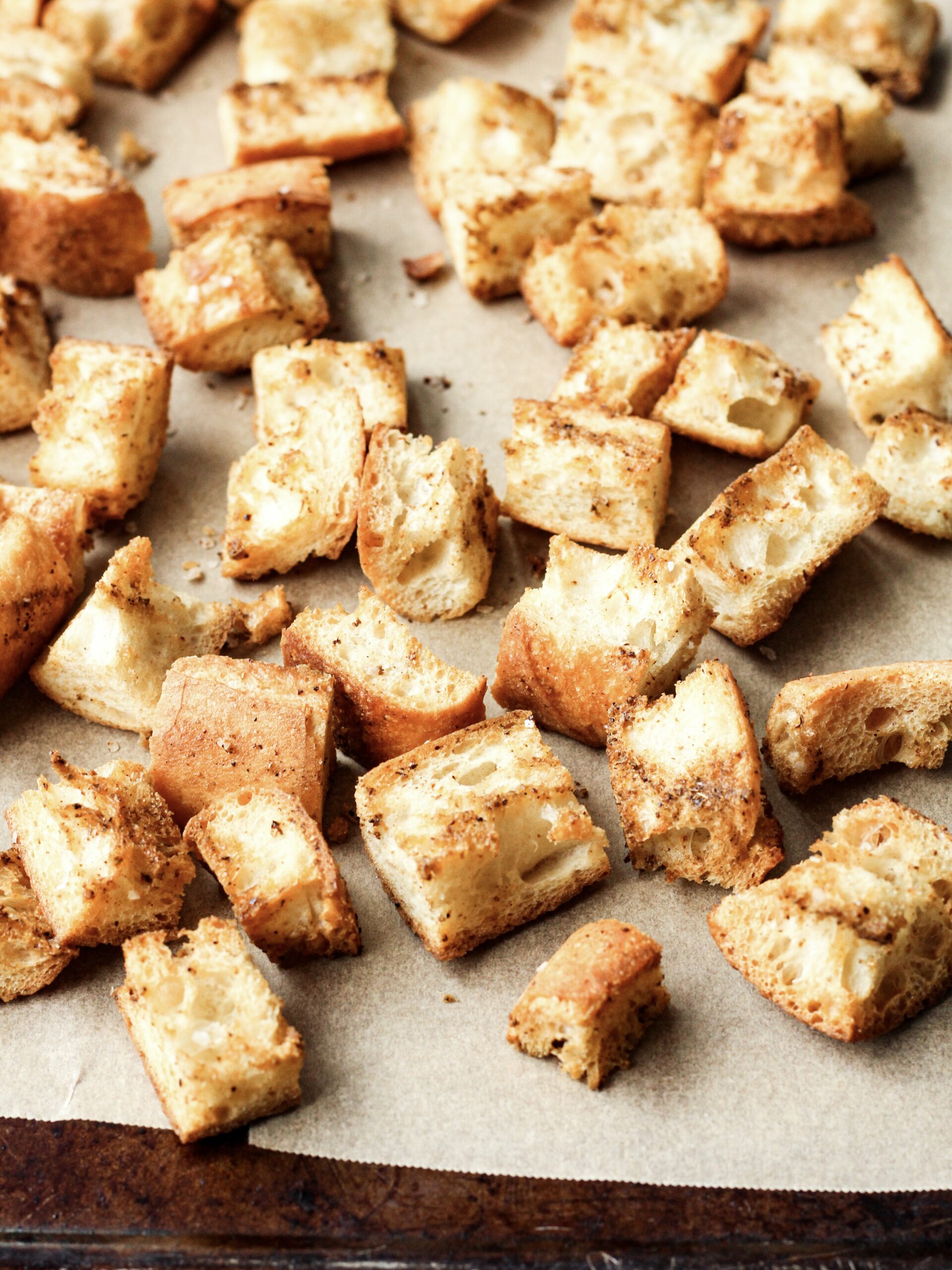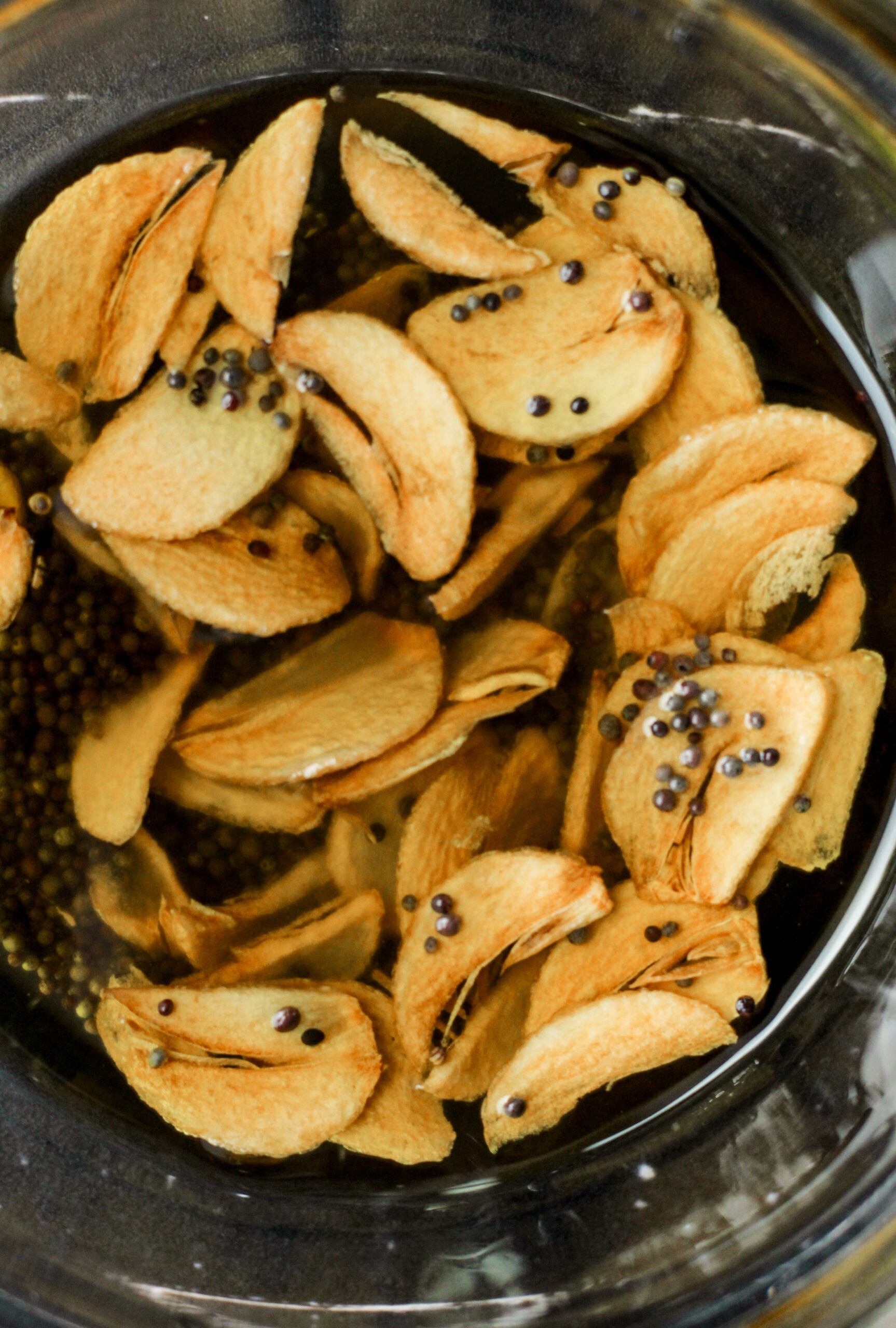 Making the Soup
This soup gets its spice from Red Gold Tomato Love Diced Tomatoes + Green Chilis. Using Tomato Love is an easy way to get that punchy tomato flavor and some heat! I get so excited when there are easy ways to leave out a few steps in the cooking process especially when that means less chopping.
Start by heating some oil in a large soup pot or dutch oven. Add the ground spices to the oil so the flavors bloom and then add in all the tomatoes and broth. Season with salt and let that soup simmer away for about 25 minutes. Adjust the seasonings (adding sugar if needed to balance out any tartness from the canned tomatoes), stir in your coconut milk, and blend! The soup is done 🙂
As the soup simmers, bake your croutons and prepare your mustard seed and garlic topping. That's really it…homemade tomato soup in about 30 minutes with all of the fun stuff included
Indian Spiced Tomato Soup
A quick and easy tomato soup with warm Indian spices that is gluten-free and vegan.
Equipment
Soup pot or dutch oven

Baking tray

Blender
Ingredients
Soup
2

10 oz

cans Tomato Love Original Diced Tomatoes + Green Chilis

1/4

cup

olive oil or coconut oil

1

28 oz

can crushed tomatoes

2

tsp

coriander powder

2

tsp

ground cumin

1

tsp

ground ginger

24

oz.

vegetable broth

1

can

full-fat coconut milk

1-2

tsp

salt

or to taste

2-3

tsp

sugar

if needed

Cilantro

finely chopped for serving
Mustard Seed and Garlic Topping
2

tbsp

olive oil

2

tsp

black mustard seeds

2-3

large cloves garlic

thinly sliced
Croutons
4

cups

bread

cut or torn into 1 inch pieces

2

tsp

garam masala

1-2

tbsp

olive oil

salt
Instructions
Heat oil in a large soup pot or Dutch oven.  Add cumin, coriander and ginger powder.

 Let the spices bloom for 30 seconds then add Tomato Love Original, crushed tomatoes and broth. 

Season with salt and simmer covered on medium-low for 25 minutes. 

dd coconut milk and when soup has slightly cooled, blend until creamy.  This can be done using an immersion blender or in batches using a standing blender. 

Adjust seasoning if necessary.  You may need to add some sugar to balance out any tartness from the tomatoes.

While the soup is simmering prepare the croutons and the mustard seed and garlic chip topping.
Croutons
Preheat oven to 375 degrees F. 

Cut or tear a loaf of bread (French or Italian work well) into 1 inch pieces. 

Place on a large baking tray and toss with olive oil, garam masala, and salt. 

Bake for about 15 minutes flipping a couple of times while baking until bread is crunchy and golden.
Mustard Seed and Garlic Topping
Heat olive oil in a small pot. 

Add mustard seeds and cook until they start popping. Turn heat to lowest setting

Add sliced garlic and cook until garlic slices are golden brown around the edges.  Stirring frequently to keep the garlic from burning.

Remove from heat and set aside.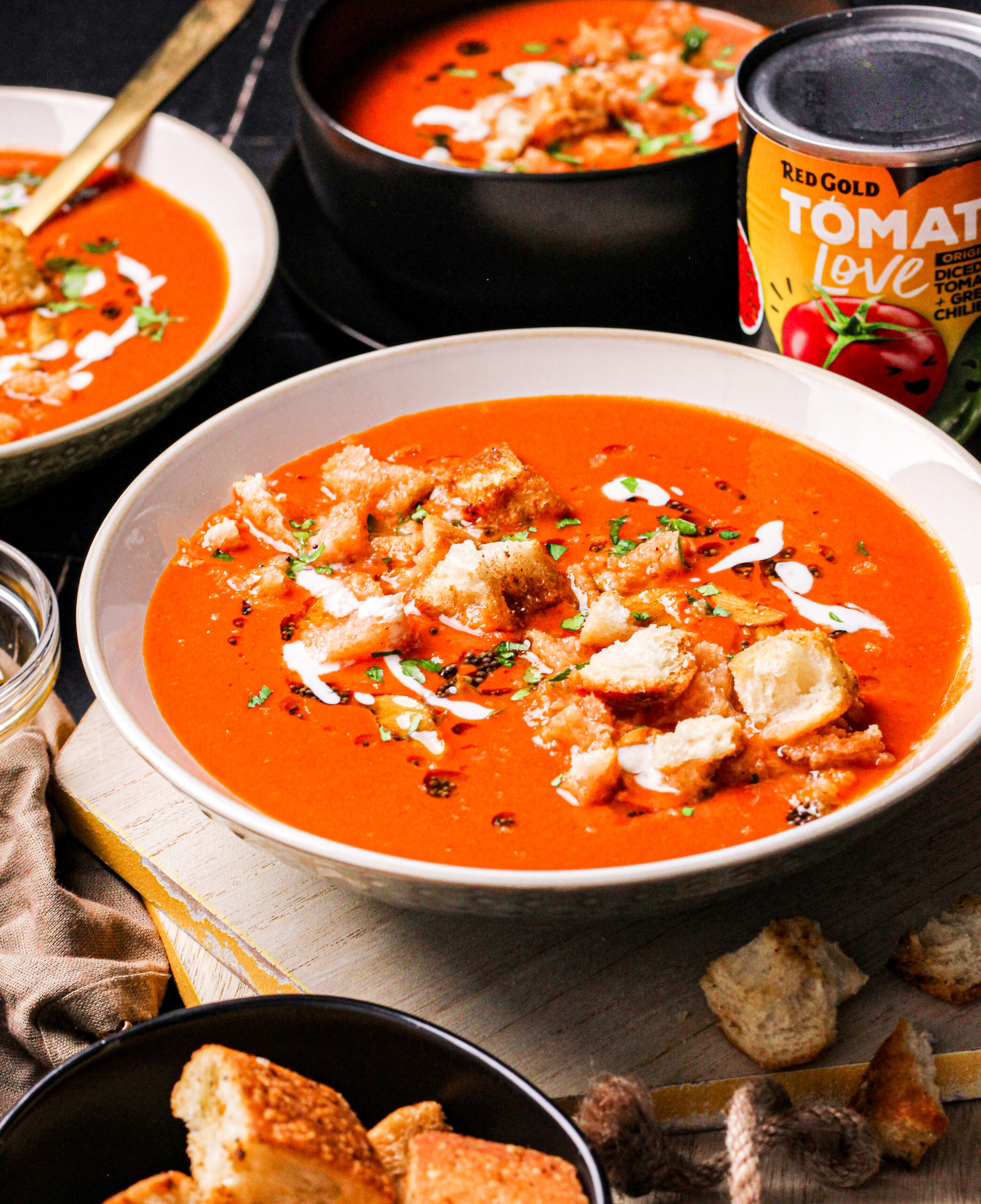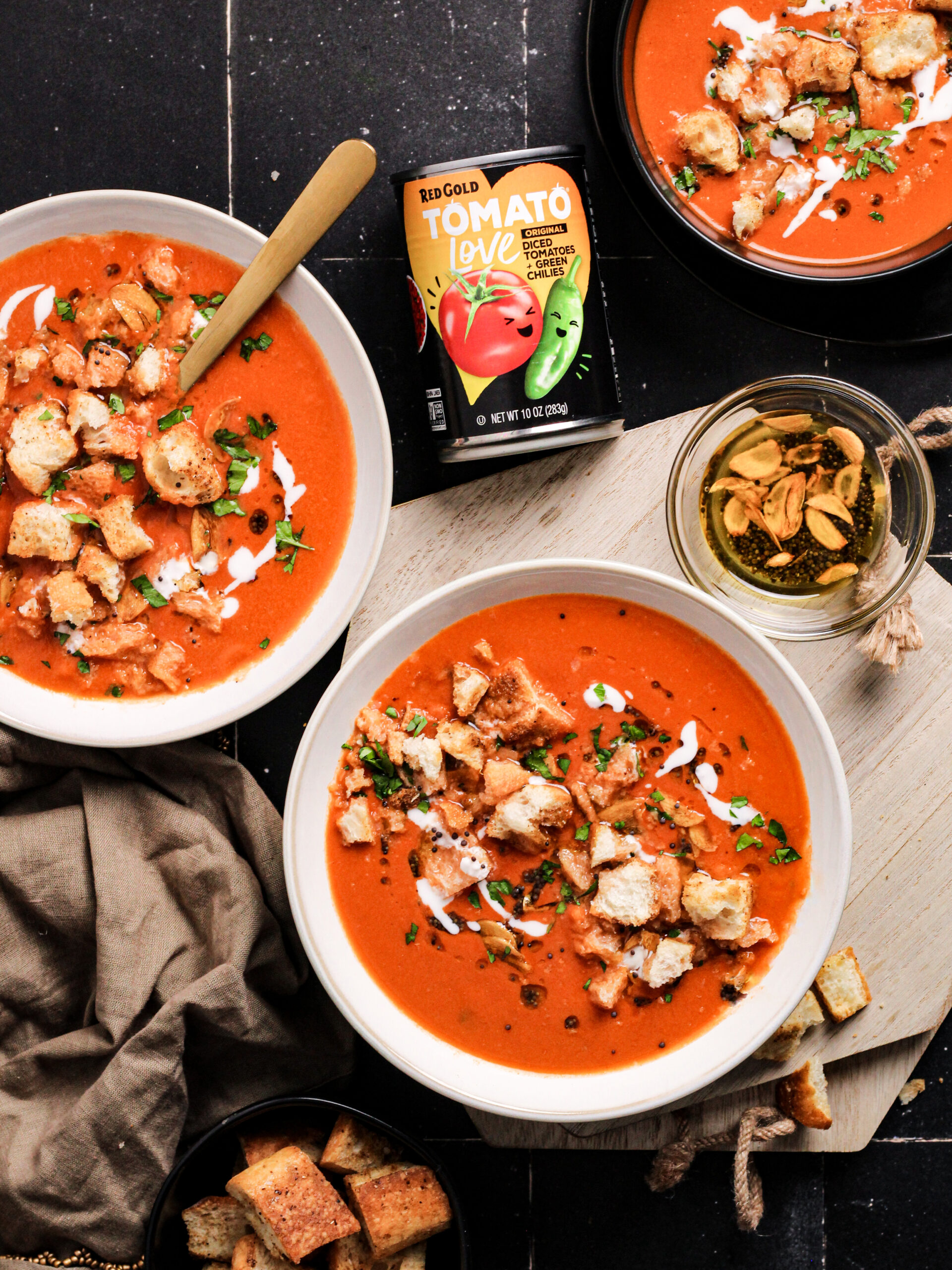 Let me know what you think about my version of an easy, gluten-free, and vegan tomato soup! Share your photos on Instagram and tag @momunderpressure on Instagram.
This post is sponsored by The Feed Feed and Red Gold Tomatoes.