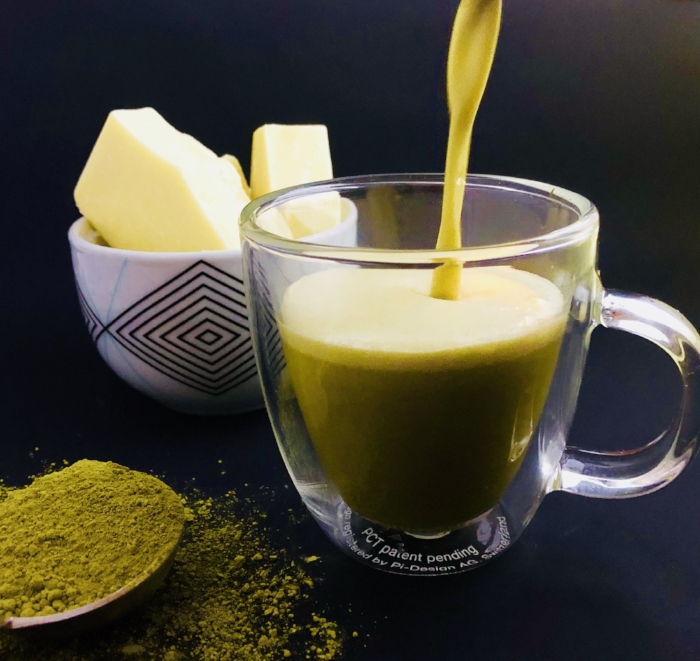 I recently saw a shirt that read "Mom runs on Target, Coffee, & Amazon Prime," and immediately thought, "Wow, that is so my life!" I literally run to Target twice a week, and place online orders from Target and Amazon…oh, I don't know….everyday? On top of that I NEED my daily coffee fix.
But every now and again I go through periods where I get bored of my regular cup of coffee. Seven to eight months ago I jumped on the matcha bandwagon and am still riding along. Matcha lattes are gooood! Matcha is a specific type of powdered green tea that is grown and produced mostly in Japan. The green tea leaves are shaded from the sun for the last few weeks of their growth, increasing the chlorophyll content and creating a gorgeous green color. Then, the leaves are carefully ground with stone grinding wheels to produce a fine powder. It is loaded with antioxidants, and is said to help control blood sugar, blood pressure, and boost metabolism to ward off cancer. The caffeine content is higher than a steeped green tea, but unlike coffee, matcha won't give you the jitters or the dreaded caffeine crash. By adding cocoa butter, you make it bulletproof! Cocoa butter slows the absorption of caffeine in your body even more, keeps you full longer, and get your daily dose of healthy fat!
You can totally get a bamboo whisk to make your matcha lattes, but I'm telling you that a blender will be your best friend in the mornings if you are craving a smooth, frothy, barista-style latte!
Ingredients
2 cups cashew milk (or any preferred milk)
2 tbsp maple syrup
1 tbsp raw cocoa butter (or one small chunk)
1/2 tsp vanilla extract
1-1.5 tsp match powder
Place all ingredients in a microwave safe blender container. Microwave for 2 minutes, then blend until frothy! Alternatively, heat all ingredients on the stove top until cocoa butter is melted, and whisk until froth forms.
I order matcha through Thrive Market.