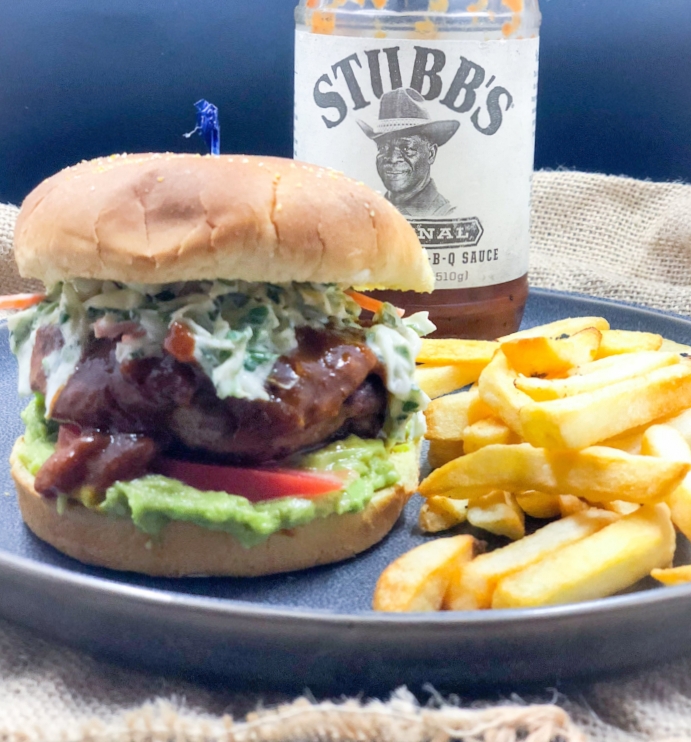 Man, oh, man you guys will have to try this burger! We wanted a little more pep to the standard turkey burger so I started experimenting with the spices and condiments I had around the kitchen. Still being on a high from Mumbai decided to put Indian flavors into a sauce. Ketchup seemed too boring so grabbed some Stubb's and ended up with a delicious burger that satisfied every taste bud! It was smoky, savory, a little spicy, tangy….ALL. THE. THINGS! The slaw on top came from the leftover Asian style chopped salad mix and other ingredients I had leftover from making the Chinese bhel, and believe me when I say it was the perfect accompaniment. I used regular whole milk yogurt, a touch of mayo, and lots of cilantro and green onion. It just tasted alive…does that make sense? It was the pop of freshness this burger needed. I didn't overload the actual turkey meat with spices, but I used a little of the BBQ sauce to season the mixture, and keep it from drying out. I ended up eating mine cold, but dang it was still SO good.
Ingredients
1 lb lean ground turkey (I used 93/7)

1/2 tsp salt, or to taste

1/2 tsp garam masala or chili powder

2 tbsp prepared barbecue sauce (see below)

1/4 cup red onion, finely diced

1/4 tsp garlic, minced or crushed
Curried Barbecue Sauce
1/2 cup barbecue sauce (store bought or homemade)

1/2 tbsp oil

1/2 tsp garlic, minced or crushed

1/4 tsp ginger, freshly grated or dried

1 tsp curry powder

1/4 tsp garam masala or chili powder

3 tbsp water
Herb Cole Slaw
1 cup slaw mix

1/3 cup red onion, thinly sliced

1/2 cup yogurt

1 tbsp avocado mayonnaise (optional)

1/2 cup cilantro, leaves removed from stems and washed

4 stalks green onion, roughly chopped

1 small jalapeno, roughly chopped

1 tsp apple cider vinegar

1/2 tsp salt, or to taste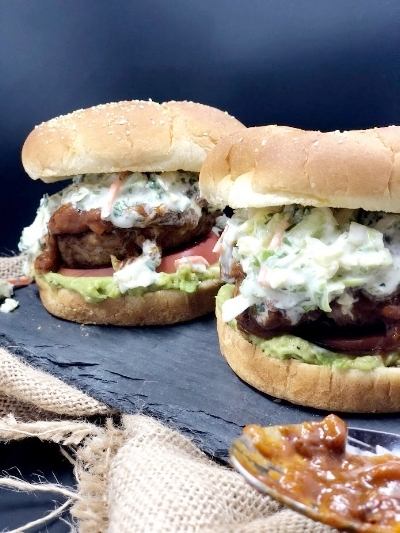 Start by heating oil in a small saucepan. Add garlic and spices and let them bloom in oil for about 30 seconds. Add barbecue sauce and water then bring to a simmer. Give it a taste, and adjust seasoning as necessary. The curried barbecue sauce is done at this point, but if you want it to be a little smoother you can give it a buzz in your blender, or by using an immersion blender.
In a small bowl mix together ingredients for the cole slaw dressing. You can also put them in a food processor or blender and pulse until everything comes together. Toss with slaw mix (shredded cabbage and carrots) and onions. Set aside.
Place ground turkey in a large mixing bowl, and add onion, garlic, spices, salt, and sauce. Combine well, but do not over mix. Oil hands and make 4 turkey burgers. Grill or cook in a non-stick pan until turkey meat is cooked through (165 degrees). Let the patties rest for about 5 minutes before building burgers with slaw, sauce, avocado, tomato, cheese or whatever else your heart desires!