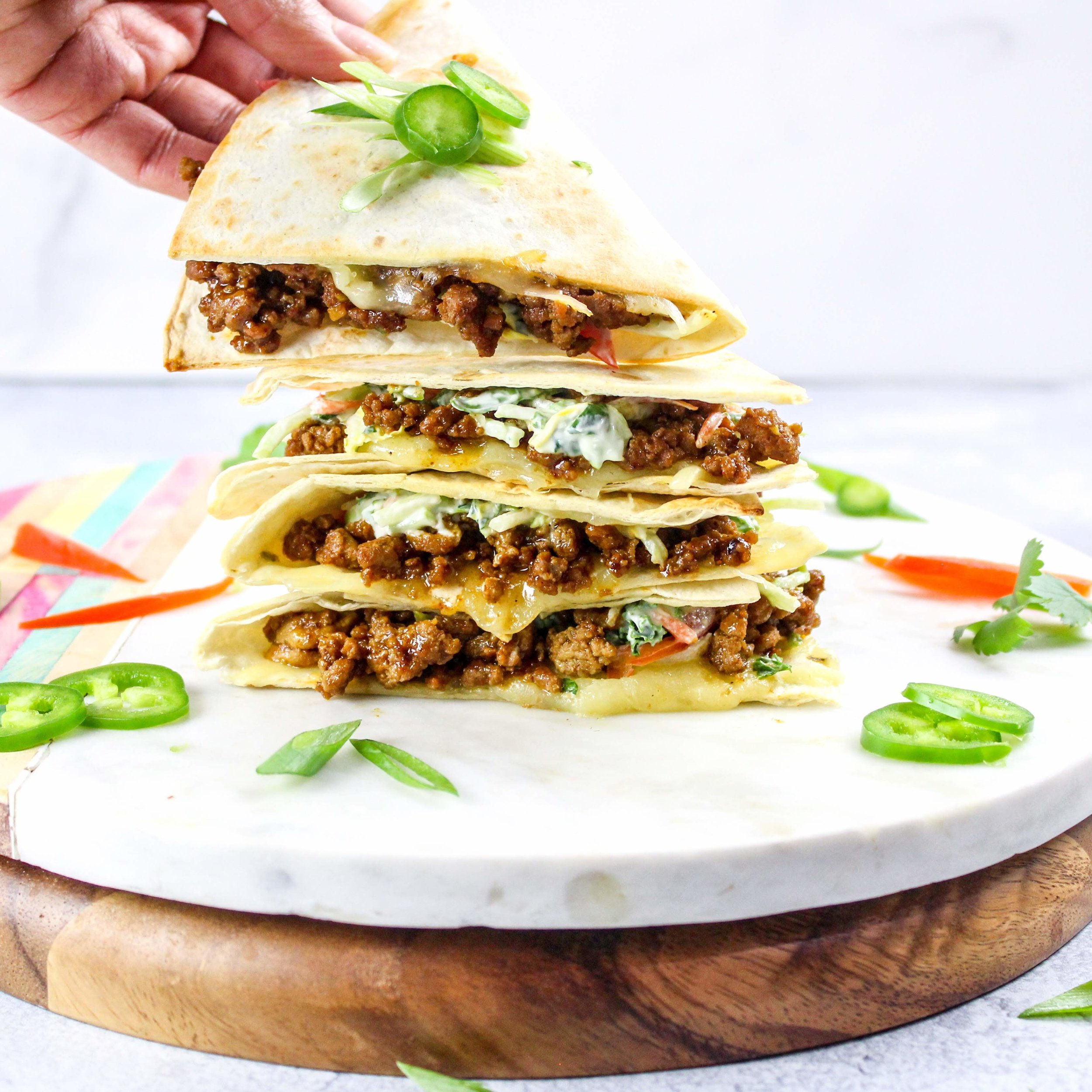 About a year ago I made these Curried BBQ Turkey Burgers and I've been thinking about rephotographing those burgers because they were so delicious! Every time I brought home ground turkey I'd end up doing something else with it depending on what we were in the mood for or how much time I had to prep dinner. Then one day I made some classic chicken quesadillas and thought the flavors from this burger would taste amazing in a quesadilla. So, I gave it a whirl and we liked these more than the burgers! Shay said it was yummy too (hooray!!!). Plus, they are easier to put together than burgers IMHO. Here are the ingredients again:
Ingredients
1 lb. lean ground turkey (I used 93/7)

8-10 flour tortillas

8 oz. pepper jack cheese, shredded
Curried Barbecue Sauce
1/2 cup barbecue sauce (store bought or homemade)

1/2 tbsp oil

1/2 tsp garlic, minced or crushed

1/4 tsp ginger, freshly grated or dried

1 tsp curry powder

1/4 tsp garam masala (optional)

3 tbsp water
Herby Cole Slaw
1 cup slaw mix

1/3 cup red onion, thinly sliced

1/3 cup red bell pepper, thinly sliced (optional)

1/2 cup yogurt

2 tbsp mayonnaise (optional, but so good)

1/2 cup cilantro, finely chopped

4 stalks green onion, finely chopped

1 small jalapeno, roughly chopped

1 tsp apple cider vinegar

1/2 tsp sugar, or to taste

1/2 tsp salt, or to taste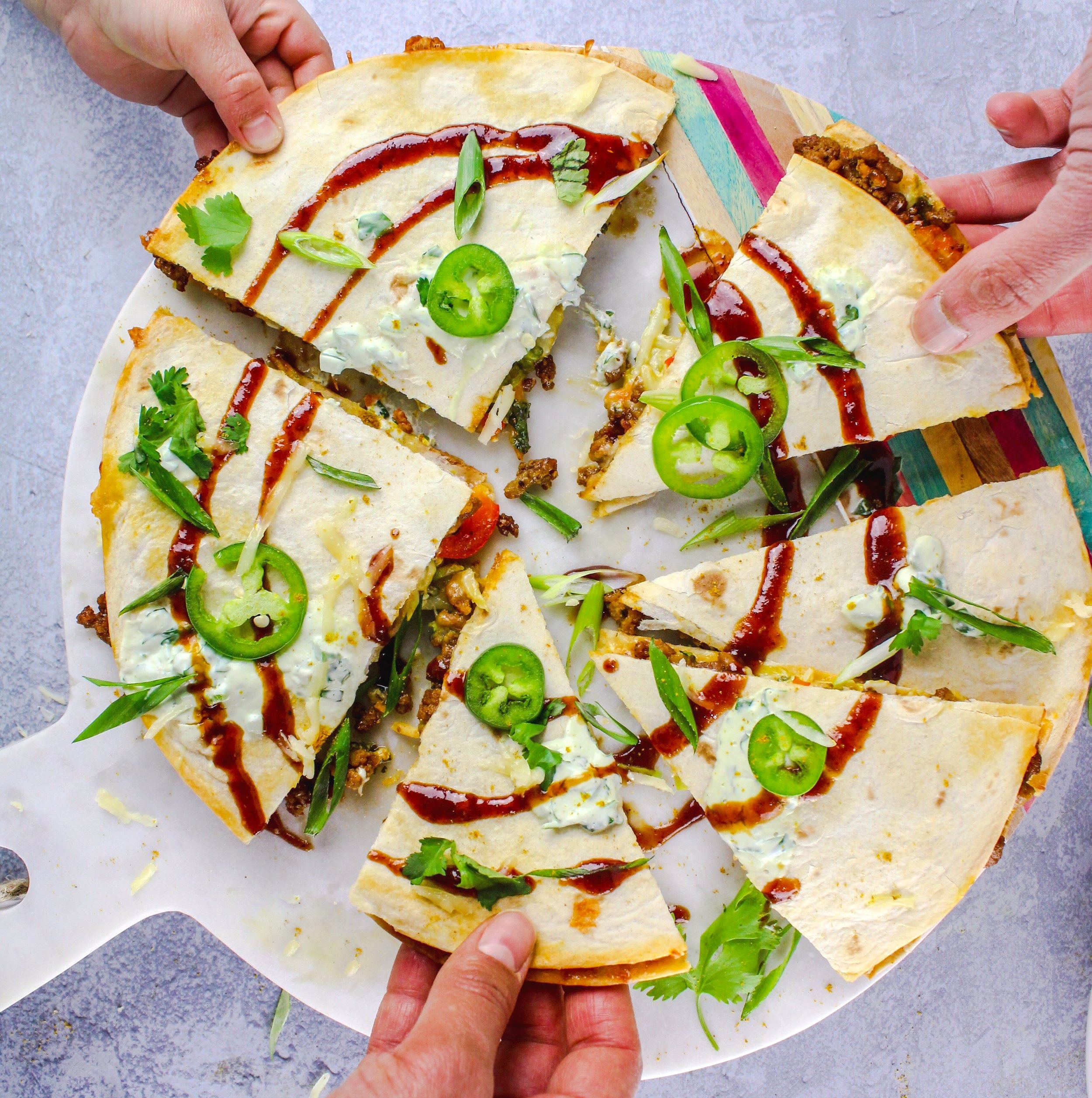 Heat 1/2 tbsp of oil in a small saucepan. Add garlic and spices and let them bloom in oil for about 30 seconds. Add barbecue sauce and water then bring to a simmer. Give it a taste, and adjust seasoning as necessary. The curried barbecue sauce is done at this point, but if you want it to be a little smoother you can give it a buzz in your blender, or by using an immersion blender.
Brown ground turkey in a large skillet and season with salt and pepper. Add about half or two-thirds of the barbecue sauce to browned ground turkey and mix. The ground turkey should be lightly coated with the barbecue sauce. In a separate bowl mix together ingredients for the cole slaw dressing. If you want a really smooth dressing blend the ingredients together in a food processor or blender. Toss with slaw mix (shredded cabbage and carrots), red bell pepper, and onions. Set aside.
Assemble quesadillas by placing a thin layer of cheese on one tortilla, add a thin layer of barbecue ground turkey, slaw mix, and another thin layer of cheese. Top with a second tortilla. Heat a non-stick skillet to medium heat. Add a little oil to coat the pan. Place the quesadilla in the skillet and cook both sides until golden brown.
Serve quesadillas with extra bbq sauce and slaw!