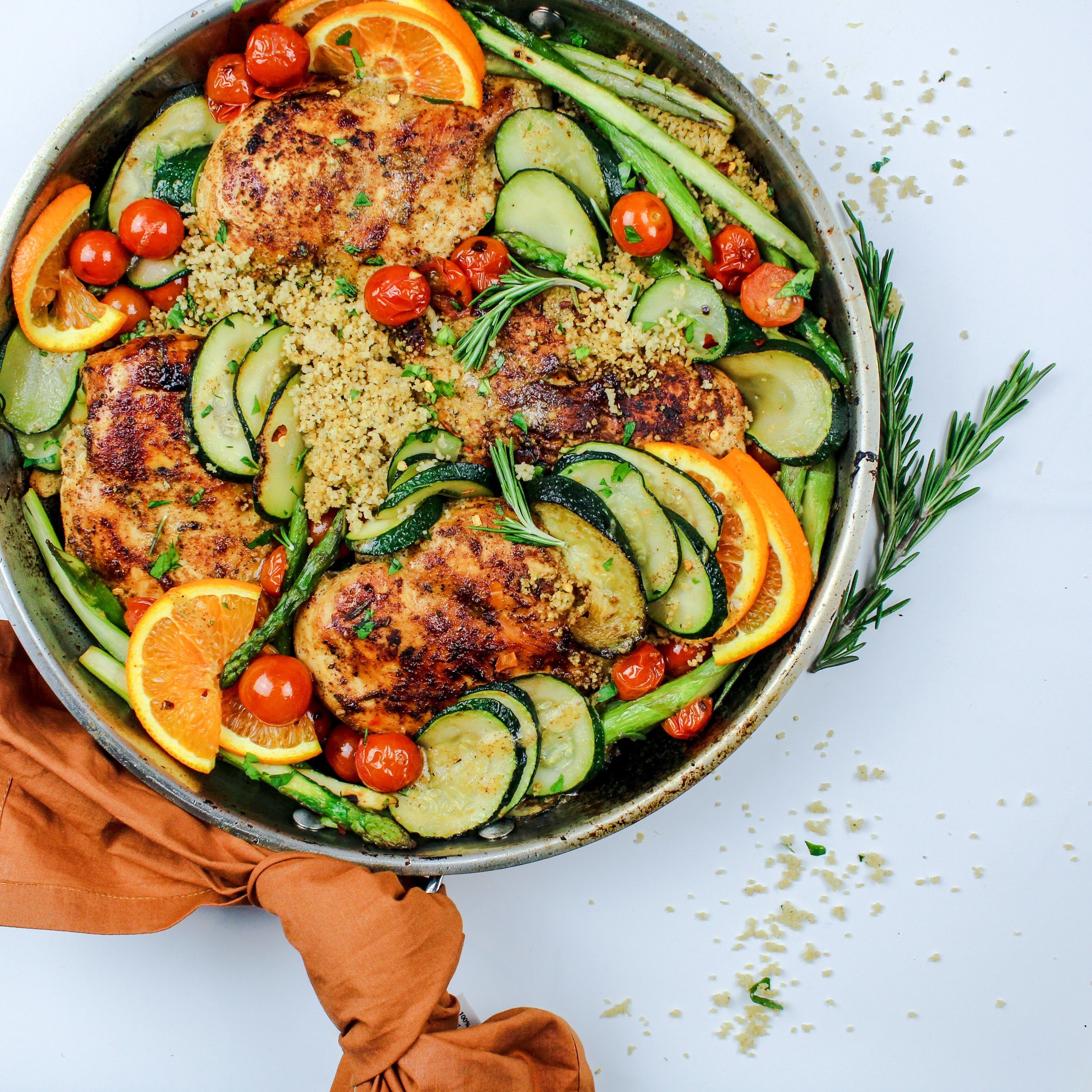 I love a pan to table dinner. It's what most of us are looking for on a weeknight, or any day really. It's so great to toss everything into a pan and then just kind of…hope for the best. LOL. Pan to table meals are amazing, but they do take a little babysitting if you don't want a pile o f mush, and want everything to taste good. Believe me when I say I've botched plenty of meals because I wasn't as thoughtful as I should have been when tossing a bunch of ingredients in a screaming hot pan. With this meal I took one of our favorite sauces, honey mustard, and put my own twist on it by adding orange juice and rosemary. It's like an adult version of a McDonald's happy meal of chicken nuggets and honey mustard! It's just a few main ingredients to make the chicken, and then you can really run with whatever vegetables you want…use frozen vegetables that you can steam in the microwave. No judgment here; I do it all the time! Check out this incredibly tasty meal that my whole family loved (the 3 year old too!).
Ingredients
1.5 lbs chicken ( boneless, skinless breast or thigh will work)

1/3 cup Dijon mustard

1/4 cup honey

1/4 cup orange juice (freshly squeezed is best)

1 sprig rosemary

1/2 tsp salt and pepper

1 medium zucchini, sliced

1/2 bunch asparagus, trimmed, and chopped

1 pint grape tomatoes, halved

couscous or rice for serving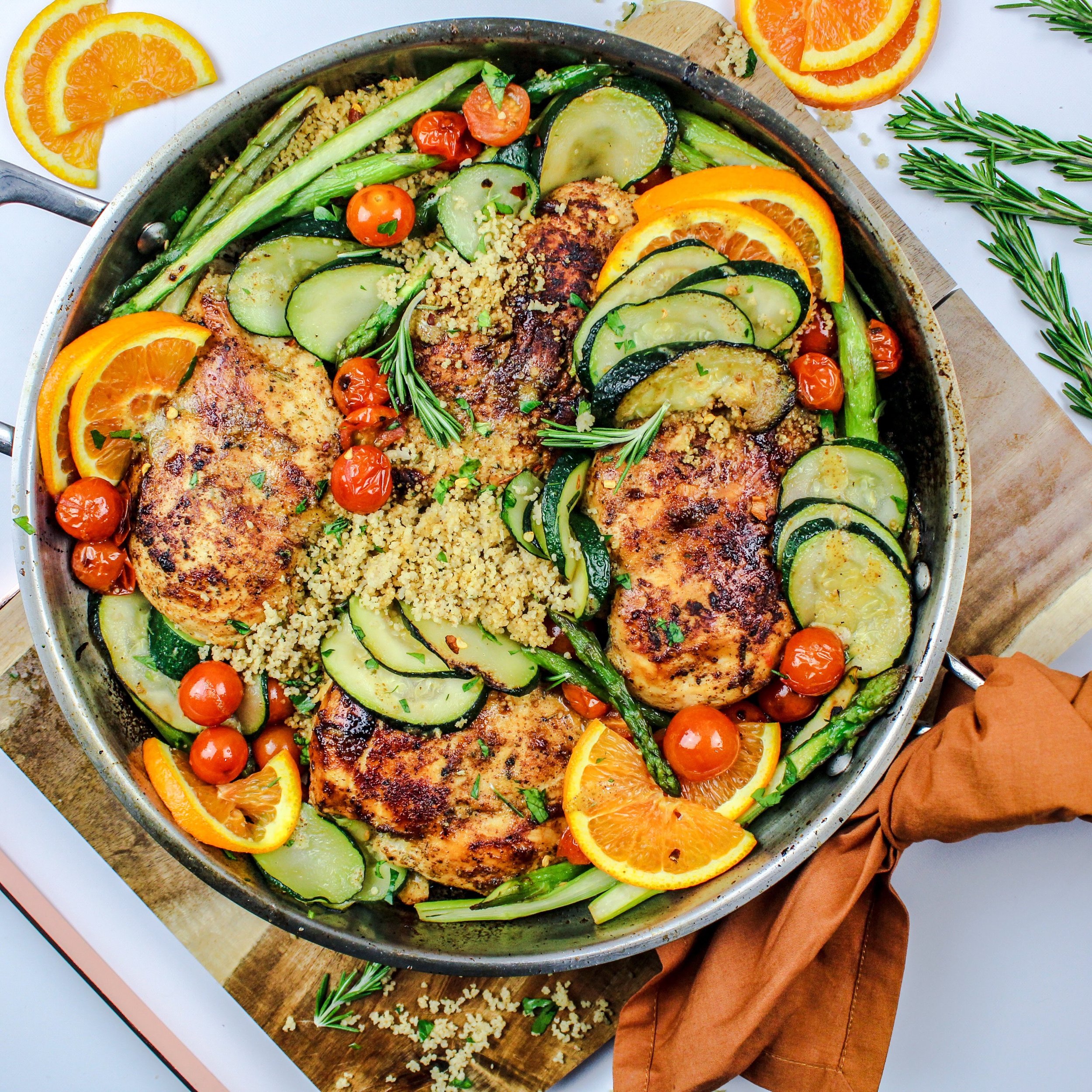 Blend together mustard, honey, orange juice, rosemary, salt, and pepper. You can also mix the ingredients for the sauce in a bowl making sure that the rosemary is finely chopped. Next, place chicken in a deep dish or zip top bag and pour a little more than half of the sauce over the chicken. Let the chicken marinate for 15-20 minutes.
Meanwhile, you can prep the vegetables. In a large pan heat 1 tablespoon of oil. When hot add the vegetables and saute for 5 minutes or so until they are fork tender. You want the vegetables to still have a little bit of a bite to them. Remove from skillet and set aside.
Add a little more oil or butter to the pan, and place marinated chicken into hot pan. Cook chicken for 6-7 minutes on each side or until cooked through (no longer pink in the middle and juices run clear). You can place a lid over the pan to ensure that the chicken cooks through evenly. Baste the chicken with extra honey mustard sauce while cooking, and make sure to let the chicken rest for 3-4 minutes before slicing.
You can place the veggies back in the pan with the chicken and spoon over any extra sauce you have left or simply serve chicken with vegetables, couscous, or rice. A little sprinkling of goat cheese, or feta is fantastic with this meal!
If you want to cook the chicken and vegetables in the oven then sear both sides of the chicken (3 minutes per side), add the prepared vegetables to the skillet, pour over a little sauce, and cook in a 375 degree oven for 15-18 minutes until chicken is cooked through and juices run clear.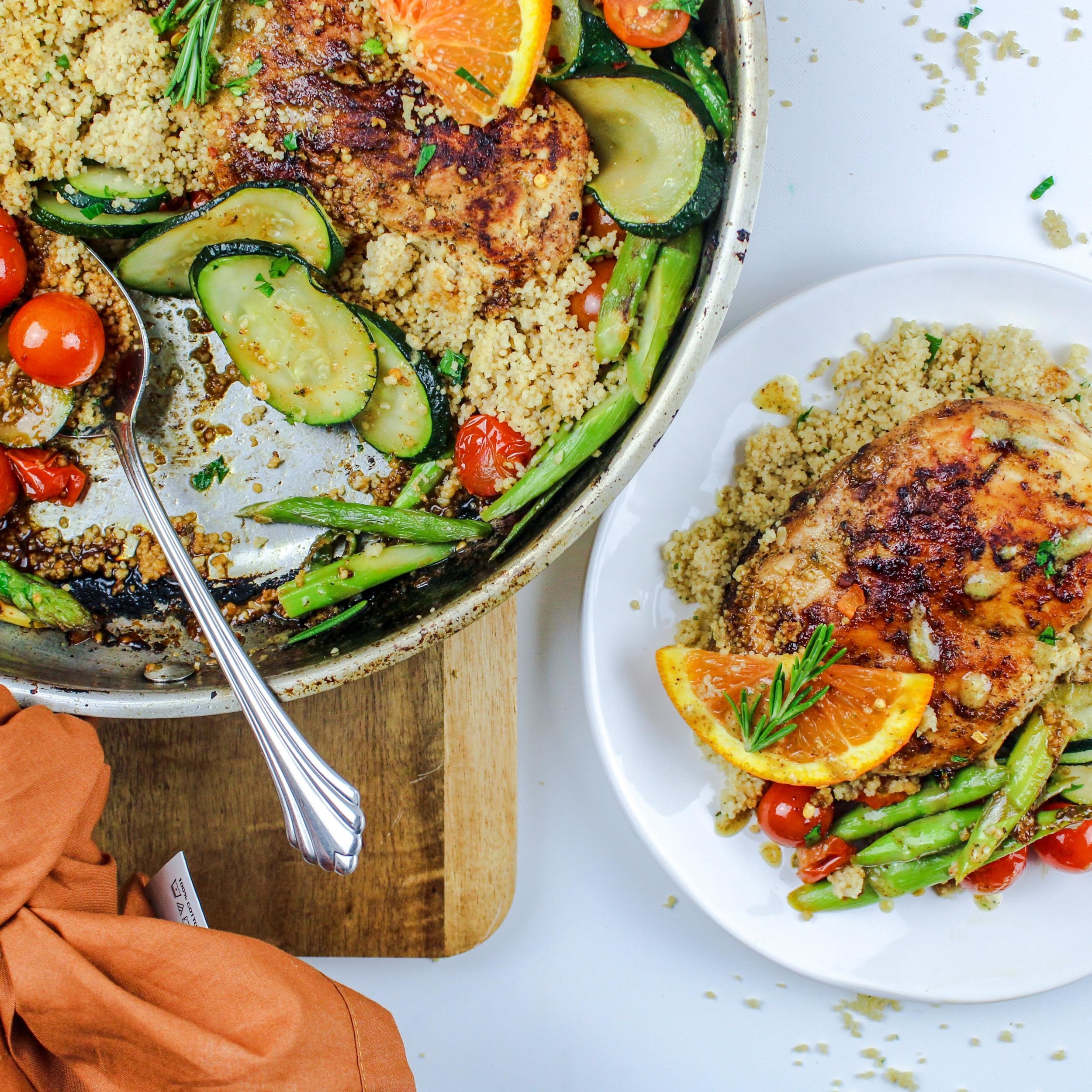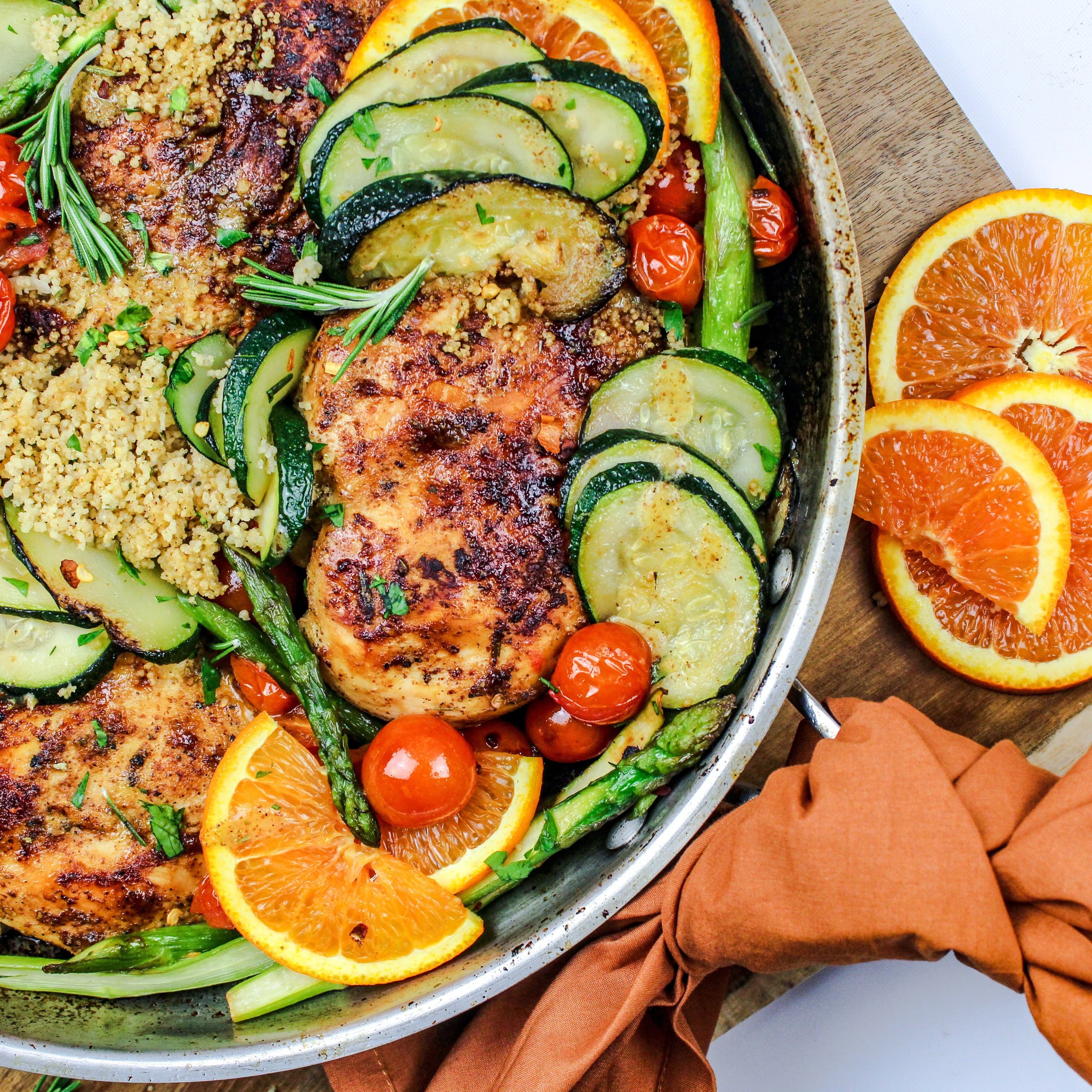 ---
Tips
Chicken thighs will cook through faster than chicken breast; I would give them 11-12 minutes in the pan total.

I suggest pounding out the chicken breasts to make them thinner, and cook more evenly. I did this after I sealed them in the zip top bag.

Use whatever vegetables you like! Make sure to cut them the same size and use vegetables that take about the same time to cook.

This sauce is great for pork or salmon as well.

I used a a box of roasted garlic flavored couscous for this meal, and followed the package instructions for cooking.