If you have a steak lover in the house, but don't love making steak for said steak lover trust me…there are still options! My husband loves steak, but I don't crave it the way he does and since I'm the one who usually cooks we don't make it often. Well because it was just Father's Day I wanted to make something that we all would enjoy eating so I got some great ribeye steak, dried porcini mushrooms, and gorgonzola cheese crumbles to make these incredible grilled steak bites!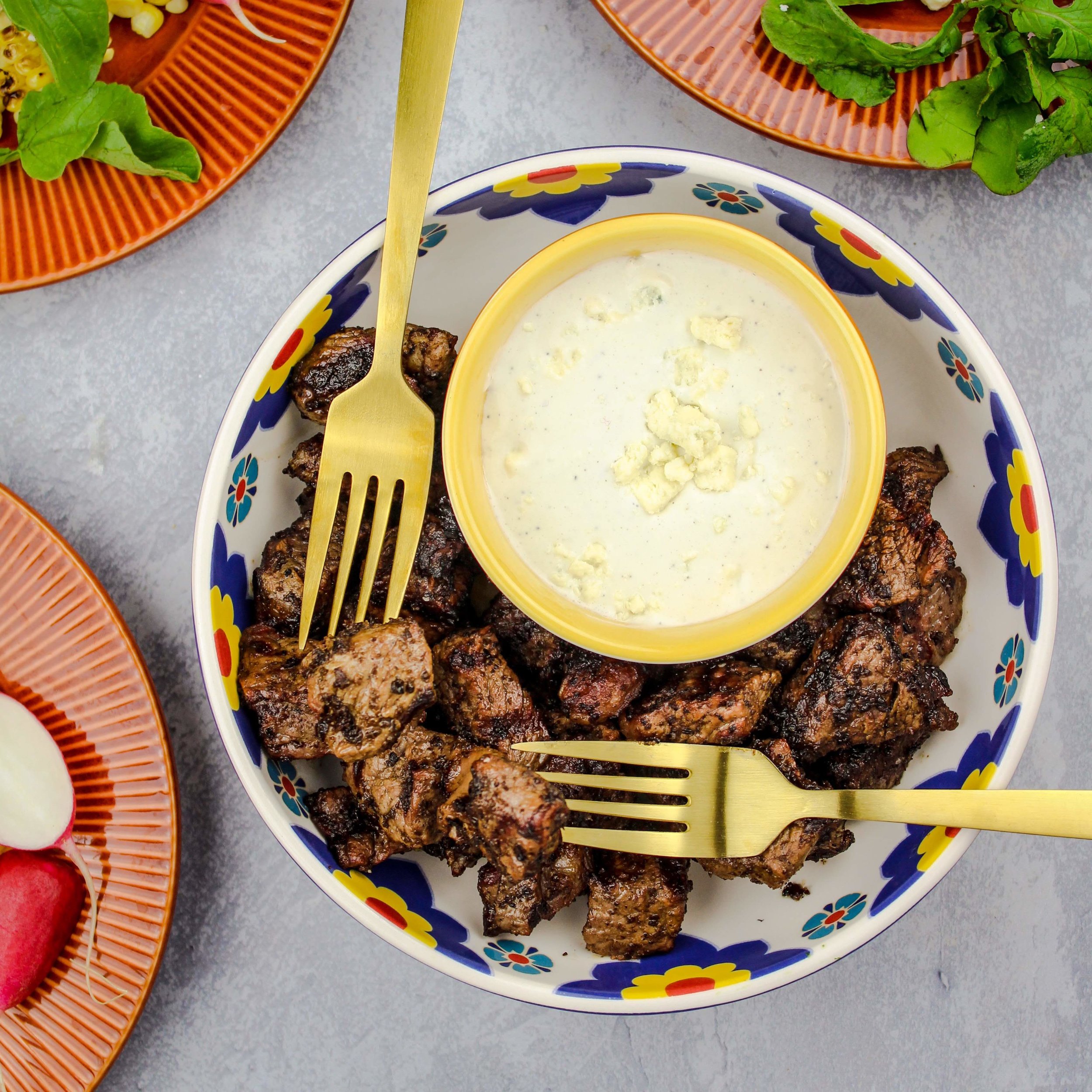 I went for ribeye because it has some great marbling and stays nice and tender after grilling. You could grill the entire steak, but I (well, my husband) cut the steak into cubes so that the cook time is literally a few minutes! The cubes only need a couple of minutes on each side and they are ready to be tossed into this delicious porcini mushroom butter and then dunked into gorgozola cream sauce. Both are also ready so fast! It's the perfect meal to make for an occasion so you can actually spend more quality time celebrating that special person instead of fussing with food.
Dried porcini mushrooms can be found at grocery stores like Whole Foods or on Amazon. The pack I got was 0.5 oz and cost under $5.00 USD. The flavor is earthy and concentrated and you only need a few mushrooms to grind down into a powder for this recipe. We tried the porcini butter on smashed roasted potatoes which was also pretty amazing!
Ingredients
1.5 lbs ribeye or New York strip steak

0.25 oz dried porcini mushrooms

4 tbsp butter, melted

1/4 cup + 1 tbsp gorgonzola cheese crumbles

1/4 cup heavy cream (or half and half)
Cut steak into bite sized cubes (1.5 inches) and season with salt and pepper. Grill for 2 minutes one each side. You can cook to the temperature you like.
To make the porcini butter grind dried porcini mushrooms to a powder then mix with melted butter. Season with a pinch or two of salt.
Once the steak bites are done at the grill toss them with the porcini butter.
To make the creamy gorgonzola dipping sauce blend together 1/4 cup heavy cream or half and half with 1/4 cup crumbled gorgonzola cheese. Add another tablespoon or so if cheese crumbles to the sauce and stir until incorporated. Season with salt and pepper to taste.