I made this amazing and easy salmon salad a couple of months ago, and completely dropped the ball on getting the recipe up before Summer came to an end. But when simple food tastes this good it doesn't matter what season it is when you eat it! This baked salmon has a flavorful honey garlic glaze and goes perfectly with a fresh salad, and my jalapeno, basil, and tahini sauce as the dressing.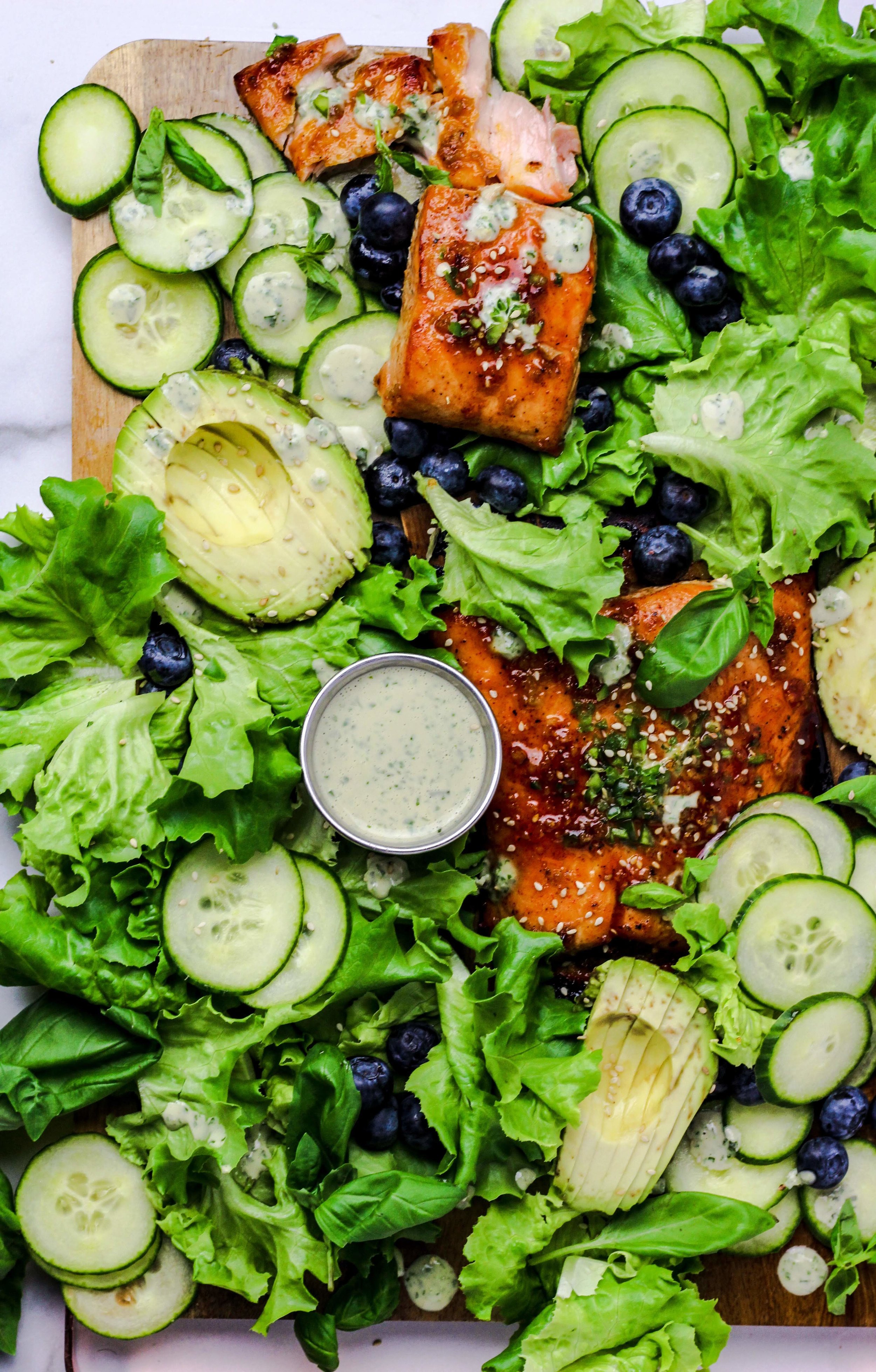 I know salad always sounds so boring, but there are ways to make them delicious and satisfying! To me, it's all about texture, a blend of sweet and savory flavors, and a great dressing. That's exactly what this is. My husband loved this salad for dinner, and after I styled it for our shoot we ate it right off of the board! So trendy, right?
This salad is light, but it's so satiating. The salmon is cooked to perfection, and the glaze on top is addicting. I really think this is one of my favorite recipes!
Ingredients
Salmon
12 oz. Atlantic salmon (2- 6 oz. portions)

3 tbsp olive oil

2 tbsp honey

1.4 tsp garlic, crushed or finely minced (about 3-4 medium cloves)

1/2 tsp paprika

1 tsp Worcestershire sauce

1/2 tsp salt or to taste
Salad
1/4 cup Jalapeno Tahini Super Sauce (see recipe)

8 oz. leafy greens of choice (arugula, romaine, butter lettuce, or spinach work well)

1/2 cup blueberries

1 medium cucumber, thinly sliced

1 avocado, sliced

Fresh basil for garnish
Preheat oven to 425 degrees Fahrenheit. In a small bowl mix together all the ingredients for marinade (oil, honey, garlic, paprika, Worcestershire, salt). Glaze salmon fillets with 3-4 spoonfuls of marinade. Bake for 12 minutes. Add another spoonful or two of marinade over the salmon, and broil for 1 minute. Remove from oven.
Blend together Jalapeno Tahini Super Sauce, put together salad on a platter or board, and serve with baked salmon.