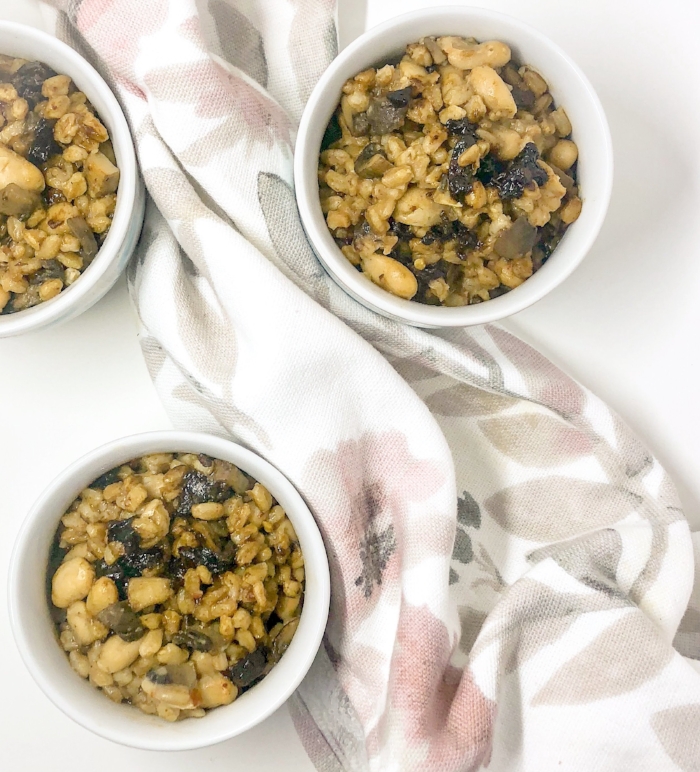 I had serious plans to make mushroom risotto over the weekend. Sushil and I were both craving a creamy, earthy, carby dish and risotto sounded like a solid winner. Well, those plans almost went down the drain when I realized we didn't have shallots or white wine. No one wants to run to the grocery store after 7pm in 10 degree weather, and grocery delivery didn't make sense for a couple of items so we improvised….it worked! This recipe is satisfying when you want a rice dish, but it's got way less calories + protein! I swapped out the arborio rice for a quick-cooking farro, added white beans to give a creamy texture, and made a tangy sauce with sun-dried tomatoes and balsamic vinegar for a pop of flavor against those earthy shrooms. Browning the butter only takes a few extra minutes so why not?! Did I mention this is made in an Instant Pot? I am giving you the good, good here. Thank me later!
Ingredients
8 oz mushrooms, washed and diced
1 cup quick cooking farro
1 can of great northern beans (15.5 oz), drained and rinsed
2 tbsp unsalted butter
1 tbsp garlic, crushed (approximately 3 medium-sized cloves)
1.5 tsp salt
1/4 tsp nutmeg
1/4 tsp ground sage
1/4 tsp crushed red pepper flakes
4-5 springs of thyme
3 cups low-sodium broth
Sun Dried Tomato-Balsamic Sauce
1/2 cup balsamic vinegar
1/4 cup sun dried tomatoes (packed in oil), chopped
1/2 tbsp honey
1/2 tsp salt
1 sprig thyme
Turn Instant Pot to Saute mode, and melt butter and stir until it starts to foam and the color is a medium brown. Then add chopped mushrooms and garlic. Saute for 3-5 minutes until mushrooms are brown. Turn off Instant Pot. Add all of the other ingredients except for thyme. Mix everything up well, place thyme sprigs on top of farro, and turn Instant Pot to Manual mode. Cook on Manual for 15 minutes. Let pressure naturally pressure for 5 minutes then quick-release the rest of the steam. Remove thyme sprigs, and give the farrotto a good stir. Adjust salt if necessary.
While the farro is cooking make a sun dried tomato and balsamic sauce. Heat balsamic vinegar on medium-low heat until it is reduced by half. This will take about 5 minutes. Then add chopped sun-dried tomatoes, salt, a few grinds of black pepper, thyme, and honey. Cook for a few minutes until mixture gets thick and syrupy. Remove from heat, and discard thyme stem. Swirl a spoonful or two into your farro, grate some parm over the top, and VOILA! Dinner is served.
---
Tips
Use any kind of mushroom you like, or a mix!
Dried thyme would work here nicely (1/4 tsp).
If you are using regular farro you should increase cook time to 20 minutes and natural release for 5 minutes before venting.
The balsamic sauce is totally optional! I thought it tasted great with this farro recipe, but it would also be nice on crostini with cheese.