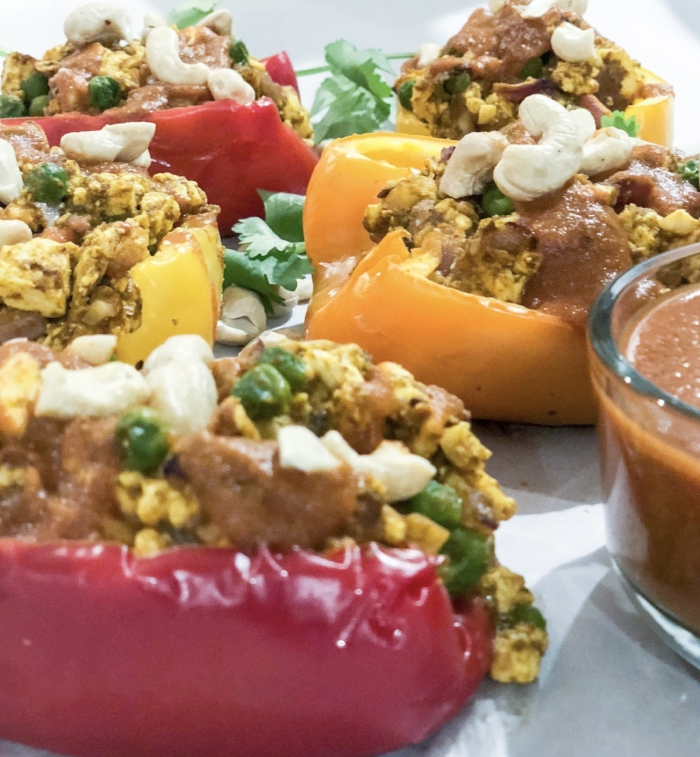 These paneer stuffed peppers are the reason I asked my friends/followers on social media if I should start providing detailed recipes. They turned out great, are a healthier option over eating paneer with rice or naan, and you can prep ahead of time to make life easy. I've been in the kitchen with my grandma, and parents since I was 2 feet tall so don't find the idea of making Indian food daunting, but we all know that it is time-consuming! Plus it requires a lot of ingredients that many of us don't have in our kitchens.
Fast forward a few months to MomUnderPressure! I hope that I am making my fusion Indian cuisine more accessible, and appetizing for everyone's taste buds.
Ingredients
3-4 colored bell peppers
1 block of paneer (14 oz)
1/2 medium red onion, chopped
1 cup peas (thawed if frozen)
1 cup tomato sauce for filling
1/2 cup chopped cashews
Cilantro Chutney
1 small bunch cilantro, thicker stems removed
1/2 cup tomato sauce or purée
3 garlic cloves
1 inch ginger (approx 1 tbsp)
1/2 medium sized jalapeño
1 tsp salt
1/2 tsp red chili powder or cayenne
1 tsp coriander powder
1 tsp ground cumin or cumin seeds
1/2 tsp garam masala
1/2 tsp turmeric
If you don't have all of these spices you can substitute turmeric, coriander, garam masala and cumin with 1 tablespoon of curry powder
Spicy Tomato Gravy (Tikka Masala)
3 tbsp cilantro chutney
3 cups tomato sauce
3 tbsp half and half or coconut cream
1/2 tsp fennel seeds
1/4 tsp cumin seeds
1 tbsp oil
1/2 tsp each salt
1/2 tsp red chili powder
1/2 turmeric
1 tsp coriander powder
or sub 1/2 tablespoon of curry powder for spices. I do recommend keeping the fennel seeds in this recipe if possible. They give a unique taste to the gravy which will blow your mind!
Preheat oven to 400 degrees. Cut bell peppers in half lengthwise, and remove seeds and membranes. Lightly salt and set aside in a large baking dish/tray.
Blend ingredients for cilantro chutney, and set aside. In a large pan, heat 1 tablespoon of oil then add most of cilantro chutney (approx 1 cup), and saute for 1 to 2 minutes until fragrant. Add 1 cup of tomato puree or sauce to chutney, heat through, and then add crumbled paneer, onion, and peas, Mix well. Remove from heat and add chopped cashews.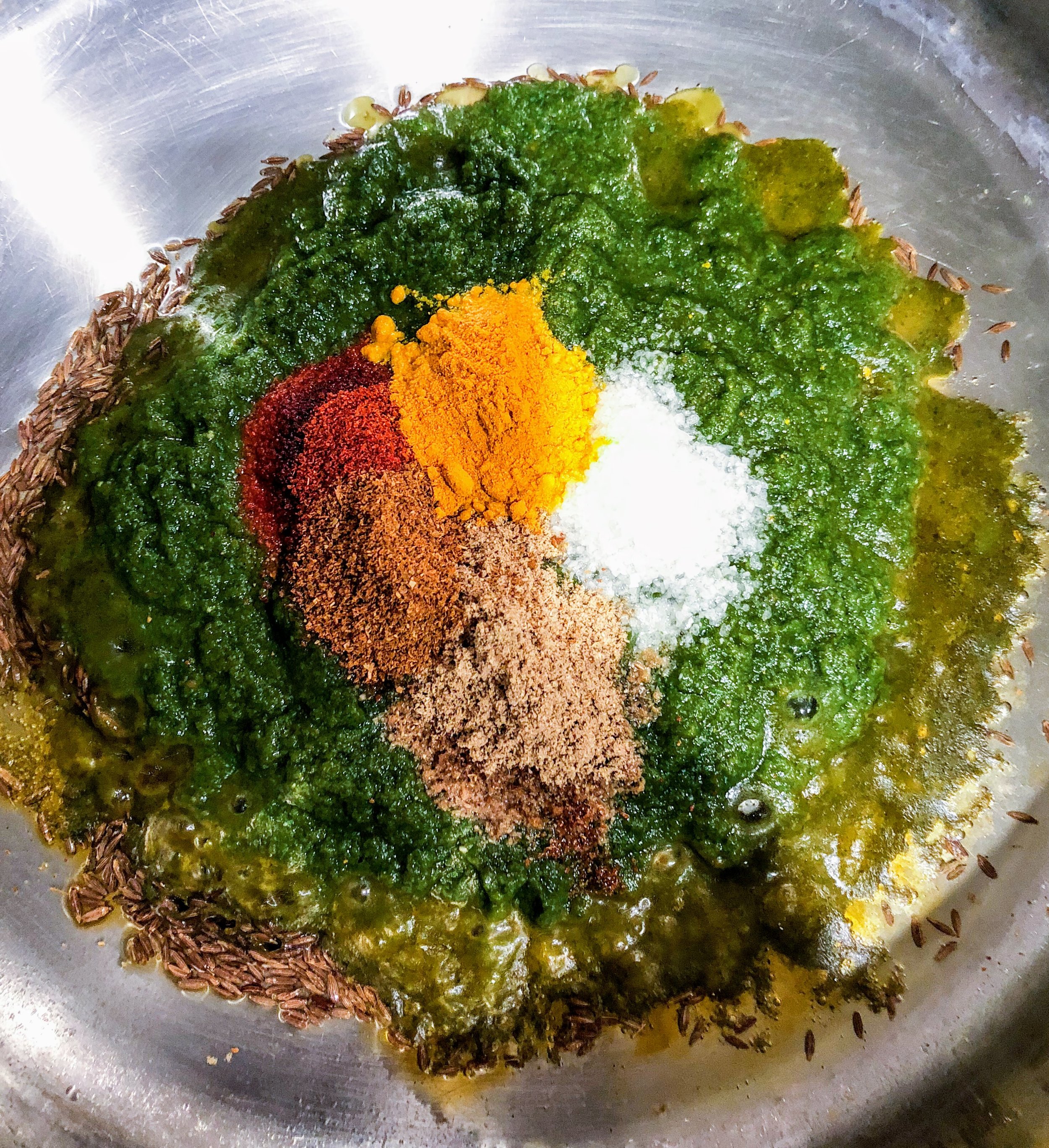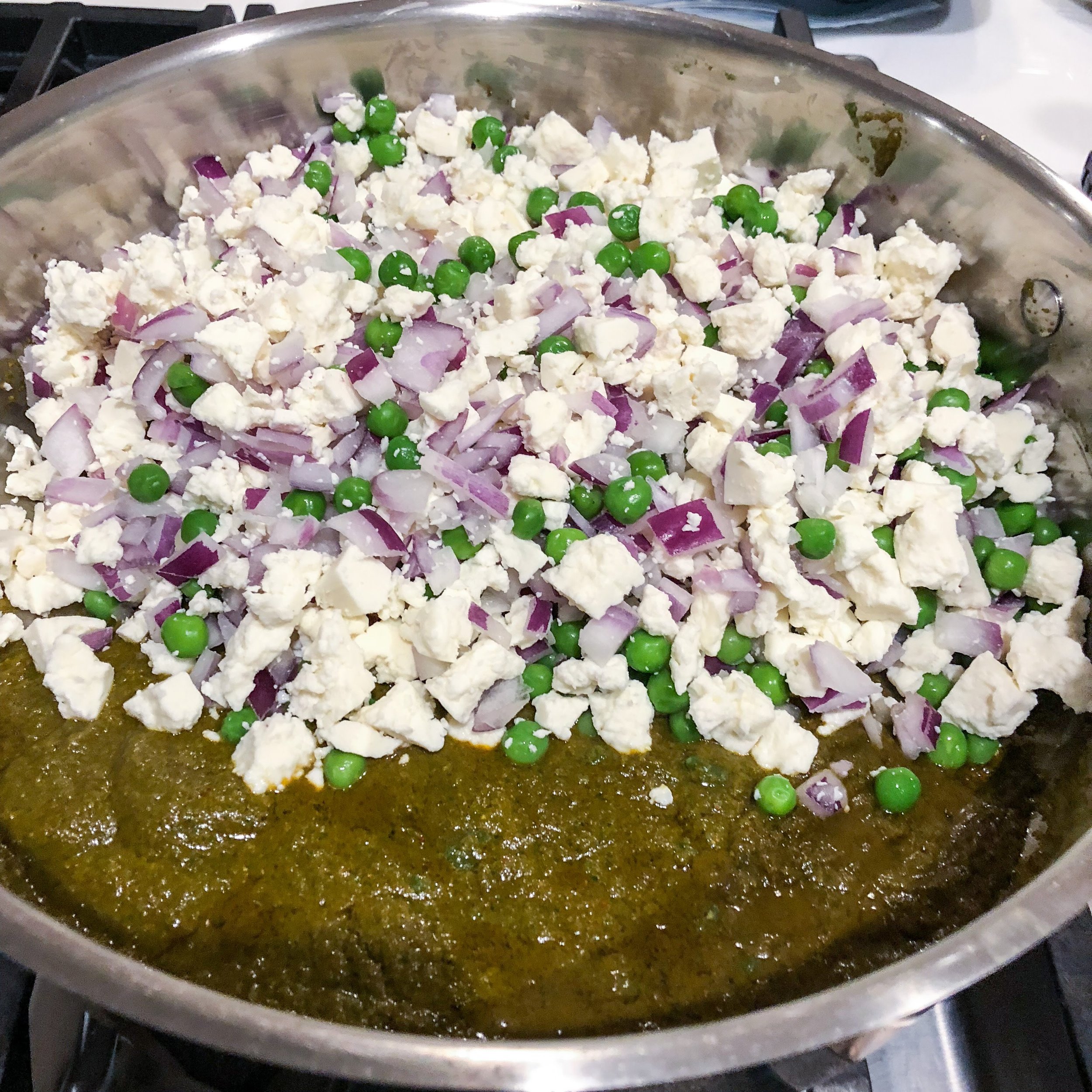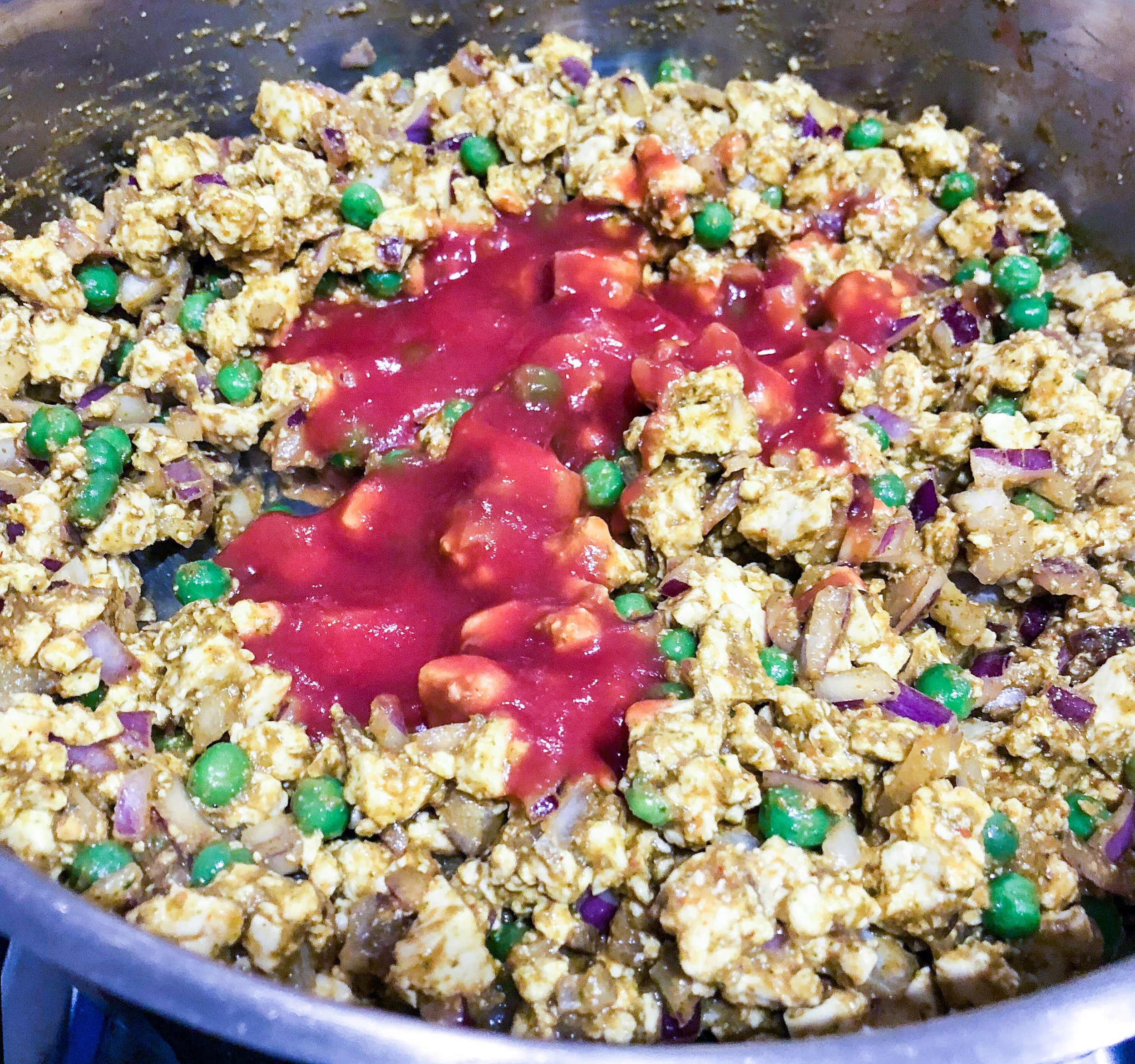 Fill bell pepper halves with paneer filling. Bake covered with foil for 15-20 minutes. Cook times may vary per oven, and depends on as how done you want your peppers. If you prefer a softer pepper bake for an extra 5 minutes.
While peppers are in the oven make the spicy tomato gravy (tikka masala).
Heat 1/2 tablespoon of oil to pan, then add fennel seeds. Toast until fragrant then add reserved cilantro chutney. Cook for 1-2 minutes then add 3 cups of tomato sauce. Season with 1/2 teaspoon more of salt, turmeric, and red chili powder if desired. Bring to simmer, then add half and half or cream. Remove from heat. Depending on your batch of tomato sauce you may need to add 1-2 teaspoons of sugar to balance out the acid and this will round out the spices as well. Serve with stuffed peppers.
---
Tips
Paneer is available at Costco! Use half of the block from Costco for this recipe.
Crumble paneer, chop onion, and thaw peas a day ahead.
Garam masala is available at most grocery stores! I've seen it at my local Target.
Allergic to nuts? Substitute cashews with seeds i.e. sunflower or pumpkin, or omit.
I did not have cumin powder so I toasted my cumin seeds in oil before adding the cilantro chutney. You can also grind them directly with the other ingredients. Personal preference!