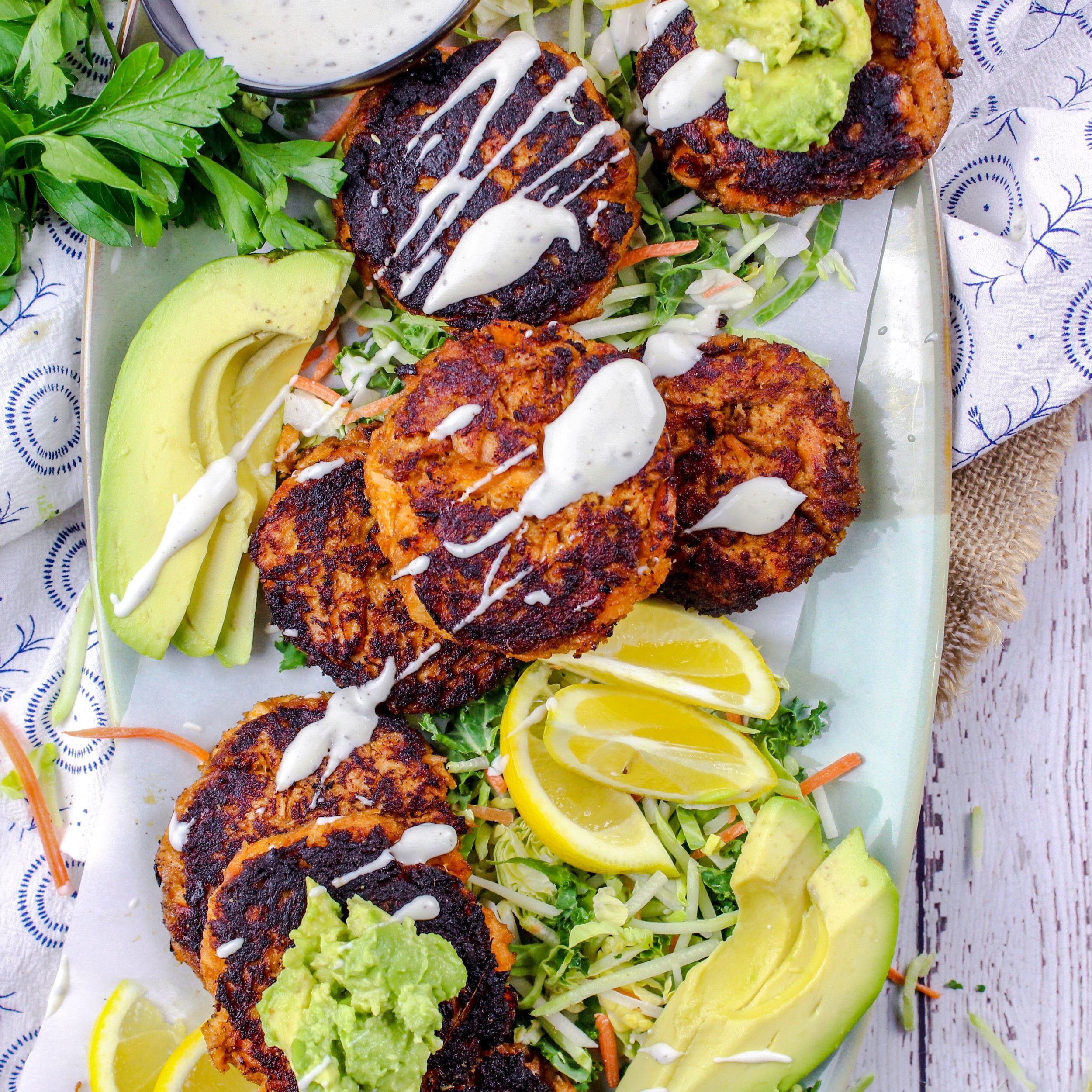 How many of you actually make crab cakes at home? It's probably super easy, but I wouldn't know. I just associate crab cakes with dining out at a nice restaurant. BUT, I make salmon at home all the time! I even fed it to Shay Shay when he started eating solids…you know before he realized that what I was feeding him was insanely healthy and from the sea. He doesn't eat salmon willingly anymore, but the hubby and I love it. To keep it interesting we stray away from just popping it into the oven and make salmon cakes or patties…whatever you want to call them. I've tried a bunch of recipes, and many times will add vegetables like celery, onion, peppers, and season them with capers and dijon. Sound delicious right? Well, these blackened salmon cakes are SO tasty, healthy, and guess what?? Even Shay likes them! Holy moly, my world just turned upside down 😉 Keto-friendly, paleo, gluten-free, and great for meal prep too. Pair them with your fav salad or some roasted veg and you've got a grand-slam dinner!
Ingredients
1.5 lbs salmon (I used Atlantic salmon)

1 egg, beaten

1/2 cup almond flour

2 tbsp Greek yogurt or mayo
Blackening Seasoning
2 tsp smoked paprika

2 tsp ground cumin

4 cloves garlic, minced or grated

1/2 tsp cayenne or to taste

2 tbsp lemon juice

1 tbsp honey

1/2 tsp salt or to taste
Preheat oven to 350 degrees. Mix together ingredients for blackening seasoning. Place salmon in a baking tray and rub filet with a little more than half of the seasoning. Place in oven and bake for about 30-40 minutes until cooked through and flaky. Bake time will vary depending on how thick your salmon is or if you have one large filet or individual portions. If using 3-4 portions (6oz. each) bake time will be reduced to about 20 minutes.
After salmon is cooked through and cool enough to handle gently flake filet away from skin and place meat into a bowl. Add almond flour, Greek yogurt, and the rest of the blackening seasoning and combine. Add and additional pinch of salt if necessary. Add the beaten egg, and mix until combined.
Form patties with your hands (about 2 inches in diameter), and pan fry in a nonstick or cast iron skillet on medium heat for 4-5 minutes on each side.
Place onto a parchment lined plate or tray. Serve with avocado, slaw, and ranch.