We are in the transition from Summer to Fall. It's bittersweet really. I find myself forgetting a coat some mornings when I head outside, but the crisp Autumn air is glorious! It's really the perfect time to make this Chai Spiced Dutch Baby Pancake with Marinated Peaches. It's a quick and delicious breakfast or brunch that is perfect for the whole family!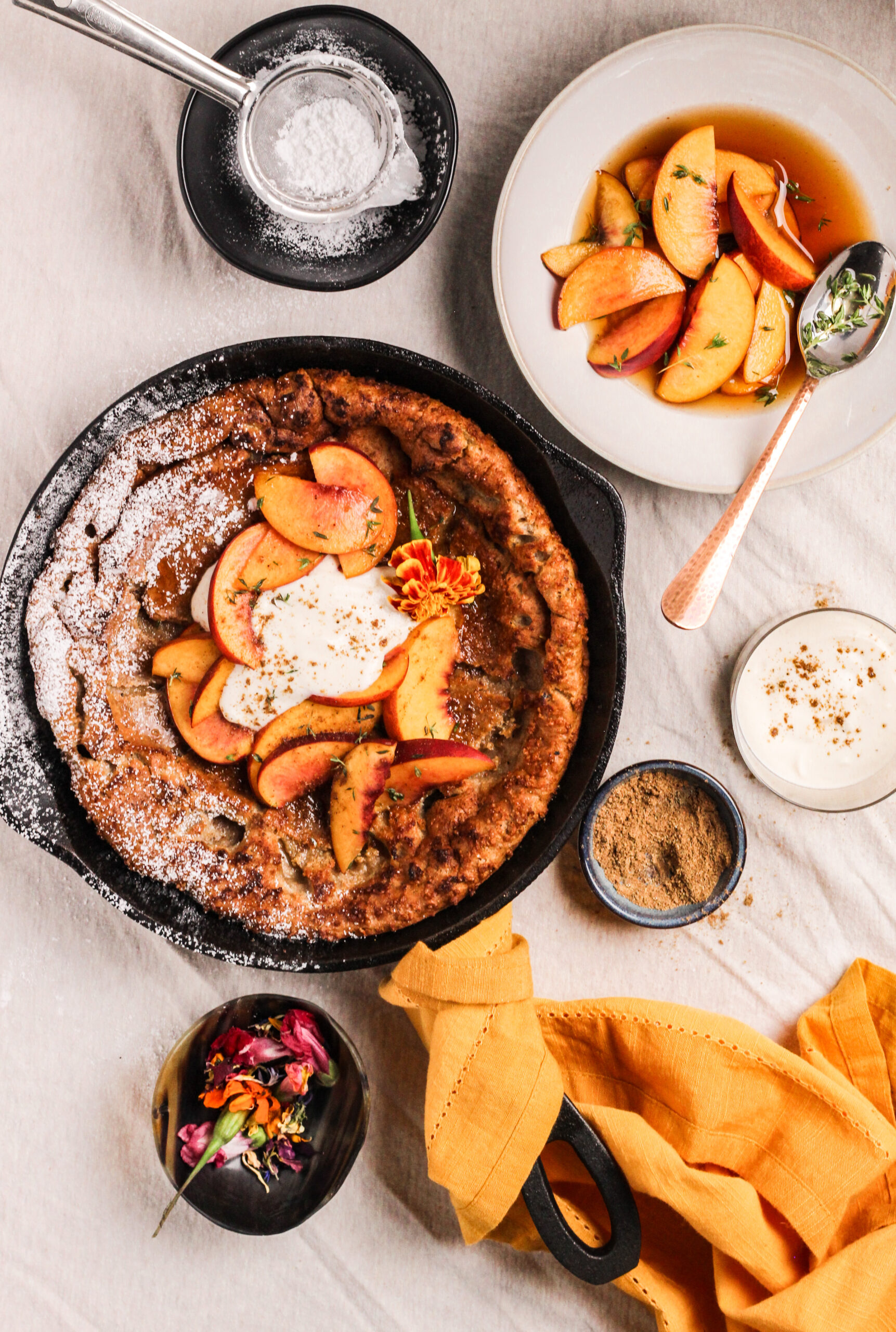 The Pancake
So let's talk about this Dutch Baby Pancake. This pancake is not your typically fluffy, soft pancake that you get off the griddle. The recipe contains more eggs, and is a custard like batter. It resemble a huge popover which a crusty top and dense body.
I also use full-fat coconut milk in the batter instead of cow's milk. You can use whole milk if you don't have coconut milk on hand, or if you don't like coconut milk. I just love how the coconut milk plays with the chai spices, and it gives the batter even more richness.
You will find thousands of recipes for Dutch Baby Pancakes with different ratios of egg to flour, and for my particular recipe I use one egg for every 1/4 cup of flour and 1/4 cup of milk. So if you want to cut this recipe down, or make more batter it is very easy to do so.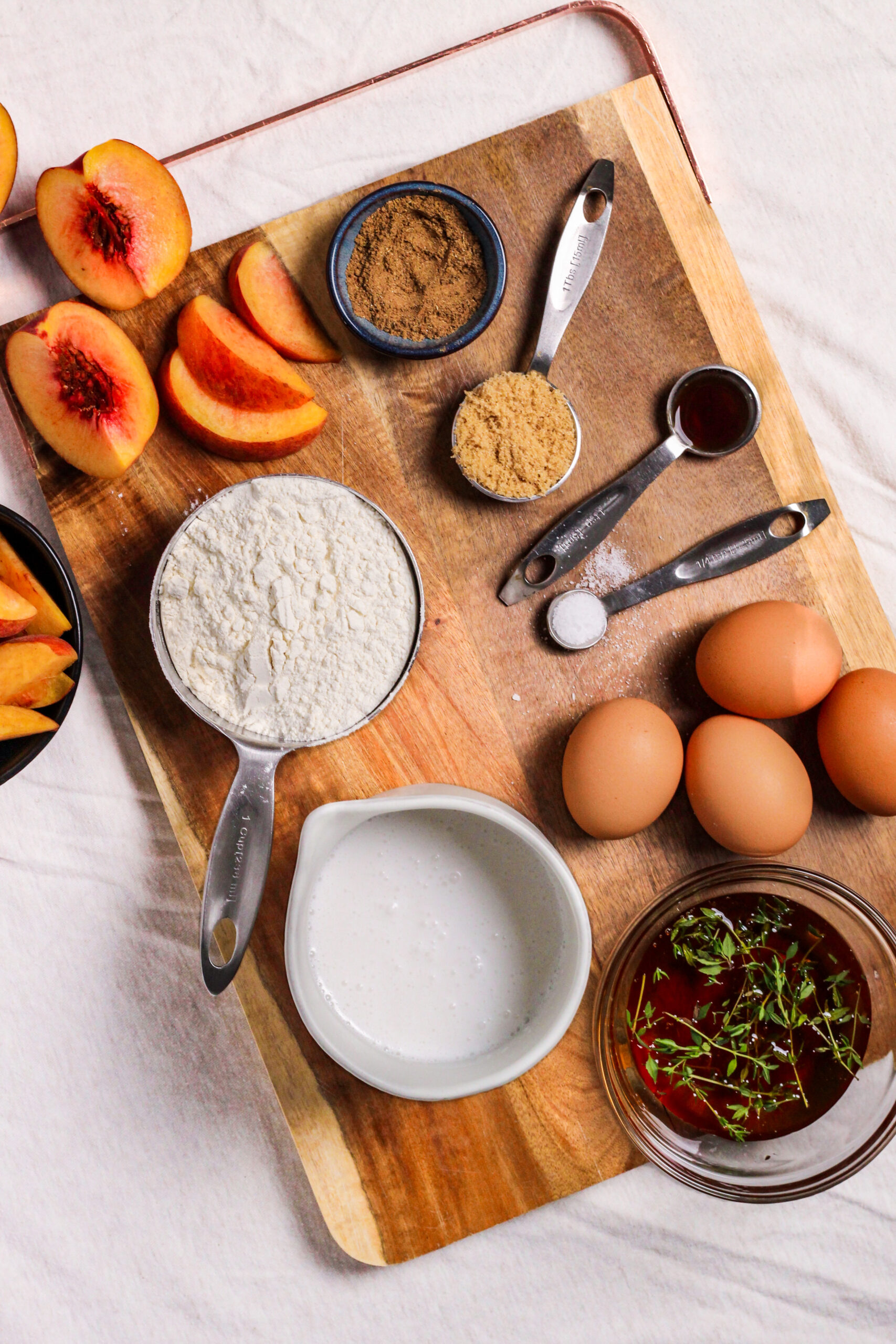 Honey & Thyme Marinated Peaches
Peaches are still at their peak towards the end of the Summer, and I just had to take advantage of making a quick recipe with them while there was still time. I use the peaches as more of a topping for this skillet pancake instead of in the batter, because I wanted them to stand on their own. Thyme goes so well with peaches so I very simply let the slices of fresh peach sit in some honey, thyme, and just a sprinkle of salt.
After the peaches have sat in the thyme and honey marinade for 15-20 minutes they start to release some juice, and pick up the lemony freshness of the thyme. It's so simple, but incredibly delicious. The way Summer food should be. Produce at its best!
If you aren't a fan of peaches I suggest using blueberries, blackberries, or plums the same way for this recipe! The leftover marinated fruit can be stored in the fridge for up to 7 days, and it's great on toast with almond butter, or as a topping for ice cream, or in a parfait with yogurt, and granola!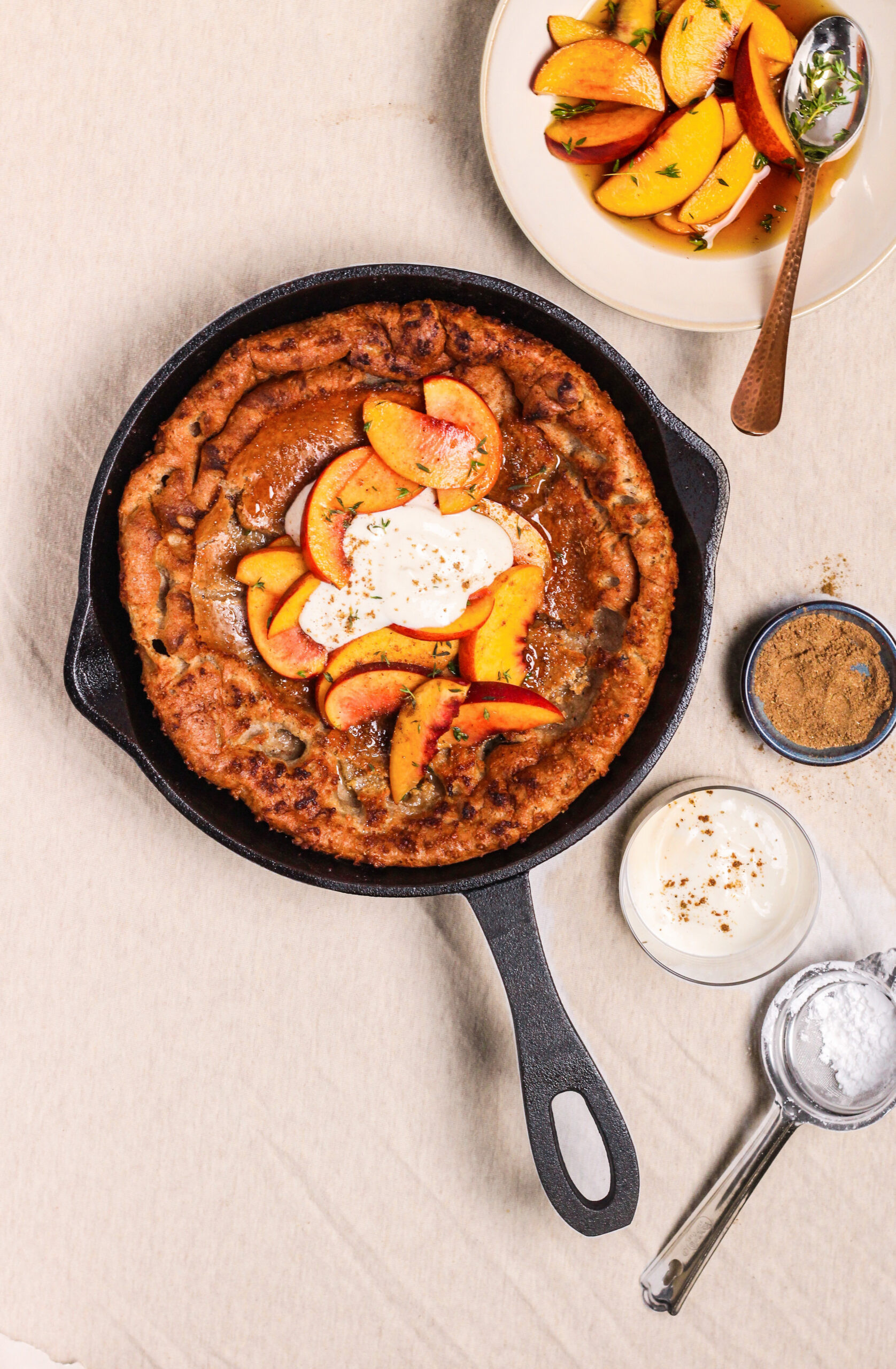 Chai Masala Dutch Baby Pancake
A puffy, custard-like, baked pancake infused with homemade chai masala topped with marinated honey and thyme peaches.
Ingredients
1

cup

all purpose flour

1

cup

coconut milk

4

eggs

1.5

tbsp

chai masala

2

tbsp

brown sugar

1

tsp

vanilla

1/4

tsp

salt

2

tbsp

butter or coconut oil

for baking in cast iron
Honey and Thyme Peaches
1

med

peach

thinly sliced

4-5

swings of fresh thyme

leaves removed

1/4

cup

honey

pinch

of salt
Homemade Chai Masala
2

tbsp

green cardamom pods

1

stick

cinnamon

or 1 tbsp ground

1

tsp

cloves

1

tsp

black peppercorns

1

tsp

fennel seeds

1/2

tsp

ground ginger
Instructions
Dutch Baby and Peaches
Bring all the ingredients for pancake batter to room temperature.

Place peaches, honey, thyme leaves, and salt in a bowl. Mix until peaches are coated with honey and set aside.

Preheat oven to 425 F and place a 10 inch cast iron skillet in the oven to heat. Remove any racks above the skillet since the pancake will puff up quite high.

Blend ingredients for pancake in a blender or vigorously whisk together in a large bowl. Let the batter sit for 5 minutes.

Open the door to the oven and pull out the rack that has the cast iron skillet. Carefully place butter or coconut oil in the heated cast iron skillet.

Once the butter has melted swirl it around so that it coats the sides of the skillet. Don't forget to wear an oven mitt!

Quickly pour in the batter and bake the pancake for 20 min. Do not open the oven during this time.

Remove skillet from the oven with puffed Dutch baby pancake. Top with peaches, powdered sugar if desired. Serve warm.
Chai Masala
Gently toast cinnamon stick, cardamom pods, peppercorns, cloves, and fennel seeds in a small skillet over low heat for 2-3 minutes.

When toasted add spices and ground ginger to a spice mill or coffee grinder.

Grind until you have a fine powder.

Store in an airtight container.
If you make this Chai Masala Spiced Dutch Baby Pancake or any of the other recipes on my blog tag me with your photos! I would love to see them and share your cooking.
Homemade Chai Masala
I've been wanting to infuse chai masala in something for a LONG time now. I love the flavor that chai masala (or spices) brings to food. You get sweet and savory notes from the cardamom, cinnamon, ginger, cloves, and black pepper which works so well for flavoring all kinds of food….not just chai tea!
I made my own version of chai masala for this recipe, and I hope you try it for yourself! I go heavy on the cinnamon and cardamom, and then add fennel seeds for an anise flavor. You can use star anise in place of the fennel if you wish, but I am loving the combo of cardamom, cinnamon, fennel, cloves, ginger, and black pepper.
The chai masala will keep in an airtight container for months! Double the recipe, and use it to make these Dutch Baby Pancakes regularly, or use it to flavor your coffee, tea, oatmeal, pork chops, cookies, or just add a sprinkle onto some toast. It's the best!