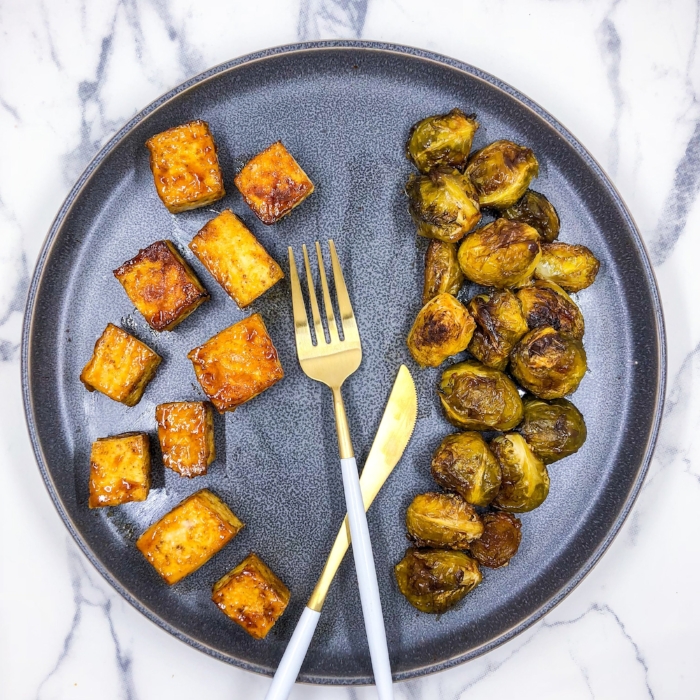 Meal planning and meal prep is all the rage lately! We don't necessarily meal plan at my house…it's usually a fly-by-night kind of situation and then most of the food gets eaten for dinner and lunch the next day. But, I do love roasting vegetables and using them in different ways during the week. I also like to make tofu once a week. It's a nice break from preparing and eating a meat dish, and you still get your protein fix. This recipe is really simple…you just have to love on it a little bit i.e. drain the tofu, trim the Brussels, let it bake up until everything is crispy and glazed. I do a lot of this prep work the day before, and then dinner is a breeze!
Ingredients
Tofu and Brussels
1 package extra firm tofu

1 lb Brussels sprouts, trimmed and halved

1-2 tsp salt

1/2 tsp cayenne pepper

Chinese five spice, to taste (optional)

up to 2 tablespoons arrowroot powder or cornstarch
Glaze 
1/4 cup coconut aminos

2 tsp chili garlic paste (sambal oelek)

2 tbsp hoisin

2 tbsp lemon juice (approx 1/2 lemon)

1 tbsp honey
Start by draining and drying out the tofu.  After I drain all of the liquid I put the block inside a large colander, and let it drain for at least 30 minutes. Every now and then I will press down on the top of the block with a couple of paper towels to get the extra liquid out. After the block is mostly dried out, cube the tofu into about 1 inch pieces. If you are doing this ahead of time, place the cubed tofu into an airtight container and refrigerate. You can also prep the Brussels sprouts by trimming the ends, removing any yellow outer leaves, and cutting them in half (the larger ones I quartered). Store the Brussels sprouts separately from the tofu.
For the soy glaze blend all of the ingredients until combined. 
Preheat oven to 400 degrees. If your container of tofu is large enough  start by coating the tofu with oil (approximately 1 teaspoon), and then toss with a light sprinkle of salt, cayenne, and Chinese five spice. If the container is not large enough to season the tofu then transfer to a bowl large enough to do this without breaking up the pieces. Then toss seasoned tofu in arrowroot powder until all of the pieces are coated evenly. You should not see any powdery spots on the tofu. Place Brussels sprouts on a large sheet tray and drizzle with oil, salt, cayenne, and Chinese five spice. Toss until sprouts are coated evenly, and turn each Brussels Sprout cut side down on the try. Place seasoned tofu on the opposite side of the tray. Bake for 20-25 minutes minutes until sprouts and tofu are nicely browned on the bottom.   Carefully remove the tray, give the veggies and tofu a flip, and then pour on the glaze!  Place back into the oven for another 15-20 minutes. You can turn the sprouts and tofu once half way through cooking if desired. 
Serve with brown rice, quinoa, noodles, zoodles, or eat them just the way they are because they are so yummy! You can prepare lunches for the week and customize with what you want to keep things exciting 😉