Boy, oh, boy do I love cheesecake. Actually not even just me…Sushil, Shay, the rest of the family, coworkers, friends. It's so freakin' good! Now, I know you can make cheesecake in the Instant Pot and I love that dang thing, but I have attempted any Instant Pot desserts. In life, I just don't really bake. It's a goal of mine to bake more often since I love baked goods so much, but here I wanted to use some of my favorite flavors to make an easy no bake cheesecake and I think we have a winner! Buttery, a little exotic with cardamom and pistachios, and not overly sweet…which is key! The fig jam is store bought as well as the shortbread cookies. What's not to love??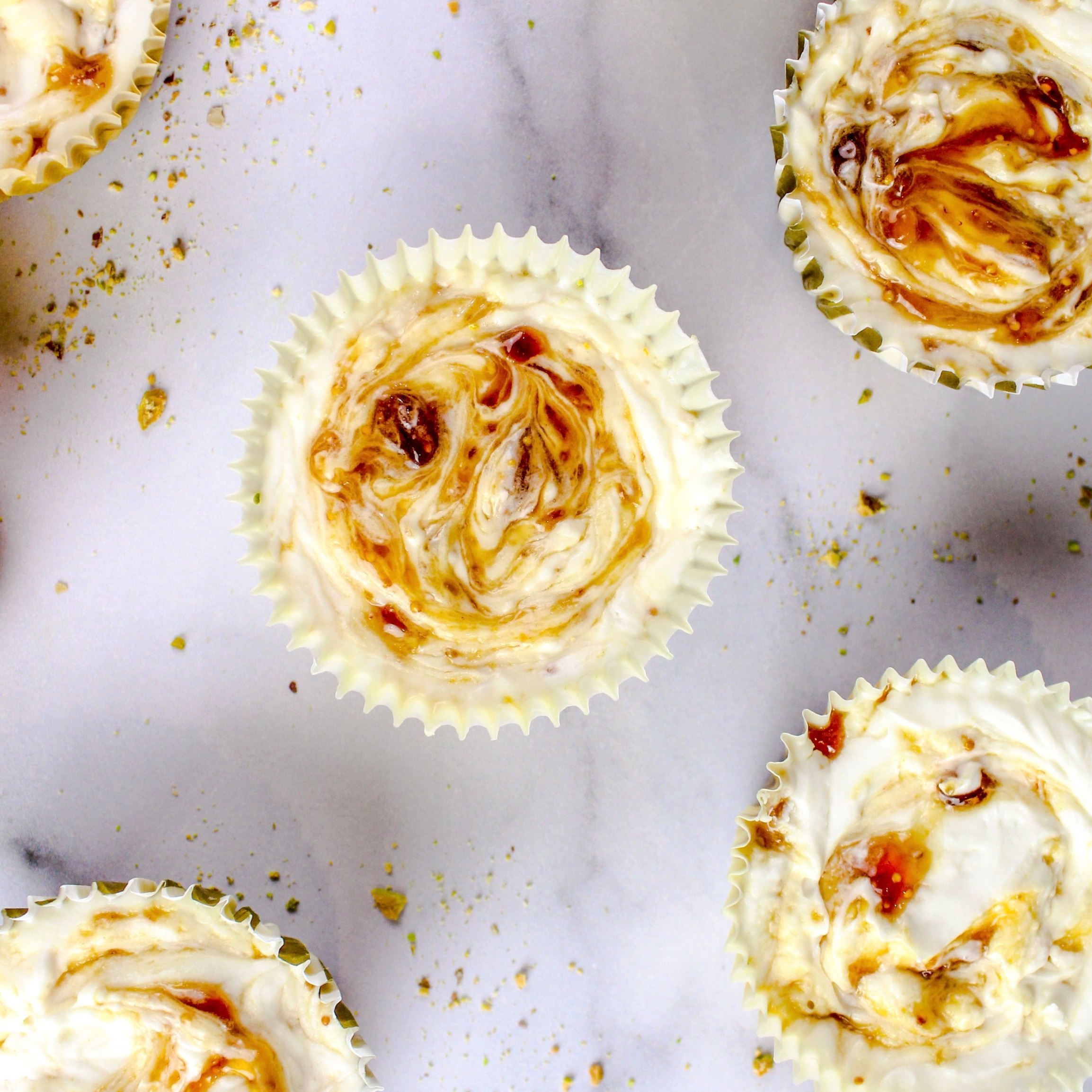 Ingredients
Crust
1 large pack shortbread cookies (10-11 oz.)

1/2 tsp ground cardamom

1/2 cup pistachios, shelled (optional)

4 tbsp unsalted butter, melted

pinch of salt
Filling
16 oz. cream cheese, room temperature

1.5 cups heavy whipping cream

1/2 cup sugar

1 tsp vanilla

2 tbsp lemon juice

1/2 cup fig jam ( I like Divina or Dalmatia brands)

pinch of salt
Prepare crust by place cookies, pistachios, and salt in a food processor. Pulse a few times, scrape down the sides, and continuing pulsing until you have a finely ground mixture of crust. Add melted butter, and pulse again to incorporate.
Line a baking dish (8×8 works well) with parchment paper with overhang. Place crushed shortbread crust into the pan and gently pat down until you have an even crust. Set aside.
For the filling place whipping cream into a bowl. Using a hand blender start whipping the cream until you have stiff peaks. Add the rest of the ingredients and blend until smooth. Add the fig jam and gently fold throughout. Pour cheesecake filling over crust, and spread evenly. Give the pan a gentle tap on the counter or floor. Freeze for 2-3 hours until set or refrigerate overnight.
To make about 12 cheesecake bites you can use half the recipe and fill lined muffin cups with crust and then filling. Freeze or refrigerate until firm.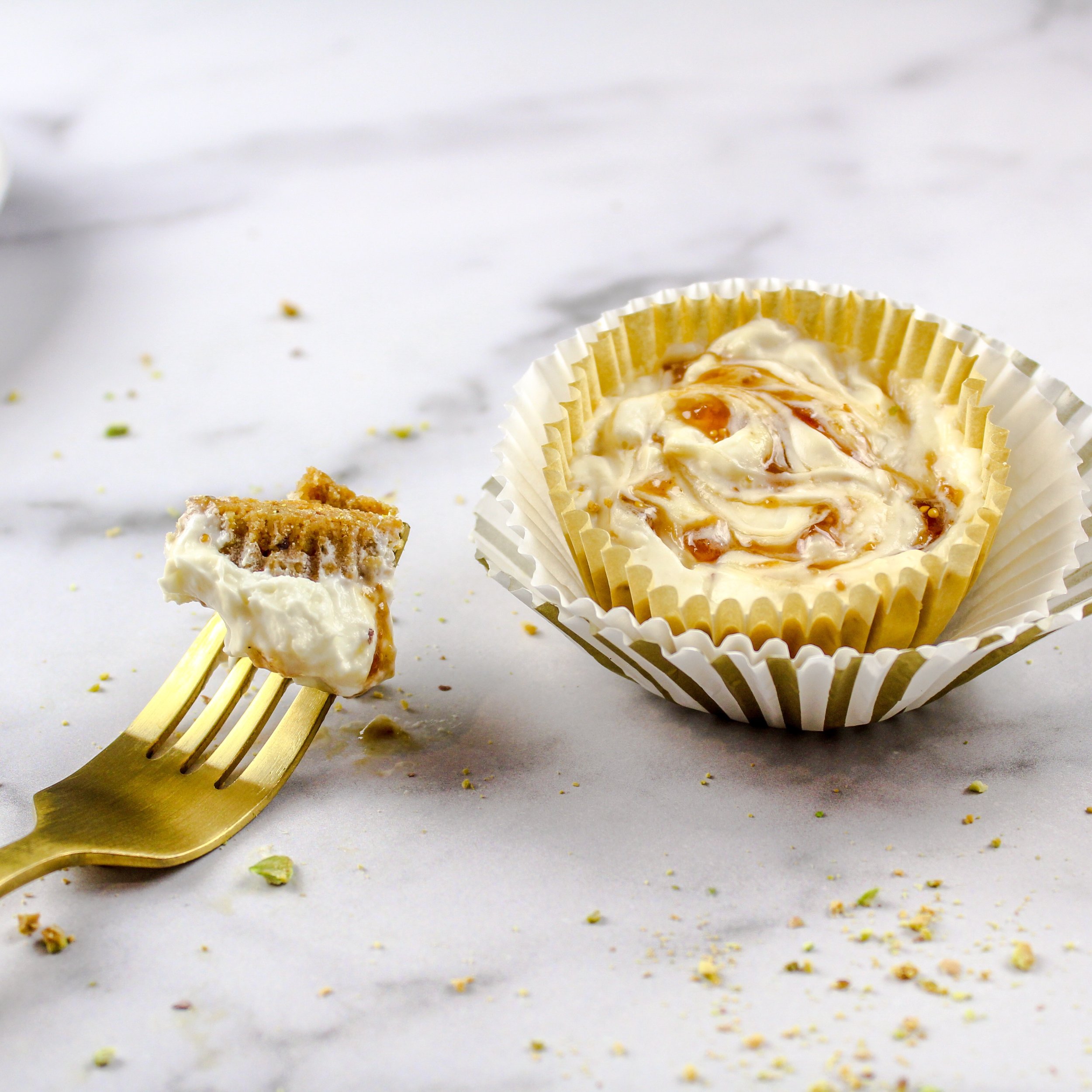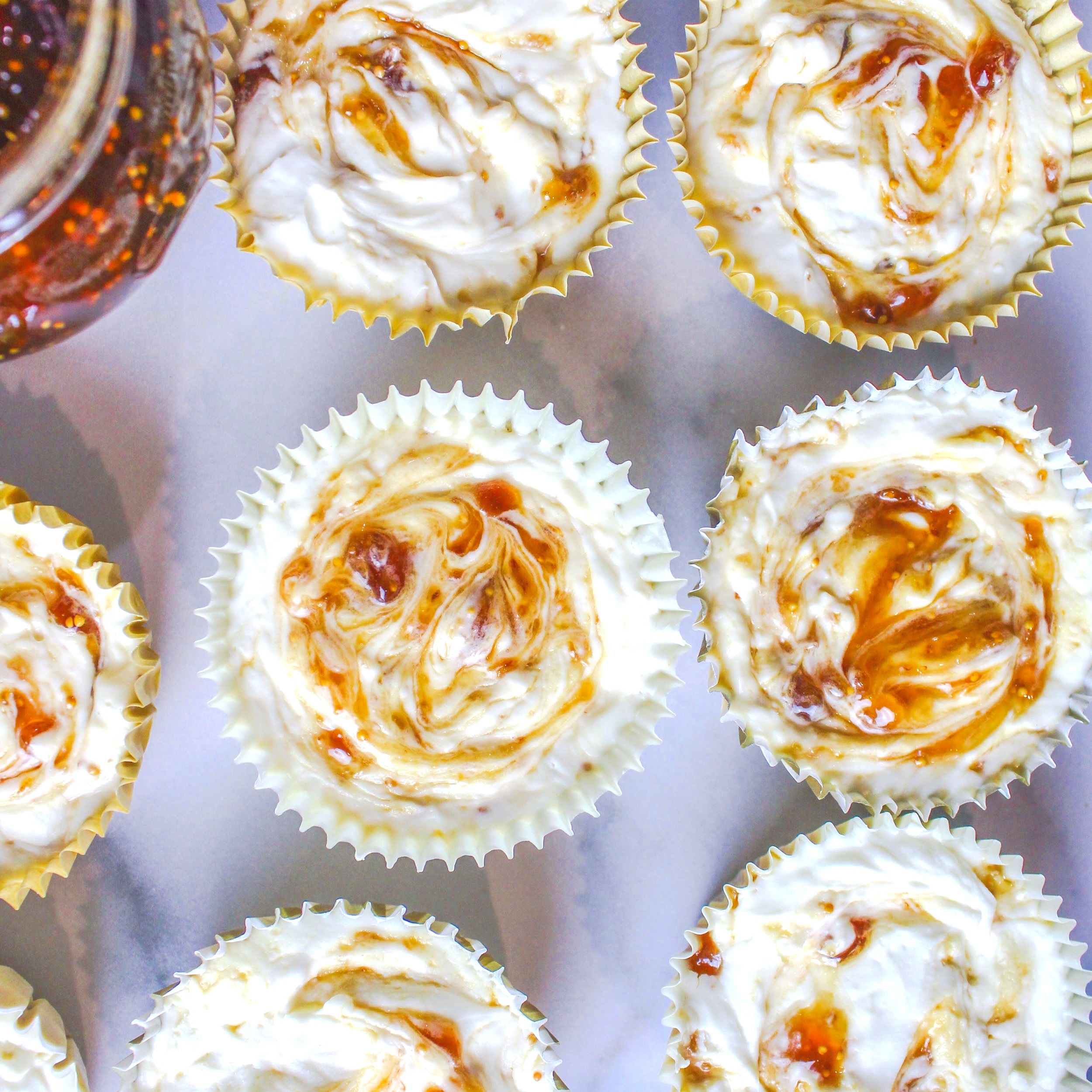 ---
Notes
These should be served chilled. As they sit at room temperature they will get soft.

Alternatively, you can use 1 can of sweetened condensed milk in place of heavy whipping cream and sugar (1/2 can for 12 cheesecake bites)