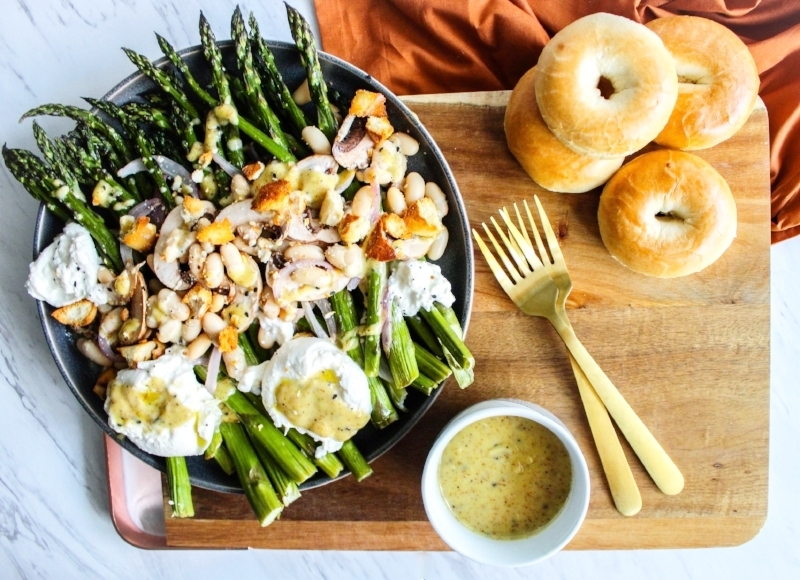 So I just had to see what all the fuss was about. Yes, you know what I'm talking about….it's this Everything But The Bagel Seasoning from Trader Joe's. A ton of you have it sitting in your spice drawer, and I see it all over social media– sprinkled over avocado toast, flavoring your hummus, on top of vegetables, and the list goes on. Well, I finally went out to get a bottle. Not me physically, but Sushil grabbed it from TJ's when he did the grocery run. Now, I could have made a fab avocado toast with this, and blasted it on the 'Gram, but you know me….I like to make sauces. I took everything I see relating to this seasoning and made a salad. You're thinking, "Boring, Michele," but it's nothing but boring. The vinaigrette is tasty as heck, and who knew bagel croutons were a thing? This salad is quick to make, has great textures from the beans, vegetables, and creamy burratta, and is hearty enough for your meal. It's actually kind of addicting… you need to give it try!
Ingredients
1 lb asparagus, trimmed

4 oz burrata cheese

1/2 cup red onion, sliced

1 cup cannellini beans (white kidney beans), rinsed and drained

1/2 cup cremini mushrooms, thinly sliced, optional

1 plain bagel, or 2-3 mini bagels
Everything Bagel Vinaigrette
1/4 cup olive oil

2 small cloves garlic

1 tsp Dijon mustard

1 tbsp red wine vinegar

1 tbsp honey

1/4 tsp salt

1/2 tsp Trader Joe's Everything But The Bagel Seasoning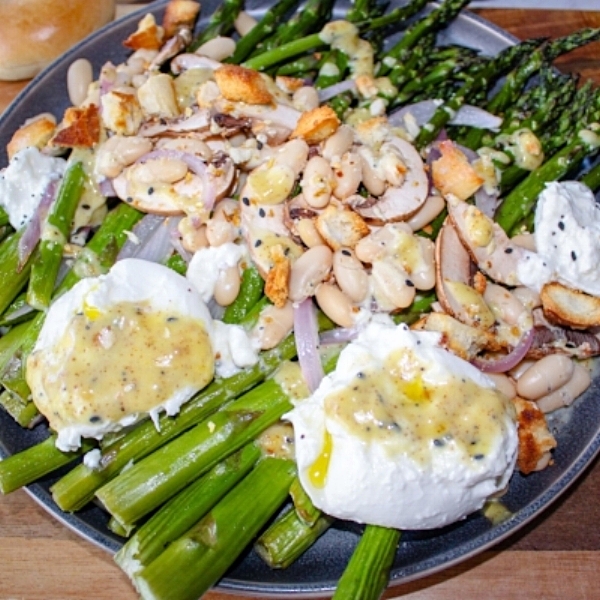 Preheat oven to 425 degrees. Place asparagus and red onion on a baking sheet, and liberally sprinkle with salt. Then toss with 1-2 teaspoons of oil, and bake for 10-15 minutes until asparagus is tender-crisp.
While the vegetables are roasting in the oven blend all of the ingredients for the vinaigrette except for the Everything But The Bagel Seasoning. After the vinaigrette comes together mix in the seasoning. If you are not using a blender then mince garlic and whisk together all of the ingredients in a bowl. Slice mushrooms and set aside.
To make the bagel croutons tear bagel into small pieces, and place on a sheet pan. Toss with a little oil and salt. Bake at 250 degrees until bagel pieces are golden brown (about 7-10 minutes).
Assemble salad with vegetables, white beans, burrata, dressing, and croutons.