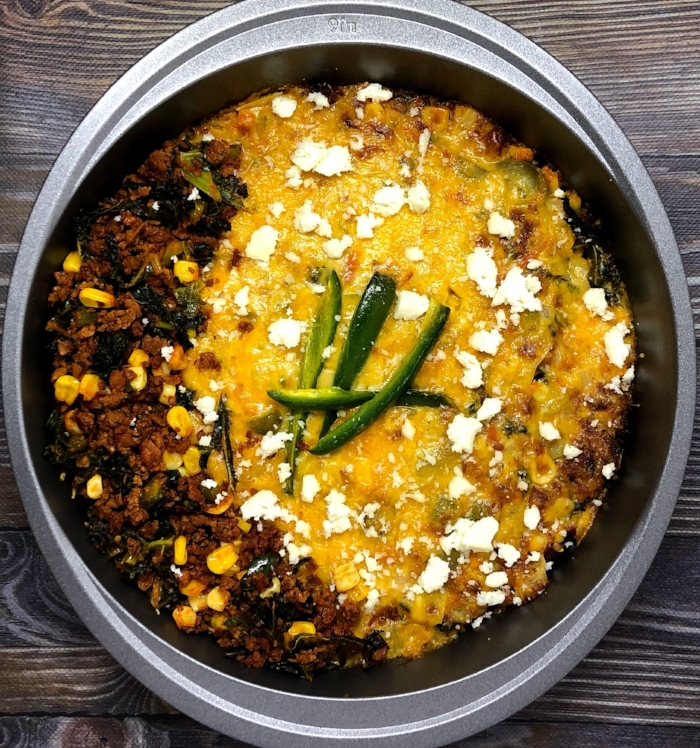 If you want to impress your guests with a gooey, cheesy, spicy appetizer try this queso fundido! It comes together super quick with some help of store-bought ingredients!!! We took this over to a friend's place for Super Bowl 52, and turned quite a few people on to soy chorizo. And by now, I'm sure you can tell that I love the combo of corn, and kale!
Ingredients
1 tbsp oil
1/2 cup frozen corn
1/2 jalapeno, diced with seeds removed.
1 cup chopped kale
1/2 package Trader Joe's soy chorizo
1 container prepared queso of choice
3/4 cup shredded cheese, your choice!
Heal oil on medium-low and saute corn for 2-3 minutes. Add chopped kale and jalapeno. Saute for 2 minutes longer, then add soy chorizo and a squeeze of lime. Stir to combine. Spread soy chorizo mixture in the bottom of a small oven safe dish (i.e. pie plate), then layer prepared queso, and shredded cheese.
Bake at 450 degrees for 5-7 minutes until cheese is melted and golden. Serve with tortillas, and chips!