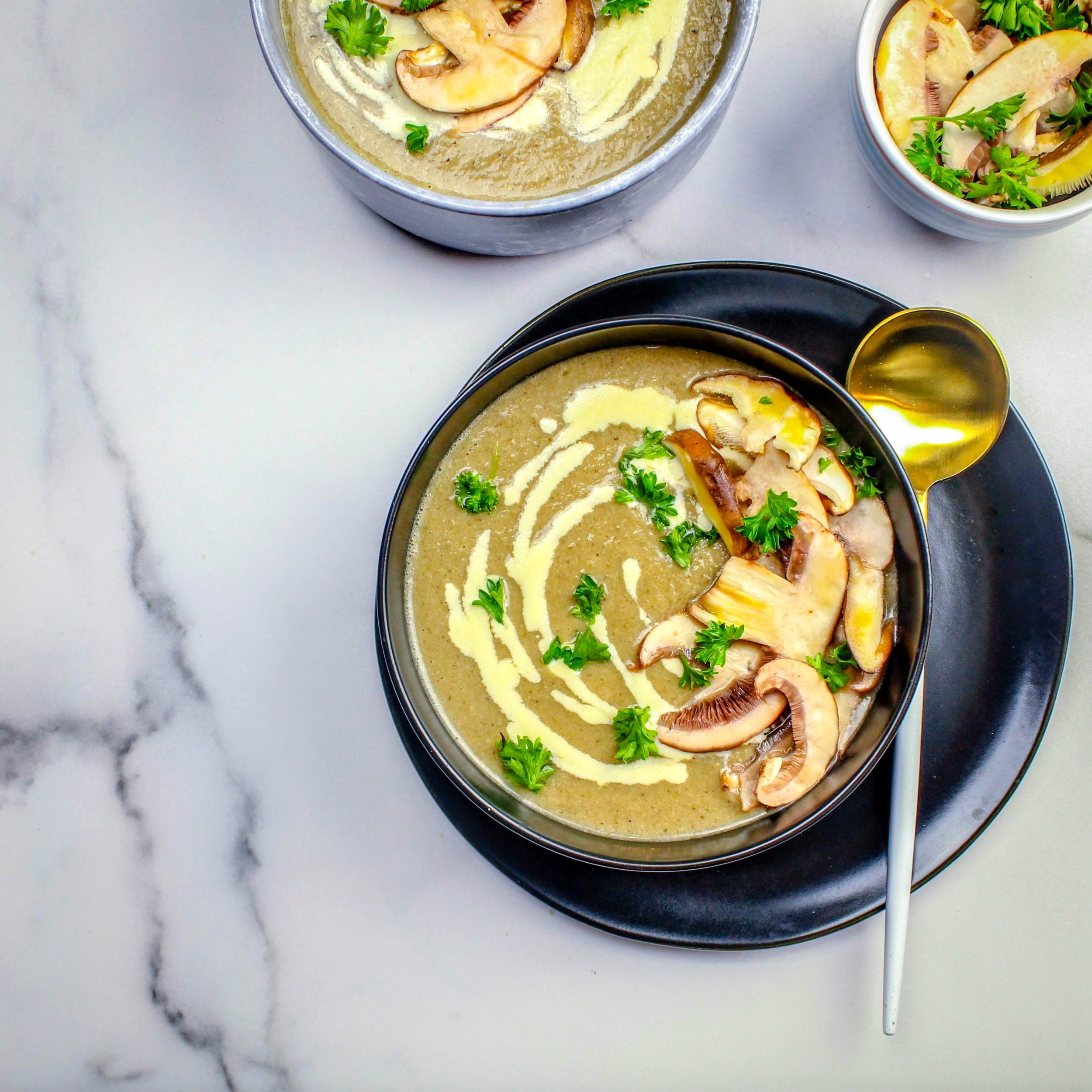 By now you know I am obsessed with the Instant Pot, and Instant Pot soups. Since it's Veganuary for some of you, and I bought quite a few mushrooms from the grocery store I'm giving you a super easy creamy soup that is filling and healthy! I didn't make this to mimic the cream of mushroom canned thing, because I don't like canned cream of mushroom at all! I just wanted something different to satisfy both me and my meat-loving husband (who also loves mushrooms). I used a bit of hummus to bring some more body to the soup and add a nice velvety texture without having to use heavy whipping cream or butter. I wouldn't leave that out if I were you, and I do suggest going to vegetable broth since that will intensify the mushroom flavor. Oh, and the marinated mushrooms on top with the tahini drizzle is really what makes this 15 minutes dish FIRE!
Ingredients
16 oz. baby bella (cremini) mushrooms, rough chopped

5 oz. shitake mushrooms, sliced

1 1/2 cups white or yellow onion (1 medium sized onion), chopped

1 tbsp garlic (3 medium cloves)

1 sprig fresh rosemary

3 sprigs fresh thyme (approx. 2 tsp fresh; 1 tsp dried)

4 cups vegetable broth

salt and pepper to taste

2 tbsp prepared hummus

parsley for garnish
Tahini Drizzle
2 tbsp tahini

1 tbsp lemon juice

1-2 tbsp water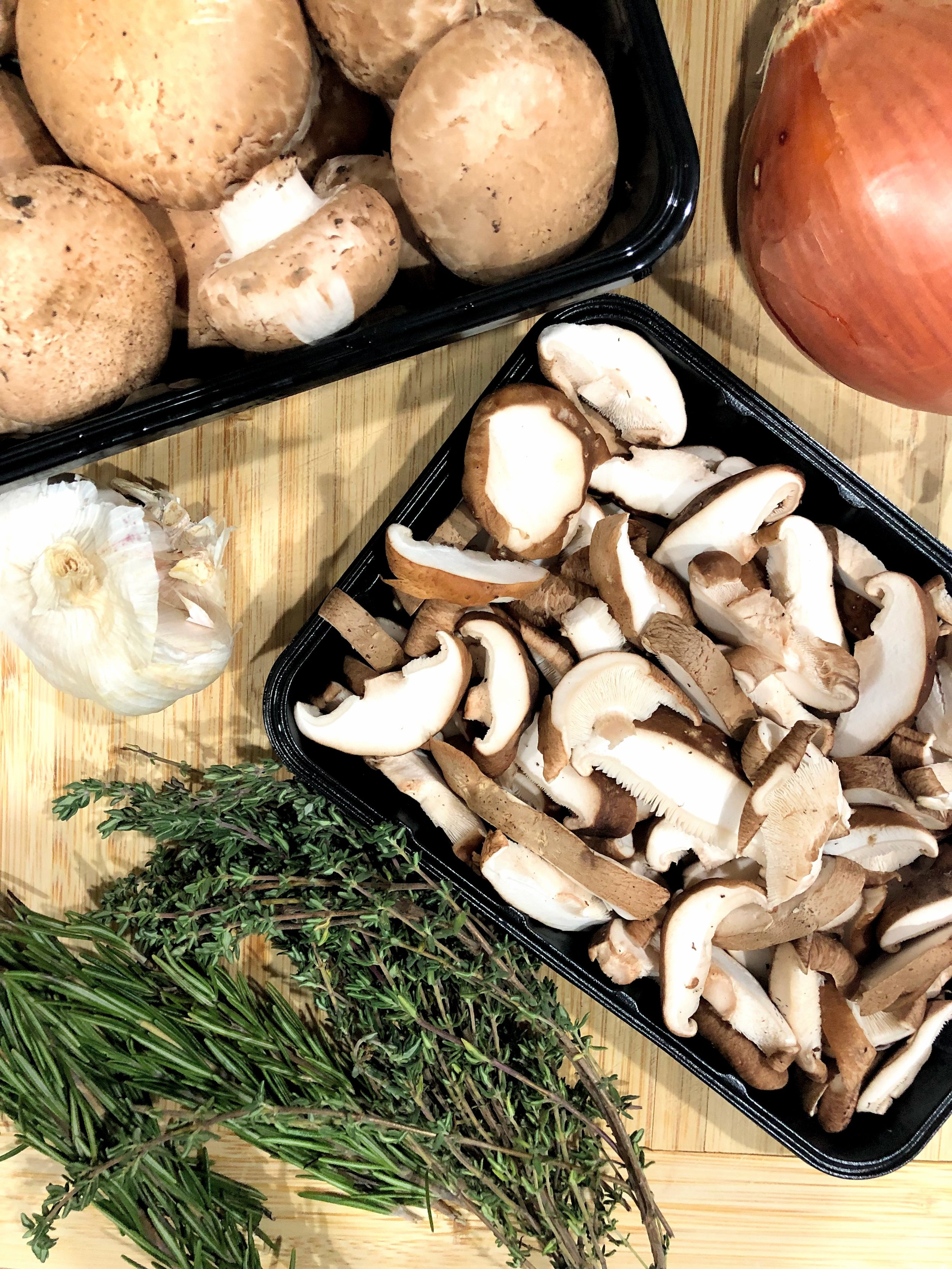 Set Instant Pot to Saute mode. Coat the liner with olive oil. When hot, place mushrooms, onion, garlic, and herbs (removed from stems) into the pot. Saute oh high until the vegetables are beginning to caramelize and have released some water (about 4-5 minutes). Turn off Saute mode. Add 2 cups of vegetable broth. Close Instant Pot and switch to Manual mode. Cook at high pressure for 10 minutes, and quick release. Add 2 more cups of broth and hummus. Blend using an immersion blender until smooth or place everything into a food processor or regular blender to make the soup (you may have to do this in batches depending on the size of your appliance).
To make the tahini drizzle place tahini and lemon juice in a small bowl. Whisk together while streaming in water until you get to the consistency that you like (which should be similar to salad dressing). Season with salt. Top blended soup with marinated mushrooms (see below), tahini, and curly parsley.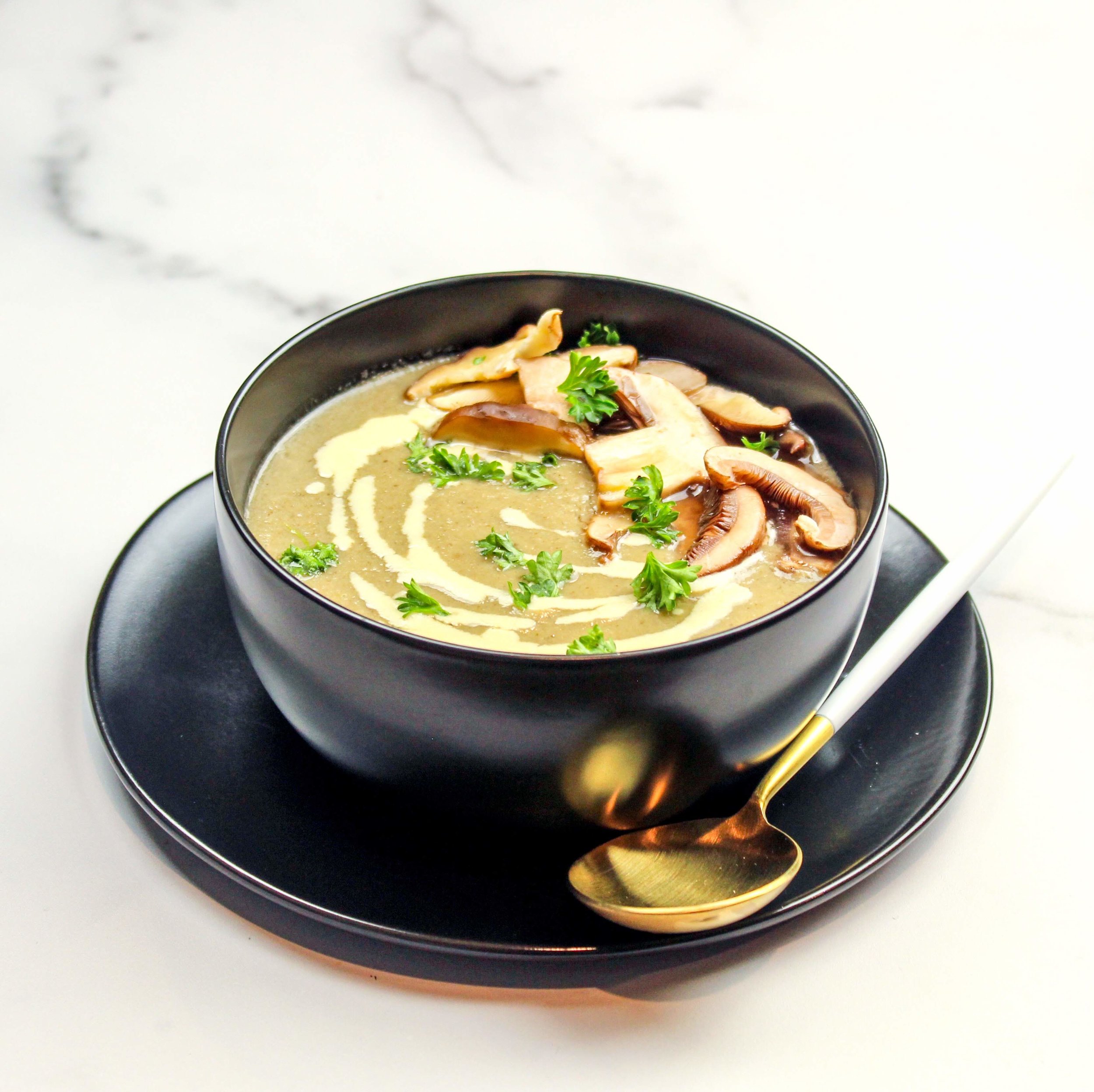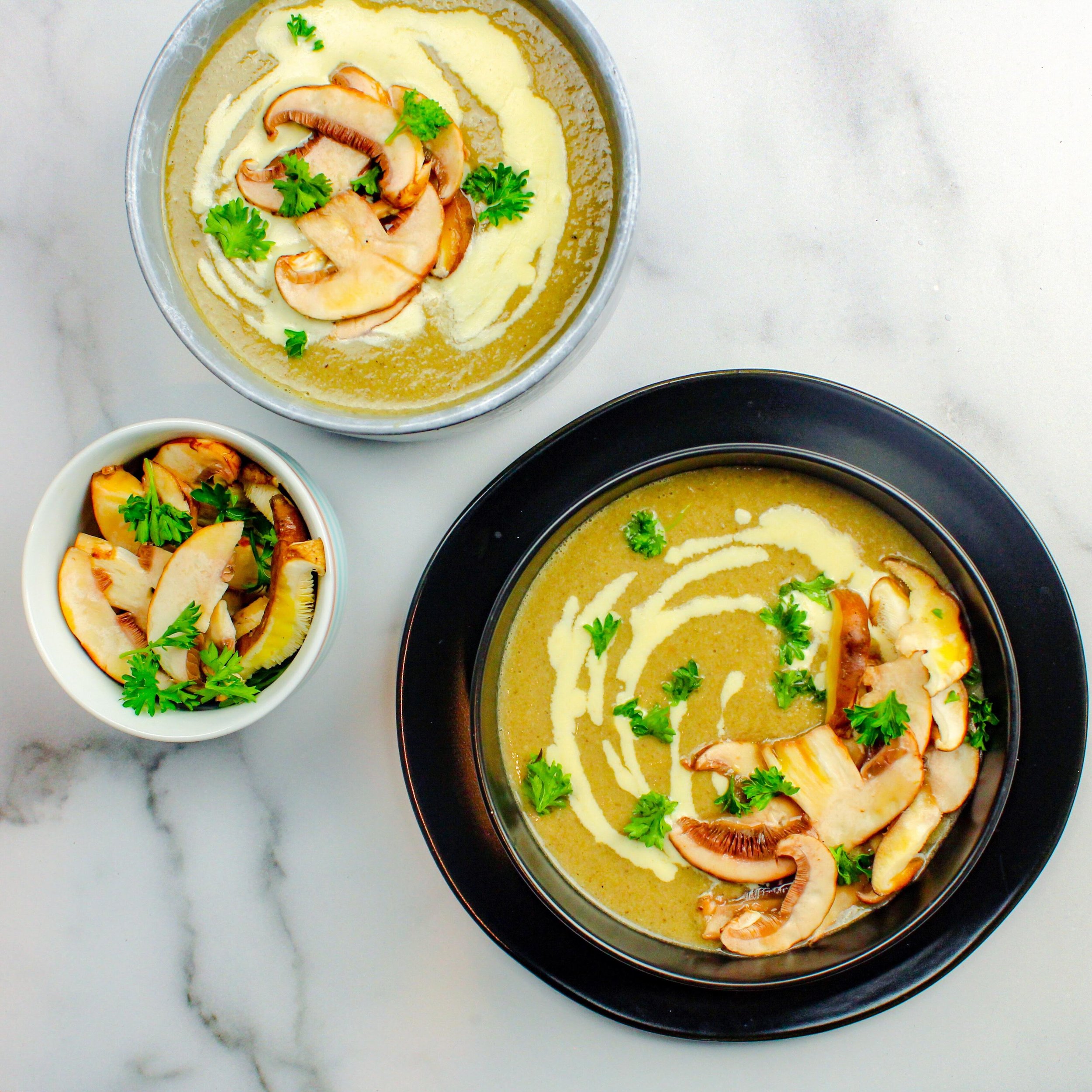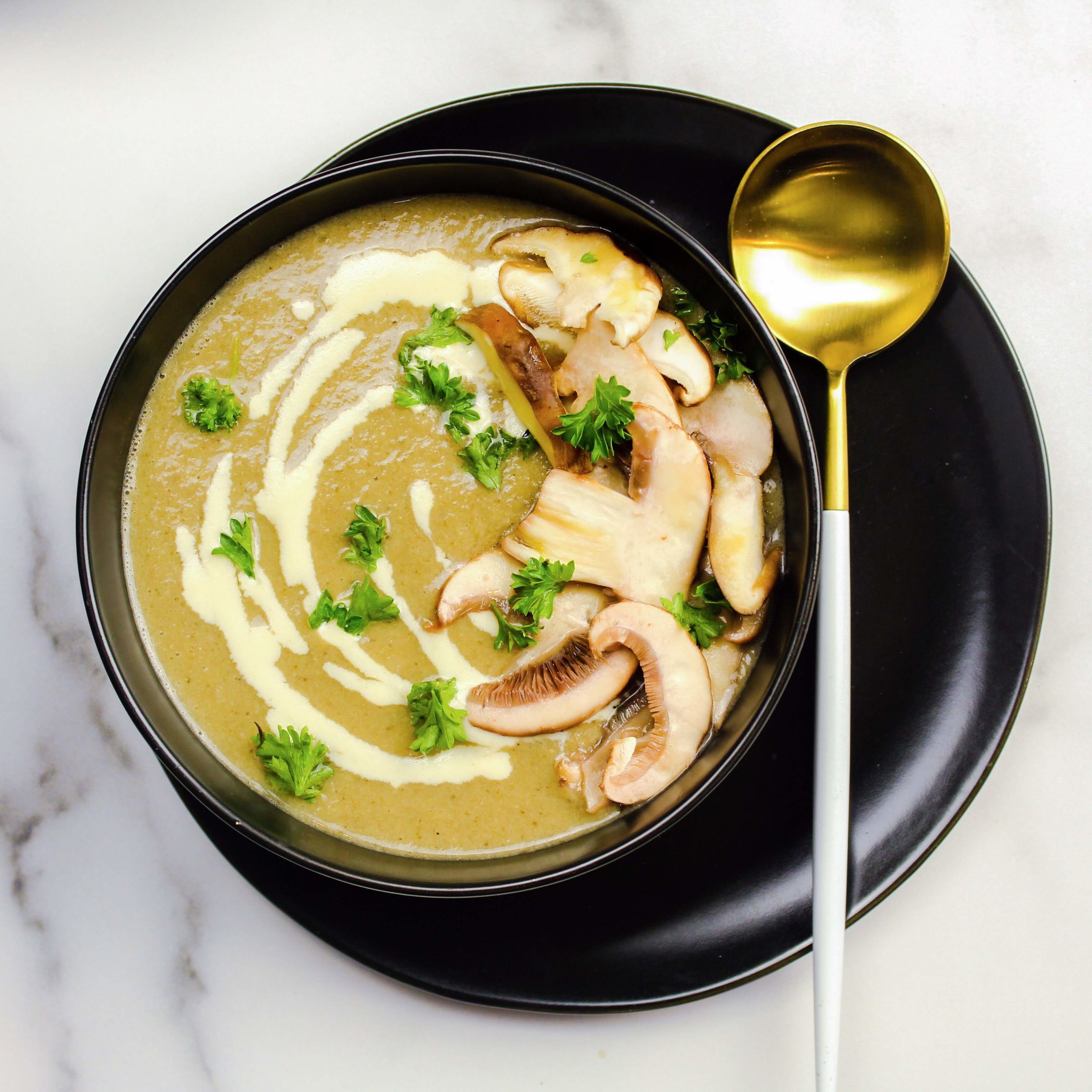 ---
Tips
If you like the texture of raw mushrooms reserve some of the bellas and shitakes. Slice the mushrooms very thinly, and place them in a bowl with a tablespoon or so olive oil, a teaspoon of red wine vinegar, salt and pepper. Let them marinate while the soup is cooking and use these later to add texture to your soup!

If you don't have hummus you substitute with coconut cream, a non-dairy milk or use butter or cream if not vegan. The soup will still taste great if you leave the hummus out all together, but it won't have the same velvety feel.