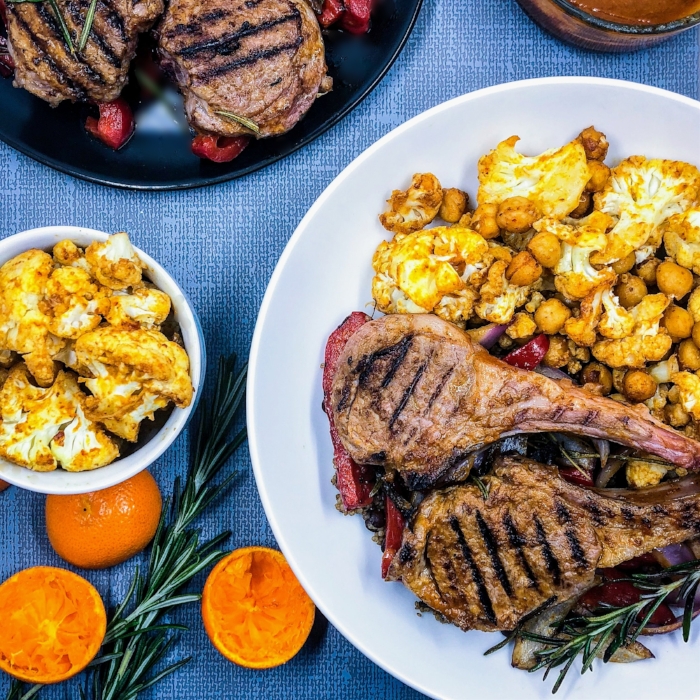 It's been a while since we've had lamb for dinner. I used to make lamb chops pretty often, but just haven't craved this earthy, sweet, and slightly more gamey meat. Maybe it's because I am trying to eat a more plant-based diet? Not sure, but sometimes we have to keep our significant other happy. Right?! Sushil loves lamb chops; whether I do an Indian spiced rub, or marinate them in lemon and herbs with a balsamic drizzle the plate is clean! Gotta love it 🙂 For this recipe I needed to use up my chipotle peppers in adobo (although you can easily freeze what is left from the can), and I wanted to add some natural sweetness from a bag of organic dates I received in my Imperfect Produce box. We also had some mandarin oranges a.k.a Cuties that the little man wasn't into. The combo of orange, date, and chipotle for the marinade was seriously divine. It had that spice that I'm always looking for paired with citrus, and a caramely sweet from the dates. The adobo sauce that the chipotle peppers are in is already seasoned with garlic, vinegar, and other spices so the dish comes together really fast! You can roast whatever vegetables you like with this marinade, and we used what was left as a dipping sauce for the chops!
Ingredients
6 lamb chops, excess fat trimmed
1/2 cup red onion, thinly sliced
1/2 red bell pepper, thinly sliced
1 small to medium cauliflower, washed and broken up into florets (approx. 4 cups)
1 can chickpeas, drained and rinsed
2-3 springs fresh rosemary (optional)
Orange-Chipotle-Date Sauce
1/2 cup orange juice (freshly squeezed is best)
5 dates, pitted
1 large chipotle with adobo sauce (approx. 1 tablespoon)
3 tbsp olive oil
1/4 tsp salt
Preheat oven to 400 degrees.
Place ingredients for chipotle sauce in a blender, and pulse until smooth. Adjust seasoning by adding more dates or honey if spicy or more adobo sauce for an extra kick! Marinate lamb chops with 2-3 tablespoons of sauce, and set aside.
Place cauliflower florets and chickpeas on a baking sheet. Toss with 1-2 tablespoons of olive oil, 1 teaspoon of salt, and enough chipotle sauce to lightly coat the chickpeas and cauliflower. Bake for 30 minutes until cauliflower is lightly golden brown, flipping after 20 minutes.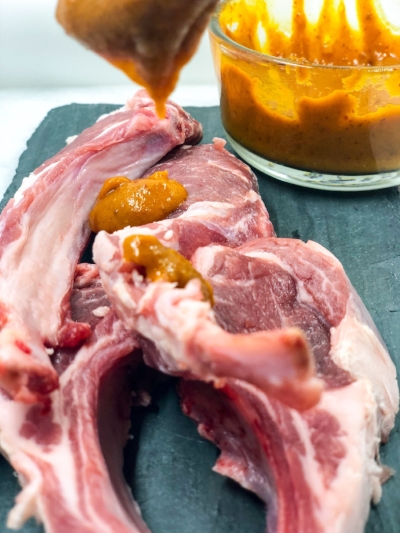 Heat a grill pan to medium-high heat, and add 1 tablespoon of oil. Grill lamb chops, onions, red bell pepper, and sprigs of rosemary for 2-3 minutes, then flip chops and vegetables. Grill an additional 2-3 minutes until lamb is medium or less if desired.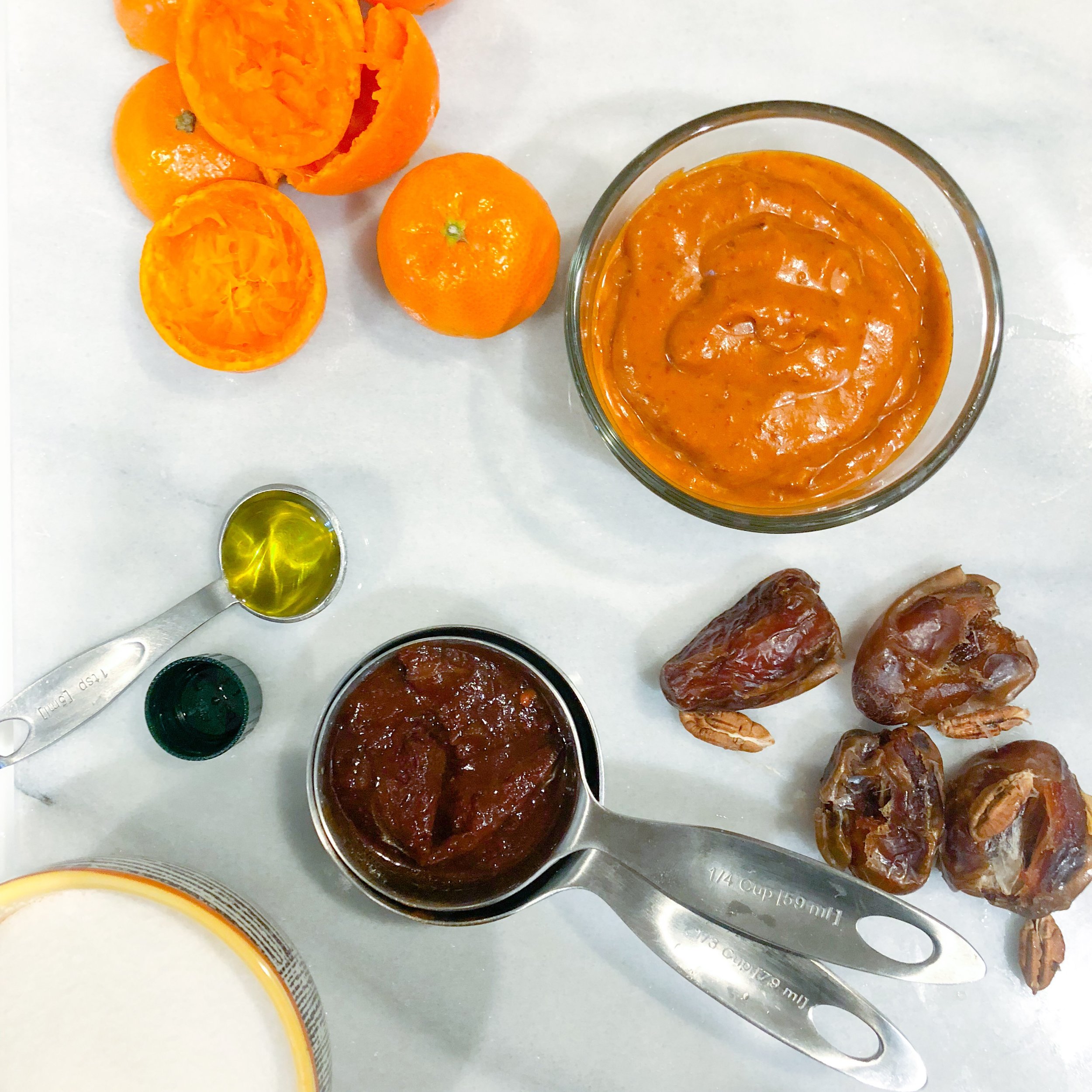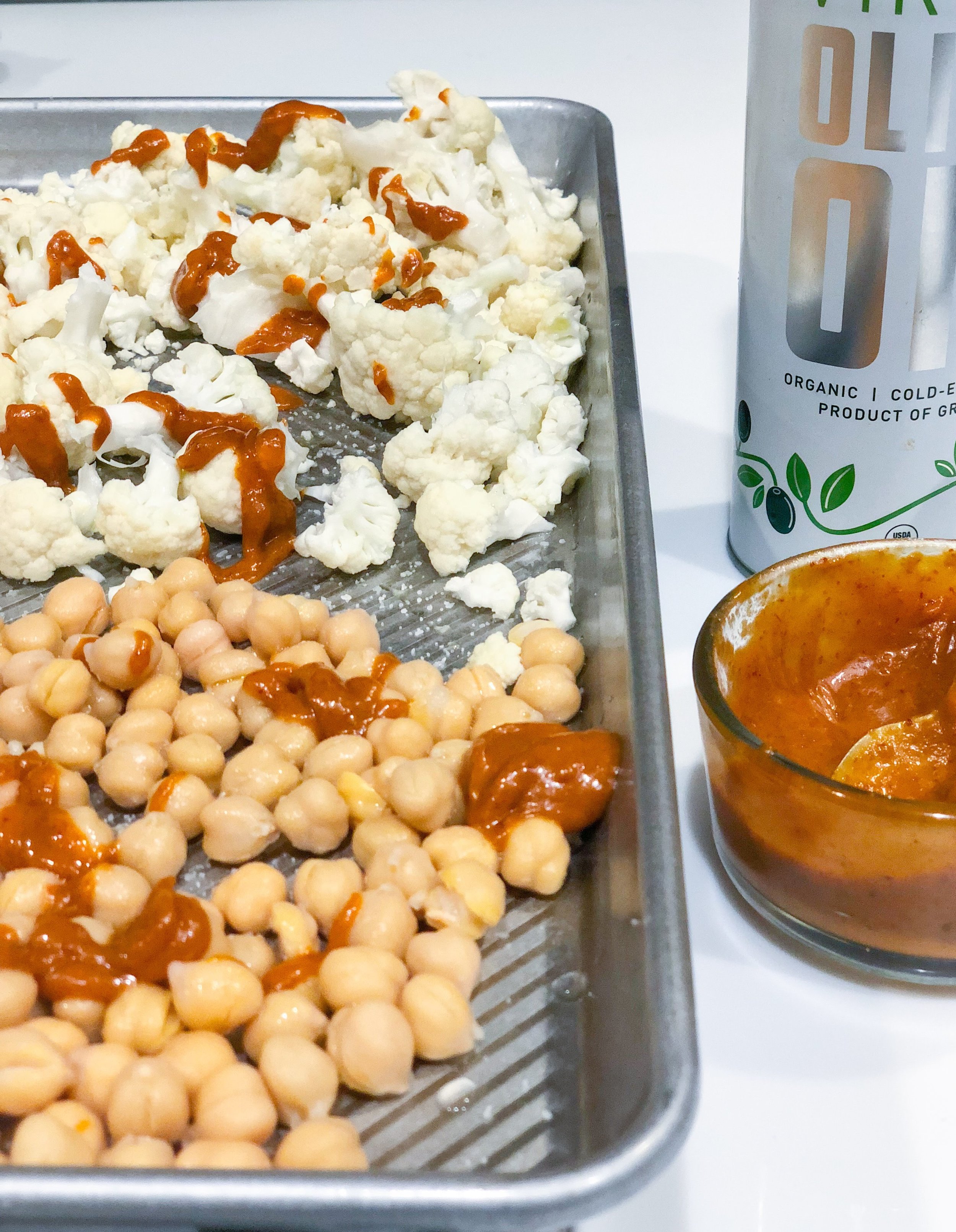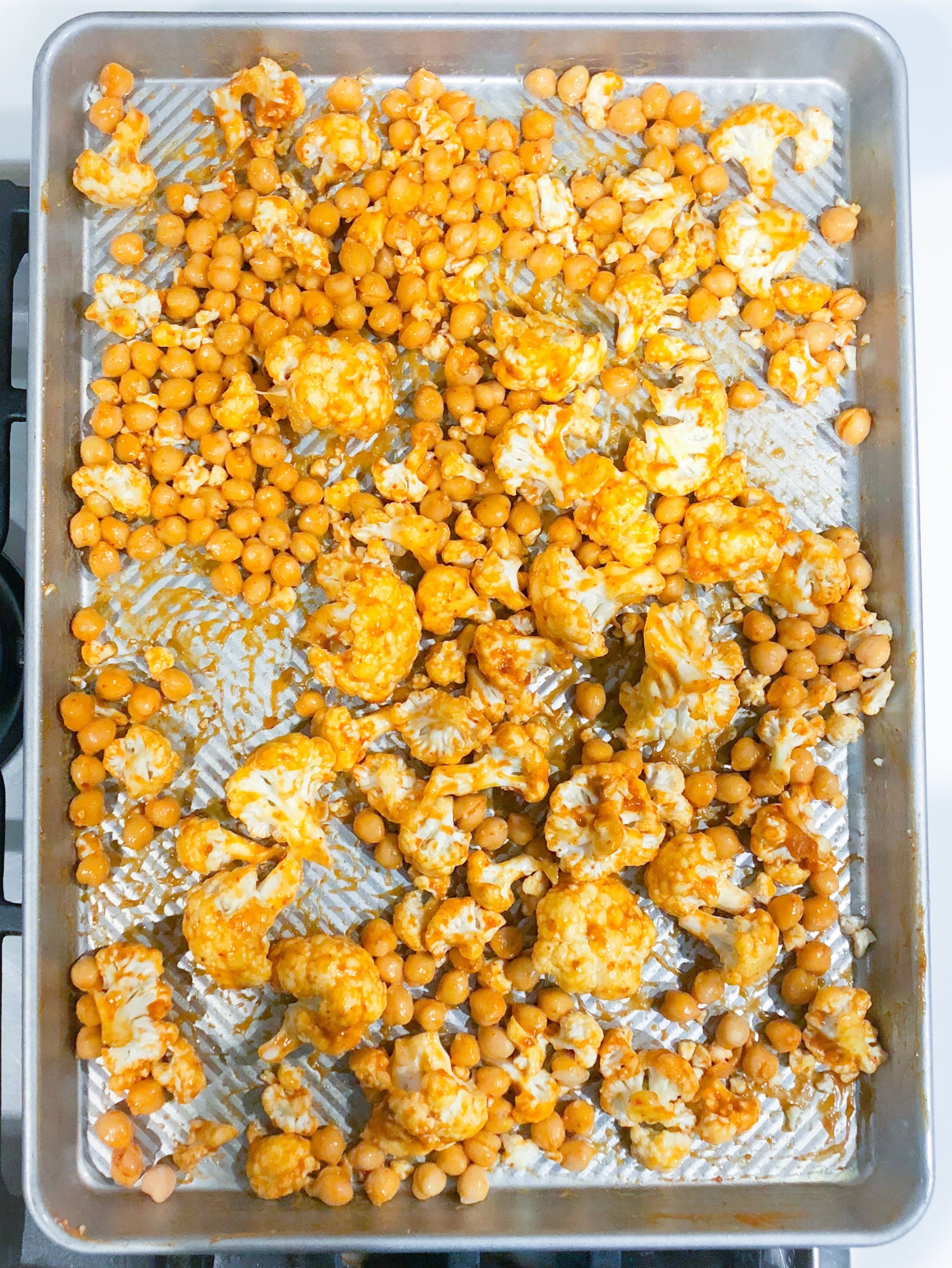 Serve grilled veggies and lamb chops with quinoa or lentils, and the roasted cauliflower and chickpeas. We sprinkled the dish with Boursin cheese to give a little creaminess to the dish and balance out the spice which was phenomenal!
---
Tips
Refrigerate extra sauce for up to 7 days or freeze up to 3 months.
This marinade works well with other vegetables such as sweet potatoes, carrots, or zucchini, and meats like chicken or pork!
If the chipotles in adobo are too spicy for your palate you can cut them open and remove the seeds to tone them down a bit.