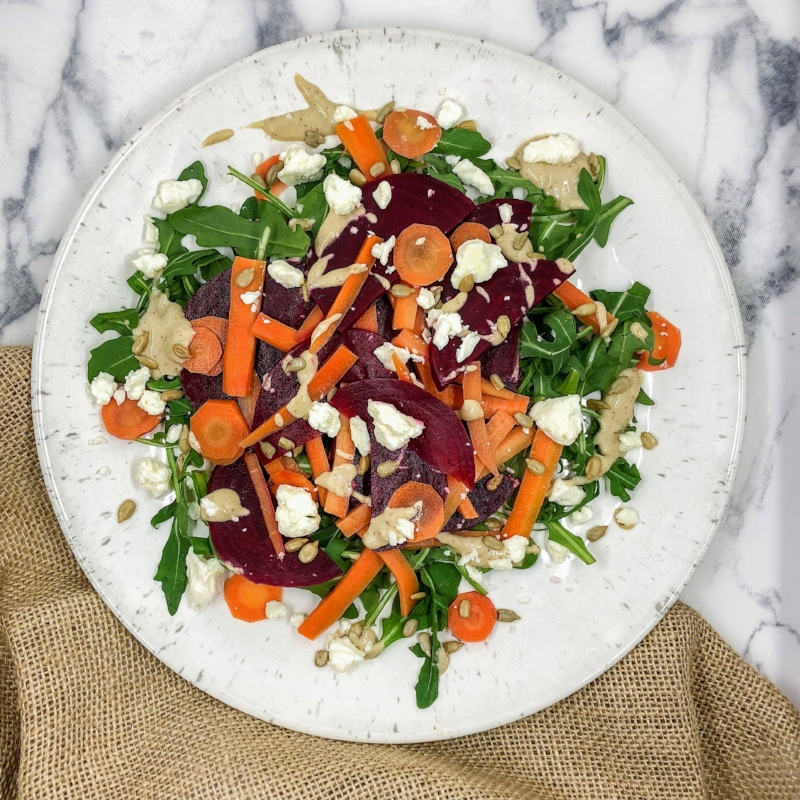 I've been cooking a lot of hearty, comforting meals lately. It's winter in Chicago so that totally makes sense, but I wanted something light and fresh for dinner while still hitting the spot. I took a few Winter ingredients and came up with a satisfying salad that you can have as a side or a main. The prep can also be done ahead of time so it's a quick meal option on those nights when you are over life and guzzling the wine.
If you have been to an Indian restaurant then you were probably offered a condiment called achar–a spicy, sour picked vegetable or fruit (usually young mango) to accompany your meal. I used some of the spices used to make achar to make a quick pickle for beets and carrots. The crunchy, tangy vegetables were perfect with spicy arugula, creamy sunflower dressing, and crumbed feta. We ate this salad for 3 days!
Picked Beets
2 medium beets, peeled and sliced thin
1.5 cups apple cider vinegar
1/4 cup white sugar
1.5 cups water
1 tsp salt
1 tsp black or yellow mustard seeds
1 tsp peppercorns
1 tsp fennel seeds
3-4 springs of thyme (optional)
Sunflower Dressing
1/2 cup sunflower kernels, unsalted
1 tsp Dijon mustard
1 large close garlic
3/4 tsp salt
3/4 tsp crushed red pepper flakes
3/4 cup avocado oil
1/2 water
1/2 tbsp honey or to taste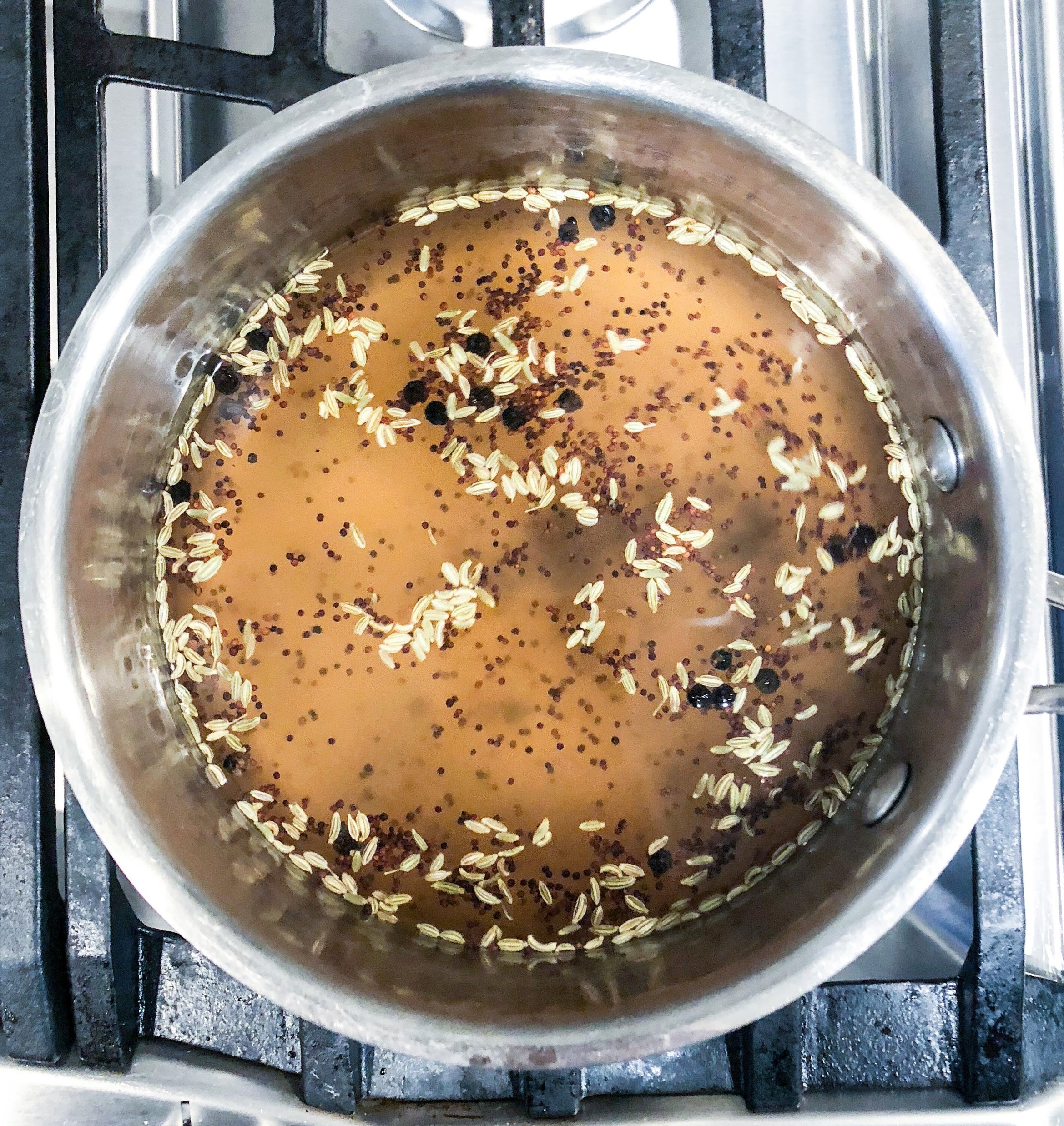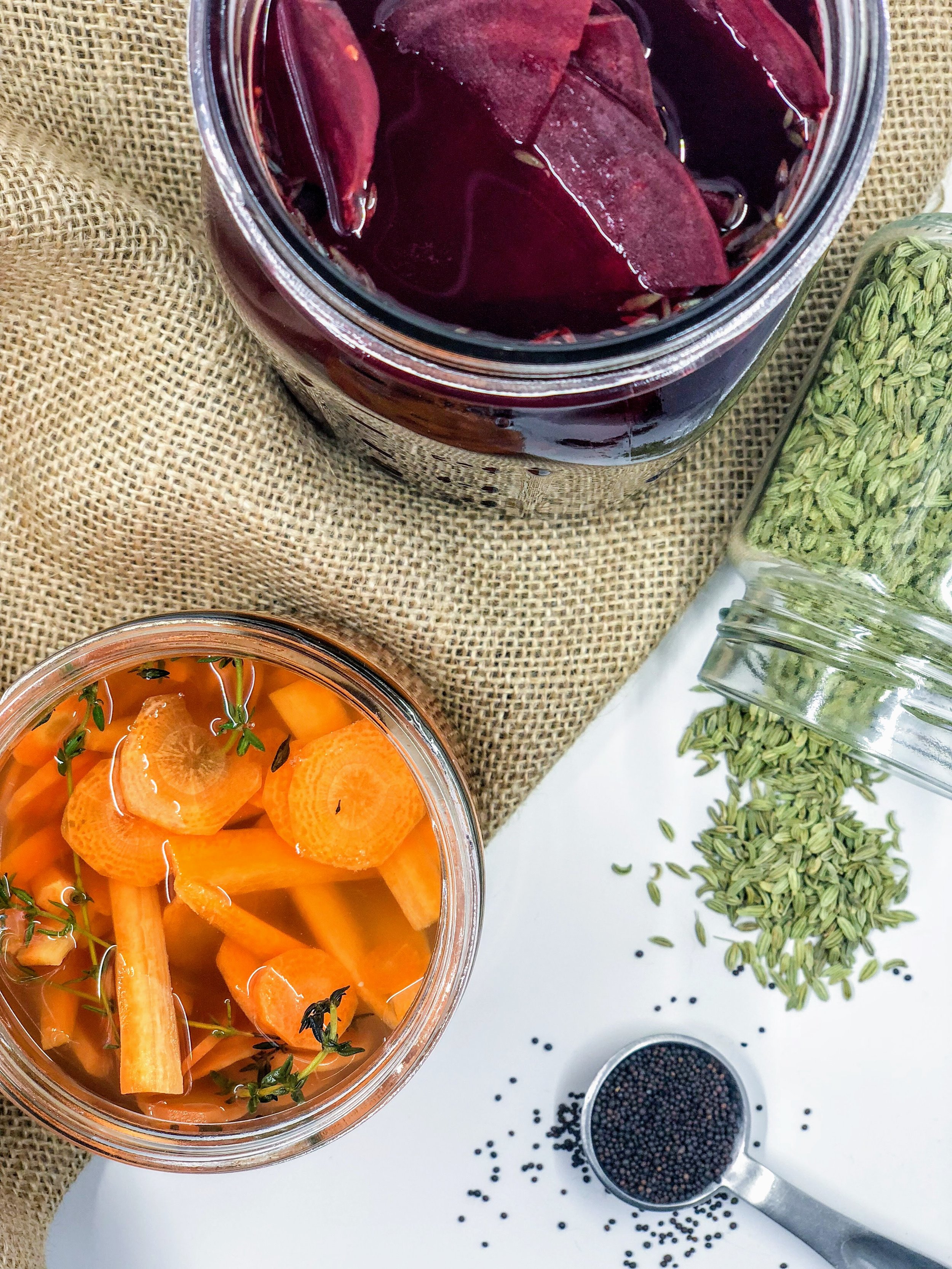 Slice beets using a mandolin, or sharp knife and place in a glass jar with thyme sprigs. You can do circles, half moons, or matchsticks. Grated beets would even work here! The thinner the beets the faster they will pickle.
Heat apple cider vinegar, water, sugar, and spices on a stove top. Once the pickling liquid comes to a boil, reduce to a simmer, and cook for 3 minutes. You will see the fennel seeds start to swell. Remove from heat and pour over sliced beets. Let beets pickle for at least an hour before eating. The same method can be done with other vegetables such as carrots, or peppers.
For the dressing combine all ingredients in a blender, and zip until dressing comes together. If the dressing is too thick add 1 or 2 tablespoons more of water. The dressing will keep in the refrigerator for at least 1 week, or you can freeze.
Prepare salad with greens, pickled vegetables, toasted sunflower seeds, cheese, and dressing. Finito!
The beets are delicious by themselves for a snack, as is the dressing. You can use it as a dip for pita chips or on a veggie platter!
Tips
The sunflower kernels I used were roasted, unsalted. They are available in bulk, and very inexpensive!
If your pickling liquid does not cover the vegetables top off with water. This shouldn't affect the pickling process. My recipe makes a lot of liquid so you can even use half of the ingredients if you have less veggies.