I know a lot of you are huge fans of Indian food, and love when I make my simpler and definitely quicker versions of classic recipes! Keema naan or keema paratha isn't a classic per se, but a blend of two classic (and delicious) dishes! Keema is ground meat flavored with really bold spices. It can be made with more gravy to eat with rice and traditional naan, or served as a less saucy version. Here I've made a dry keema using ground beef and used pizza dough to make a stuffed naan that is perfect for a snack and hearty enough for a meal.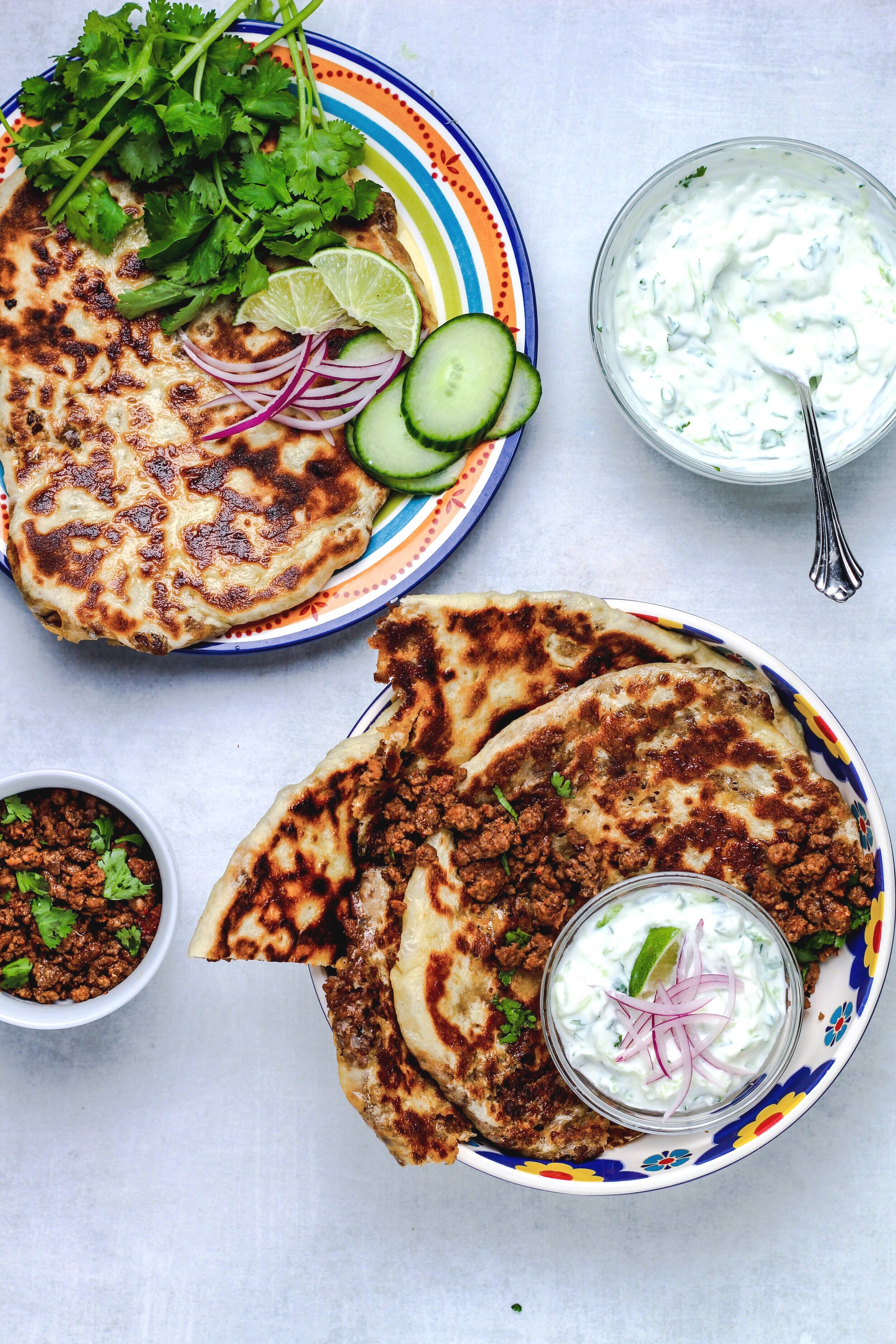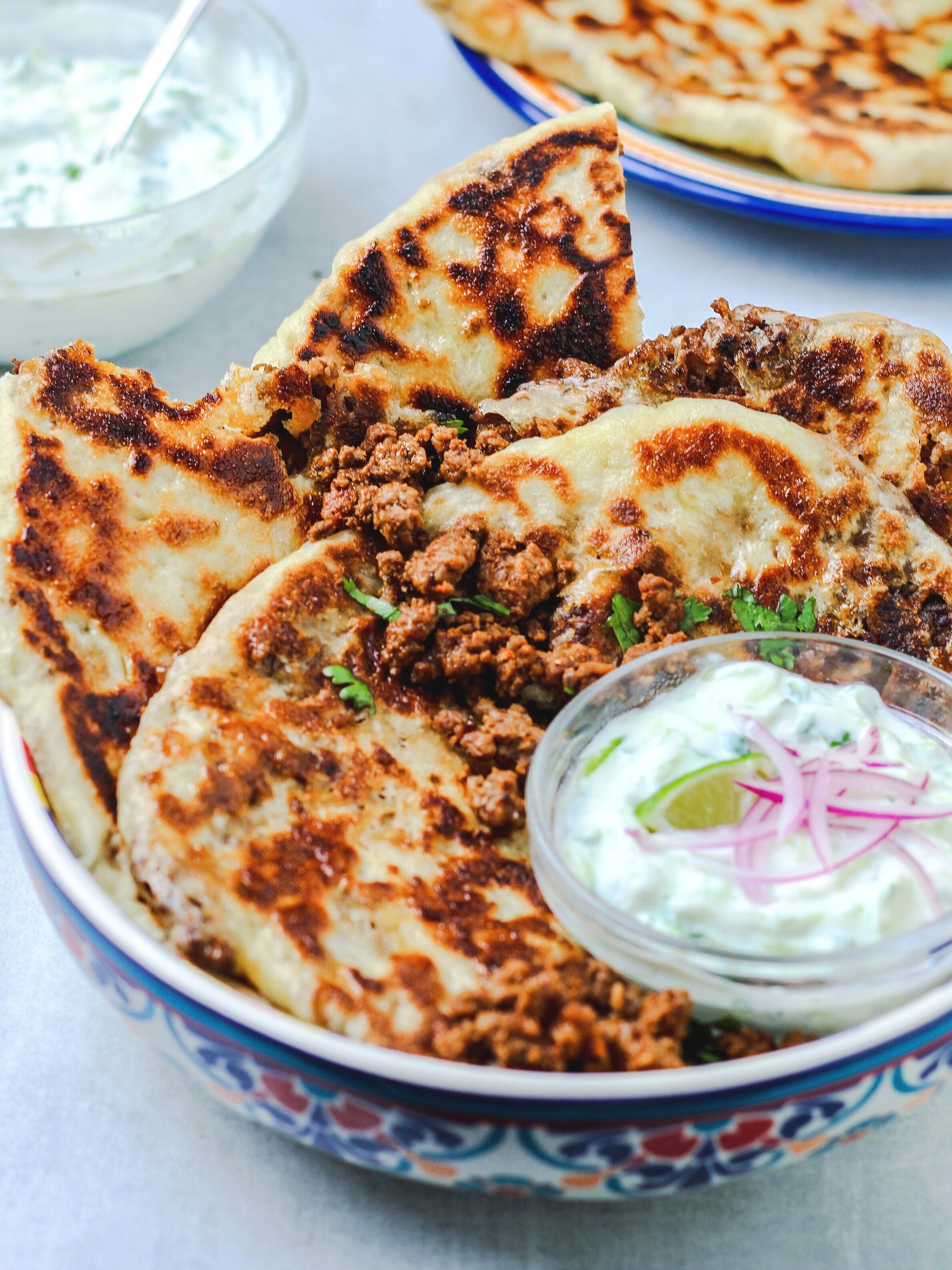 I chose prepared pizza dough for this recipe because it is easy to find at the grocery store, or you can even pick up prepared dough from your local pizzeria! The pizza dough offers a nice chew that you get from naan, and it isn't as rich and heavy as a puff pastry for example since it doesn't contain butter. You can definitely use a puff pastry dough for a more flaky naan (paratha), or use a version of dough that best suits your diet (i.e. gluten-free, low-carb). The texture won't be the same as with pizza dough, but I think it will be just as tasty! If you don't have garam masala you can use a blend of cumin powder, coriander powder, chili powder, black pepper, and all spice.
Keema Stuffed Naan
A twist on Indian street food! Store-bought pizza dough is stuffed with spiced ground beef then rolled out into flatbreads.
Ingredients
Keema Naan
1

lb.

Pre 92% Lean Ground Beef

16

oz.

pizza dough

defrosted if using frozen

1/2

cup

onion

diced

2

tbsp

tomato paste

5

tsp

apple cider vinegar

2

cloves

garlic

crushed or minced

1/2

inch

ginger

grated

2

tsp

garam masala

1

tsp

cayenne pepper

1/4

tsp

cinnamon

1

tsp

salt

flour to roll out dough
Yogurt Raita
1/2

cup

yogurt

1/4

cup

cucumber

grated

2

tbsp

jalapeno

seeds removed and finely diced

2

tbsp

cilantro

chopped

1

tbsp

lime juice

salt and pepper to taste
Instructions
Heat 1 tablespoon of oil in a pan. Add diced onion. Saute for 3-4 minutes until onions are soft and translucent. Add ground beef. Break up meat and cook until nicely browned. Add garlic, ginger, garam masala, cayenne, cinnamon, and salt. Saute for another 30 seconds to let the spices bloom. Add tomato paste and continue to saute for 1 minute. Finally add apple cider vinegar. Cook for 1 to 2 minutes longer. Adjust seasoning is necessary and set aside to cool.

Meanwhile, mix together ingredients for yogurt sauce (raita).

Prepare pizza dough by portioning out into 4 to 5 individual dough balls. Flour a large surface, and using a rolling pin start rolling out one portion of pizza dough. If the dough starts to stick sprinkle more flour onto the dough or rolling pin and continue rolling. You can also use your hands to gently stretch the dough from the edges. Once you have the dough to about 1/8 of an inch thick scoop 3 to 4 tablespoons into the center of the dough. Fold the edges of the dough back to the middle to form a purse. Pinch the together so that it is sealed.

Gently roll out the dough again until it is about 1/4 inch thick. If you can get it thinner that's great! Place a small amount of oil in a non-stick or cast iron skillet and heat to medium high. Once hot place the stuffed naan into the skillet. Cook for 2-3 minutes on each side until the naan is golden brown and the pizza dough has cooked through. Use a flat spatula to press down the naan while it is cooking.

Serve naan with raita or chutney of choice.
Watch the how-to video: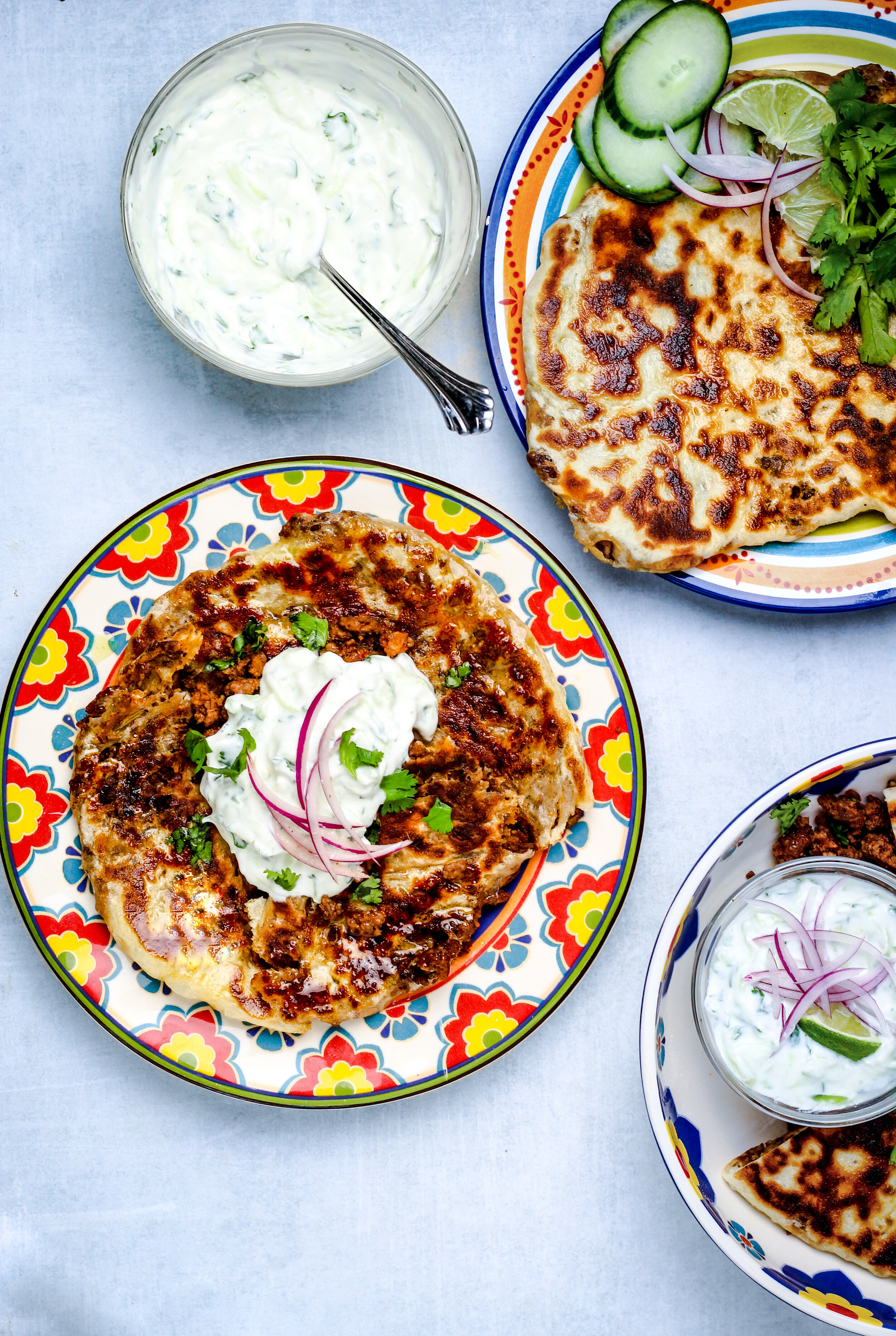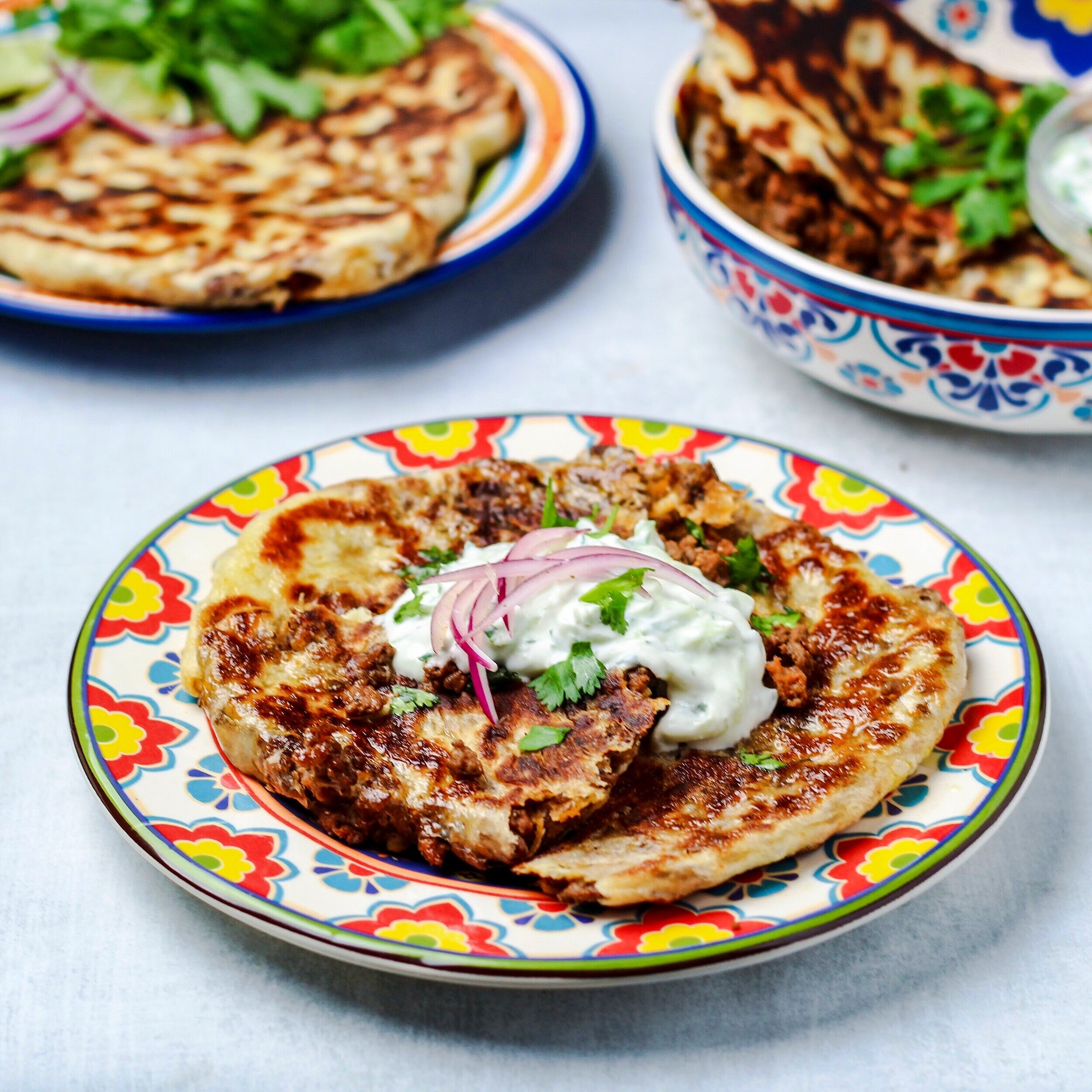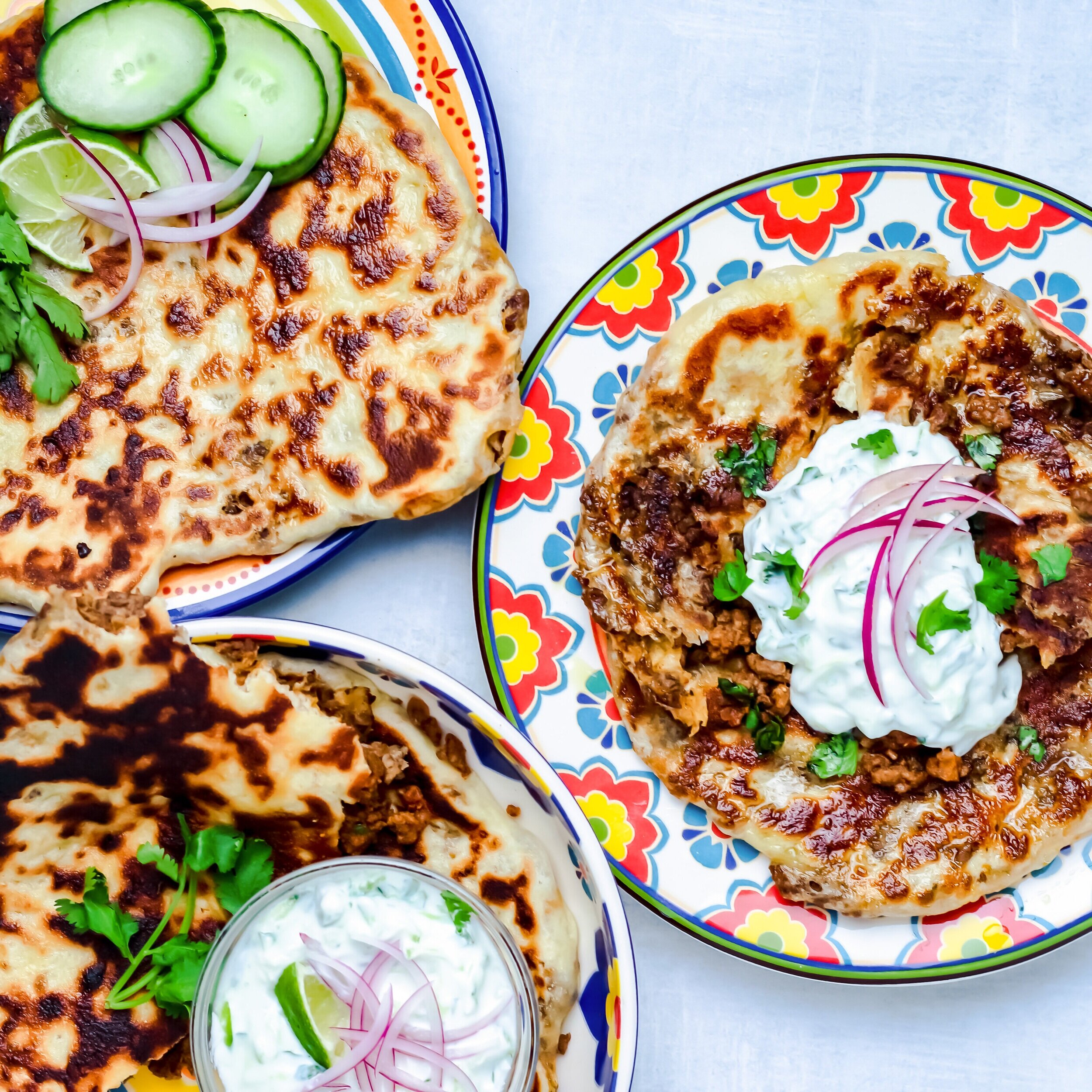 This recipe is sponsored by Pre Beef which is 100% grass fed and finished beef that is pasture raised without added hormones or antibiotics. Use the store locator to find Pre Beef near you!