There's a great debate on eating ketchup with eggs. Seriously, no joke….I've seen the Reddit forums. You will never catch me putting ketchup anywhere near my eggs. Until now! Introducing Maya Kaimal's Spicy Ketchup. Her version of ketchup is seriously delicious. It reminds me of chutney… spicy from hot chilies, a touch brown sugar, a little smokey from cumin, and a nice texture from the onions.
I used this ketchup as the base for this Spicy Egg Tart, and it was perfect! It's great for brunch, or even dinner. This is an easy to make, comforting meal with just the right amount of spice. I haven't even gotten to the brown sugar and cayenne candied bacon! You don't want to miss out on this recipe!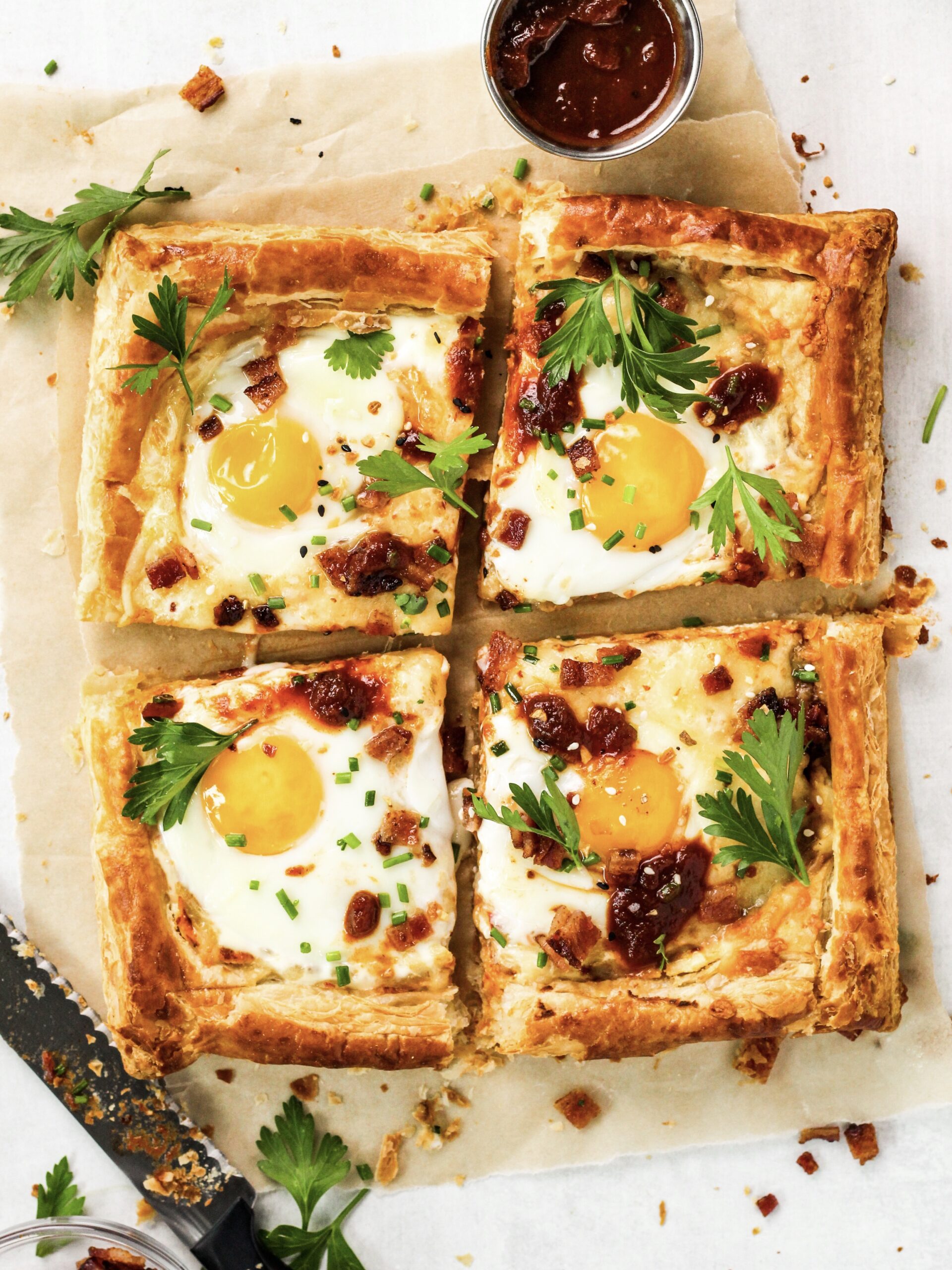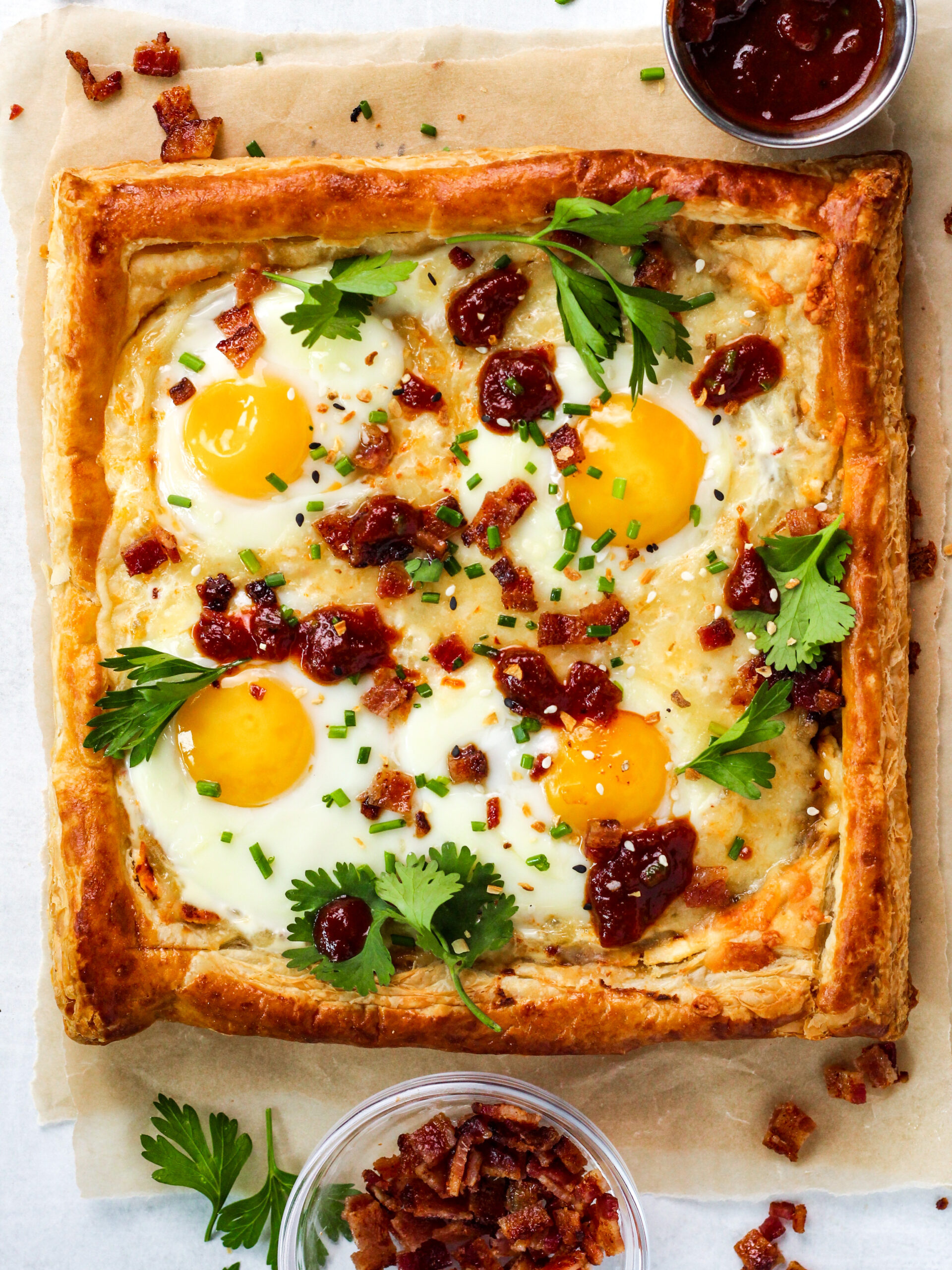 The Spicy Candied Bacon
The first step in making this Spicy Egg Tart is making this brown sugar and cayenne bacon. We like to crisp up our bacon in the oven instead of on the stove top or in the microwave. In my opinion, this yields the best texture while also allowing a lot of the fat to render off into the baking tray. When you add a mix of brown sugar and cayenne pepper to this bacon it crisps up with a sweet, sticky coating that packs a little bit of heat. It's SO good!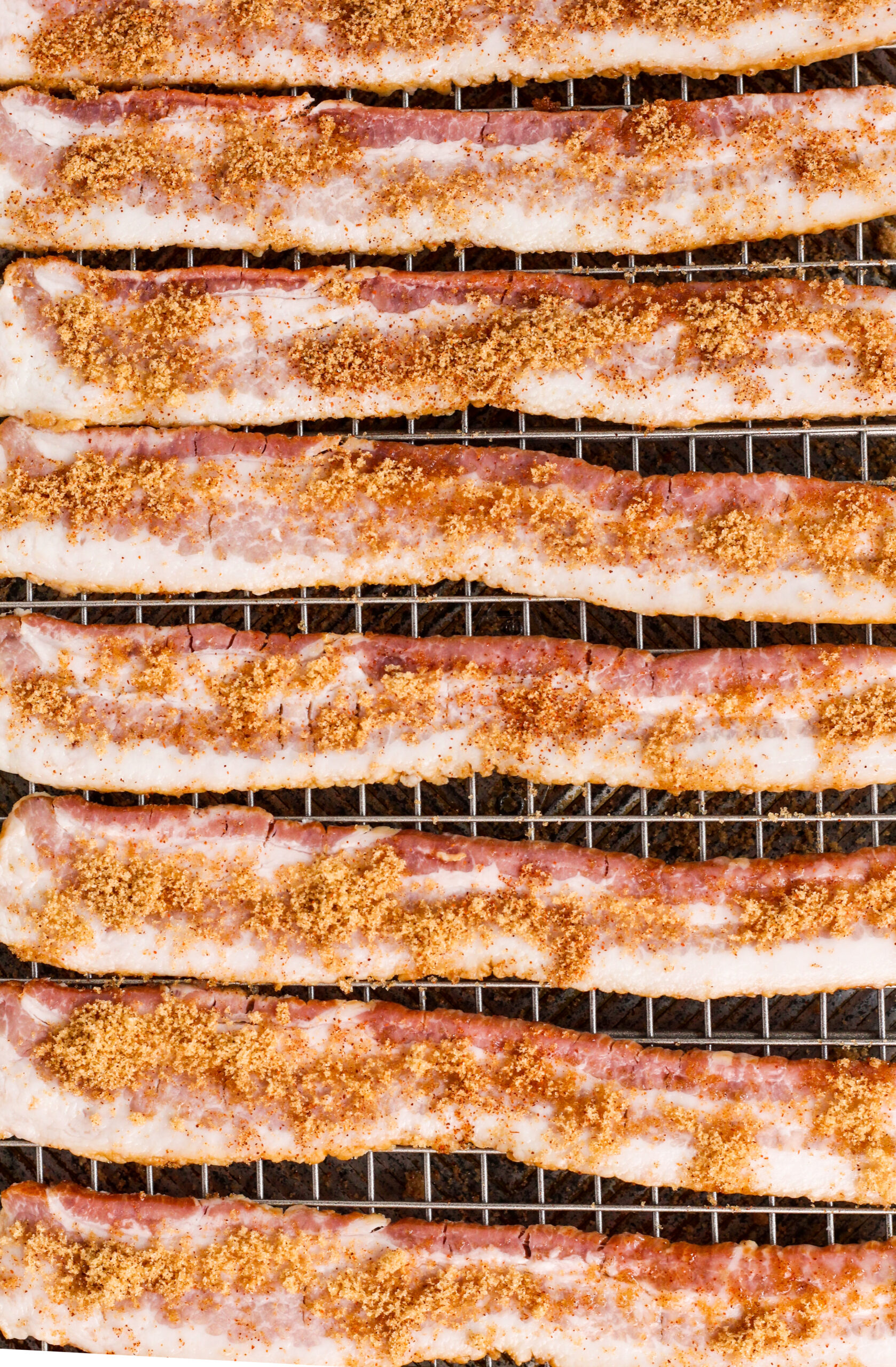 The Puff Pastry
I use store bought puff pastry dough for this tart. I love how flaky this makes the tart, but also feels light compared to pie dough, bread, or biscuits. I use one sheet of puff pastry for this recipe. I actually didn't roll out the sheet of dough to make it larger and thinner. I simply let the dough defrost and then gently unfolded it to make the base of this tart. To get a nice crispy edge a border is scored all the way around and brushed with egg wash.
Before adding the cheese and Spicy Ketchup I use a fork to poke holes in the middle to ensure it stays flat to allow a place to add more shredded cheese and the eggs.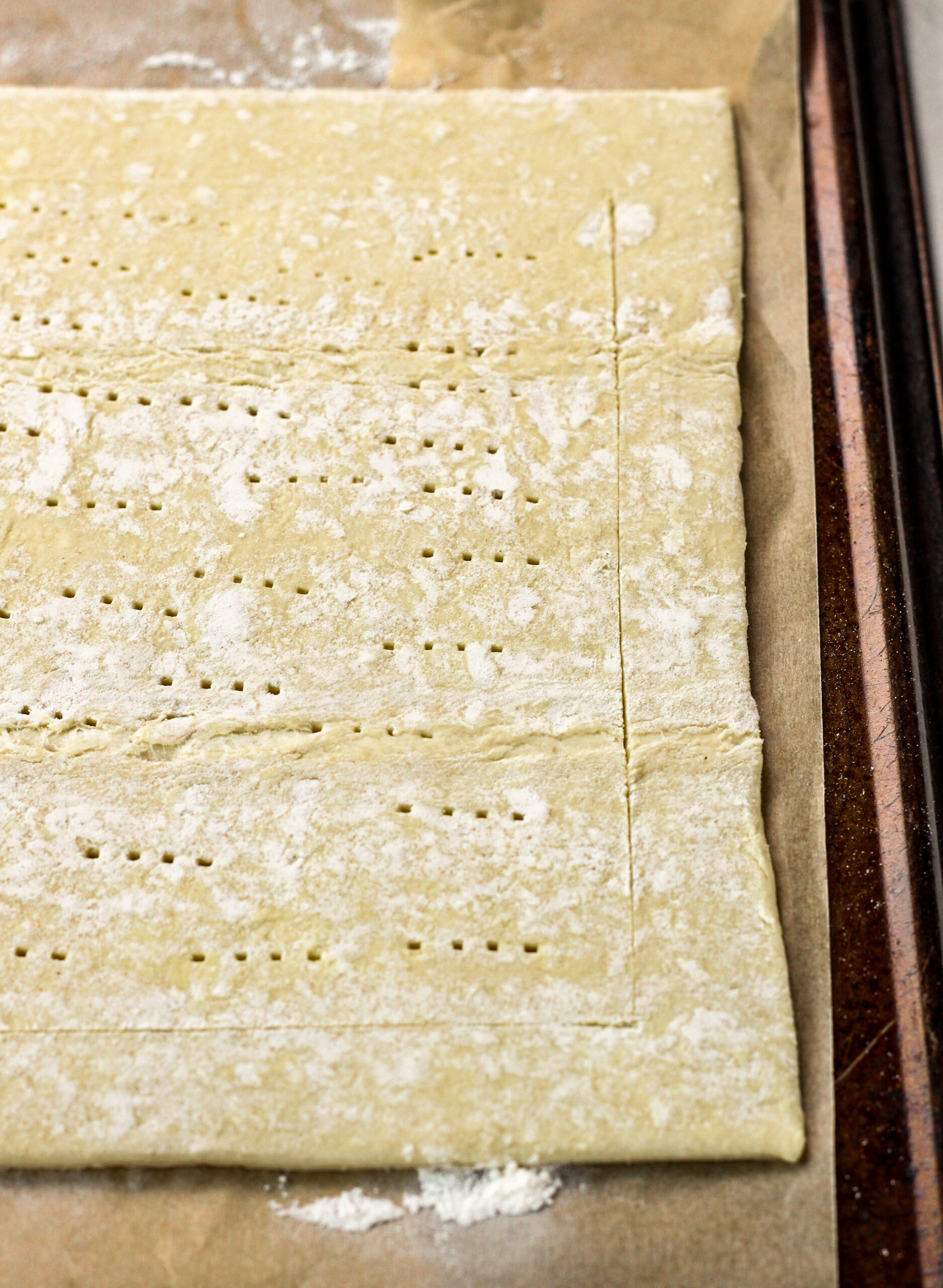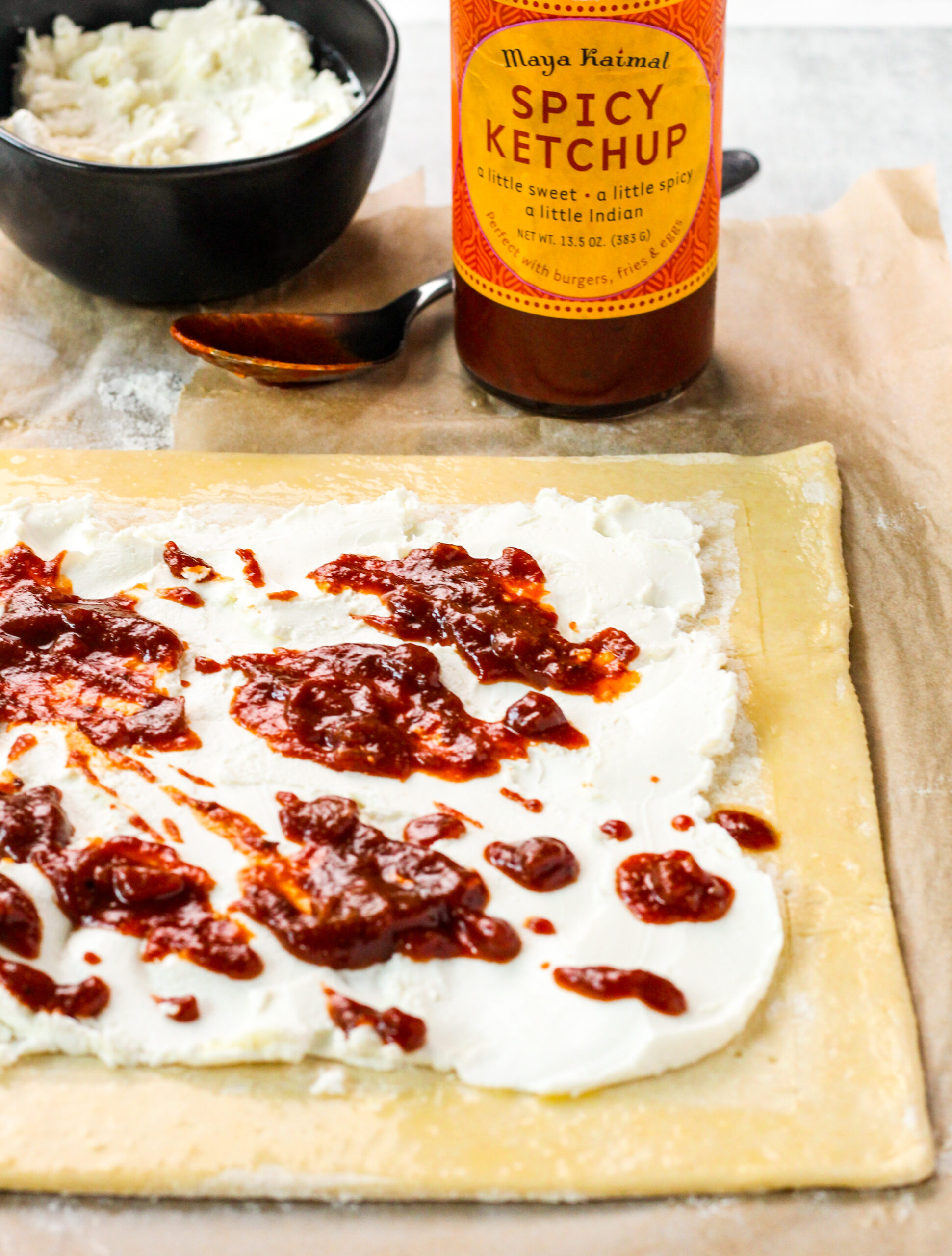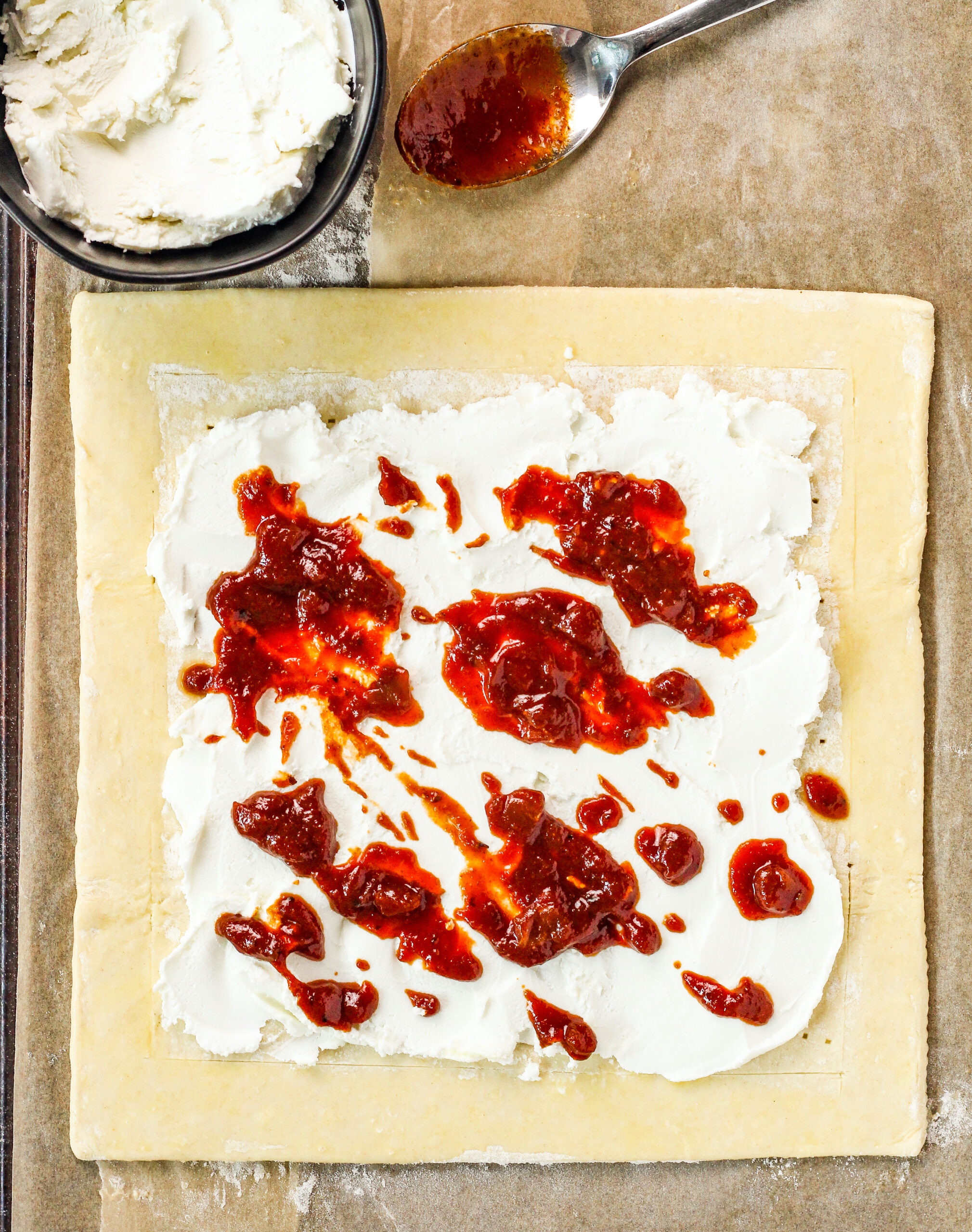 Spicy Egg Tart (Puff Pastry)
A delicious tart made from store bought puff pastry, pepperjack and goat cheeses, Maya Kaimal Spicy Ketchup, fresh eggs, and sprinkled with homemade spicy candied bacon.
Ingredients
Tart
1

sheet

puff pastry

defrosted

4

large

eggs

4

oz

goat cheese or soft gournay (Boursin)

softened, at room temp

4

oz

shredded pepper jack cheese

3-4

tbsp

Maya Kaimal Spicy Ketchup

chives and parsley

to garnish
Bacon
5

strips

bacon

2

tbsp

brown sugar

1/2

tsp

cayenne pepper
Instructions
Place a wire (cooling) rack on a baking tray, and place bacon strips on top of rack. Do not overlap.

Mix together cayenne pepper and brown sugar. Sprinkle on both side of bacon.

Place tray of bacon in the oven for 20-25 minutes or until bacon is cooked to desired crispness.

While the bacon is cooking prep the puff pastry. Unfold defrosted puff pastry on the underside of a baking tray that has been lined with parchment.

Using a ruler or straight edge score a 1/2 inch border around the puff pastry using a sharp knife. Be sure not to cut through the puff pastry dough. Poke holes in the center of the dough using a fork.

Brush the edges with egg wash. If the bacon is still cooking place the tart dough inside the refrigerator until ready to bake.

After the bacon is cooked remove from oven and set aside.

Increase oven temperature to 425 degrees.

Remove dough from refrigerator and spread goat cheese in the center of the puff pastry sheet. Then spread of a thin layer of Spicy Ketchup over the layer of goat cheese.

Bake puff pastry with goat cheese and ketchup for 14-16 minutes until edges have puffed and are golden brown. Remove from oven.

Top the goat cheese and ketchup layer with shredded pepper jack cheese. Create wells in the cheese where the eggs will go.

Gently crack eggs onto tart (into each cheese well). Sprinkle yolks with salt and pepper.

Bake for 8-10 minutes until egg whites are opaque. Cook longer if you like the yolks to be cooked through.

When the eggs are cooked and cheese is melted remove tart from oven and top with crumbled candied bacon, chopped chives, and parsley.
Notes
Normally store bought frozen puff pastry comes with two sheets, and this recipe can be easily doubled!
Leftovers won't keep as well since puff pastry tends to get soft as it sits so this tart should be eaten within an hour after it is baked.
I would love to see your photos of this recipe! Tag me on Instagram or Facebook when you make my Spicy Egg Puff Pastry Tart!