Ohh, I just love a good mash up! This Hariyali Pesto Paneer Pizza is just that, and more! I've taken two of the foods I've eaten a few times this Summer: grilled hariyali paneer + homemade pizza with fresh garden veggies and pesto to create one epic Indian fusion meal! Enter this pizza….it's pizza dough topped with a spicy, herby pesto, chopped kale, fresh corn, thin ribbons of zucchini, and crumbled paneer! I think you will LOVE it!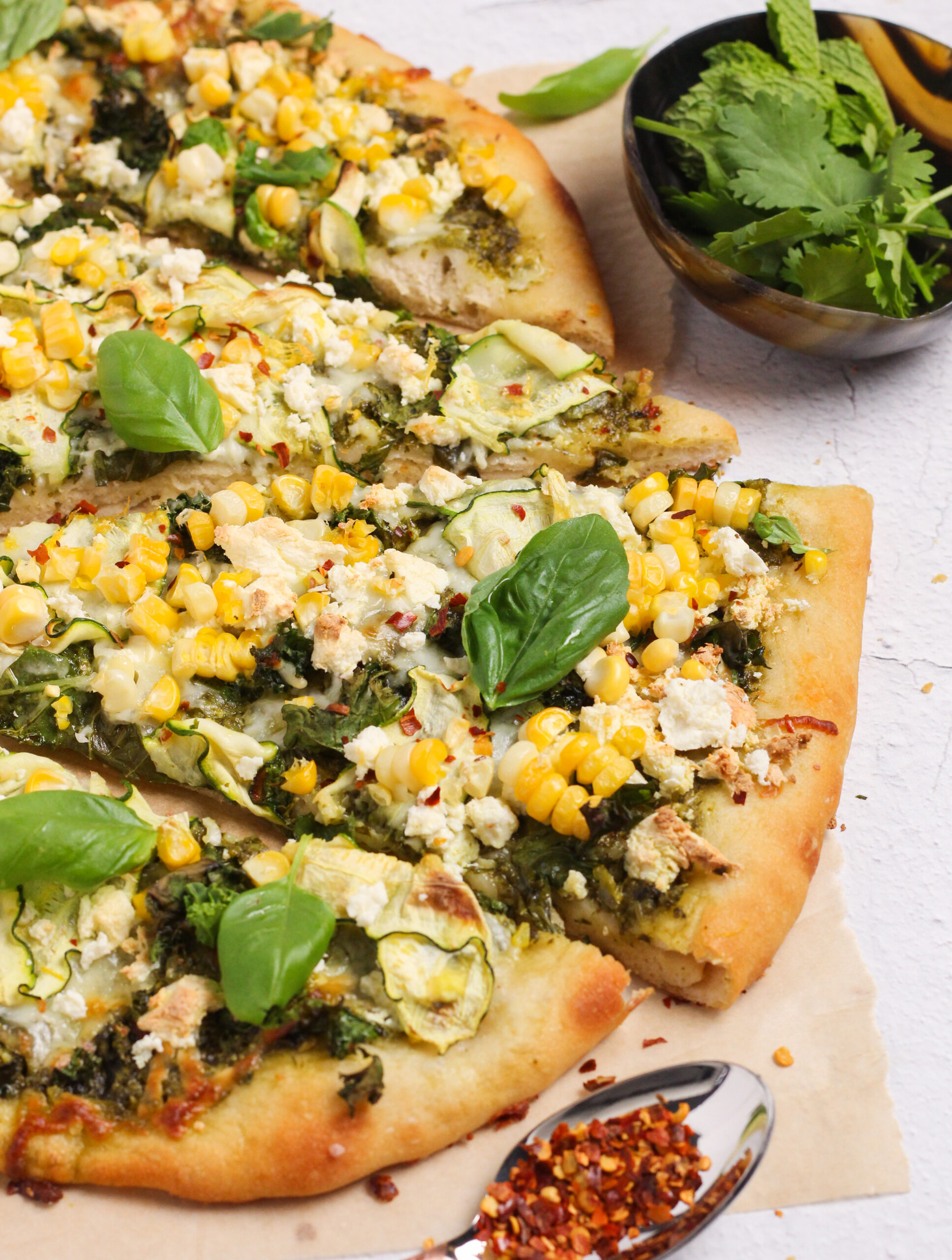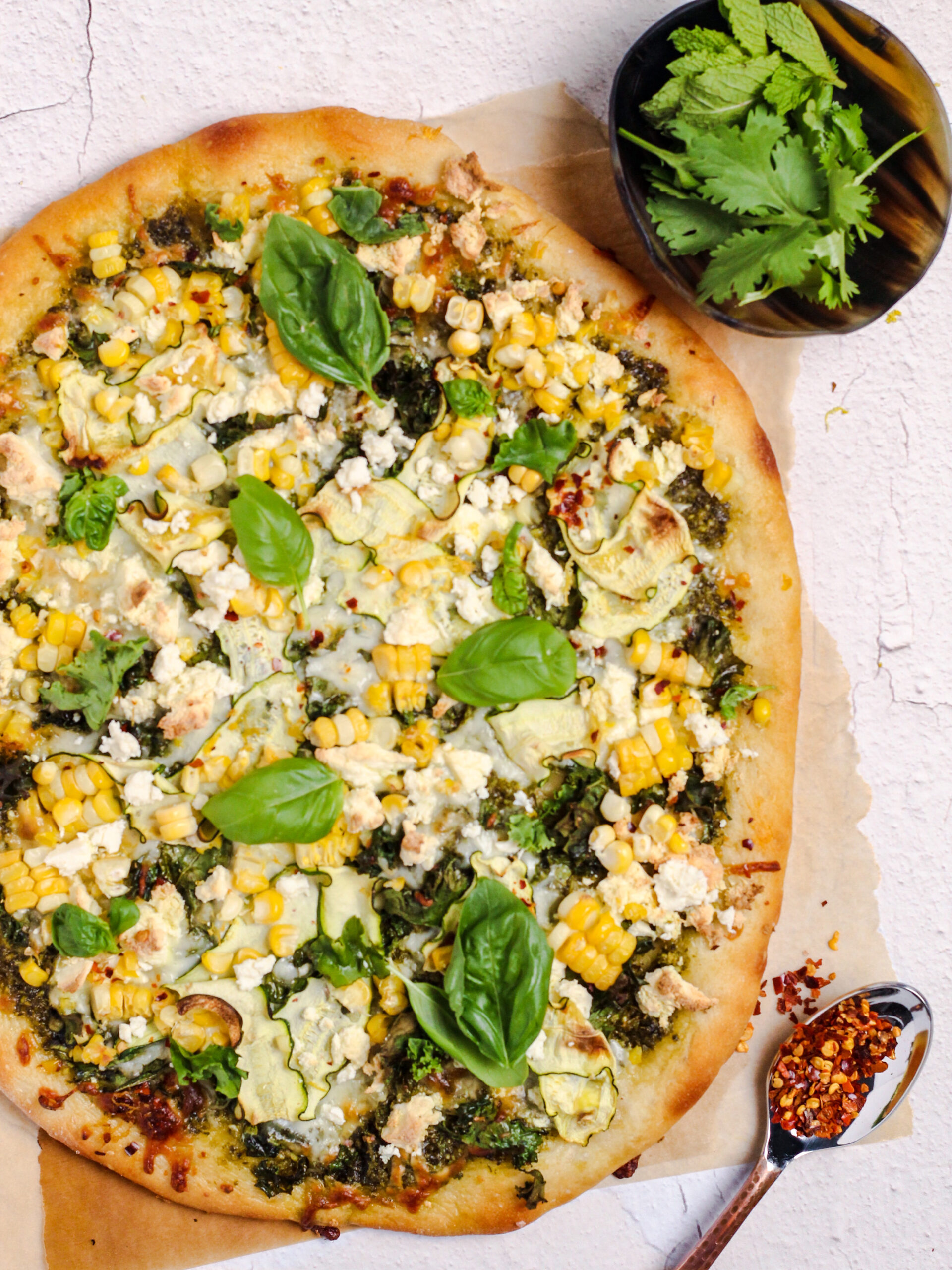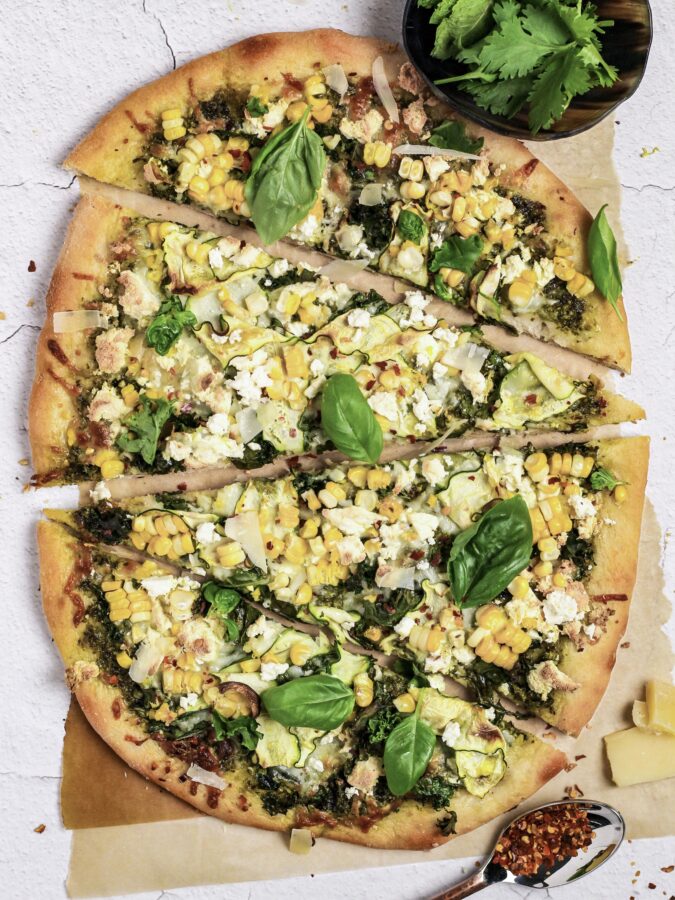 The Paneer
Paneer is a fresh, unaged cheese from South Asia made from curdled milk and an acid like lemon juice. The texture is soft, but it does not melt. It's perfect for frying, grilling, and simmering in different types of sauces.
I don't make paneer at home since it is so readily available at our local grocers. I am able to find it at Whole Food, Mariano's (Kroger family), and other specialty asian stores such as Patel Brothers.
You can marinate cubes or slices of paneer in this pesto and cook it on the grill or stovetop. You can even add yogurt to the pesto as a marinade to give a creamy, rich, and more subtle flavor profile.
For this pizza I simply crumbled the paneer on the pizza with the fresh vegetables. If you absolutely have to substitute the paneer then queso fresco cheese will work here! Whole milk shredded mozzarella cheese provides the ooey gooey, melty goodness for this recipe!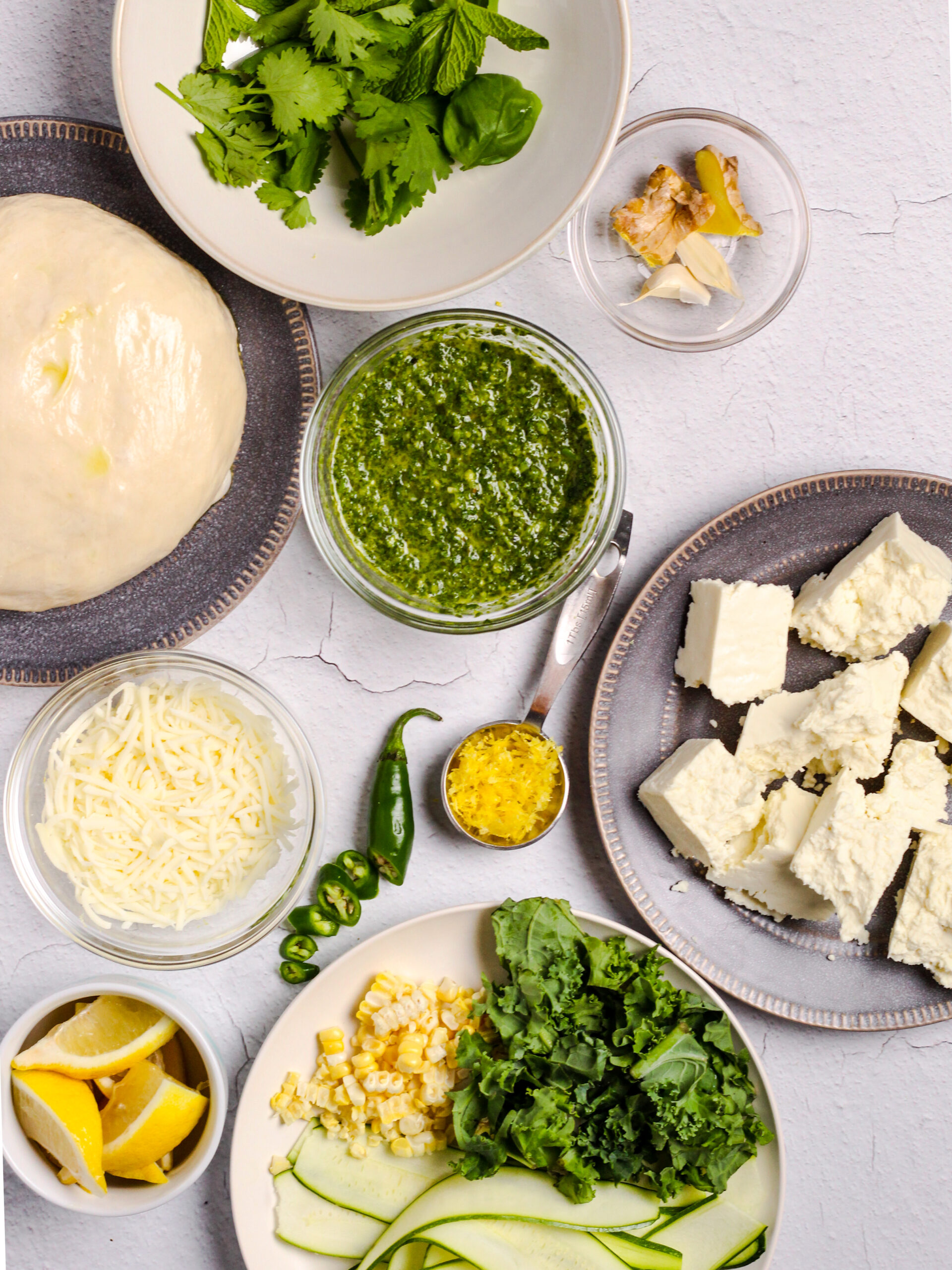 The Hariyali Pesto
So I made up this thing I am calling "hariyali pesto" and I am not mad about it! To put it simply it's hariyali sauce with basil added to the recipe. If you are not familiar with hariyali let me tell you about it:
Hariyali is used to describe a chutney or marinade made from cilantro, mint, green chilis, garlic, ginger, and lemon juice. Some may add other spices such as cumin or dry mango powder or even make it creamy by adding yogurt or coconut milk. Often, you will see this bold green paste used to marinate chicken or paneer cheese before it is grilled.
I used the same base ingredients of hariyali and added fresh basil and lemon zest to make this vibrant pesto. The basil gives more citrus, mint, and peppery notes and balances the pungent garlic and ginger. I did not add any nuts or cheese to this pesto, but if you want to add either of those my suggestion is pistachios and parmesan! You may also substitute the mint for dill if you aren't able to find fresh mint.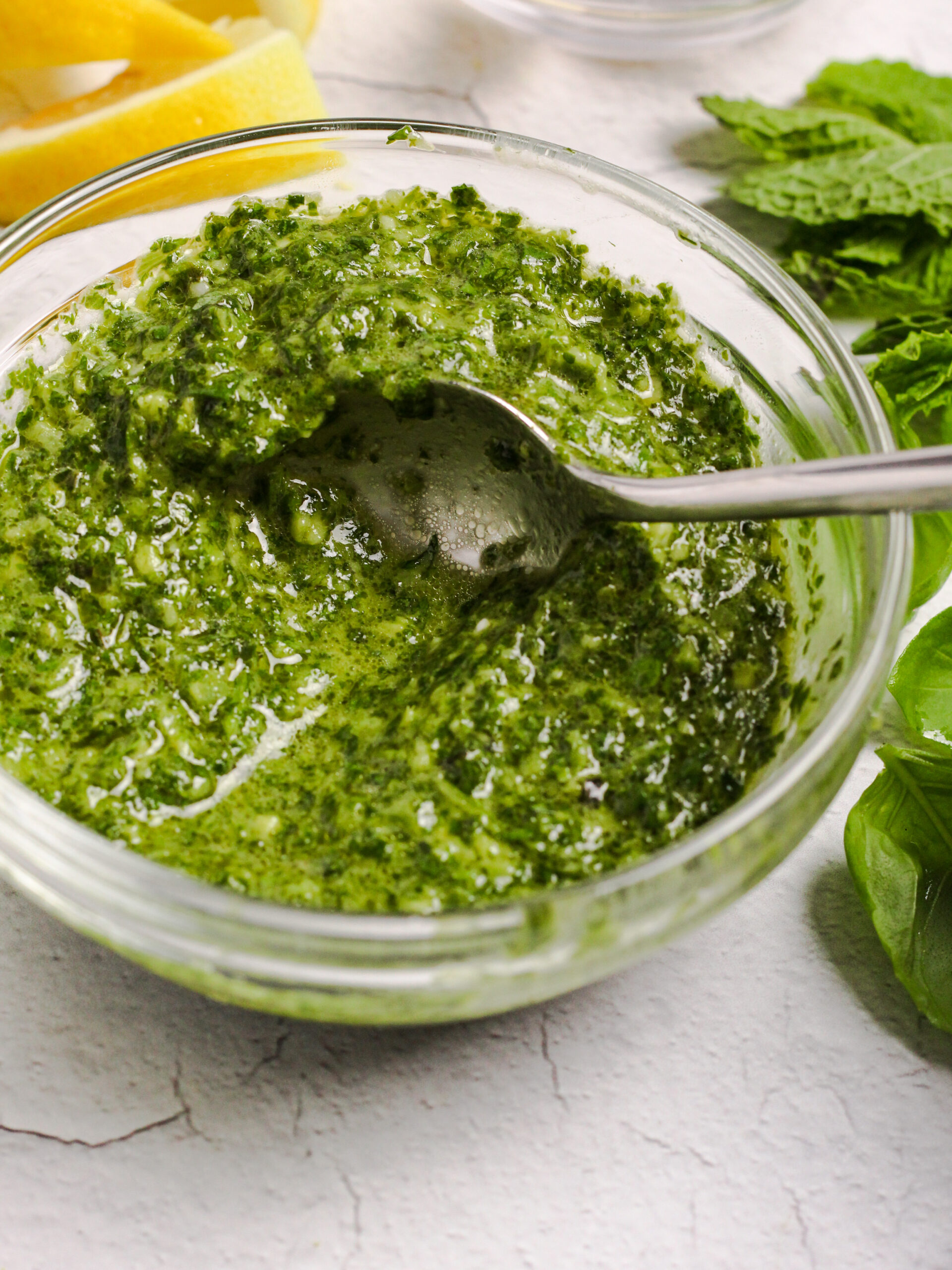 The Vegetables
I use a combo of chopped kale, fresh corn, and zucchini to top my pizza. This Summer we have been making pizza a lot, actually. I am a huge fan of grilling pizza dough so a few times we've done grilled pizza with the same combo of vegetables, a store-bought or homemade traditional basil pesto as the sauce, shredded mozz, and after it's baked we add fresh burrata!!! It's the best!!
As you make your pizza use can whatever vegetables you have on hand, and what is in season. When produce is at its peak it tastes the best…especially if eaten raw in salads, or just barely cooked like on this pizza!
If you don't like these vegetables you can use tomatoes (heirloom, cherry, grape, or roma), arugula or spinach, olives, bell peppers, etc. Really, whatever you like. My one suggestion is to be careful of the water content with some vegetables because you don't want your dough to get soggy.
I use pre-chopped kale a lot because it's way more convenient for me, and a mandolin to prep the zucchini ribbons. if you don't have a mandolin use a vegetable peeler or grater. The corn is directly cut off the cob. If you only have frozen corn to use then defrost the corn, and dry it before adding to the pizza.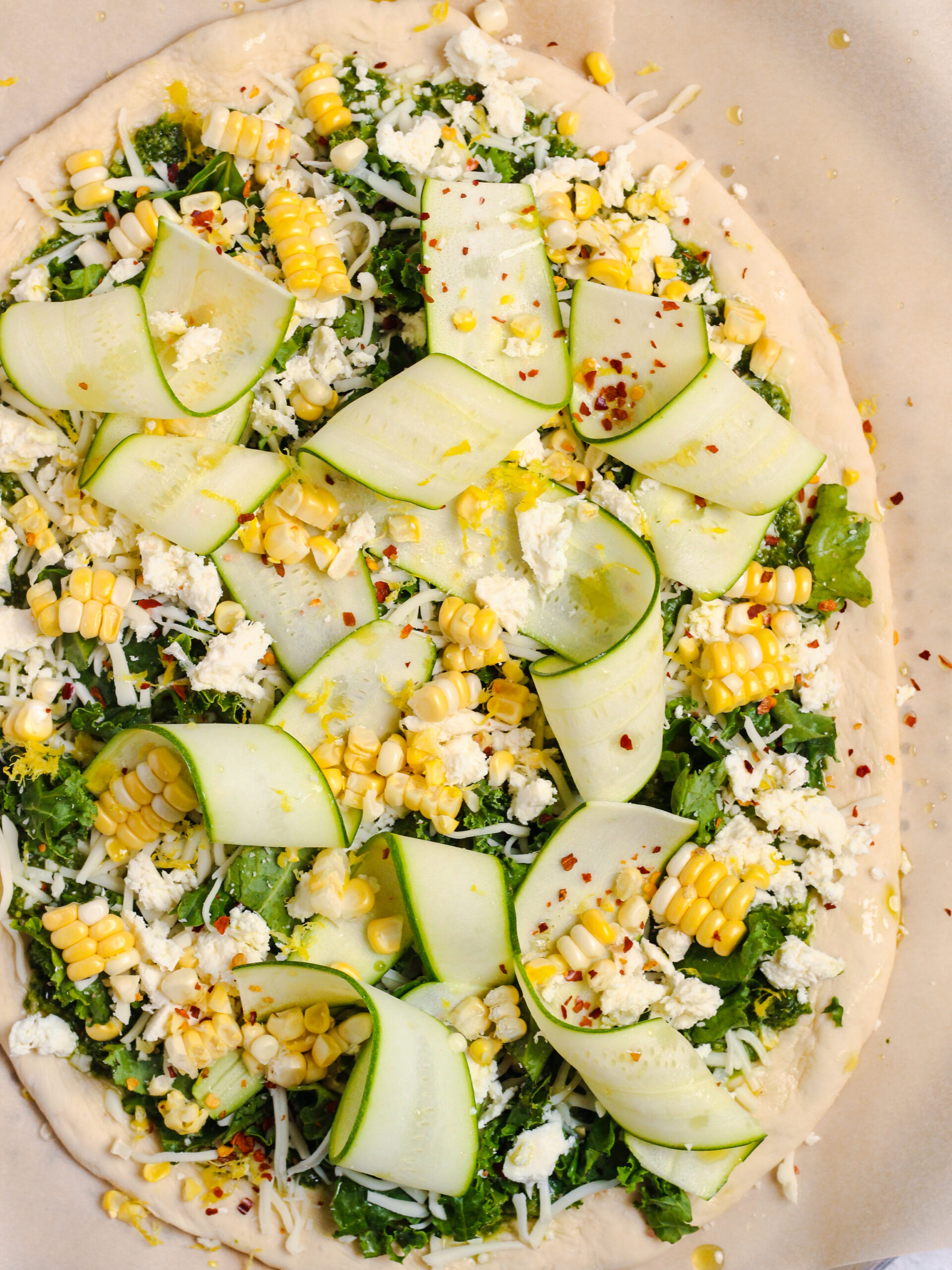 Hariyali Pesto Paneer Pizza
An Indian fusion pizza using a twist on hariyali chutney as the sauce which is topped with shredded mozzarella, fresh Summer vegetables, and crumbled paneer. The perfect blend of spice, herbs, and garden veggies on pizza!
Servings
2
10 inch pizzas
Ingredients
Pizza
1

pound

pizza dough

homemade or store-bought

6

ounces

paneer cheese

crumbled

1

cup

shredded mozzarella cheese

1

cup

hariyali pesto

recipe below

2

cups

chopped or shredded kale

1

medium zucchini or summer squash

shaved into ribbons

1

cup

fresh corn kernels

from 1 medium ear of corn

2

tsp

lemon zest

2

tbsp

extra virgin olive oil

to drizzle on pizza

kosher salt

crushed red pepper flakes

optional
Hariyali Pesto
1.5

cups

cilantro

thick stems removed, tightly packed

1/3

cup

mint leaves

tightly packed

1/3

cup

basil leaves

tightly packed

1

medium serrano or jalapeno

seeded if desired

4

cloves

garlic

grated

1/2

inch

ginger

grated

1

tbsp

lemon

1/4

cup

olive oil

1

tsp

lemon zest

salt

to taste
Instructions
Preheat the oven to 450 degrees F.

First make the hariyali pesto. Combine all the ingredients in a food processor or blender and pulse until semi-smooth. Taste and add salt as needed. Store pesto in an airtight container in the fridge for up to 2 weeks.

Divide dough into 2 equal sized portions. Push and roll out the dough on a floured surface until thin ( about 10 inches in diameter).

Transfer the dough to a baking sheet lined with parchment, a pizza stone, or a pizza pan.

Spread a thin layer of pesto on the dough (about 1/2 cup). Top pesto with 1/2 cup of shredded mozzarella cheese, 1 cup of chopped kale, half of the zucchini ribbons, and half of the corn.

Top the vegetables with 3 ounces of crumbled paneer.

Drizzle pizza lightly with olive oil, and season with lemon zest and salt.

Transfer to the oven and bake for 10-15 minutes or until the crust is golden and the cheese has melted.

Garnish pizza with fresh basil and crushed red pepper flakes before serving.

Repeat process for second portion of pizza dough.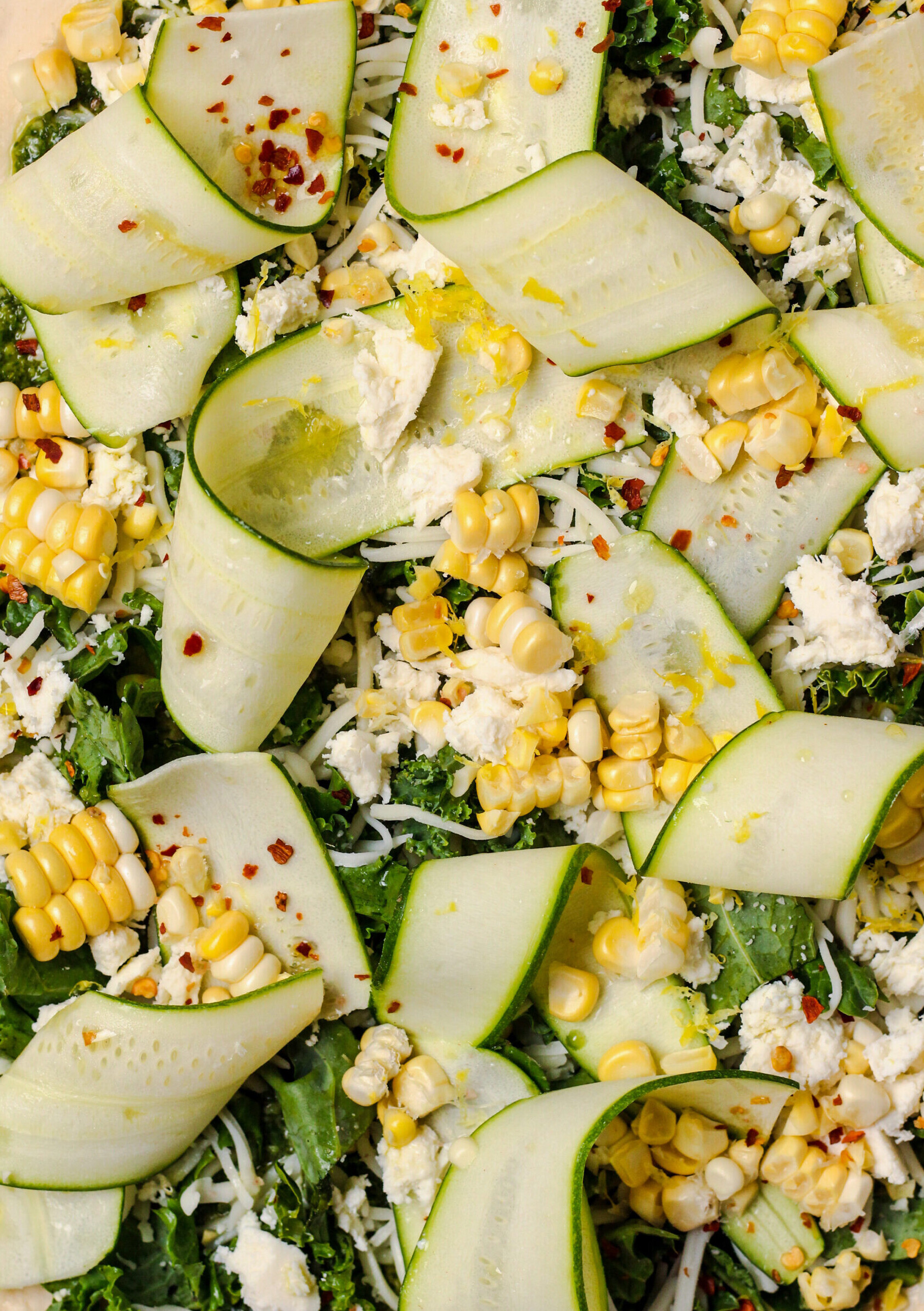 If you make this recipe please tag me in your photos on Facebook or Instagram! I would love to see how the pizzas turn out, and share your pictures on my account!