This is a simple yet luscious pasta dish that you will make over and over because it's that easy! The shrimp and Spring vegetables keep it light and add a great bite. So perfect when you're craving those carbs.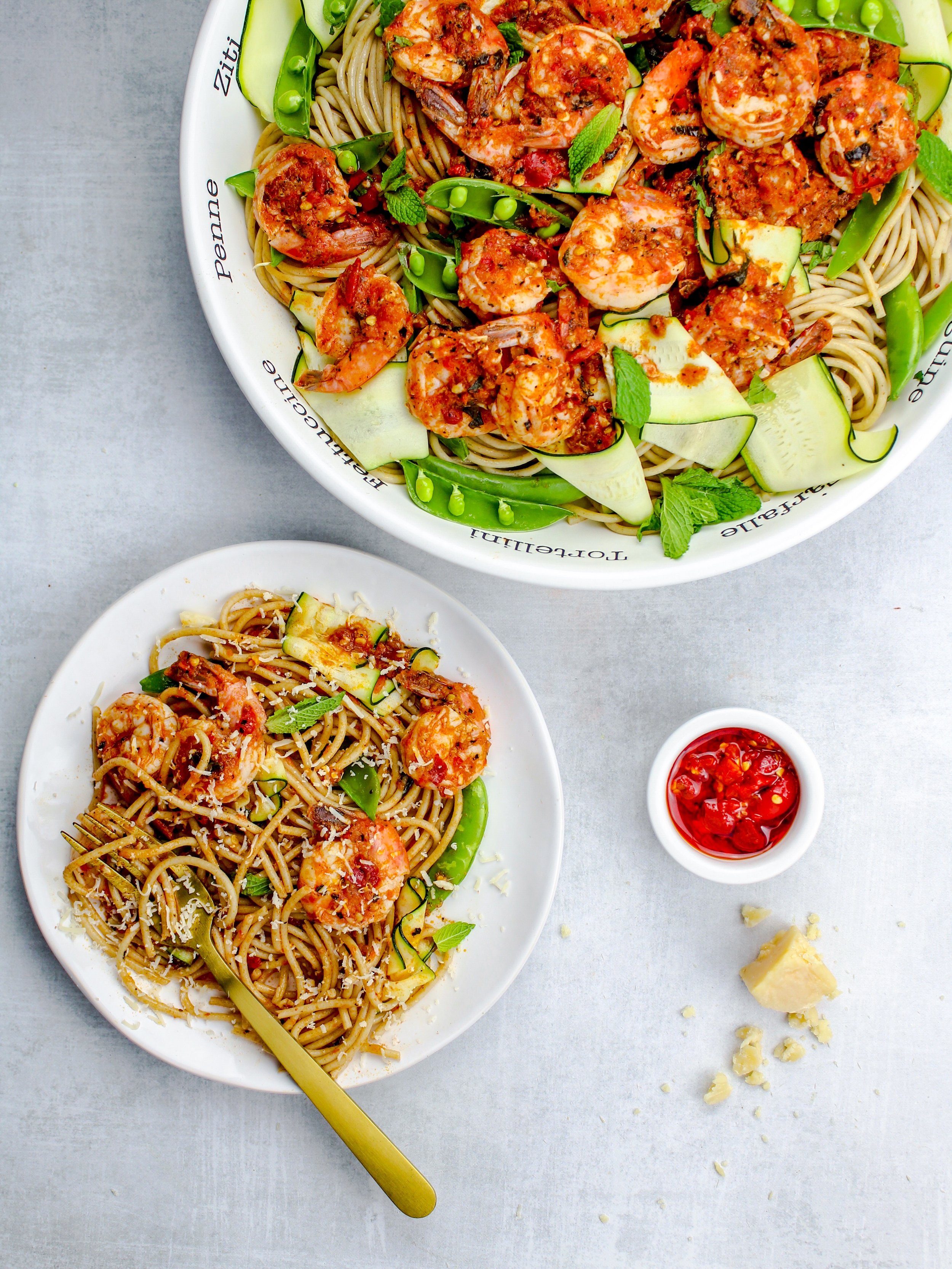 I have to tell you that I use jarred pasta sauces a lot. More often since I have a tiny human darting across the kitchen, but there's one problem…I just can't find an Arrabiata style sauce that I love. I love the kick you get from that spice which in my opinion tomato sauce just needs. I found that these calabrian chilis give so much flavor and depth to a tomato sauce. These little guys are medium to hot, slightly fruity, get this…originate from Calabria, Italy. Makes sense, right?! You will see them in a glass jar, either whole or chopped, and packed in oil. I used it to make a Springtime pasta dish that is packed with veggies and finished off with mint to really brighten up the flavors. It's super simple and comes together so fast!
Ingredients
12 oz. pasta of choice, cooked according to package

15 oz. canned crushed tomatoes (or fire roasted tomatoes for a more smokey flavor)

1/4 cup chopped calabrian chilis in oil (I used Divina brand)

3 small cloves garlic, minced or crushed

1 cup reserved pasta water

1/4 tsp salt or to taste

1 lb shrimp, deveined

1 medium zucchini, thinly sliced or spiralized

4 oz. sugar snap peas, cut in half lengthwise

handful of fresh mint (5-6 leaves)

sugar, if needed

squeeze of lemon
Prepare pasta according to package instructions (cook 2 minutes less for al dente), and reserve 1 cup of pasta water to use later in the sauce.
Heat a large skillet with 2 teaspoons of oil. When hot add the can of crushed or tomatoes, garlic, calabrian chilis, and salt. Stir to combine, and cook covered on medium heat for 5-7 minutes. Stir occasionally. When the tomato sauce has cooked down and thickened a bit add 1/2 cup of reserved pasta water and bring to a simmer. Adjust salt, and add a pinch of sugar if your particular batch of tomatoes are more tart than you would like.
Add the shrimp and cook for 2-3 minutes. Then add the zucchini ribbons and peas. Cook for 1-2 more minutes and add the cooked pasta. Remove from heat. Toss everything until combined. Add a touch more pasta water if needed so the sauce coats all of the pasta. Add torn mint leaves, a nice squeeze of lemon, and top with grated parmesan if you're not freaked out by the seafood + cheese combo.