During the first week of shelter-in-place I stocked up a ton of groceries…frozen foods, produce, yogurt, etc. Like the rest of you I had no idea what to expect from being isolated indoors, but with the madness also came creativity! I know that using sweet potato fries as a vehicle for toppings isn't a novel idea, but for some reason every time I made store-bought sweet potato fries my little guy just would not eat them. It was so weird, because my husband and I love them. Even weirder is that my 4 year old will eat a simple salad anytime. Not the "leaves" as he calls them (spinach, lettuce, etc.), but tomatoes, cucumbers, avocado sprinkled with a touch of olive oil and salt have become a regular meal item. With these Greek Salad Loaded Sweet Potato Fries it's the best of both worlds. Easy to make fries topped with healthy and fresh vegetables, really good quality feta cheese, and then drizzled with a creamy roasted garlic yogurt sauce. YUM!!!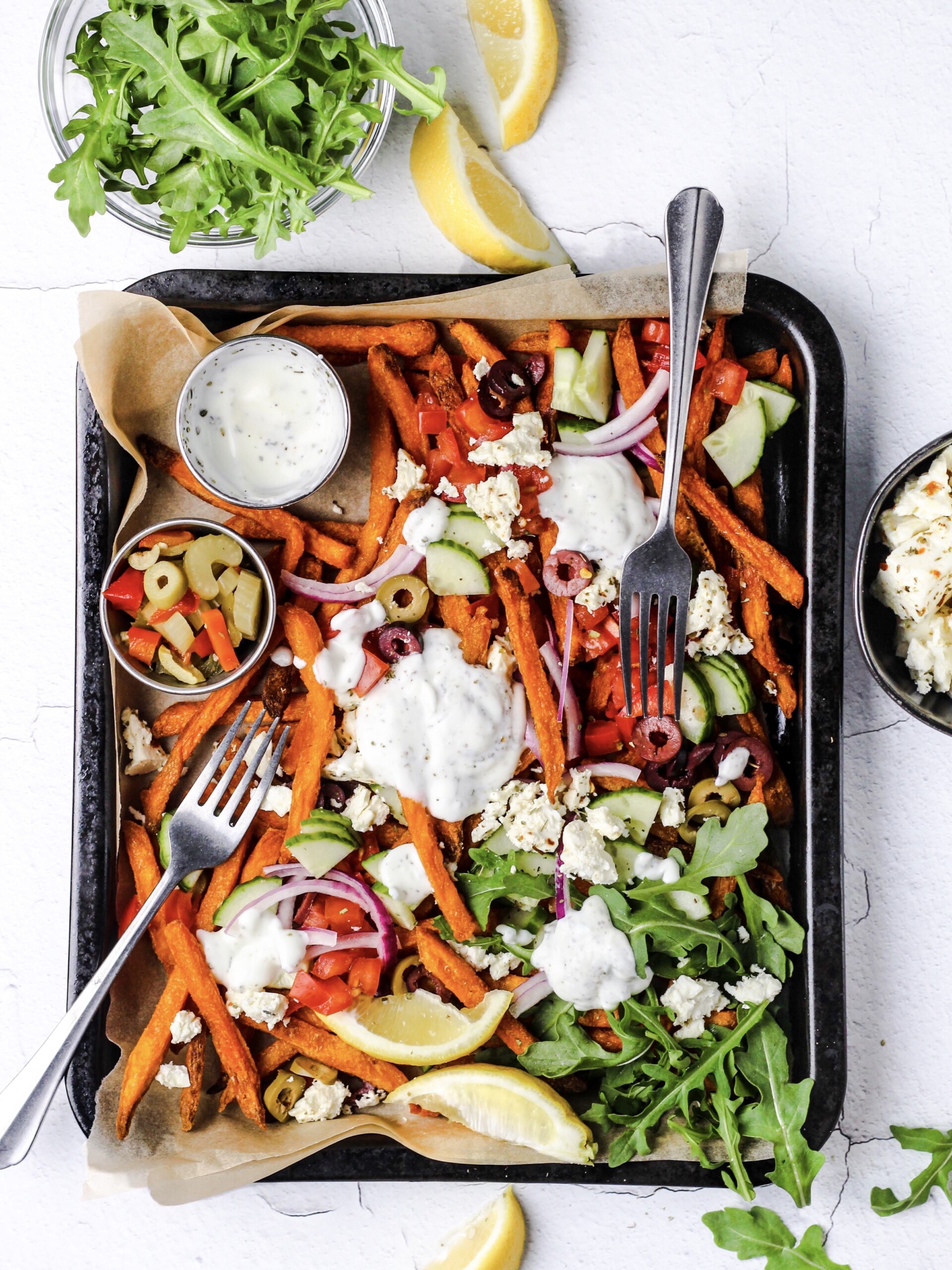 The toppings I used are really typical of a Greek salad, but leave out any ingredients that you don't like or substitute in what you are craving! Feel free to use crisp romaine, or a mixed greens blend for the salad. If you don't like feta cheese then use a creamy goat cheese, shredded mozzarella, or even crumbly cotija or queso fresco. Chickpeas would be a nice addition of plant protein, and you can definitely throw on some chicken (grilled or even rotisserie!). This meal was such a hit with my family, and I hope you enjoy the loaded sweet potato fries as well!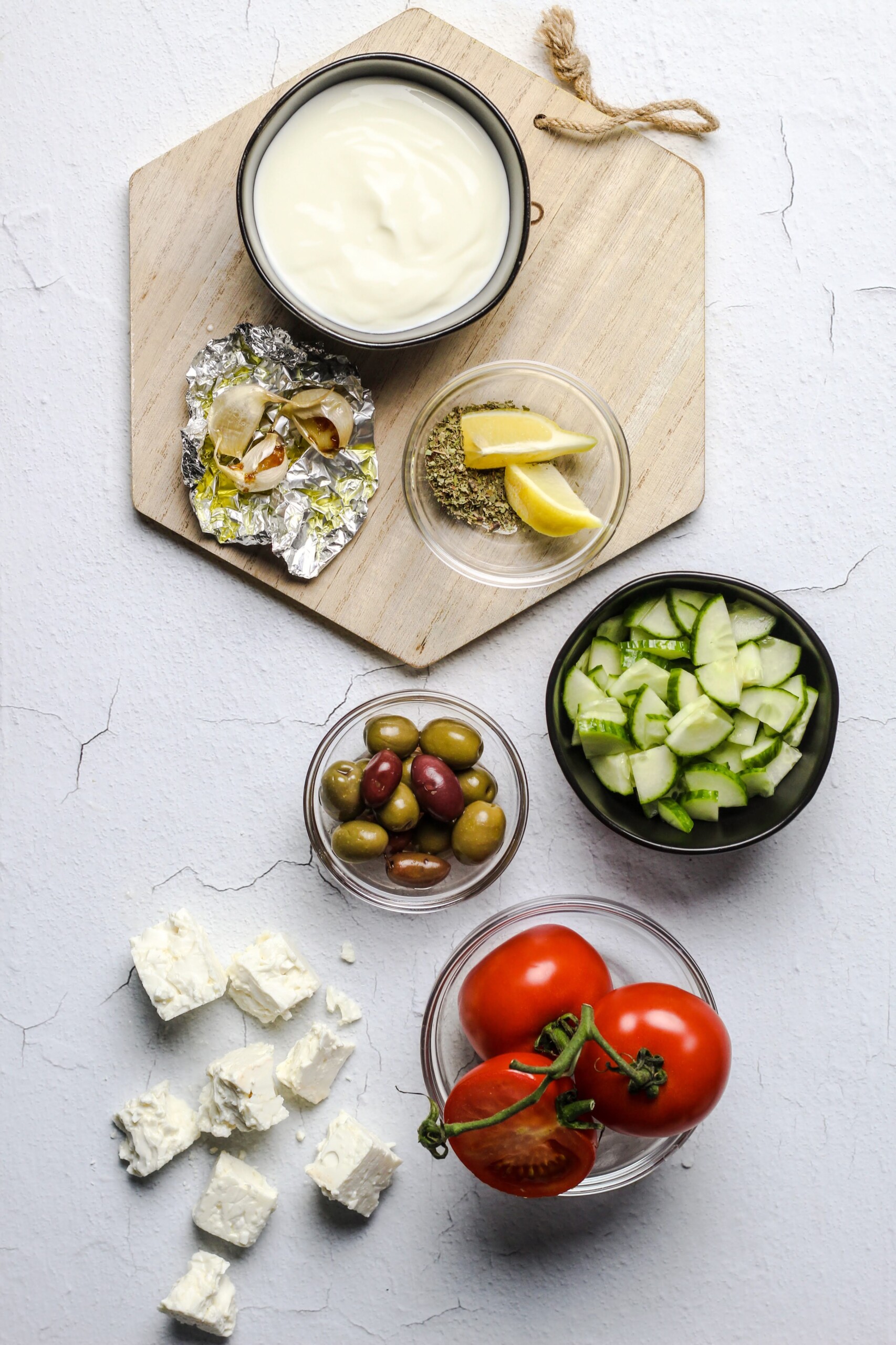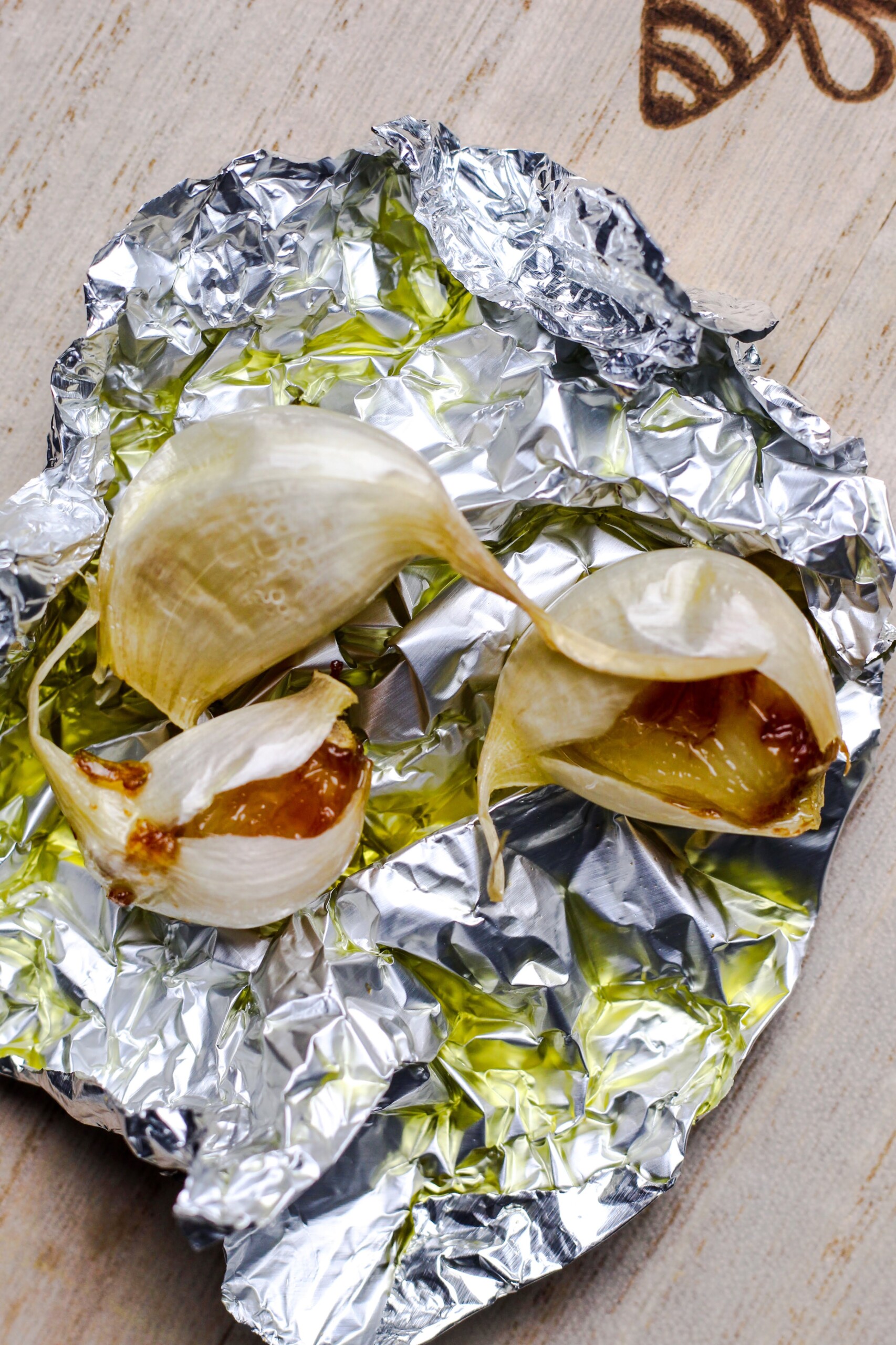 Greek Salad Loaded Sweet Potato Fries
Baked sweet potato fries loaded with fresh cucumbers, tomatoes, olives, and arugula topped off with feta cheese and roasted garlic yogurt sauce.
Ingredients
1

20 oz.

bag frozen sweet potato fries

1/2

cup

seedless cucumber

diced

1/2

cup

tomato

diced, seeds removed.

1/2

cup

giardiniera

optional

1/4

cup

red onion

thinly sliced

1/4

cup

olives

diced or sliced

4

oz.

crumbled feta

2

cups

arugula

or greens of your choice (spinach, kale, romaine lettuce)
Roasted Garlic Yogurt Sauce
1/2

cup

Greek yogurt

3-4

cloves

garlic

1

tsp

lemon juice

1/2

tsp

dried oregano

salt to taste
Instructions
Preheat oven to 425 degrees F.

Place frozen sweet potato fries on a baking tray as instructed on the package.

Place garlic cloves with their skin on in a piece of foil and coat with oil (about 1 tbsp).

Wrap the garlic cloves in the foil and place in the oven along with the sweet potato fries.

After 15 minutes remove foil pack and let the garlic cool. Continue baking the sweet potato fries.

Squeeze the roasted garlic cloves out of the skin.

Blend together yogurt, roasted garlic, oregano, and lemon juice until smooth. Season with salt.

Remove the fries from the oven once they are finished baking.

Load up sweet potato fries with all of the prepared toppings! Drizzle with garlic yogurt sauce.

For an extra kick you can marinate the crumbled feta in olive oil, crushed red pepper flakes, and oregano.
Notes
With frozen sweet potato fries I tend to cook them longer than listed in the package directions to get the crispiness we want! 
Make sure the vegetables are nice and dry before preparing them so that no extra water leaches onto the fries making them soggy. I remove the seeds from the tomatoes for this reason as well. 
The yogurt sauce can be served on the side, or drizzle on top right before serving.