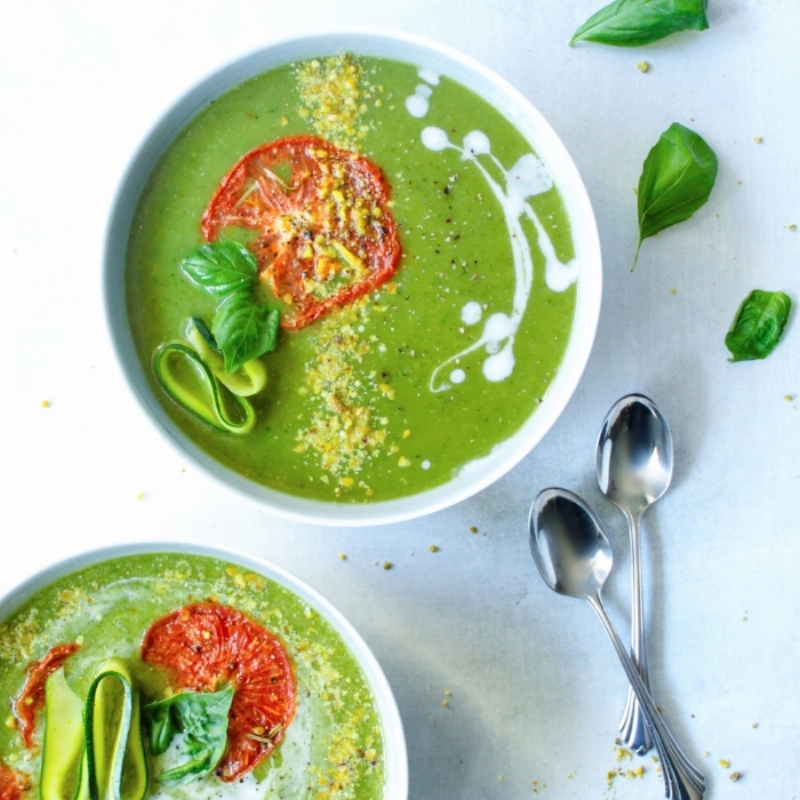 I'm not gonna lie the heat can be too much some days! It's amazing when you're sitting out on a patio and sipping on a few cold drinks, but when you are running around with a 2.5 year old or just getting stuff done…it's annoying! I go from an office that is freezing to my car where I start sweating bullets as soon as I sit my butt on black leather seats. Hmph!
That is why this chilled soup is glorious to have for a dinner on the balcony, or bottled up and taken for a delicious, healthy, easy lunch to-go! It's light and so tasty! And what's more perfect than these green summer ingredients?
Ingredients
3 medium sized zucchini squash, chopped

1/2 medium white onion, chopped

1 medium clove garlic

2 cups baby spinach leaves

1/2 cup basil leaves

2 cups broth or stock

1-2 cups unsweetened coconut milk beverage

1/2 tsp salt

1/4 medium jalapeno, seeds removed, optional

1/3 cup packed fresh basil

juice from 1/2 lemon

1 beefsteak tomato, sliced into rounds

pistachios for garnish, optional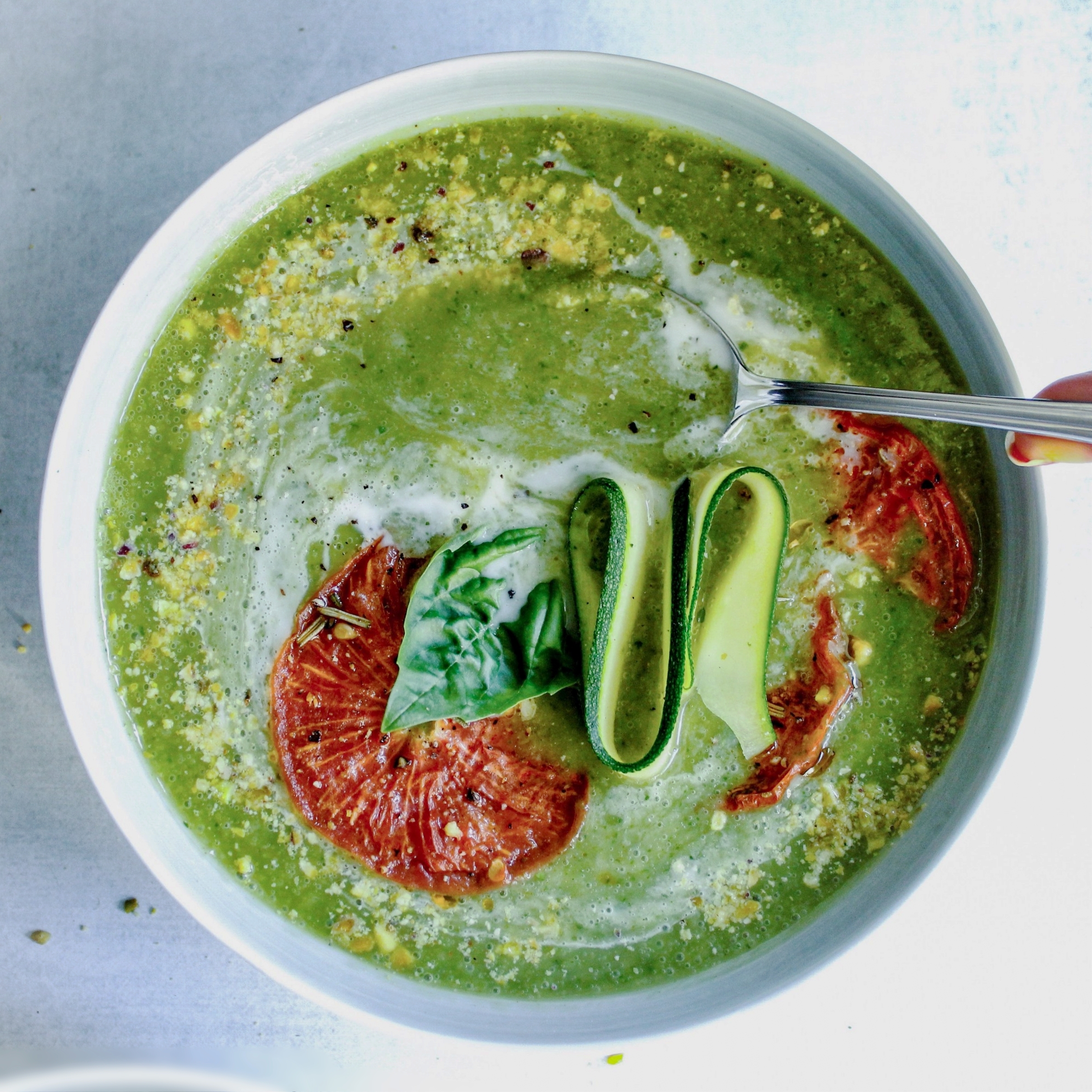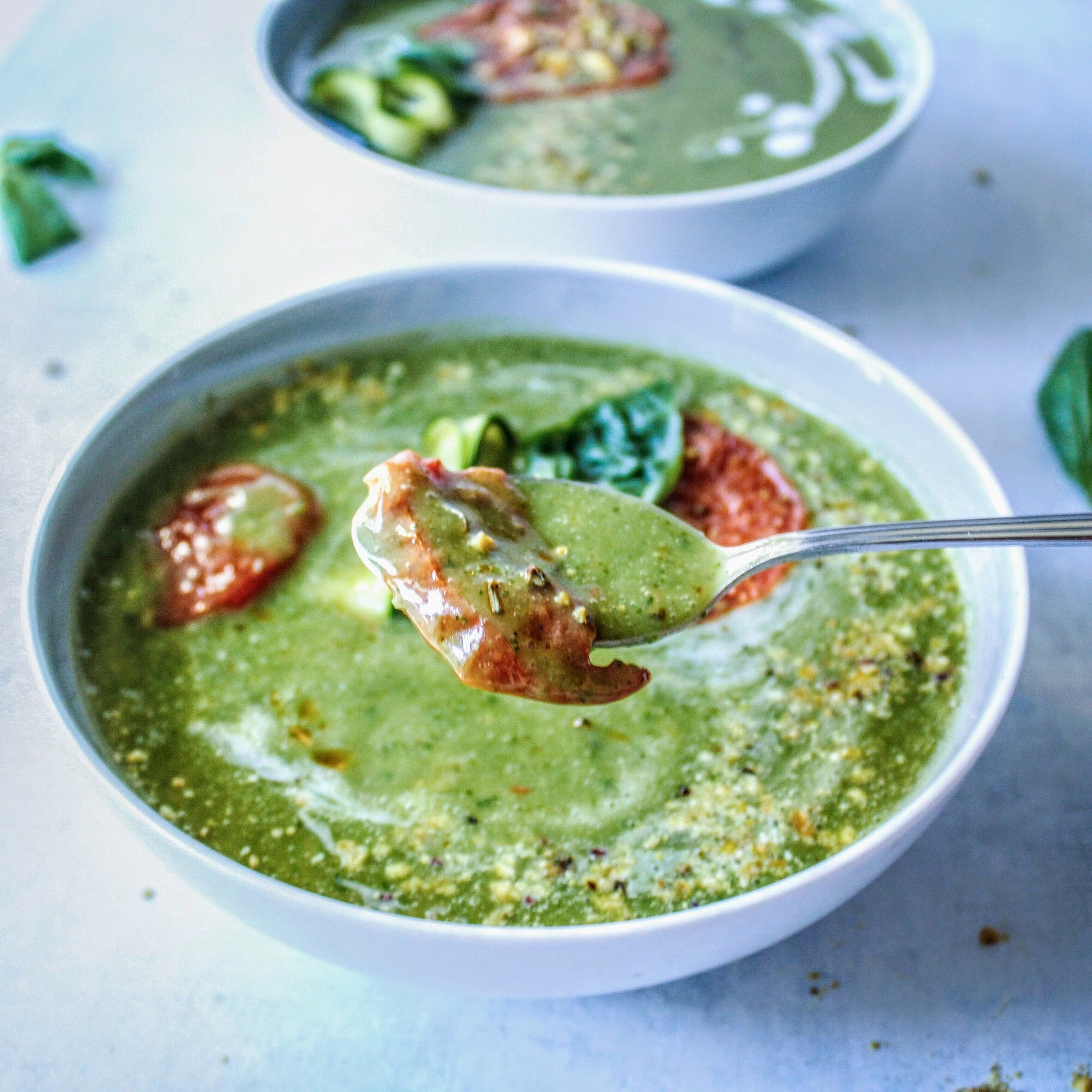 Place zucchini, onion, garlic, broth, and jalapeno in Instant Pot liner. Close lid, and set to Manual mode for 10 minutes. Once the timer is done counting down you can quick release or let the pressure naturally release depending on when you want to have the soup!
Now add spinach, basil, lemon juice, one cup of coconut milk, and salt. Blend using an immersion blender, or place everything into a food processor or large blender. You can adjust the seasoning and add more coconut milk if the consistency of the soup is thicker than you prefer. Chill for 2 hours or eat warm!
Garnish with more fresh basil, and roasted tomatoes.
To roast the tomatoes preheat oven to 400 degrees. Place tomato slices on a baking tray. Coat with olive oil, salt, pepper, and any seasonings you have around. I had some rosemary so I sprinkled that over the top of the tomatoes. You can also use dried Italian seasoning, or fresh thyme. Bake for 20-25 minutes until the tomatoes look concentrated and are slightly caramelized.