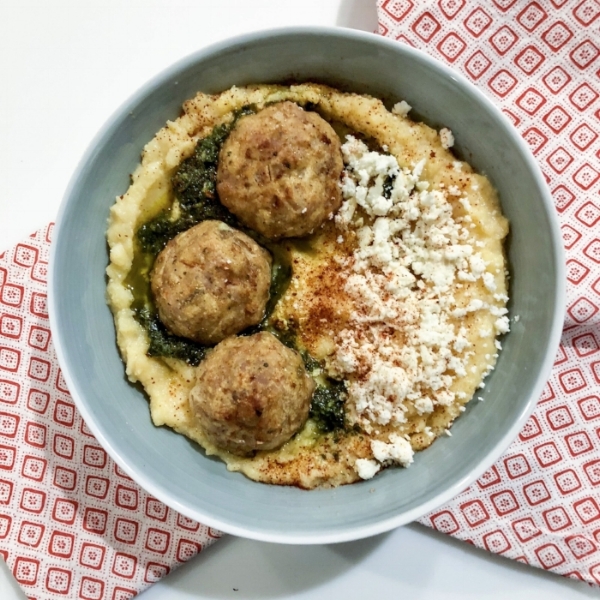 I definitely try to season our meat and veggies with my own blend of ingredients, but every now and then it's so helpful to grab a pre-marinated pork tenderloin or a pound of flavored sausage. Usually I am running errands during my lunch hour #momunderpressure so I'll swing by Whole Foods to see what they have available at the meat counter. Last week they had a habanero and green chili chicken sausage…already sounds yummy, right?! So I bought a pound of the bulk sausage, and figured I'd make some tacos.
Side note: you will see it displayed in casings for sausage links and behind that they reserve some bulk.
I crave tacos constantly, but I also really wanted polenta. Odd, yes. No, I'm not pregnant.
I whipped up dinner that night in probably 30 minutes…and most of that was the meatballs baking away. The trick here is to freeze the sauces and marinades you love to have on hand anytime! Enter CHIMICHURRI..super simple, incredibly flavorful, and reheats like a charm!
What you'll need for my Latin take on meatballs and polenta:
Polenta
1 cup cornmeal

4 cups water

½ cup milk

1-2 tsp salt

½ tsp chili powder

½ tsp paprika
Make as directed on package. Or boil 4 cups water, add 1 teaspoon salt and slowly whisk in cornmeal. Then add milk and spices. Remove from heat, and cover until ready to use.
Meatballs
1 lb. green chili and habanero sausage from Whole Foods

¼ onion, diced

½ cup almond flour or breadcrumbs

1 egg

½ tsp salt

2 tsp cornmeal
Chimichurri
1 bunch fresh parsley

1 bunch fresh cilantro

1 tablespoon oregano

2 cloves garlic

2 teaspoons red pepper flakes

2 tablespoons red wine vinegar

1 tablespoon lemon juice

1 teaspoon kosher salt

1/2 teaspoon freshly ground black pepper

1/2 cup olive oil , plus a few tablespoons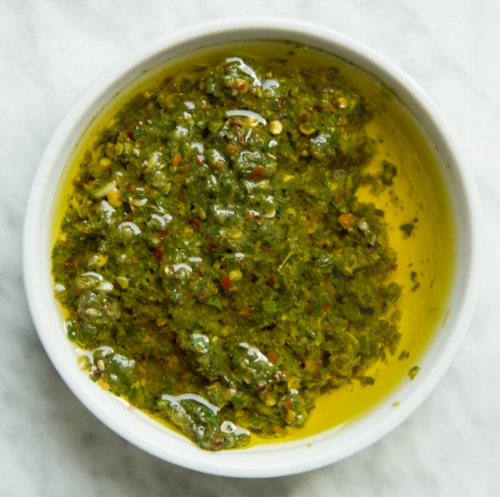 Add all ingredients to a food processor and pulse until smooth. If you need to add more oil, add a tablespoon at a time until desired consistency is desired.
Preheat oven to 375 degrees. Saute onion in ½ tbsp of oil until translucent. Let cool. Combine chicken sausage, cooled onions, egg, salt, and almond flour. Poke egg yolk to break, and slightly beat egg with your fingers and then slowly work together all ingredients. Sprinkle in 1-2 tsp of cornmeal. The meatball mixture will be slightly wet.
Pour some oil into a small bowl. Coat fingers and palms with oil. Then roll meatballs out into a tray. Be liberal with the oil here so that you are able to easily form meatballs. Makes about 12 golf ball size meatballs. You can also place mixture in the fridge for 30 minutes to help it set up before rolling out meatballs. Bake meatballs for 15- 20 minutes. Then broil for 5 minutes to get a nice golden brown top.
Place polenta in a bowl, top with meatballs, chimichurri, and crumbled queso blanco.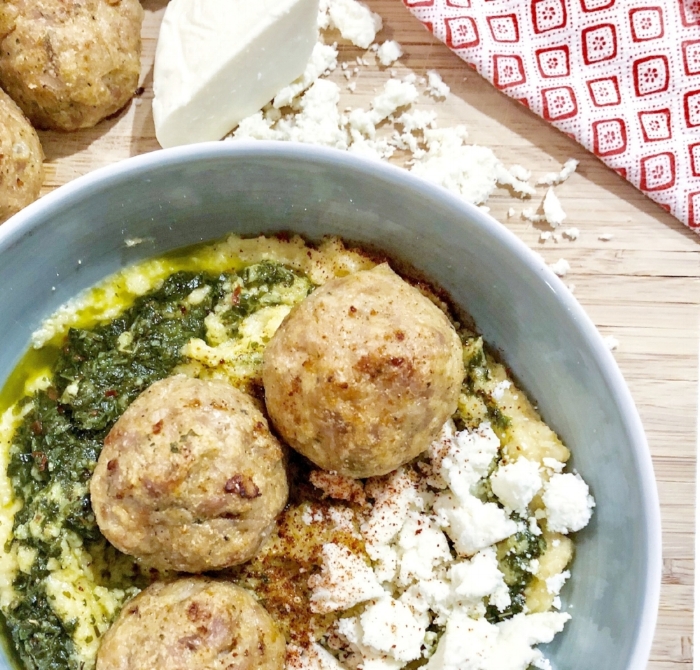 ---
I realize Whole Foods may not always this flavor of chicken sausage so you can make your own:
1 lb. ground chicken

2 tsp garlic, minced

2 tbsp diced green chilis

1 tablespoon diced jalapeno or 1-2 tsp diced habanero

1 tsp each salt, cumin, oregano
Try their chicken chorizo in this recipe!