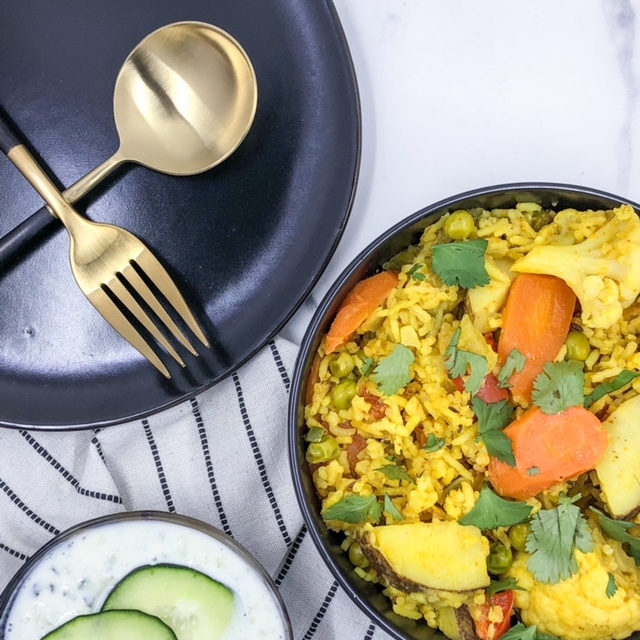 This is one of my go-to recipes when I'm having a lot of family over. Actually, it's the first dish I made my in-laws and I've done it for Diwali as well. Vegetable pulao checks a lot of boxes when you are entertaining a hungry, Indian crowd. First of all, there's rice. Very important! It's vegetarian, but hearty. Plus this particular method is much simpler than traditional biryani which is made my cooking the rice separately, and then layering with the spiced vegetables or meat. The flavors are bold which is expected with Indian cuisine, but clean since I have limited which spices I use. The vegetable to rice ratio is high so you can relax about the carbs! A plain yogurt can replace the the cucumber raita in a pinch, but if you have the ingredients then it's worth the few extra steps to make!
Ingredients
1.5 cups basmati or any long-grain rice, washed and soaked for 20 minutes

2 carrots, peeled and diced into roughly 1 inch pieces

1 small head cauliflower, broken up into medium florets

1 potato, diced into 1 inch pieces

1 medium onion, chopped

1 jalapeno, minced

1/2 red bell pepper, diced

1 roma tomato, diced

3/4 cup peas (fresh or frozen)

2 tbsp ghee, or oil

1 tsp ginger, grated

1.5 tsp cumin seeds or ground cumin

2 tsp coriander powder

1 tsp turmeric

1 tsp red chili powder or cayenne

2.5 tsp salt
Cucumber Raita (yogurt sauce)
1 cup yogurt ( I use regular yogurt, not Greek)

1 cup cucumber, grated

1/2 tsp salt and ground black pepper

1 tsp lime juice
Heat ghee or oil in a heavy bottom pan. I used an enamel coated dutch oven. Toast cumin seeds (or ground cumin) until lightly golden and fragrant. Add onions, and jalapeno. Cook for 3-5 minutes until translucent. Then add vegetables ( I put the potatoes, carrots, and cauliflower on the bottom, and top with red bell pepper, peas, and tomatoes). Then add spices. Give the vegetables a good stir, then add the rice. Gently fold rice into the vegetable and spice mixture. Now add 3 cups of water. The water should taste slightly saltier than how you would normally eat a dish. Bring pulao to a simmer, then cover and cook on medium for about 15-20 minutes. You will let the rice cook until the water is completely absorbed…keep a close on this! When all of the liquid is gone turn the heat down to low, cover, and cook for 5 more minutes. Turn the heat off when rice is cooked through (tender, but not falling apart). You can let the pulao steam for a few minutes from the residual heat, but I would not suggest to keep the lid and walk away for an hour. The rice and vegetables will continue to cook and become mushy.
For the cucumber raita mix together yogurt, grated cucumber, salt, pepper, and lime juice. When ready to serve fluff pulao with a large spoon, and serve with raita + lots of chopped cilantro!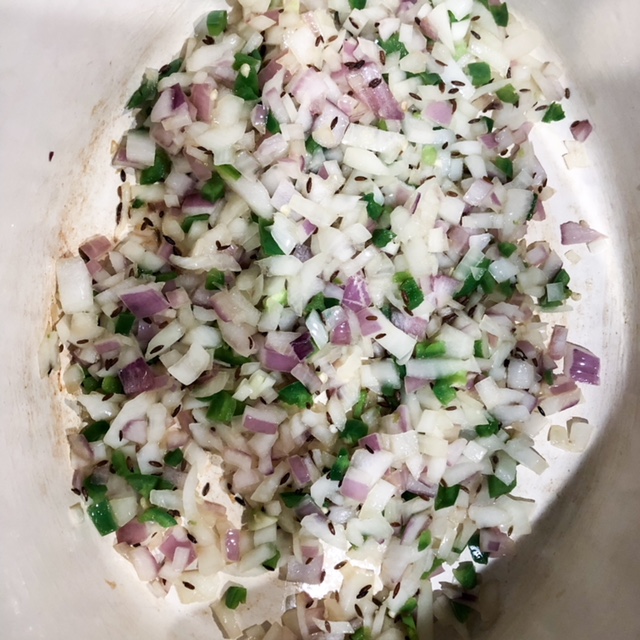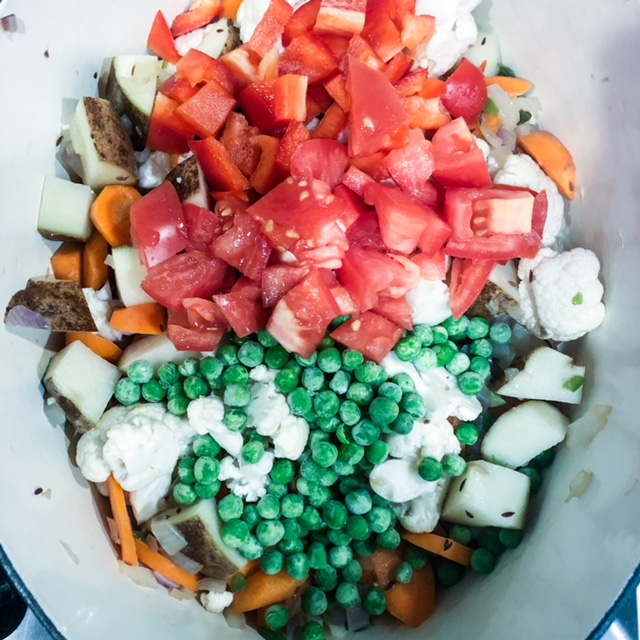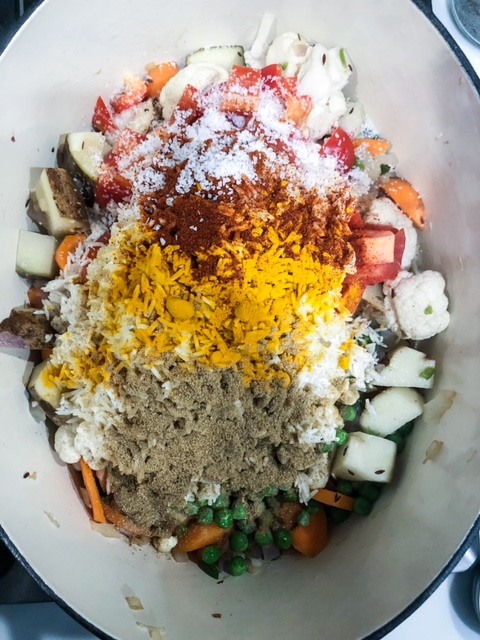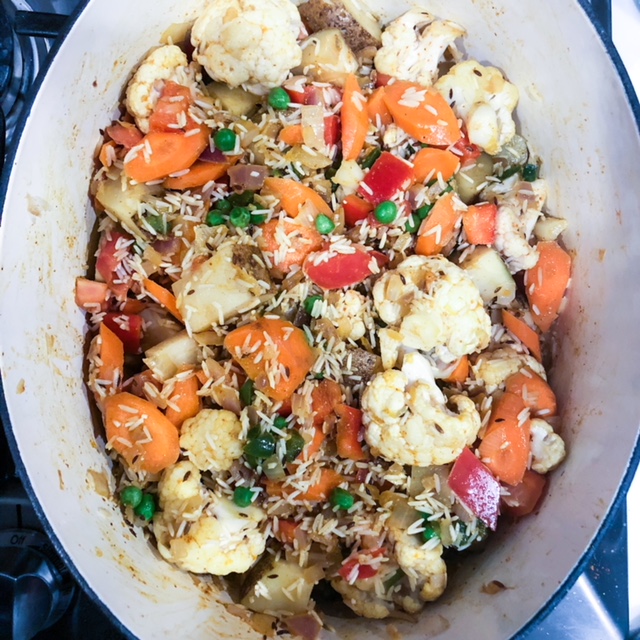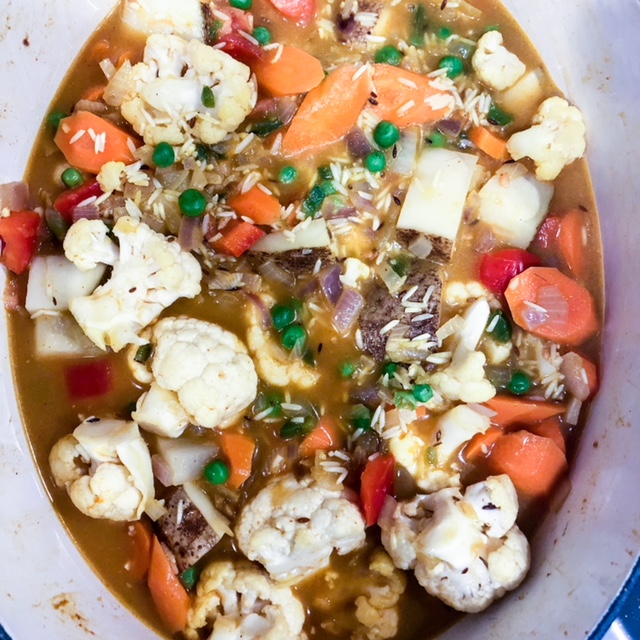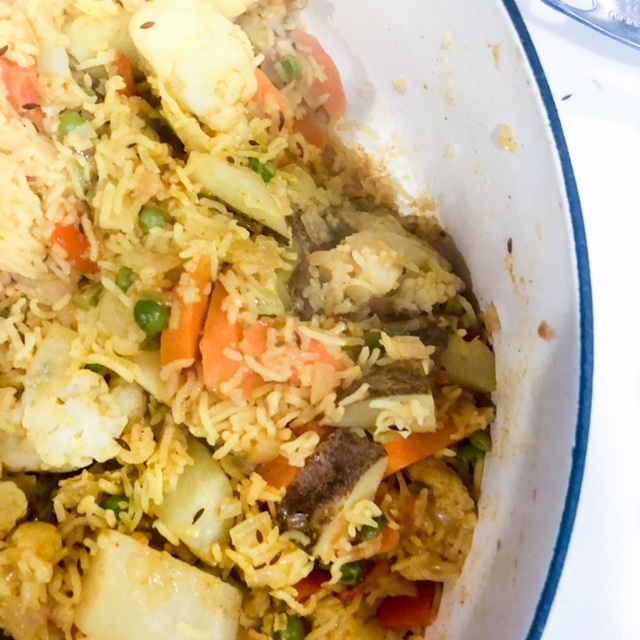 ---
Tips
I like to keep the peel on the potatoes, but you can peel them. If keeping the peel make sure to thoroughly wash potatoes.

Frozen peas work well here. They don't have to be completely thawed. I give them a quick rinse under warm water, drain the excess water, and toss them in!

It may look like there isn't enough water, but remember that the vegetables will also release some liquid as they cook! My mother taught me that 😉

I use regular, whole-milk yogurt for my raita. You can use what you prefer, but if using Greek yogurt you may need to add a touch of water to get the right consistency.