I love easy desserts! Mostly because I'm not a great baker. I don't have the patience for something to cook in an oven. When I'm hungry I want to eat…ASAP! But, I also have a huge sweet tooth so sometimes desserts are necessary. This recipe uses fresh seasonal fruit with a crumble topping that you will be eating right out of the food processor. No joke!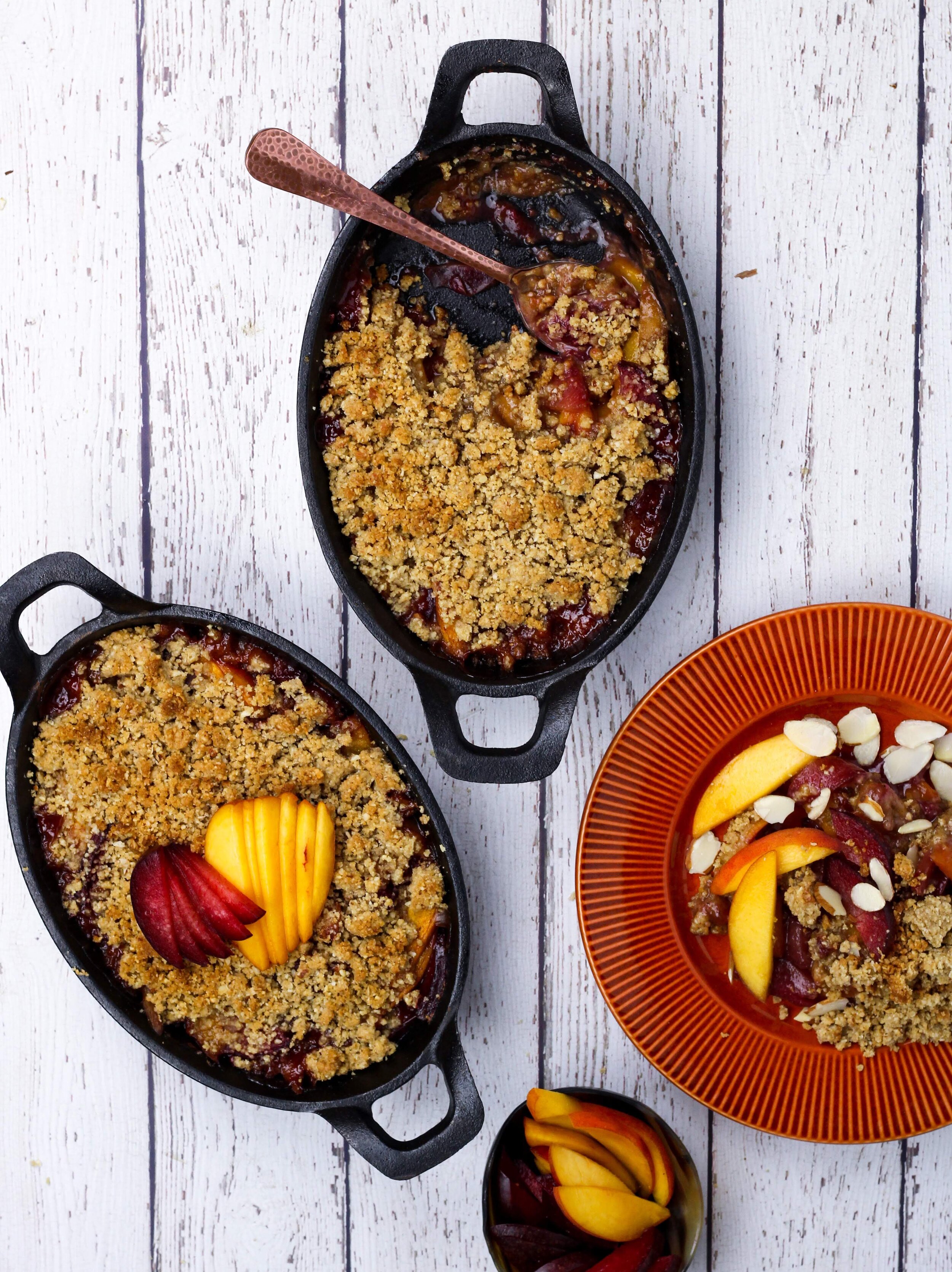 We've been obsessing over summer fruits at our house so I grabbed peaches and plums from Costco because they looked so perfect. I love making crumbles because they are easy and forgiving and I can use what I have in the house. You know a little of this a little of that. For this recipe I wanted to use a spice mix I've been hanging onto for a while…Stephanie Izard's This Little Goat went to Belize. It has chilis, spices, and bright citrus notes that are great to bake with! You get another layer of depth in this crumble which makes it super addicting! I use a lot of oats for more texture and that nutty flavor. I know you'll love this one!
Ingredients
Filling
2 cups peaches, sliced

2 cups plums, sliced

1/4 cup brown sugar

1 tbsp lemon juice

1 tsp vanilla extract

1 tbsp flour

1 tsp This Little Goat went to Belize spice mix
Crumble Topping
1 cup flour

1 cup quick cooking oats

1 sliced almonds

1 cup brown sugar

1 1/2 sticks of unsalted cold butter, cubed
Preheat oven to 350 degrees. Place fruit and seasoning into a large bowl, and gently mix together. Then place filling into a baking dish (you can use 1 medium cast iron skillet, 2 small cast iron skillets, or one 8×8 dish).
Next place ingredients for crumble in a food processor and pulse until combined. The topping should hold together and look like small rocks in the food processor.
Sprinkle the crumble mixture over the fruit filling, and bake for 20 minutes until the fruit filling is bubbling and the crumble is golden brown.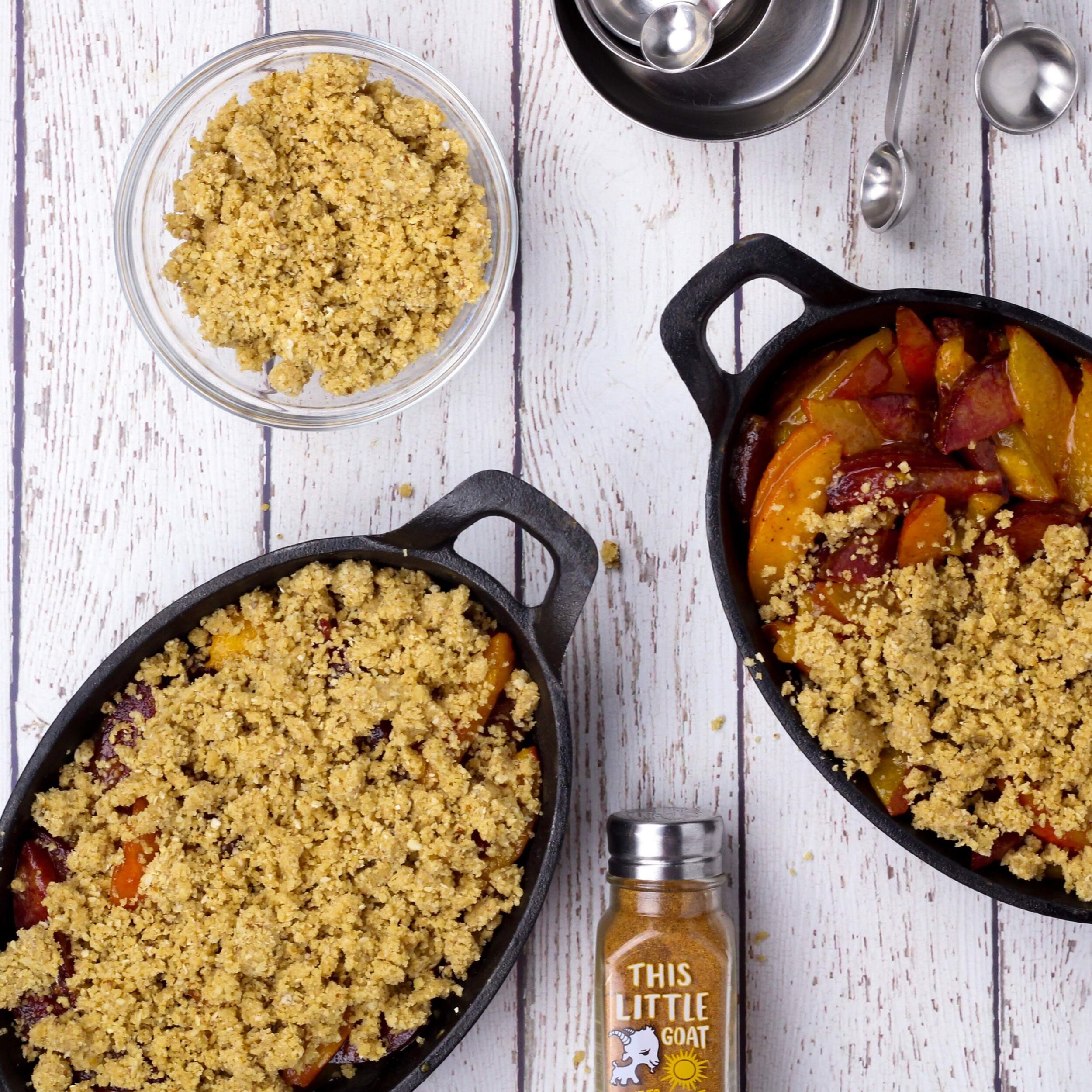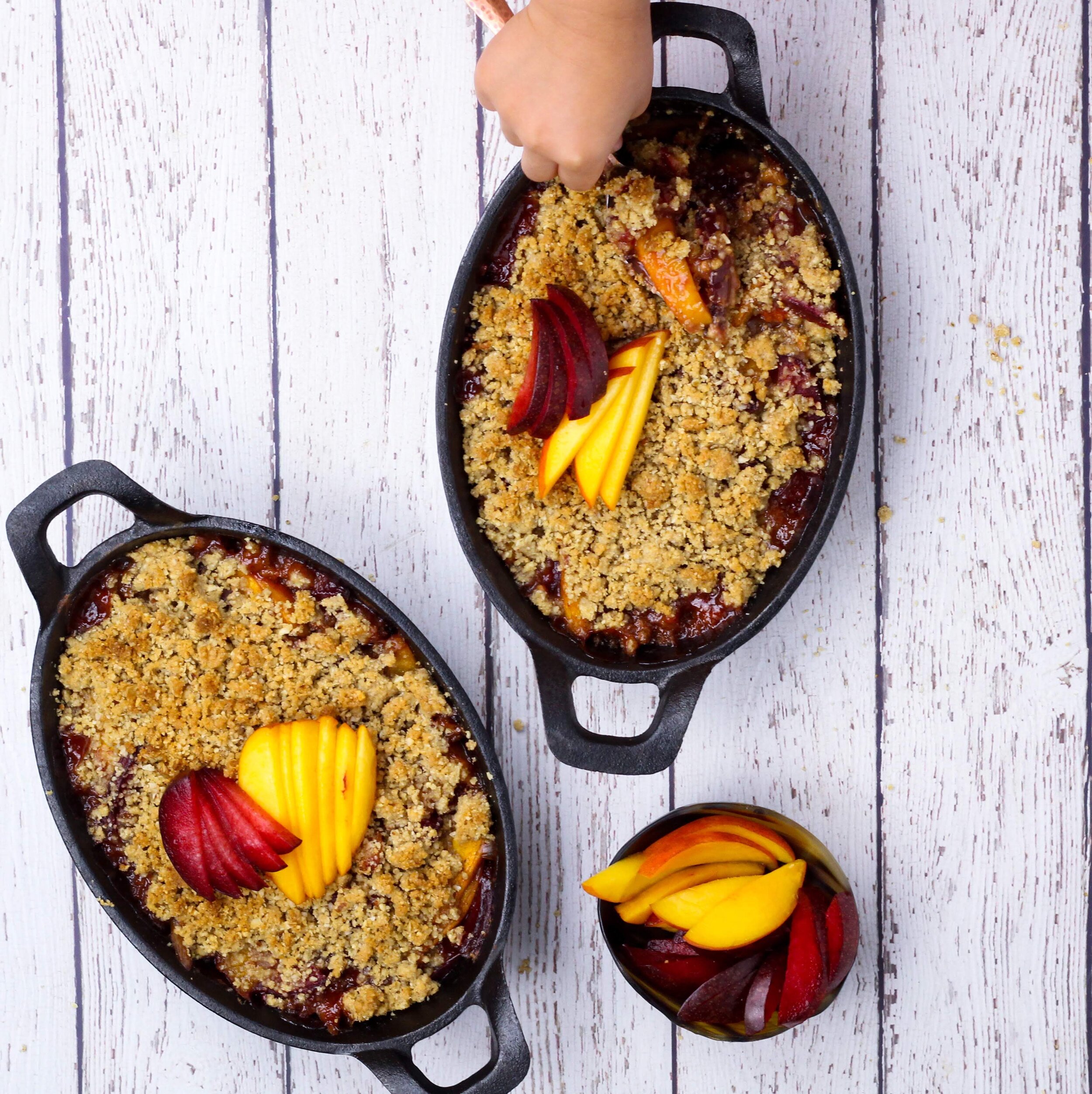 ---
Tips
If you can't find This Little Goat went to Belize spice blend then mix together 1/4 tsp each of black pepper, nutmeg, cinnamon, coriander, allspice, and lemon zest for a similar flavor profile.

This will work well with one fruit (either plums or peaches) or sub with your favorite!