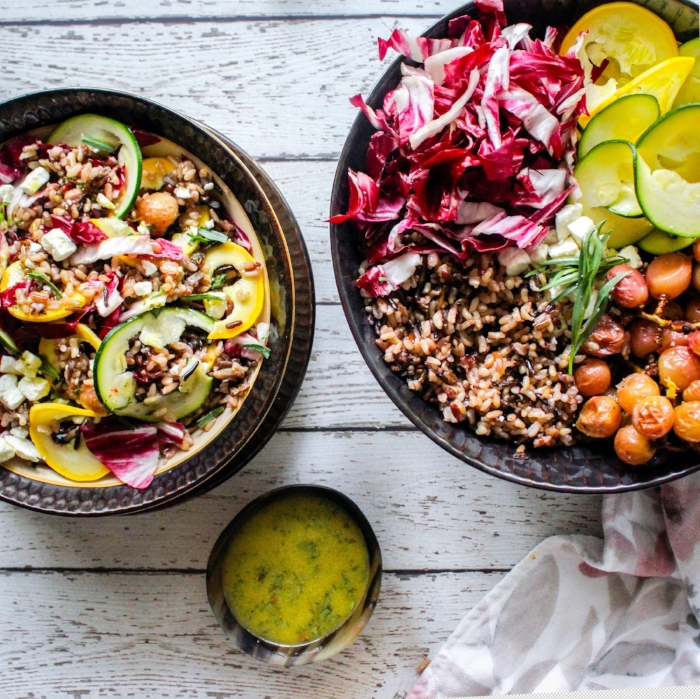 I asked, you answered, and now you shall receive! If you have no clue what I'm talking about it is a poll that I recently did with my Instagram followers asking if they would rather have a salad recipe or shrimp skewers. The salad won out over the shrimp, and now we have this amazing recipe for a salad you can basically eat year round! Even add some shrimp if you'd like! I wanted a salad that really hit every note of a good, satisfying meal–savory, citrusy, sweet, a ton of different textures, a little carby, but also healthy at the same time. I hope you agree with me when you try this wild rice salad with roasted grapes and seriously the easiest (and super tasty) Tarragon dressing you will ever make. It's literally like 2 fresh ingredients (tarragon and lemon juice) combined with pantry staples. Heck, you could use bottled lemon juice! This salad can be prepped way ahead of time and served warm or cold. It is the WHOLE PACKAGE!
Ingredients
2 cups wild rice blend (cooked according to package instructions, approximately 1 cup uncooked)

3 cups grapes

1 head small radicchio, thinly sliced or chopped

1 large zucchini squash (green, yellow, or mix of both), thinly sliced or spiralized

feta cheese, optional

spiced pecans, optional
Tarragon Dressing
1/4 cup fresh tarragon

1/4 cup oil i.e. olive, avocado

2 tbsp lemon juice (approximately 1 medium lemon)

1 tbsp honey or agave

1/4 tsp red pepper flakes, or to taste

1/2 tsp salt, or to taste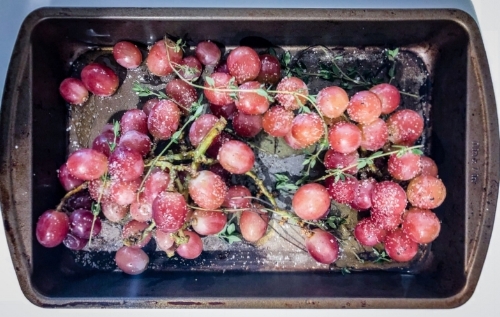 Preheat oven to 450 degrees. Place grapes in a small baking tray, and toss with olive oil (1 tablespoon should be sufficient), salt, and pepper. You can season the grapes with dried or fresh herbs such as sage, rosemary, or oregano if desired. I placed a few fresh thyme sprigs in the tray with the grapes. Roast for 20 minutes until grapes are blistered and concentrated in flavor. You can move them around half way through cooking if desired.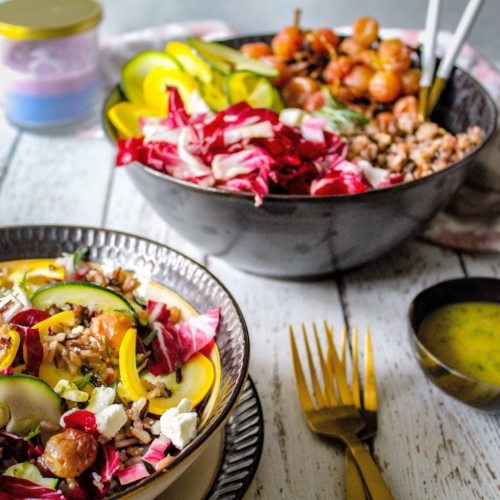 While the grapes are roasting mix together ingredients for the dressing in your blender/bullet. You can also hand chop the tarragon and whisk everything together in a small bowl.
Assemble salad! This makes about 4-5 servings.