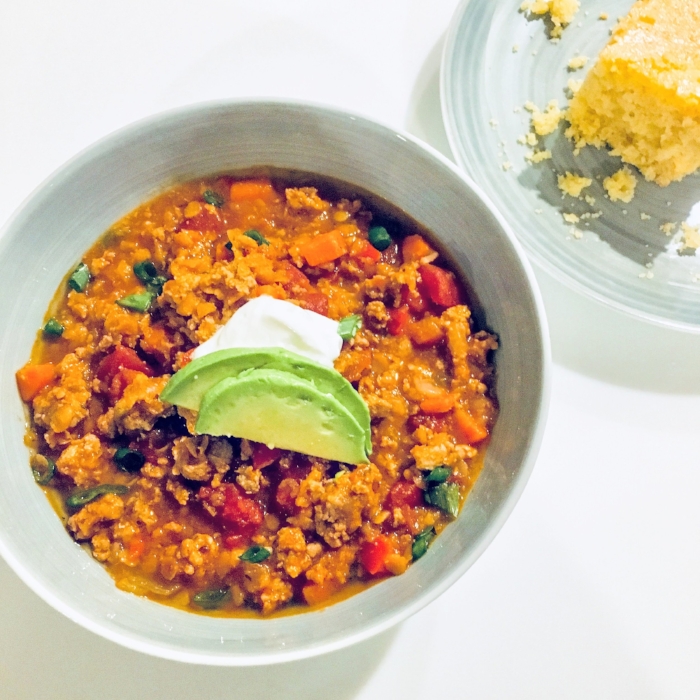 My go-to chili recipe has always been a combo of ground turkey, hot Italian sausage, and beer. It's amazing on a cold winter night! I rarely stray from this version. BUT now I'm older, have a much slower metabolism, and try my absolute hardest to get my family to eat more vegetables so I had to make some changes.
I've tried variations of chili using quinoa, sweet potatoes, and different beans, but I really like the depth of flavor you get with red lentils! Plus there's the added protein, fiber, and nutrients i.e. folate and magnesium. It's really tasty and cost effective too! Wins all around!
Ingredients
1.5 lb ground turkey (93/7 used here)
1 cup red lentils
1 small red onion
2 small carrots
1/2 red bell pepper
3/4 large jalapeño w/ seeds
5 cloves garlic
2 tbsp olive oil
1 tsp ground black pepper
2 tsp salt
2 tsp cumin powder
1 tsp chili powder
1 tsp paprika
1 tsp ground oregano
2 tbsp tomato paste
14.5 oz can diced tomatoes
3 cups low sodium broth or water
In a large soup pot or dutch oven heat olive oil and saute onion, carrots, jalapeno, and garlic until onions become translucent. Add ground turkey, and saute on medium high until the turkey is browned nicely. This may take a little while since the vegetables give off some liquid, but this adds more flavor to the turkey as it cooks. After the liquid has evaporated, and the turkey is browned throughout add oregano, paprika, cumin powder, chili powder,salt, black pepper, and tomato paste. Stir to combine and cook for 1 minute so that spices bloom. Add red bell pepper, lentils, and diced tomatoes with juice. Stir, and cook for 2-3 minutes so tomatoes start to break down. Next add broth or water.
Let chili come to a boil, and then simmer covered for about 35 minutes. Stirring a few times as chili simmers. When done lentils should be tender, and easily mashed. Add salt if desired.
Top with greek yogurt/sour cream, avocado, cheese, green onions, and serve with cornbread.
---
Tips
For a spicier chili add cayenne, and use less jalapeño if spice is not your thing.
Leftovers can used to stuff baked sweet potatoes. YUM!
Subtitute turkey with ground chicken, beef, or soy crumbles