Since the Trader Joe's Cauliflower Gnocchi Caprese Bake was such a hit I decided to do another elevated dinner hack! This time I took the frozen sweet potato gnocchi with butter and sage and made a fun and comforting sheet pan dinner with enough veggies that it feels pretty darn healthy! This is Baked Sweet Potato Gnocchi with Mushrooms, Kale, Bacon, and….wait for it….Brown Butter Mascarpone Cheese!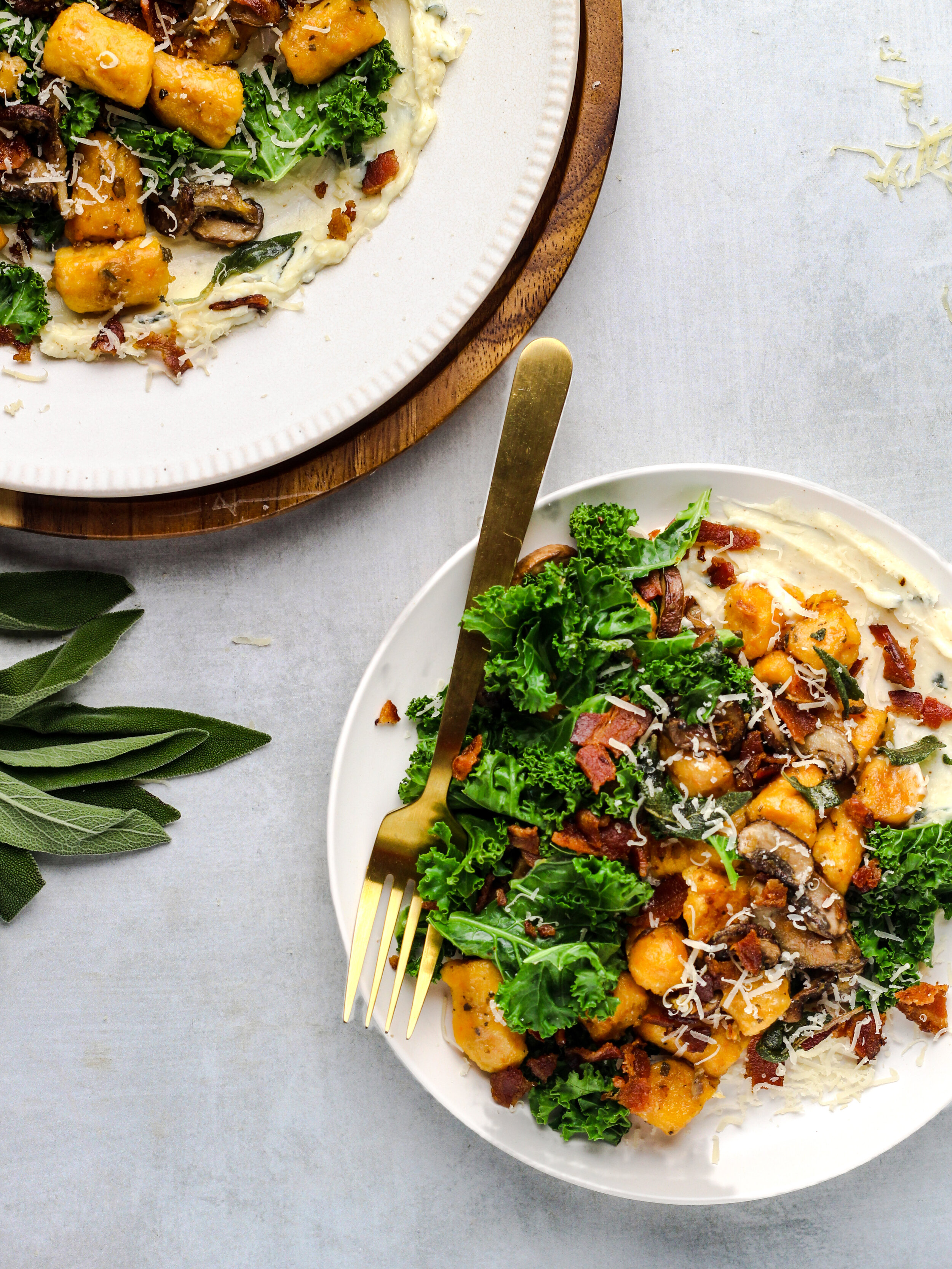 Trader Joe's Sweet Potato Gnocchi Sheet Pan Dinner Hack
Ingredients
1

package Trader Joe's frozen sweet potato gnocchi with butter and sage

16

oz.

mushrooms

cleaned and sliced (I used a mix of cremini and wild mushrooms)

3

cups

kale

washed and rough chopped

6

oz.

mascarpone cheese

set out to room temperature

4

tbsp

butter

6

sage leaves

8

oz.

bacon

crisped, optional (approximately 1/2 package)

grated parmesan for serving
Instructions
Preheat oven to 400 degrees. Empty entire package of sweet potato gnocchi onto a large baking tray. Add the sliced mushrooms, and sprinkle with 1/2 tsp of salt. Bake for 15-17 minutes until mushrooms are brown, and sweet potato gnocchi has cooked through and is plump. Turn half way through to allow the vegetables and gnocchi to cook evenly. Add chopped kale to the tray and bake for the last 2 minutes so that the kale slightly wilts with the gnocchi and mushrooms. Remove from oven.

While the gnocchi is baking make sage browned butter. Place butter in a small saucepan and bring to a simmer on medium heat. Once bubbling add chopped sage. Simmer until butter is an amber color. This will take about 3 minutes total. Remove from heat. Once the butter has slightly cooled mix it with the mascarpone cheese. If you are not using salted butter then add a pinch or salt (or to taste) to the cheese and butter mixture.

Dollop the brown butter and sage mascarpone cheese on top of the gnocchi after plating, or spoon onto plate before plating the gnocchi. Either way works! Garnish with crispy bacon, and parmesan if desired.
Notes
I baked the bacon on a separate tray at the same time as I baked the gnocchi and mushrooms. I like this method because I've found it to be the least messy. I line the tray with foil first and then lay the bacon out flat. If you do crisp the bacon in the oven at the same time as baking the gnocchi you will need to increase the cook time for the gnocchi by a few minutes.

Feel free to add crushed red pepper flakes to the mushrooms while baking for a little extra spice.