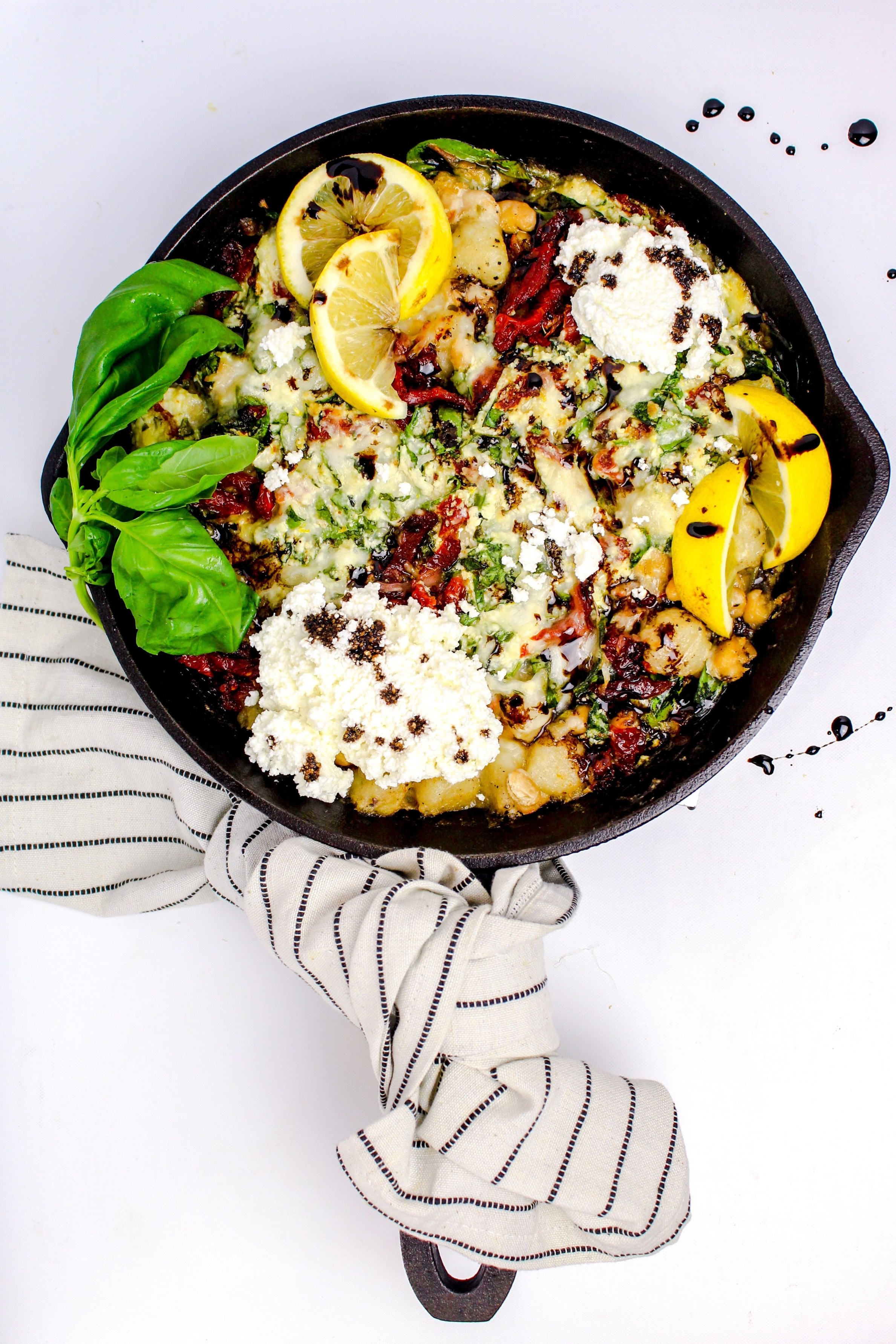 Yes, like probably millions of others I have an obsession with Trader Joe's! They have so many great snacks and options for basically every dietary need. I won't say that I love everything there, but just shopping at a Trader Joe's is pretty cool…right!? It gets my wheels spinning for sure, and much of their prepared foods are incredibly tasty.
There's a debate over this low-carb frozen cauliflower gnocchi. Is it worth it? We've tried it a few times now, and I'm actually a fan. You definitely have to follow the saute method so that the gnocchi doesn't end up a pile of gummy mush. I also suggest letting it cook longer in the oil or butter so you get some nice crispy edges.
With this baked version I start off preparing the gnocchi like Trader Joe's tells me to on the package, and then hit it with all these yummy ingredients. It's still low-carb, but I add white beans for protein and texture along with veggies. We definitely need those! Then CHEEEESEEEE, because who doesn't love some ooey, gooey cheesy goodness?? This Italian inspired dish is baked and then topped off with a tangy, sweet balsamic drizzle. Is your mouth watering? Mine is! Check it out…
Ingredients
1 package Trader Joe's frozen cauliflower gnocchi

2 cups spinach, chopped

1/2 cup basil, chopped

1/2 cup sun dried tomatoes packed in oil, drained and chopped

1 cup ricotta cheese

1 cup shredded mozzarella cheese

1-15 oz. can great northern beans or cannellini beans, rinsed and drained

1 tbsp lemon juice

1 tsp lemon zest

1/2 tsp red pepper flakes

1/2 cup balsamic vinegar

1 tsp honey
Preheat oven to 350 degrees
Mix together cheeses, spinach, basil, sun dried tomatoes, lemon juice and zest, red pepper flakes, and salt (about 1/2 tsp or to taste). Set aside.
In an oven safe skillet (cast iron works well) prepare gnocchi as instructed on package using Pan Saute method. Once the gnocchi is ready add the white beans. Season well with salt and black pepper.
Add the cheese and vegetable mixture to the skillet. Mix until combined, and bake for 25 minutes until cheese is melted.
While the gnocchi is baking make the balsamic drizzle by heating balsamic vinegar and honey in a pot over medium heat. Stir the vinegar occasionally so that it doesn't burn. You know when it is ready because the liquid will be reduced by at least half and to a syrup consistency that coats the back of a spoon. Add a pinch of salt and pepper.
Serve gnocchi warm with balsamic and honey drizzle.