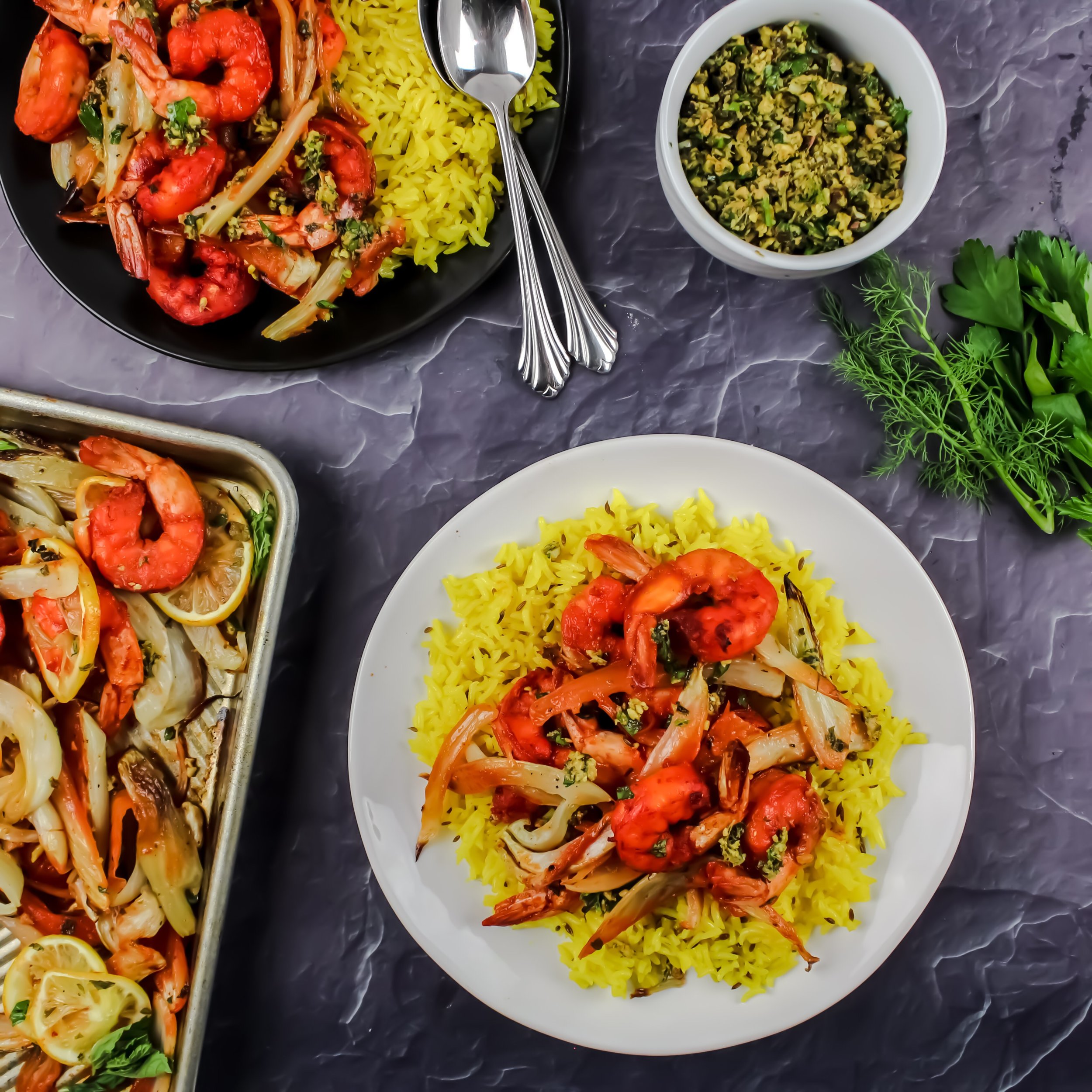 Man, it's been a while since I've made shrimp (for the blog and in life)! I may have already mentioned that I broke out once from what I think was shrimp, but I'm not 100% sure so I try to avoid them. I still pick at them here and there if it's in front of me, and I've been fine so who really knows?! Shrimp are already easy to prepare so I wanted to make an Indian inspired meal, but keep it simple. Indian cooking can be so complicated, use a ton of ingredients, and take a while. BUT NOT TODAY! To make the main part of this meal you need 3 ingredients! That's right 3! Fennel bulb, shrimp, and tandoori masala. I do recommend making the pistachio salsa verde because it takes this meal to WHOLE NEW LEVEL,, but you can skip the rice (it's yummy though…a fam fav). Especially if you're going low-carb.
Ingredients
1.5 lbs peeled and deveined shrimp

2 bulbs fennel, core removed and sliced

1 tbsp tandoori masala

salt and pepper (cayenne if you want more spice)

reserved fennel fronds for garnish
Pistachio Salsa Verde
1/2 cup fresh parsley

1/4 cup fresh mint

zest and juice of 1 lemon

pinch red pepper flakes, optional

3 tablespoons extra-virgin olive oil

2 cloves garlic, minced

1/4 cup toasted pistachios, roughly chopped

salt and fresh cracked black pepper, to taste
Cumin and Turmeric Rice (optional)
1 cup rice, rinsed and soaked for 20 minutes (I used jasmine rice)

1/2 tsp cumin seeds

1/2 tsp turmeric

1 tbsp oil

3/4 tsp salt or to taste
Preheat oven to 425 degrees. Place sliced fennel on a large baking tray. Drizzle olive oil (about 1 tablespoon) over the top, and season with salt and pepper. Toss until all of the fennel is evenly coated. Bake for 25-30 minutes until fennel is just starting to get golden brown and tender.
While the fennel is roasting prepare the shrimp. Place them in a dish or large bowl with tandoori masala, about one teaspoon of oil, salt, and pepper. Gently toss the shrimp with the seasoning. If you want more heat add cayenne or crushed red pepper flakes!
After 25-30 minutes remove carefully remove the tray from the oven. Place shrimp over fennel (or you can move the fennel to one side), and place tray back in the oven for another 12 minutes until shrimp is cooked through (no longer pink), and fennel is nicely browned. You can turn your oven to broil for the last 2 minutes if you want your shrimp to be a little more crisp.
To make the pistachio salsa verde place all of the ingredients together in a food processor and pulse a few times until just combined and the nuts are roughly chopped. If you don't have a food processor you can hand chop the herbs and pistachios then combine with oil, lemon juice and zest, salt and pepper. Place the salsa verde in a heated pan and cook for 2-3 minutes on medium.
To make the rice place 1 tbsp of oil in a small pot. Once hot add cumin seeds and let them cook until sizzling and fragrant. Add drained rice, salt, and turmeric. Stir to combine, then add 1.5 cups of water. Cook half-covered for 15 minutes until the water has complete absorbed into the rice. Turn the heat to the lowest setting, cover the rice, and let is steam for another 5 minutes until the rice is cooked through but not mushy.
Serve shrimp and fennel with a sprinkling of fennel fronds, salsa verde, and rice (if you're into it!).