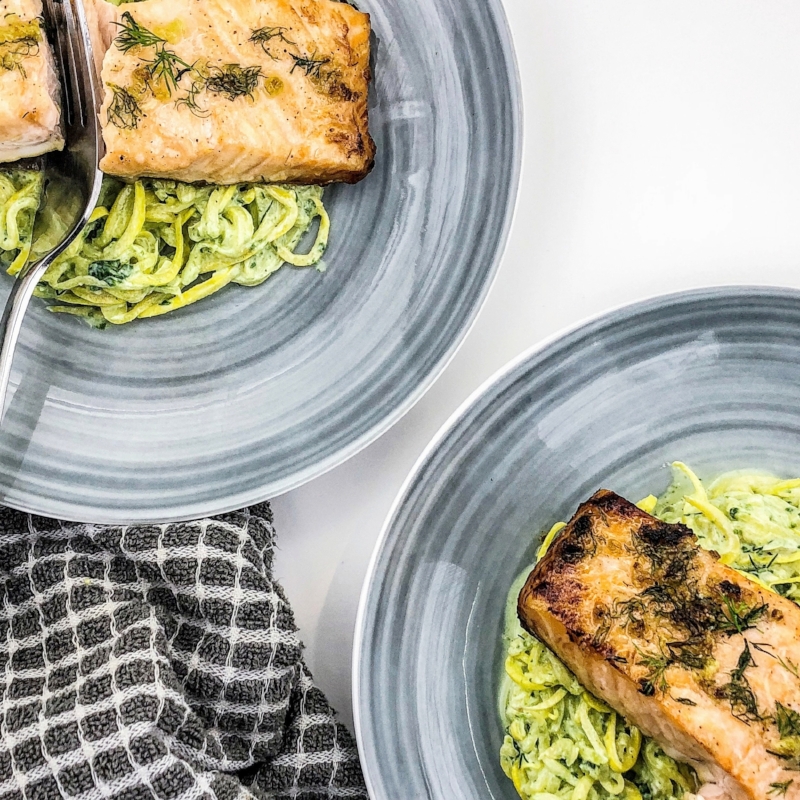 We make salmon every week or two, and love it for a weeknight meal since it cooks up FAST plus it's packed with heart-healthy omega fatty acids, and protein. You can pair it virtually anything, but it is still the beginning of the new year when resolutions and diets are in full effect so this version is low-carb and full of veggies. The ingredients here are literally a perfect marriage with dill, garlic, and lemon. Need I say more? Didn't think so. Check it out–honey, dill salmon over zucchini noodles in a dilly yogurt dressing.
Ingredients
Salmon
4- 3 or 4 ounce portions of Atlantic salmon
2 tbsp unsalted butter
1 large garlic clove, crushed or minced
1 tbsp honey
1 sprig dill, finely chopped
1/2 tsp salt
1/4 tsp ground black pepper
Zoodles with Yogurt Dressing
2 large green or yellow zucchini squash, spiralized
3/4 cup Greek yogurt
1/4 cup avocado oil
1 cup baby spinach leaves
2-3 tbsp lemon juice
2 sprigs dill, rough chop
1 clove garlic
1/4-1/2 tsp salt
Preheat oven to 450 degrees. Lightly salt (using approximately 1/2 tsp of salt) salmon then place on a sheet tray lined with parchment paper or foil. Set aside. Melt together ingredients for marinade. Stir well and distribute evenly over salmon portions. Bake at 450 degrees for 15 minutes then broil for last 3-5 minutes.
While salmon is baking blend together yogurt, avocado oil, lemon juice, garlic, and salt. Add dill and spinach leaves and pulse a few times. Set aside. If desired, steam zucchini noodles. To do this easily: place them in a microwave safe bowl, add about 1/2 teaspoon of salt, cover loosely with plastic wrap, and microwave for 2 minutes. If you want them even more cooked steam for 30-60 seconds more. Drain any excess water that is released as they sit. This is totally optional. I did steam mine for this recipe. Toss them in desired amount of yogurt dressing.
Serve with salmon for a healthy, quick, and super flavorful meal!