We are heading straight into the frenzy of the holidays, and I am here for it! Shopping for presents, White Elephant gift exchanges, and football is all so much fun but you know as well as I do….food is top priority. That's why it's important to have simple recipes that everyone can enjoy during the hustle and bustle of the season.
If you follow along over on Instagram then you know that I am not a self-proclaimed baker, but I do like to have a few tricks up my sleep to pull together some yummy baked treats. This year I teamed up with Meijer to bring you a sweet pull apart bread stuffed with apples, raisins, walnuts and topped off with something we all know and love, Nutella! The apples scream "holiday" and the finished product even looks like a little wreath after its baked, it's a win-win situation if you ask me!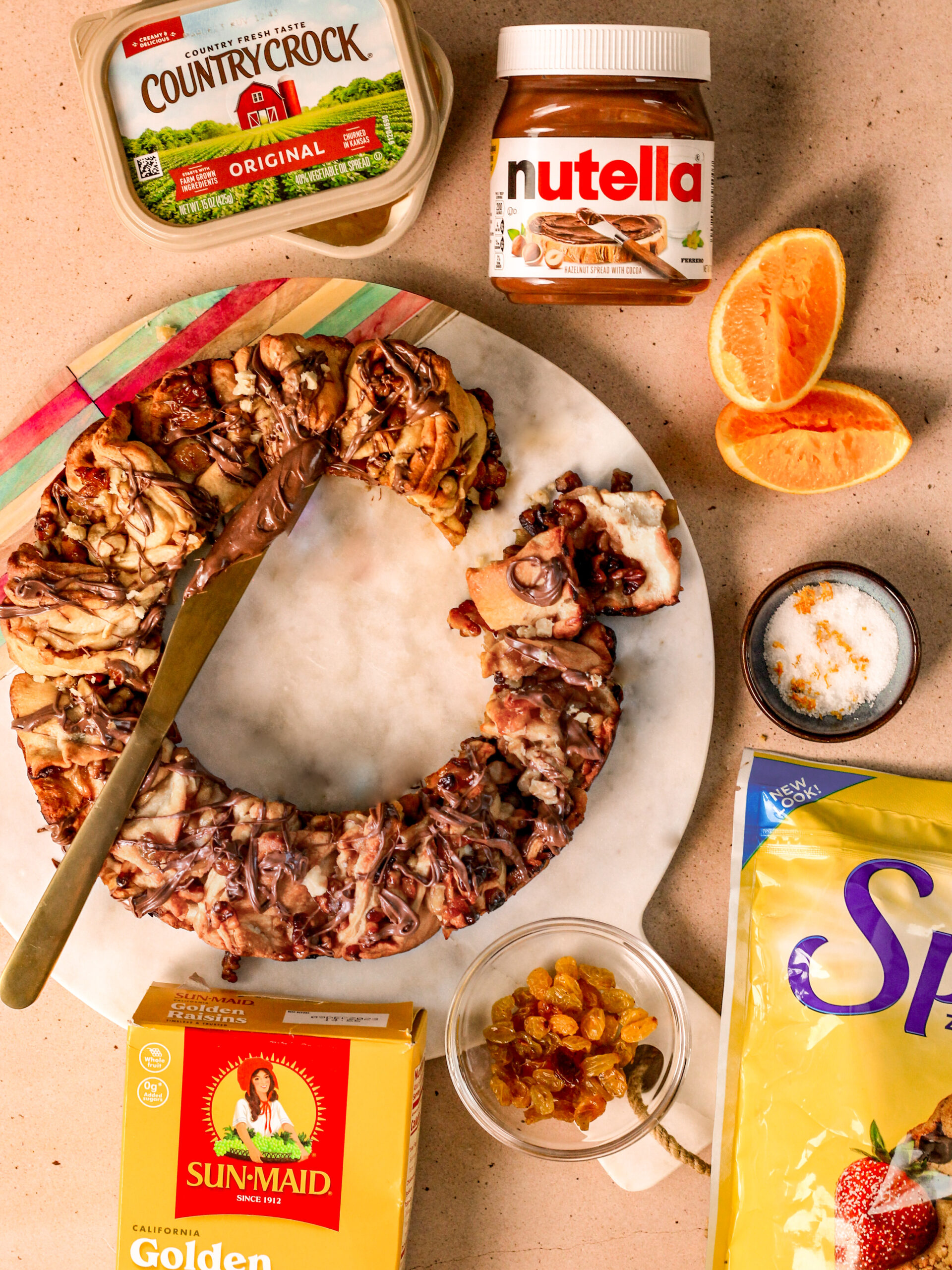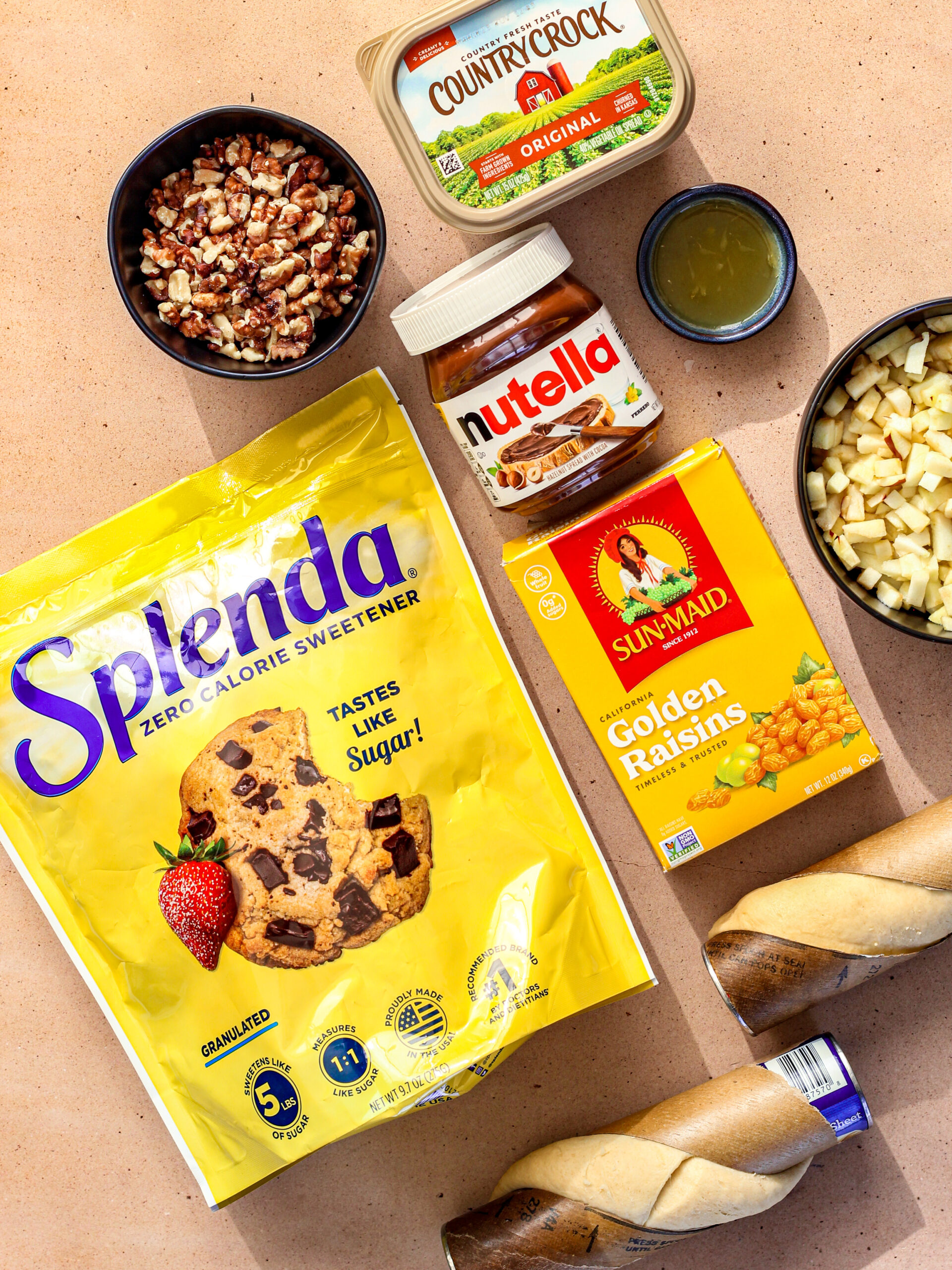 The Method
To make this pull apart bread wreath I start by grabbing some pre-made crescent roll dough such as Pillsbury. Using pre-made dough is a major time saver in the kitchen and personally I am all about this hack because it cuts out the stress of having to bake something from scratch.
I simply roll out two crescent dough sheets and stuff this delicious apple stuffing in between them like a giant toaster pastry. Then, I carefully cut the stuffed dough sheets into squares, sandwich them and place them in a bundt pan to bake. You will see in the photo below that I actually used a little bowl in the middle of a springform pan as a makeshift bundt pan. I did this because the bundt pan that I have at home seemed a little too big for this recipe, but you can really use any pan such as a loaf pan or even a pie dish!
Placing the layers of dough bake sideways in the bundt pan allow them to bake together and form a flakey bread that can easily be pulled apart and shared.
The Filling
I love this filling so much! It is so easy and seasonal with the apples, golden raisins, and walnuts. All you have to do is cook down finely diced apples (any variety that you love) in Country Crock Original spread until they are soft, then add walnuts, golden raisins, and a little bit of freshly squeezed orange juice to finish it off. Lastly, Splenda is added to sweeten it up and bring out all those yummy fruit flavors.
The orange juice is bright and fresh, and the citrus notes compliment the apples and walnuts perfectly. I do suggest zesting the orange first and adding it to the filling….the power of zest in a dessert is unmatched! Another great thing about this filling–Splenda is used as the sweetener so is is low in calories. You can easily adjust how sweet you want the filling depending on your taste and the apples you are using. Another pro tip: If you have a manual chopper lying around definitely use it to get those apples chopped up into small a dice quickly and effortlessly! Mine is the Mueller brand and I ordered it from Amazon.
Once the filling is ready let it cool before layering it between the crescent roll dough sheets.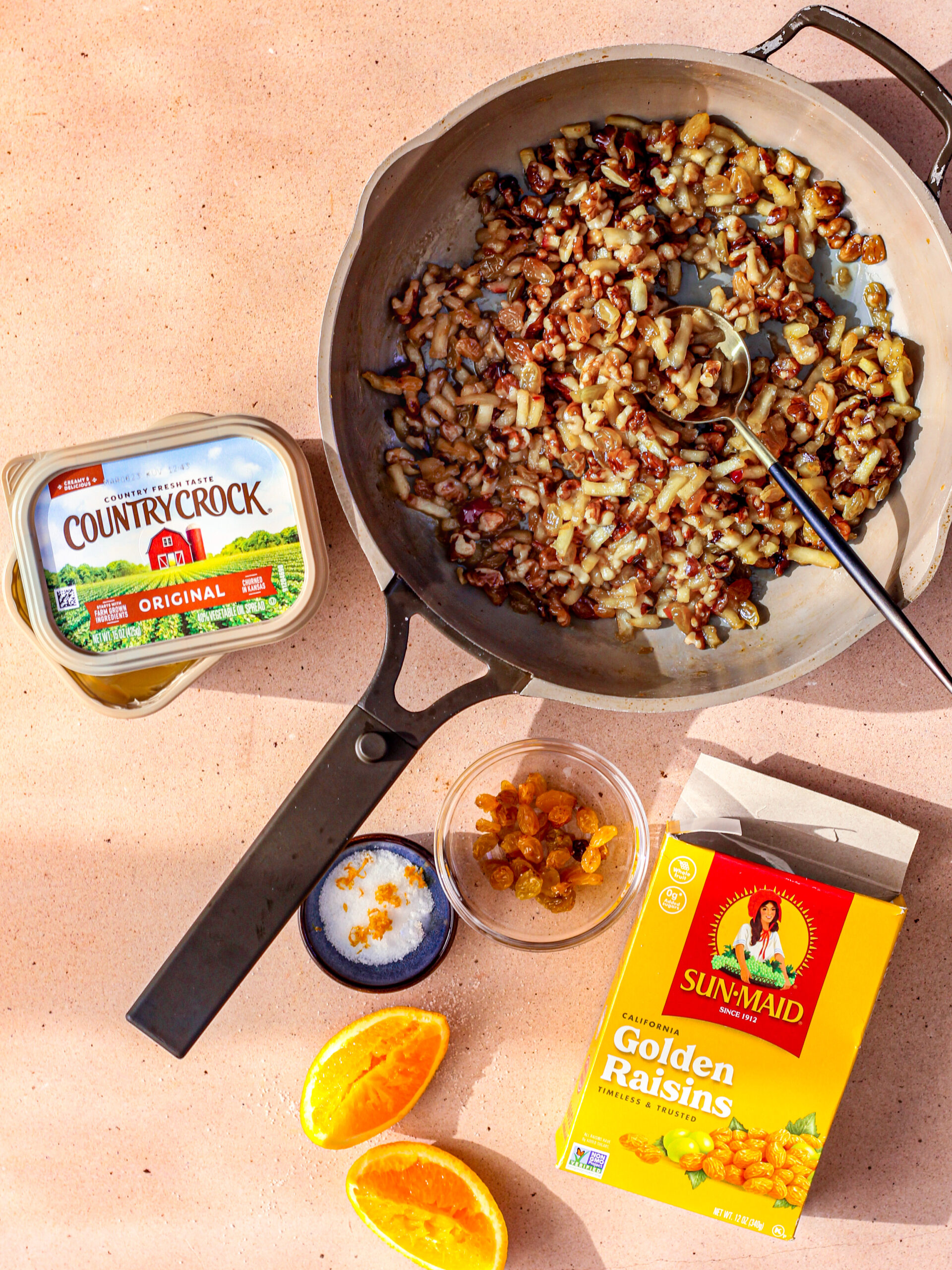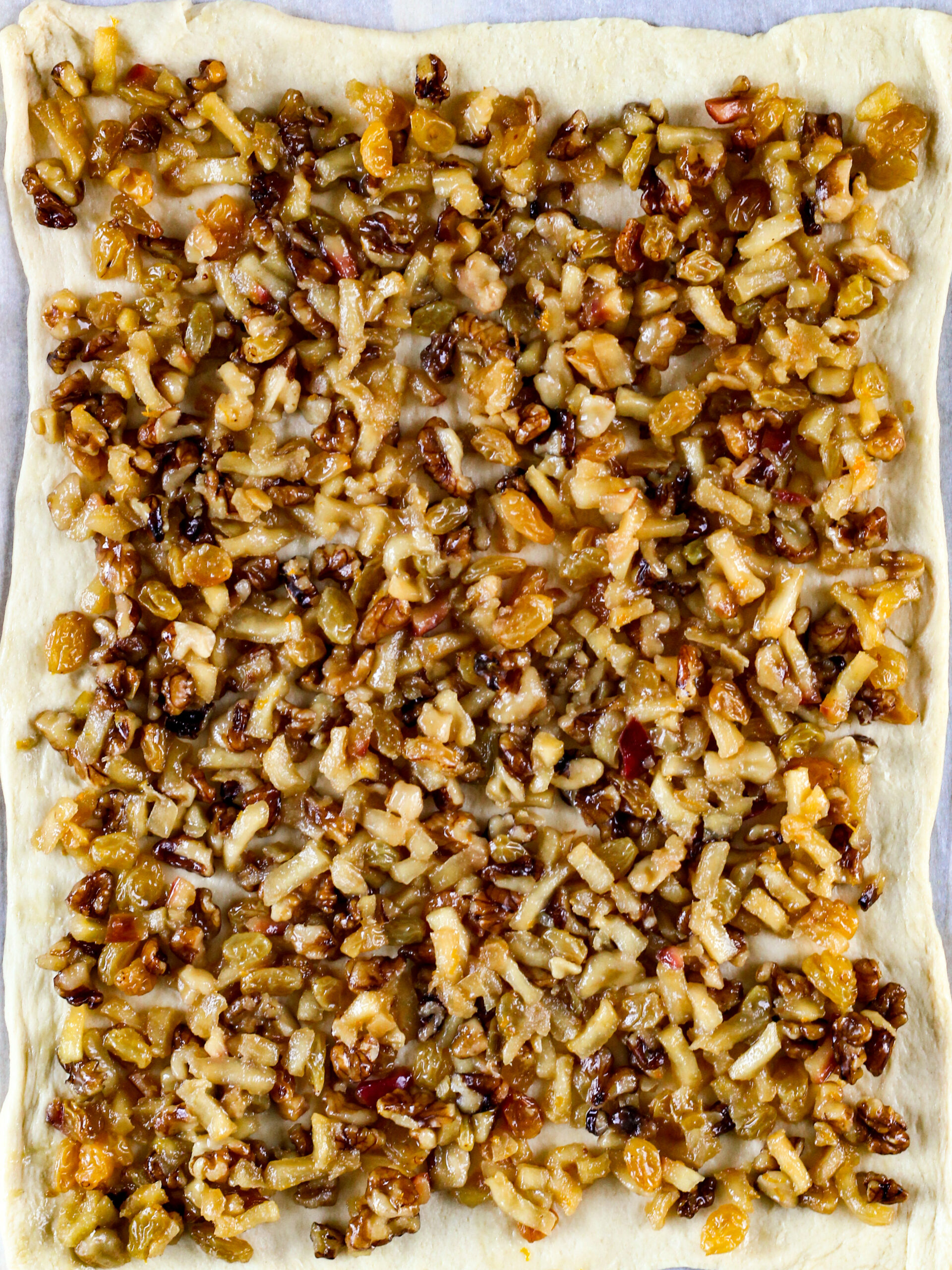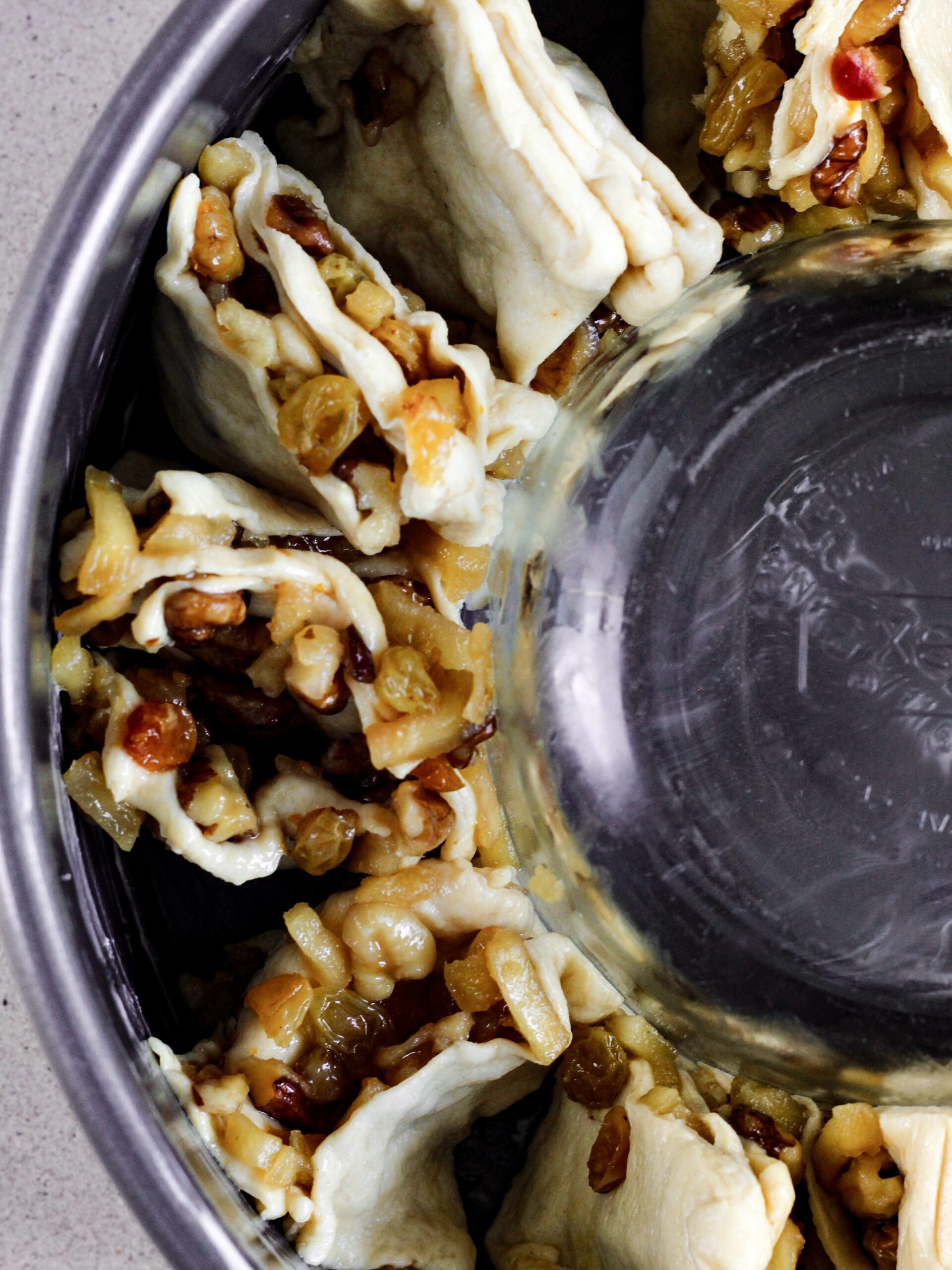 Apple Stuffed Pull Apart Bread with Nutella
crescent roll dough layered with an apple, raisin, and walnut filling baked into a round wreath shaped and topped with Nutella drizzle.
Equipment
Cutting board

skillet

bundt pan

manual chopper
Ingredients
Apple Filling
3

tbsp

Country Crock Original

plus more for baking

2

cups

peeled and finely chopped apples

1/2

cup

Sun-Maid Golden Raisins

1/2

cup

chopped walnuts

2

tbsp

orange juice

1/4

cup

Splenda

pinch of

salt
Crescent Dough Bread
2

canisters

crescent dough sheets like Pillsbury

3

tbsp

Nutella
Instructions
Preheat oven to 350 degrees F.

Melt Country Crock Original in a medium sized pan.

Add chopped apples and a pinch of salt to the pan. Cook on low to medium heat for 7-10 minutes until the apples start to soften.

Add chopped walnuts and cook for 30 seconds to 1 minute until they are lightly toasted.

Add raisins, orange juice, and desired amount of Splenda. I use about 3-4 tablespoons.

Cook on low heat until the apples are soft to the touch and the filling has come together. Let cool.

Once the filling as cooled roll out one sheet of crescent dough. Spread the apple filling on top of the dough. Roll out the second sheet and lay it on top of the filling.

Now gently cut the dough into squares about 4 across and 5 down. Then stack 2 squares together making 4 total layers of dough with the filling sandwiched between. This part can get a little messy but thats okay!

Place the dough stacks sideways into a bundt pan lined with Country Crock Original.

Bake for 25-30 minutes until the dough is cooked through and browned on top. Cover the pan with foil while baking to prevent the top from getting burned.

Once the bread is ready and cool enough to handle gently remove it from the pan and drizzle with Nutella before serving.
See how easily this sweet and savory bread comes together and with only a few key ingredients?! The best part is being able to use Splenda as a sugar alternative and Country Crock which is spreadable making it very easy to work with to cook the apple filling and line the bundt pan.
The pull-apart bread is best right out of the oven, but if you have leftovers you can store them in an airtight container in the refrigerator for up to a week. Remember to warm it up up in the microwave for 15-30 seconds so it softens up. No judgement if you serve this with a dollop of whipped cream!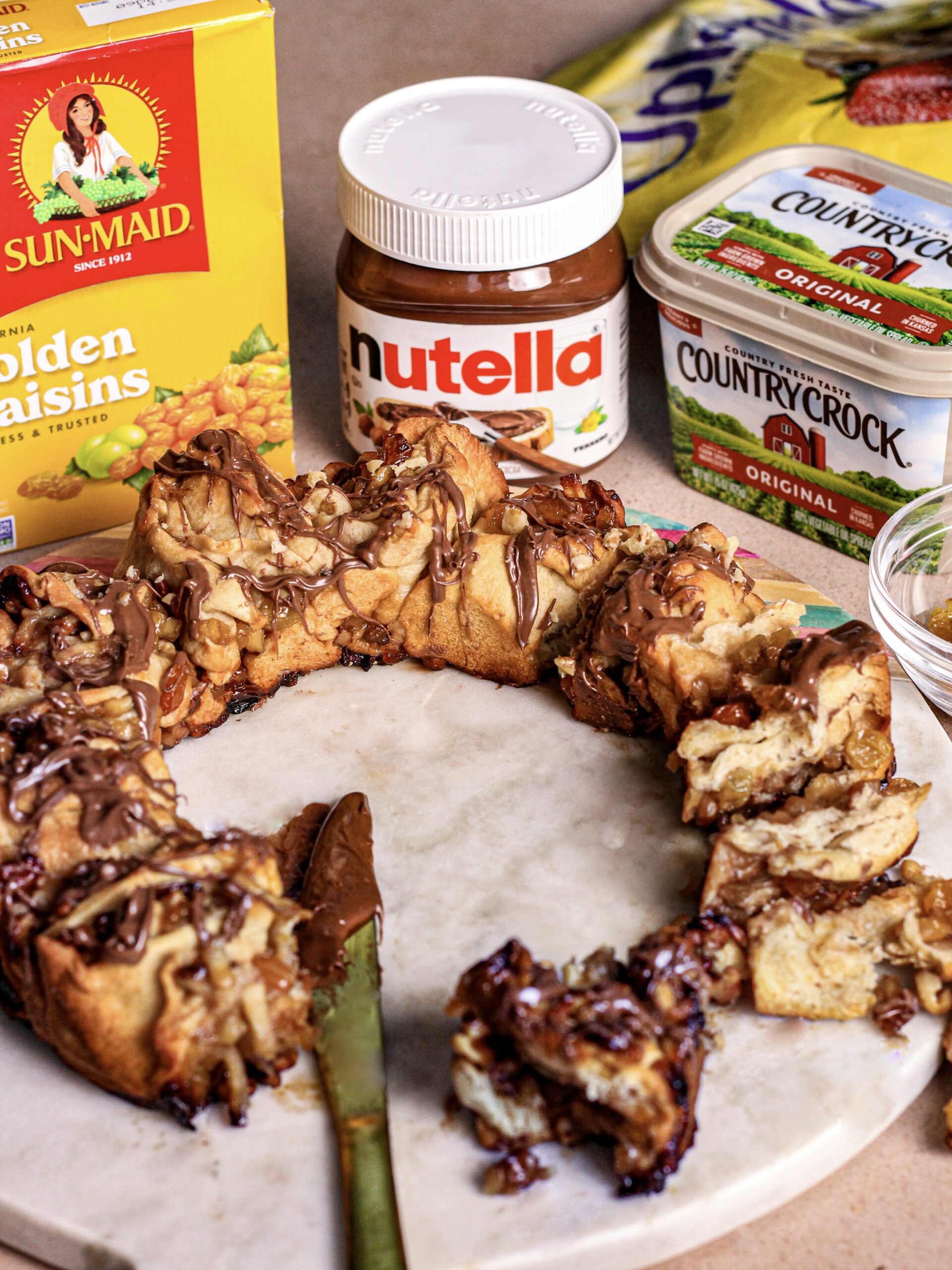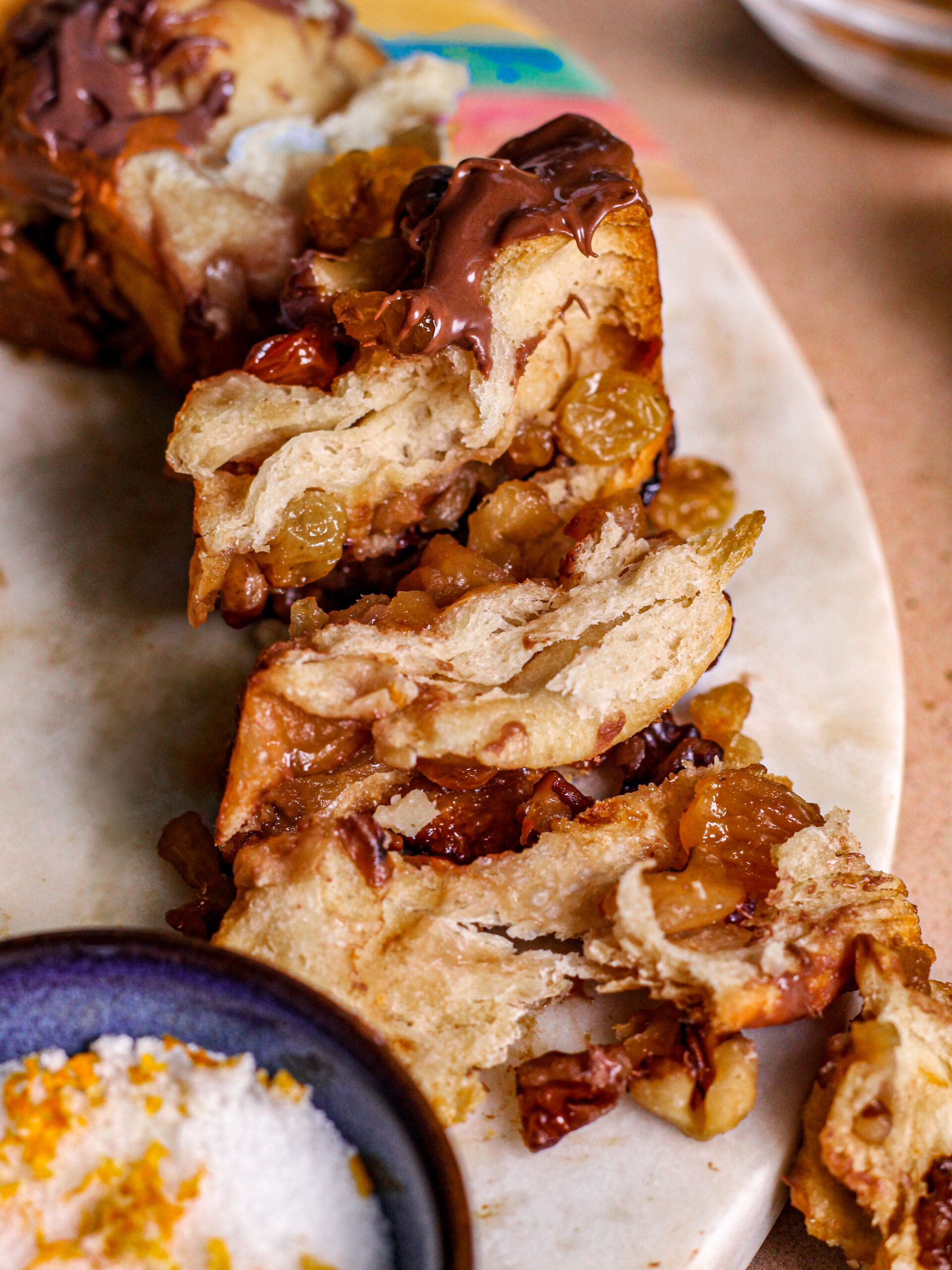 I am a big advocate of getting the family involved in making meals and this is a great recipe to get children involved with. My older son is obsessed with Nutella so he was super excited to get his hands dirty with this one and would sneak a taste of Nutella with every drizzle on top of the bread wreath!
I know this Apple Stuffed Pull-Apart Bread with Nutella will be a hit with your family and friends. The best part is that you can serve this for breakfast, brunch, and dessert! I've been snacking on it with a tall glass of milk.
Look for the ingredients at your local Meijer and happy baking this Holiday Season!!