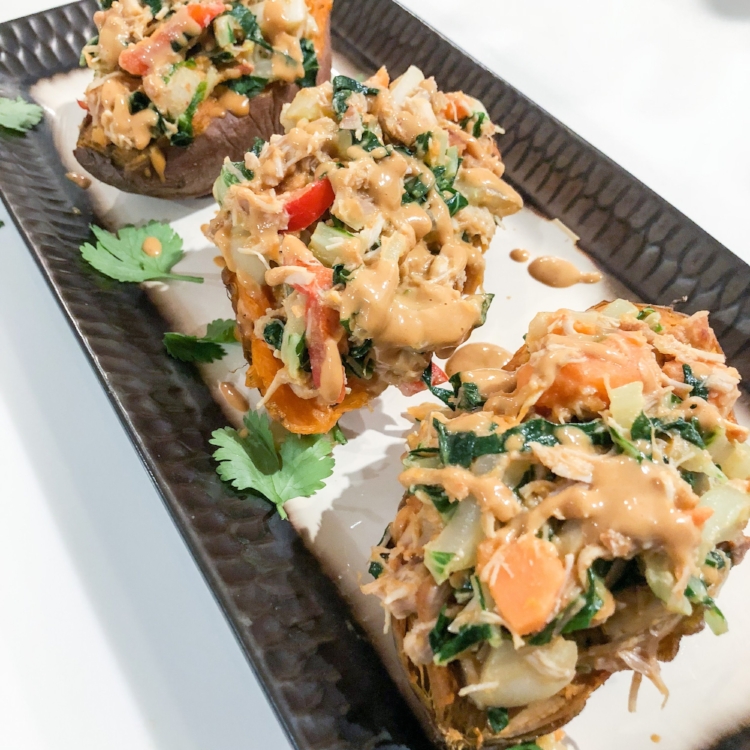 Have you ever had days when you are just craving Thai food, but know you'll feel guilty about eating all that rice? Let's not forget the noodles. Well I have one of those days at least once a month, and not too long ago we actually went 3 Sundays straight ordering takeout from the neighborhood Thai restaurant.
You may look at this recipe, and think," Okay, Michele this looks WEIRD!" I agree– sweet potatoes and Thai food don't traditionally mix, but I took my favorite part about Thai food to make Peanut Chicken Stuffed Sweet Potatoes!
What you'll need:
Sweet Potato Filling
3 large sweet potatoes
1 lb boneless, skinless chicken thighs
1 head bok choy or 4-5 baby bok choy, washed and diced
1 can diced water chestnuts, drained (optional)
3 sprigs green onion, chopped
1/2 red bell pepper thinly sliced or diced
1 tbsp red curry paste
2 tsp Sambal (chili-garlic sauce)
1 tablespoon oil (coconut is best for this)
Peanut Sauce
1/2 cup coconut milk
1/2 cup creamy peanut butter
2 tbsp low sodium soy sauce
1 tbsp honey
1/2 inch grated ginger
1 clove garlic
1 tsp sesame oil
1 tsp rice wine vinegar
1 tbsp Sambal
1 tsp lime juice
Bake sweet potatoes until tender.
Instant Pot: 15 minutes manual on trivet/steamer basket with 1 cup of water. Natural release for about 10 min. Remove, and let cool. When cool, cut sweet potatoes in half, scoop out the middle of of potatoes and reserve. Try not to scoop out too much otherwise potatoes will fall apart. Sprinkle sweet potato boats with salt and bake for 5-10 minutes. This crisps up the outsides and helps them keep their shape!
While sweet potatoes are baking/cooling blend together ingredients for peanut sauce. If sauce is too thick add 1-2 tablespoons of water. Set aside.
Rub chicken thighs with red curry paste. Set IP to Sauté mode, and heat coconut oil. Brown chicken thighs on both sides (2-3 minutes per side) then switch from Saute to Manual. Add 1 cup of water or stock, and cook under high pressure for 12 minutes. Release pressure after 5 minutes. Carefully, remove chicken thighs and place in a tray to cool then pull apart.
Remove any excess water from the instant pot. Start Sauté mode, then heat 1 more tablespoon of oil. Saute bok choy and red pepper for 3 minutes. Add water chestnuts, reserved chicken, sweet potato, and green onion. Add 1 more tsp salt, and 1-2 teaspoons chili-garlic paste. Saute for 1 more minute and add peanut sauce. Stir to combine. You may have to adjust the seasoning here based on your taste. Stuff sweet potato skins with chicken and vegetable mixture. Garnish with cilantro and Sriracha!
---
Tips:
You can prepare parts of this recipe ahead of time to make dinner come together much quicker.
Blend peanut sauce, bake potatoes, or cook and shred chicken the day before.