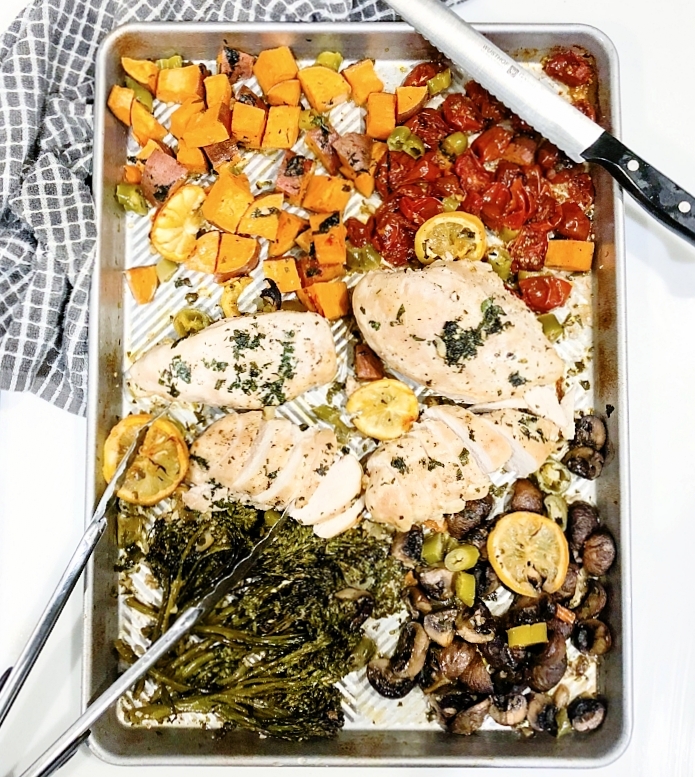 Sheet pan dinners are great when you're meal planning, or when when you have a busy week. You can keep them super healthy too! My second sheet pan dinner for this week is an Italian chicken and vegetables that is seasoned with lots of garlic and fresh herbs. I added a few spoonfuls of giardiniera for a spicy twist that you will love!
Ingredients
4 chicken breasts, fat trimmed
10 oz cremini mushrooms, quartered
1 pint cherry tomatoes
1 sweet potato, diced
8 oz baby broccoli
3-4 tbsp giardiniera, drained
1/2 lemon, thinly sliced
1.5 tsp salt
Marinade
3/4 cup oil
3 cloves garlic, minced
2 tbsp parsley, finely chopped
2 tsp rosemary, finely chopped
2 tsp sage, finely chopped
Preheat oven to 425 degrees. Mix together ingredients for marinade. Arrange chopped vegetables and chicken breasts in a sheet pan. Season with salt and black pepper. Pour marinade over chicken and veggies then place lemon slices and a few spoonfuls of giardiniera around the tray.
Bake for 20-25 minutes, then flip the pieces of chicken. Bake another 15 minutes until chicken is cooked through. At this point if the sweet potatoes are not fork tender remove the chicken breasts and bake vegetables for an additional 5 minutes until sweet potatoes are cooked through to your liking.