I love fusing my Indian roots into our meals. My son doesn't eat a lot of traditional Indian food, and my husband never craves it since we are fortunate enough to live close to family that cook Indian food all the time so I love finding new ways to get the flavors into easy weeknight meals. This recipe for Coconut Curry Chicken Tacos with Mango Salsa uses a premade Indian simmer sauce and comes together in about 30 minutes. It's flavorful, perfect for a hot summer night, and such a fun take on taco night!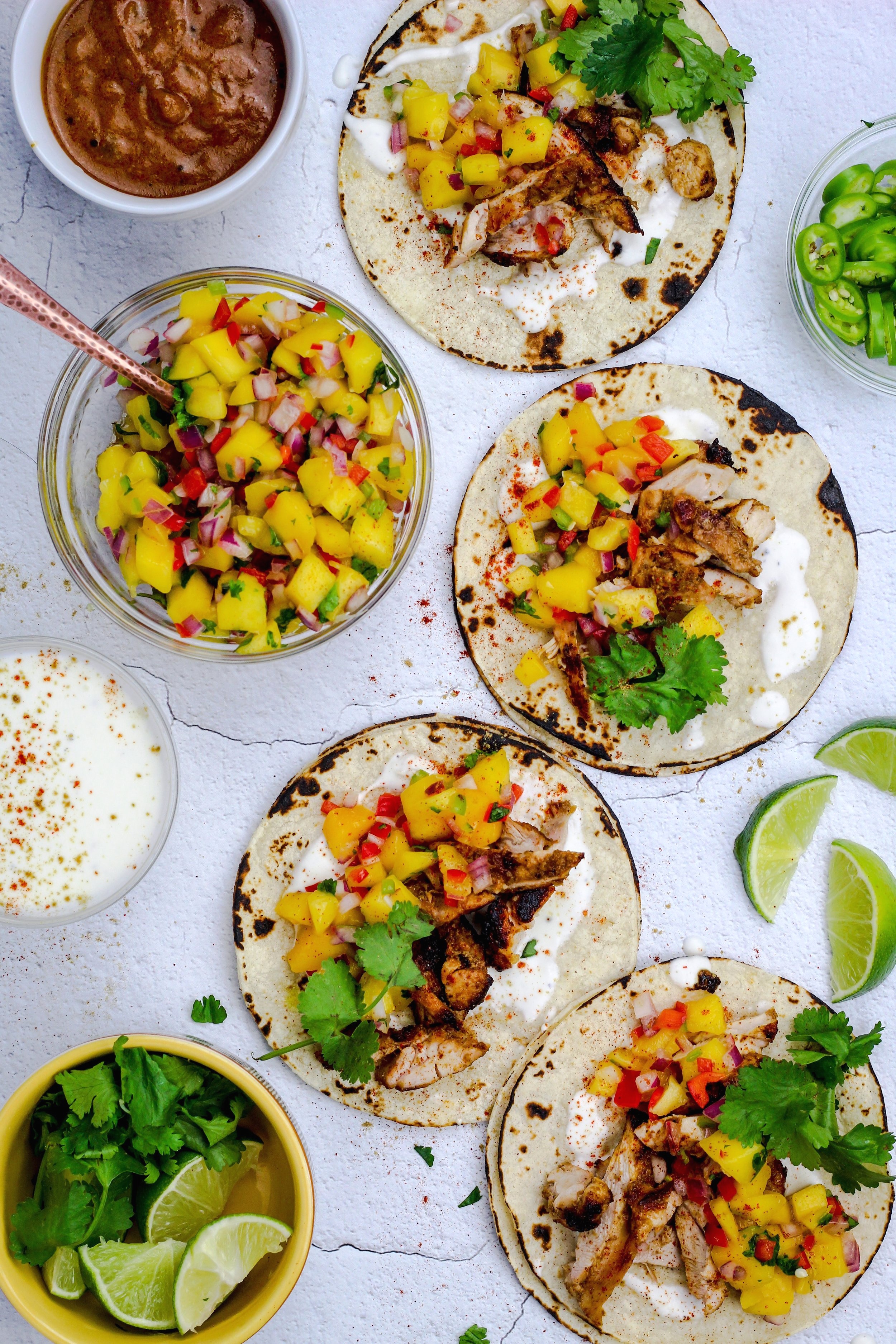 If you've been following along my journey here at Mom Under Pressure you may have seen the recipe I posted earlier this year for delicious these Chicken Tikka Masala Sliders! Those have become a regular on the menu at our house! Sometimes we skip the buns and eat the chicken tikka with quinoa, rice, or naan.
You guys loved that recipe so I've partnered with Maya Kaimal again to make these tacos using their Goan Coconut Indian Simmer Sauce! I use the sauce as a marinade for chicken thighs, but you can ultimately use it on fish, shrimp, or even vegetables like cauliflower. The Goan Coconut variety is tangy from the tamarind, slightly sweet with coconut, and has all the warming spices of curry. It's amazing with the mango salsa and lime crema (made even healthier by using Greek yogurt)! You've got to try this recipe…it's quick enough for a weeknight, and something the whole family will love to eat and even help prep!!!
Ingredients
Tacos
14 corn tortillas (I like mine charred using a grill, grill pan, or a gas oven burner)

1 jar Maya Kaimal Goan Coconut Indian Simmer Sauce

1.25 lbs. boneless, skinless chicken thighs
Mango Salsa
1 large mango or 2 medium to yield 2 cups of chopped mango

1/2 cup red pepper, diced

1/2 cup red onion, diced

1 tbsp serrano pepper, diced (seeds removed for less spice)

1/2 cup cilantro, chopped

6 mint leaves, chopped optional

1-2 tbsp fresh lime juice, to taste

2 tbsp olive oil

1/4-1/2 tsp salt, to taste
Lime Crema
1 cup Greek yogurt

1 tbsp lime juice

salt and pepper to taste
Place chicken thighs in a large bowl and sprinkle with a few pinches of salt and pepper. Then pour about half of the jar of Goan Coconut simmer sauce over the chicken. Coat the chicken with sauce, and place bowl in the fridge to marinate for at least 60 minutes. Remove chicken from the fridge about 15 minutes before cooking so that it can start coming to room temperature. To cook on the stove top heat one tablespoon of oil a heavy bottom skillet or cast iron pan. When hot cook chicken thighs for 5 to 7 minutes on each side or until internal temperature reaches 165 degrees Fahrenheit. You can also grill the chicken thighs on an outdoor grill or indoor grill pan. Let the chicken rest for 5 minutes, and then slice against the grain.
Combine ingredients for mango salsa and lime crema in separate bowls.
Assemble tacos with tortillas, chicken, salsa, crema, and more Goan Coconut sauce.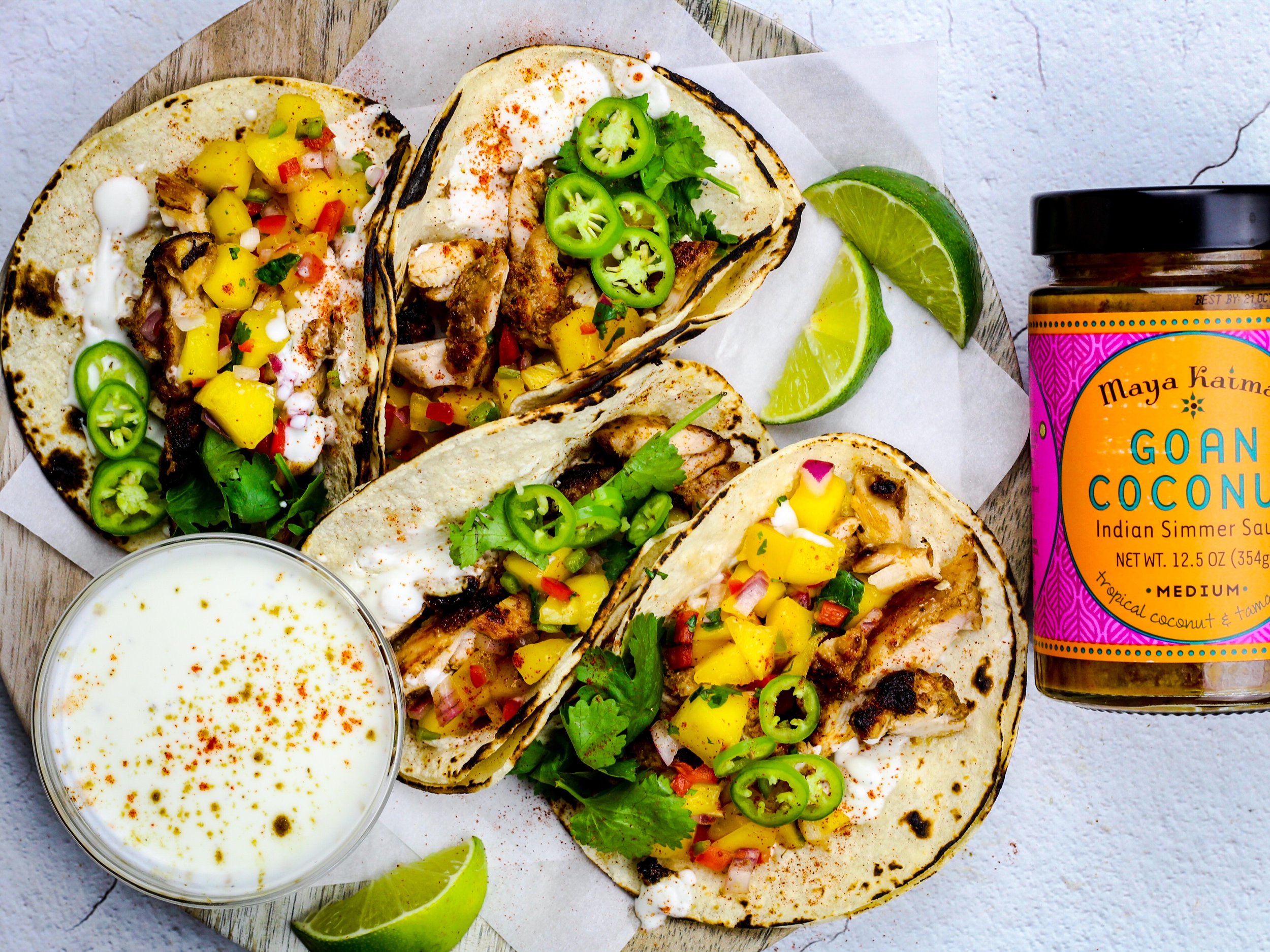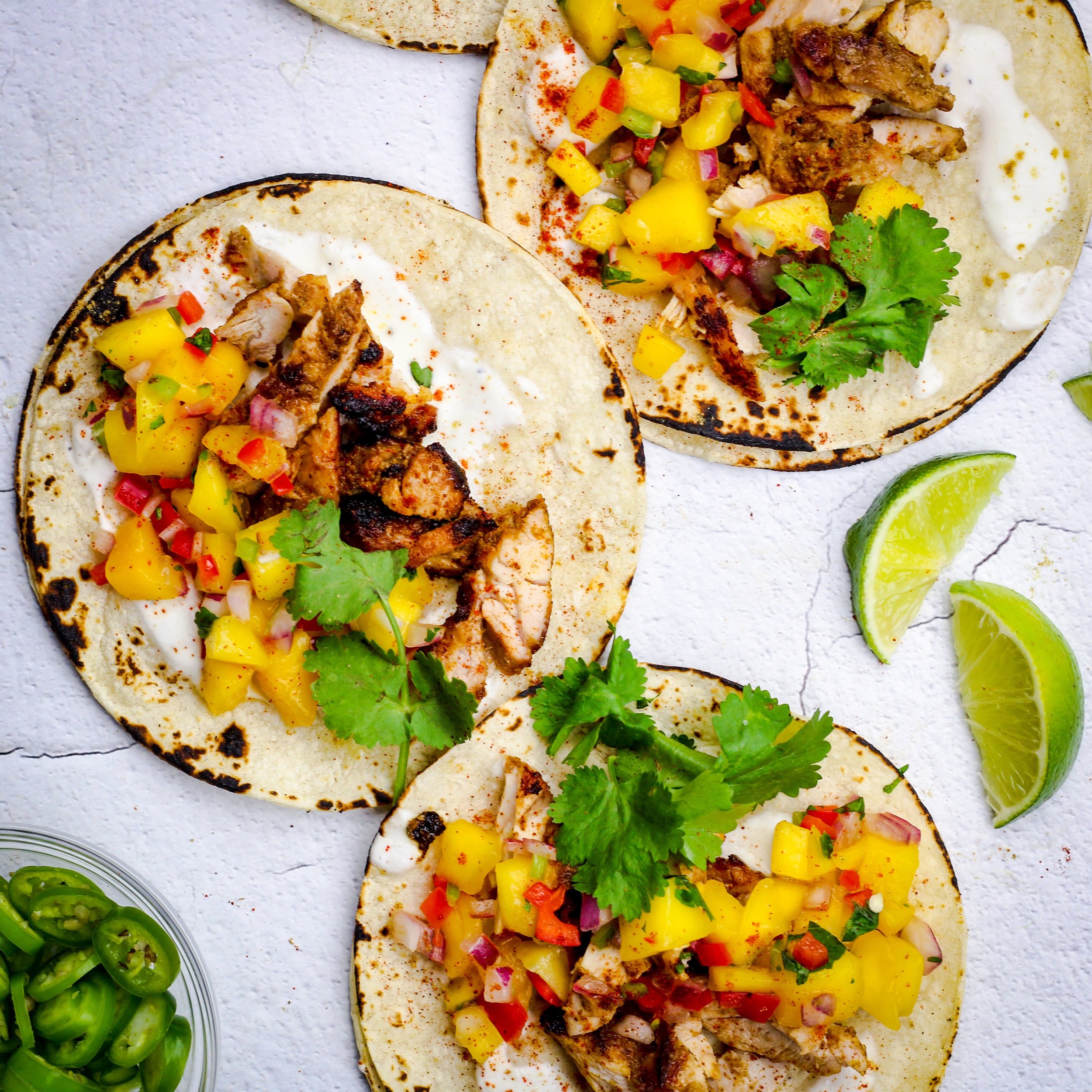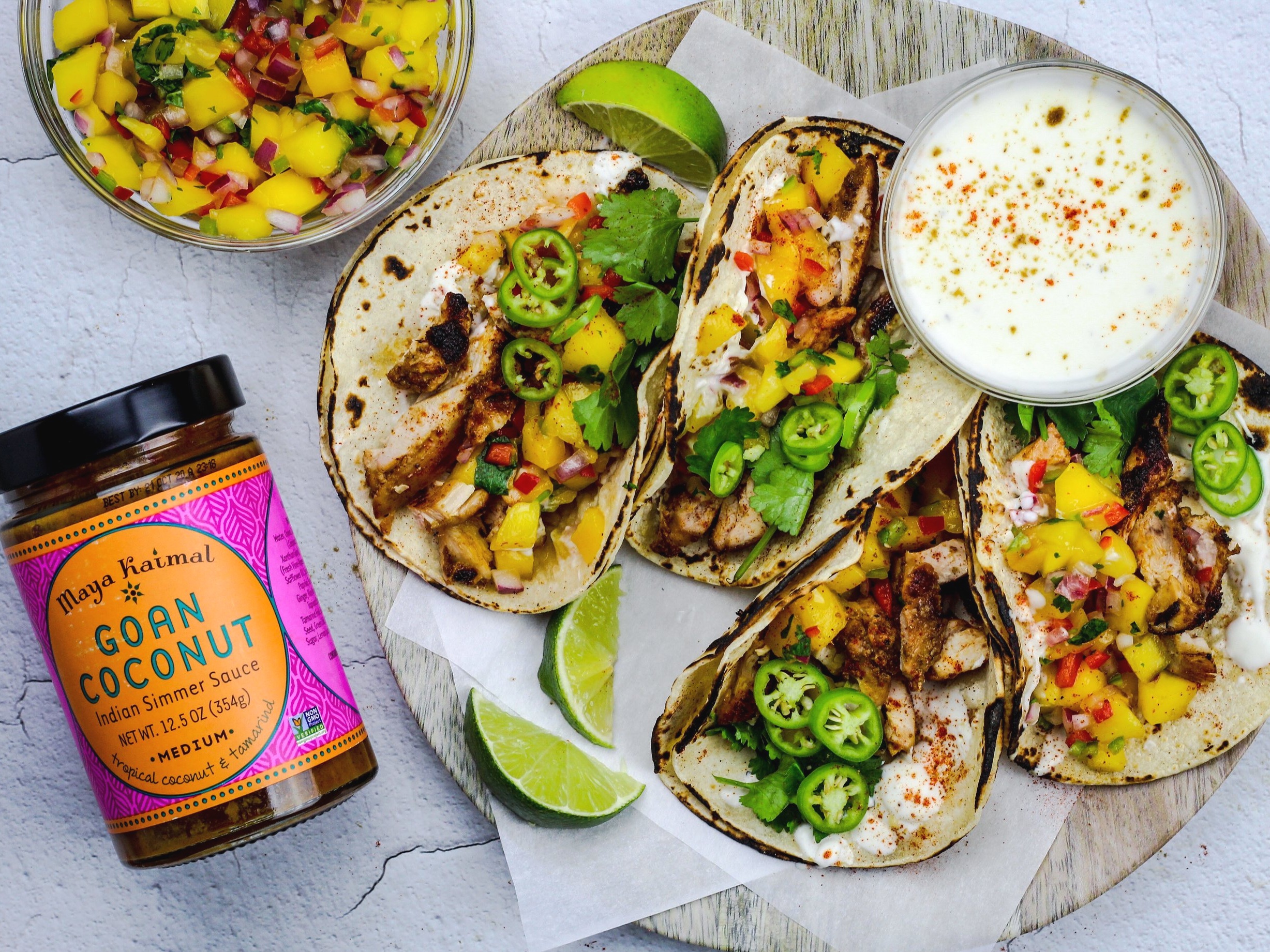 A huge thank you to Maya Kaimal Fine Indian Foods for sponsoring this post! Their story and taste is authentic, and restaurant quality.