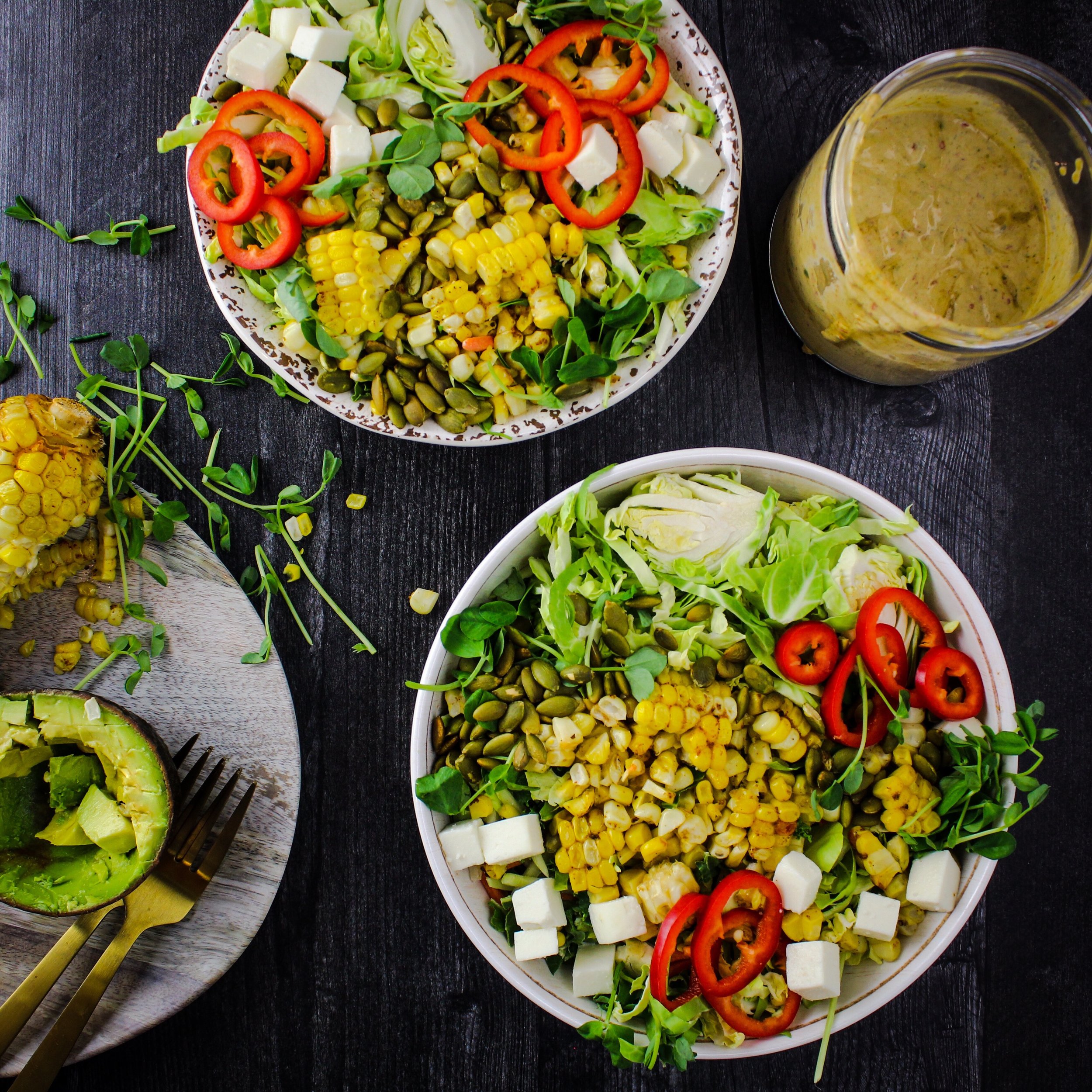 I crave tacos..so much. I love the flavors, textures, and they are so satisfying! But in reality, I need to eat more salad. UGH. Okay, it's not the worst thing in the world, but why can't we just eat tacos every.single. day?!?! Since I've been craving the flavors I decided to make a yummy dressing with chilis, lime, and basil (so obsessed with basil right now!) and put that over veggies that are uber good for us. I used a bag of shaved brussels sprouts from Mann's and a little of their power blend slaw mix too plus seasoned roasted corn, toasted pumpkin seeds (pepitas), and topped it all of with some queso fresco and this yummy, creamy dressing. It was great! We had a ton of leftovers so added grilled shrimp and crispy bacon to this concoction of goodness for dinner the next day. Make sure to do that. It's delish!
Ingredients
Chili Lime Basil Dressing
1 large handful of basil (about 3/4 cup)

1 fresno chili, seeds removed

3 tbsp chives, chopped

1/4 cup greek yogurt

1/4 cup mayo

2 tbsp fresh lime juice

2 tbsp olive oil

1/2 tsp salt and pepper, or to taste
Salad
2 small ears of fresh corn or 1 cup frozen corn

1 pack shredded brussels sprouts

1/4 cup pepitas, roasted and salted

4 oz. queso fresco
Preheat oven to 375 degrees. Place shucked corn in a baking tray. Season with olive oil, salt, pepper, cumin, and paprika. Cover with foil. Roast for 25 minutes then remove foil and continue to roast for 10 minutes. Once cook carefully take a sharp knife and cut kernels off the cob. Set aside. You can also use frozen corn that has been thawed. Place in a skillet with oil and seasoning and cook for a few minutes until slightly charred and fork tender.
In a conventional oven toast pepitas in a small tray until just golden and sprinkle with salt. You can also toast them in the oven at the same time as the corn, but watch carefully so they do not burn. It only takes a couple of minutes.
Pulse ingredients for dressing together in a small blender until smooth. Adjust seasoning if necessary.
Assemble salad with brussels sprouts, roasted corn, pepitas, queso fresco, and dressing.