If you're looking for an easy side dish to put together for your next backyard BBQ then I've got the perfect solution for you! My vegan potato salad with Indian spices is incredibly easy to put together, and has flavors that pop! I'm going back to my roots with this recipe by tossing perfectly cooked potatoes in a mustard seed, shallot, and turmeric dressing then mixing them with fresh peas, fresno chili, and a handful of mint and dill. This is fantastic for Spring!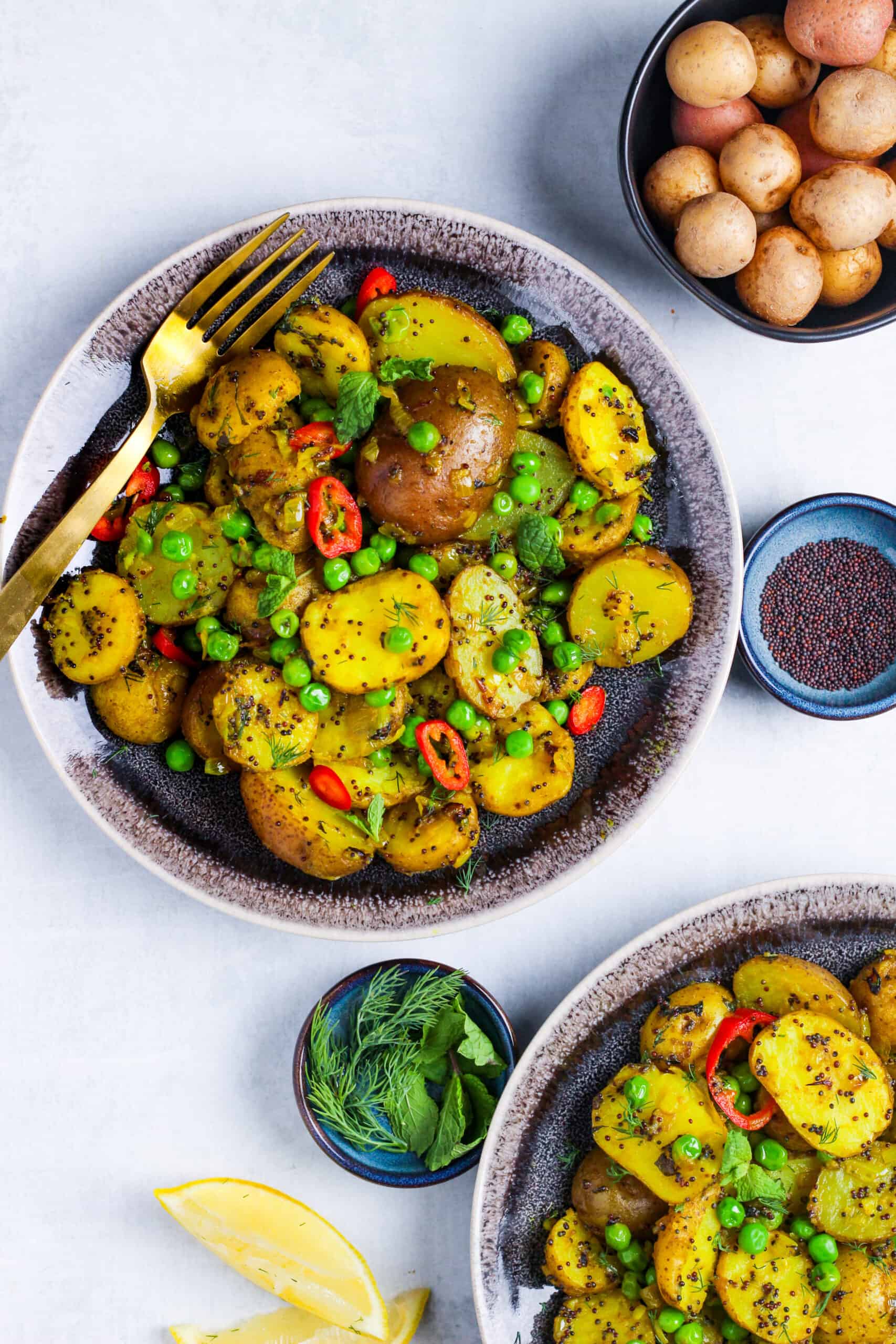 I seriously LOVE potatoes. When I was younger I ate any meal with potatoes so fast that my family joked I would turn into a potato. Luckily, that hasn't happened….yet! I've been putting traditional Indian ingredients with potatoes because they can really handle the strong flavors, and it lets you bring something unexpected to the table. The bonus is that you can have this dish piping hot straight off the stovetop or it can sit out at room temperature since there is no dairy! You won't miss the mayo…I promise!
Spiced Vegan Potato Salad
Potatoes tossed in a warm turmeric and shallot dressing with peas, fresno chili, and fresh herbs.
Ingredients
1.5

lb.

baby potatoes

halved

2

tsp

mustard seeds

2

tsp

turmeric powder

1/2

cup

shallots

finely diced

2

fresno chilis

sliced (seeds removed for less heat)

1

cup

peas

defrosted if using frozen

1/4

cup

of mint leaves

finely chopped

2

sprigs fresh dill

finely chopped

2

tsp

lemon juice

2

tsp

salt

or to taste
Instructions
Place potatoes in a large pot of cold salted water.

Bring to a boil and then then turn the heat to medium and let the potatoes simmer until they are fork tender. (20-25 mins).

Drain the potatoes and set aside to dry.

Thorough dry the pot that was used to boil the potatoes to make the dressing, or use a deep skillet.

Heat three tablespoons of oil in the pot and add the mustard seeds.

Once the mustard seeds start popping and are fragrant add the shallots and cook for 2-3 minutes until translucent.

Add turmeric to the mustard seed and shallot mixture and season with salt.

Place boiled potatoes in the pot with the warm dressing, and cook on medium-high to allow the potatoes to get crispy on the outside.

Once the potatoes are evenly coated with the shallot mixture and golden brown add lemon juice, peas, fresno chili, and herbs.

Toss well. Serve warm or at room temperature.
Ingredients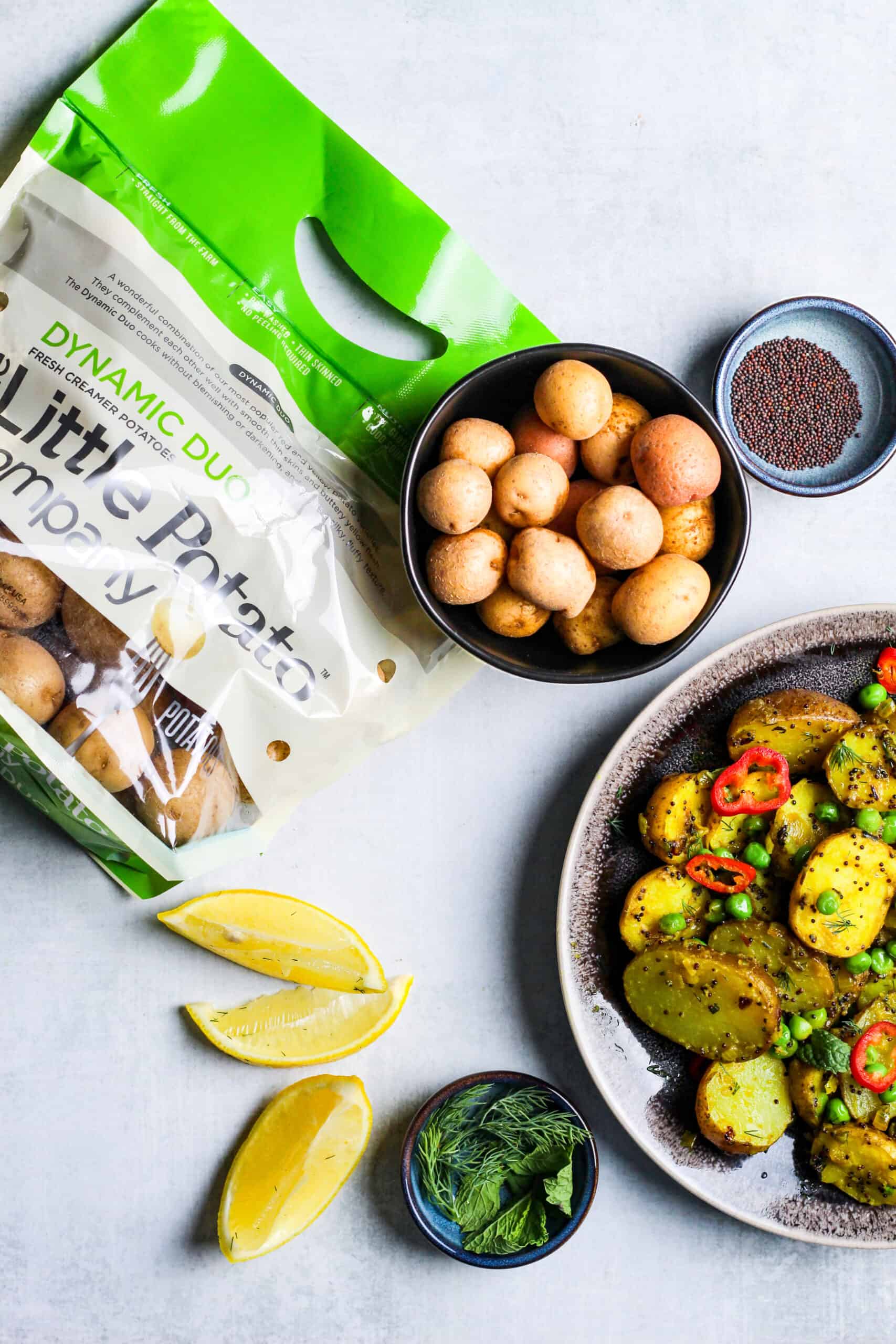 The best thing about using baby potatoes like the Little Potato Company is that they are ready to go! There is no need to wash or peel them before cooking. They cook quickly and are so creamy! I've also steamed them for a quick batch of homemade mashed potatoes, and roasted them with garlic, rosemary, and thyme to pair with salmon for a 30 minute weeknight meal!