This recipe is another one inspired by my recent trip to India. I had some of the best chicken kebabs in my life at the Sai Palace Hotel in Mumbai!! I first ordered them when I was at dinner with my aunt. Now there are so many variations of kebabs on their menu, but she knows I have a low tolerance to spice (compared to probably every other brown person on this planet….except my husband, lol) and we picked Peshawari Chicken Kebabs. They were so flavorful, without burning my taste buds off, and the skewers are cooked in a tandoor oven so chicken is nicely charred on the outside and still juicy and succulent. A few days later I went back with Mom and Dad and we ordered them again. Clearly, I was impressed!
This particular dish comes from Peshawar, Pakistan and is marinade of yogurt, onions, garlic, ginger, and mild chili with a blend of spices. If you are making Peshawari curry you will add tomatoes to make the gravy.
I took the concept of marinating meat in yogurt to make these Summertime chicken skewers! Yogurt helps to tenderize the meat, and add a nice crust to chicken while grilling. Instead of using the traditional mix of Indian spices I did a blend of garlic, ginger, and chili powder. So there's some heat, but it's not overpowering, and a vibrant flavor from the fresh garlic and ginger.
Ingredients
3 chicken breasts, cut into 1 inch pieces
Naan or pita bread
Arugula
Herbed goat cheese
Yogurt Marinade
1/2 cup yogurt
1-2 tbsp oil
2 medium sized garlic cloves, grated or crushed
2 tsp fresh ginger, grated (or powder)
1 tsp chili powder
1/2 tsp salt, or to taste
Peach Salsa
1 cup peaches, finely
1/2 cup tomato, seeds removed
1/4 cup diced red onion
5-6 large basil leaves
2 tbsp jalapeno, seeds removed
1/2 tsp salt
1 tbsp lime juice (approx. 1/2 large lime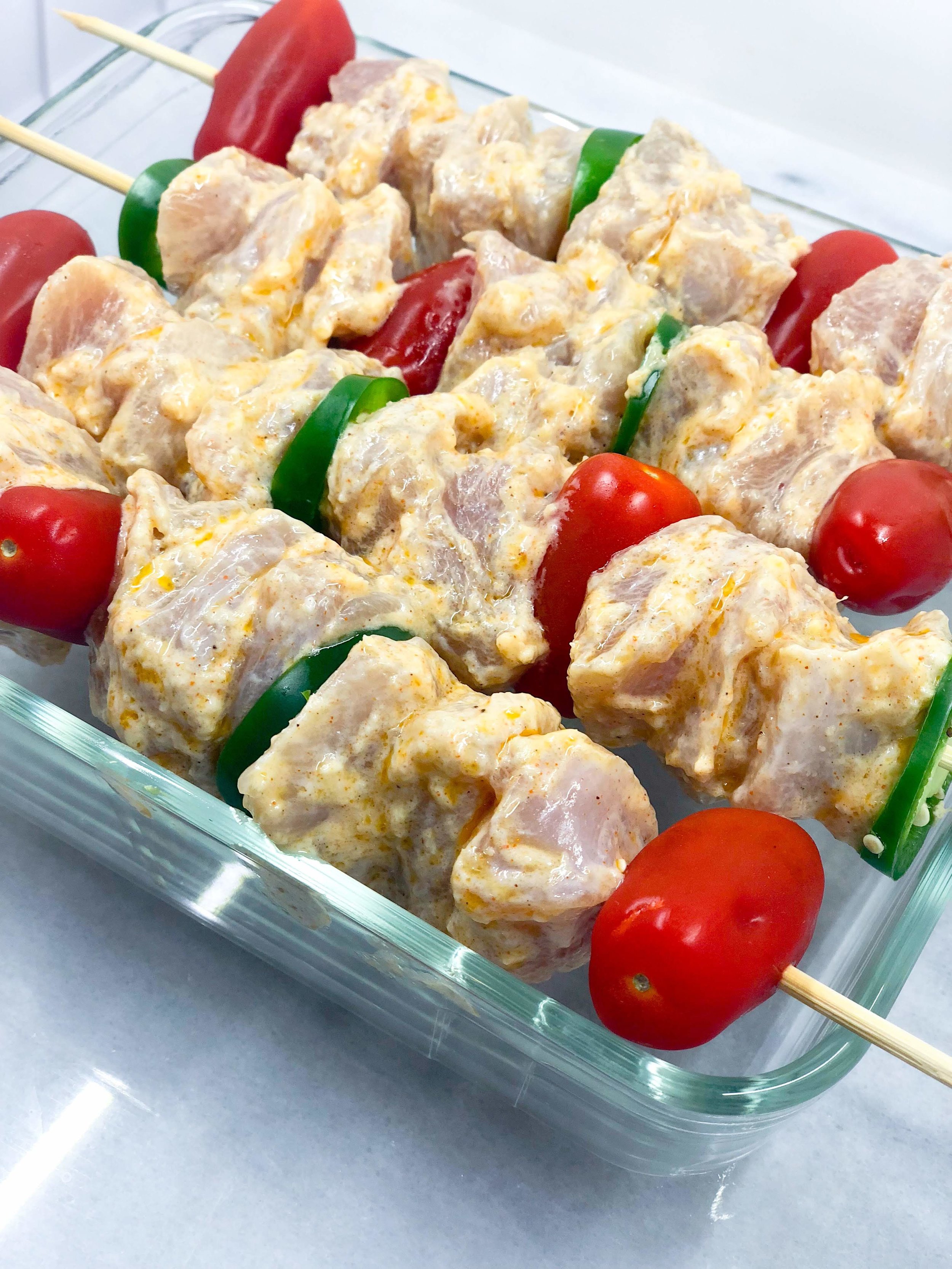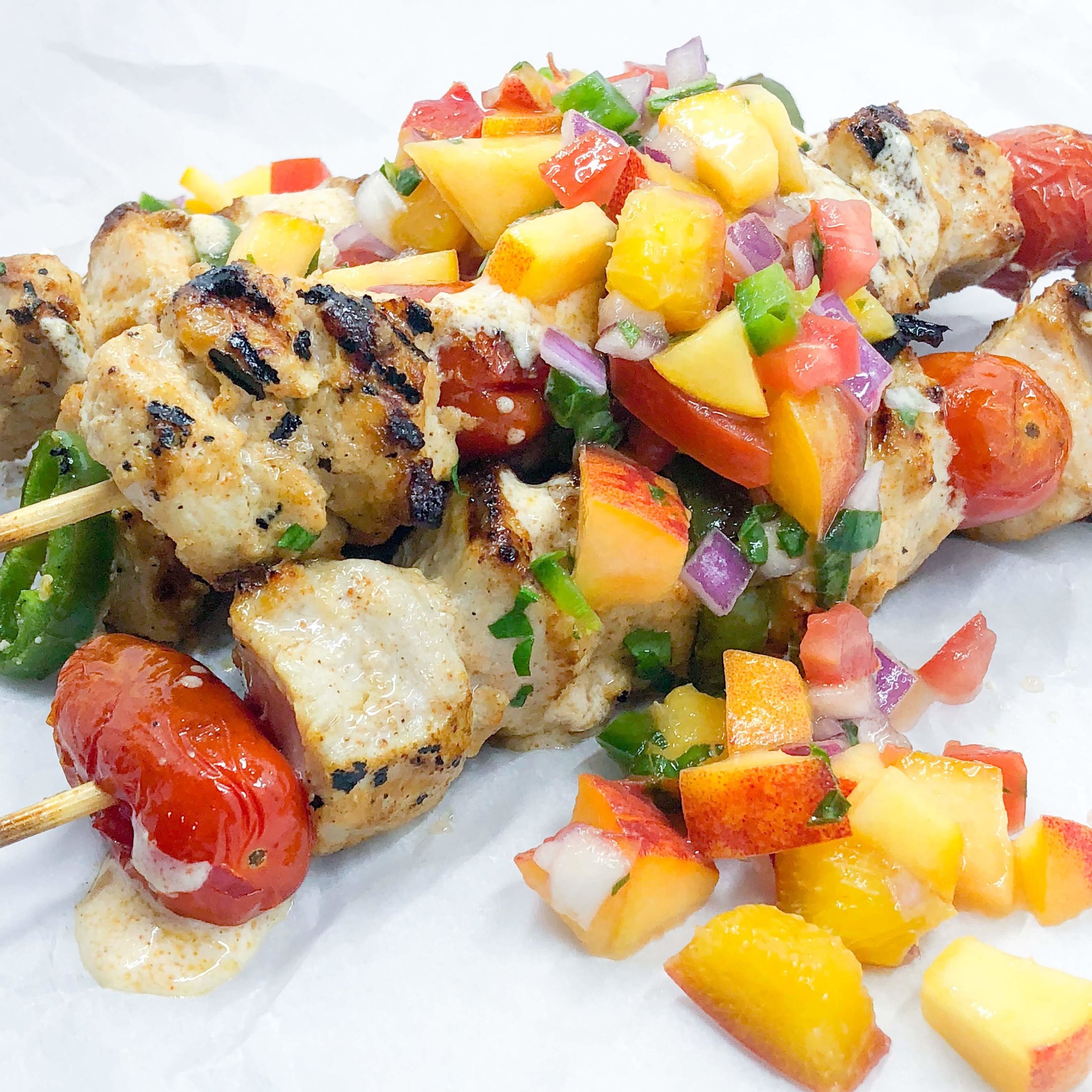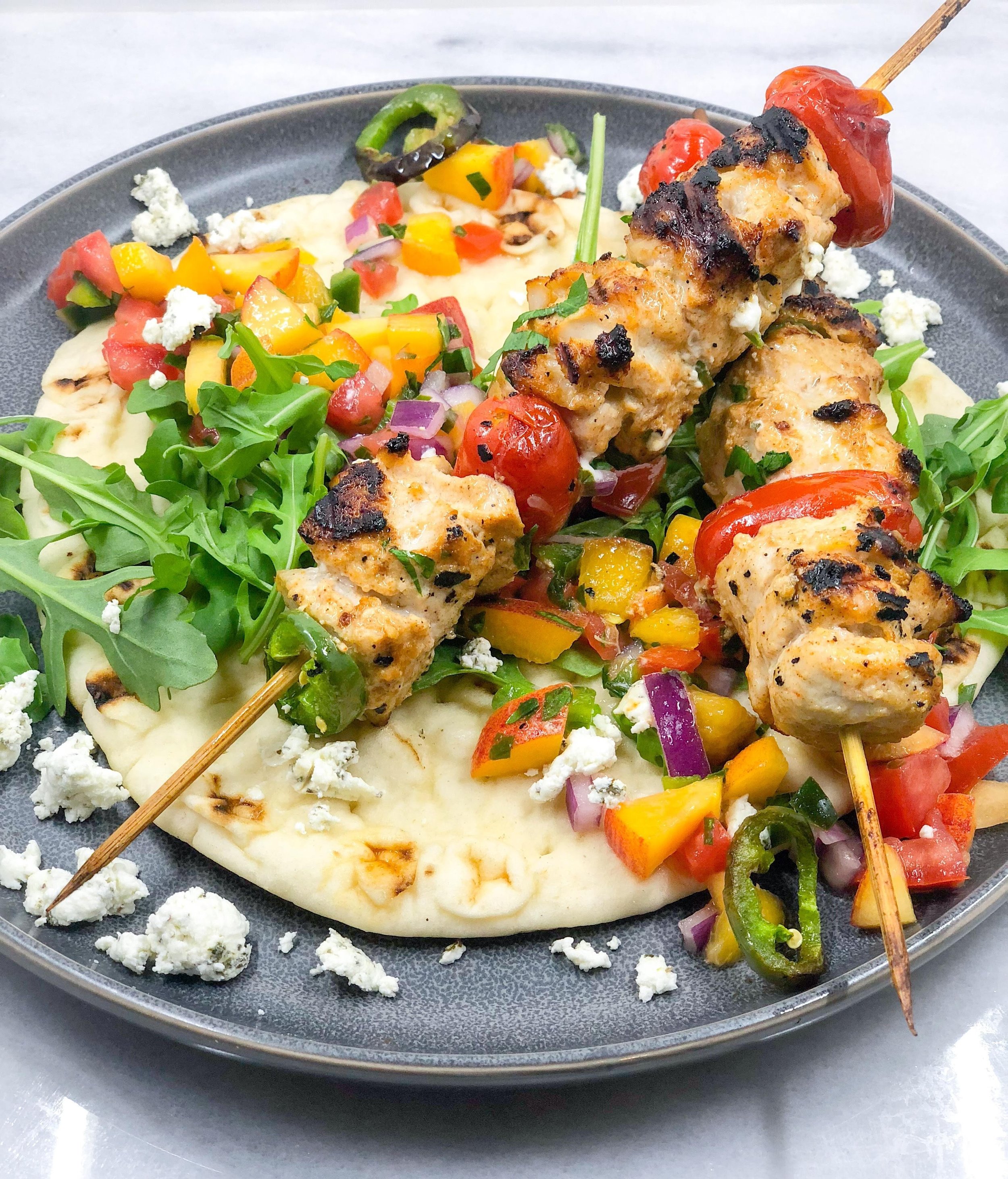 In a small bowl mix together ingredients for the yogurt marinade. If using Greek yogurt, you may need up to 2 tablespoons of oil. Pour yogurt marinade over chicken pieces, cover, and refrigerate for at least 30 minutes. You can save a little marinade to use as a sauce later.
Finely dice all of the ingredients for the peach salsa, and place in a bowl. Add salt and lime juice. Mix together and refrigerate until ready to use.
When ready to grill thread chicken pieces onto skewers. Grill until chicken is not pink and cooked through. If using an indoor grill pan you can sear the outside of the chicken and place the skewers in a 425 degree oven for 5-7 minutes to cook the chicken all the way through. If you do not have a grill place skewers on a baking tray and bake at 450 degrees for 15 minutes until chicken is cooked through. Flip half way through.
Serve chicken with warm naan, peach salsa, arugula (or greens of choice), herbed goat cheese, and yogurt sauce if desired.