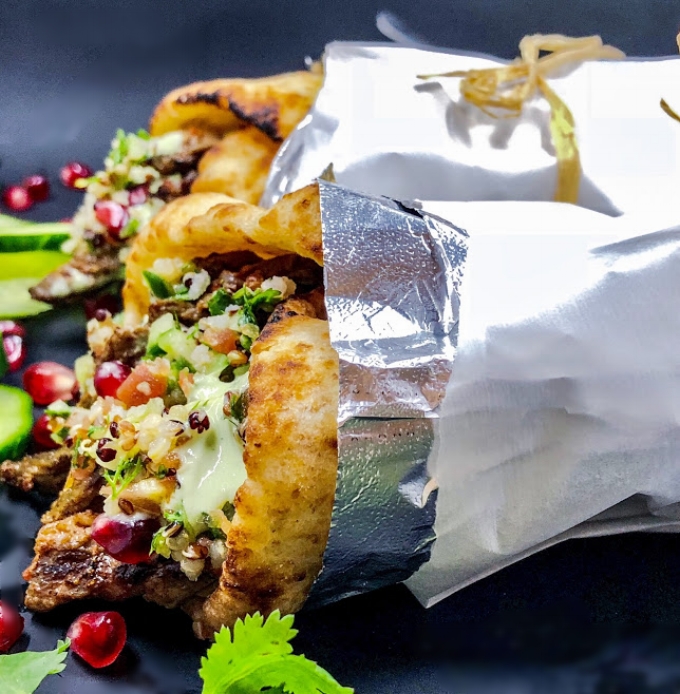 So I have been obsessed with Harissa lately! I've used it to flavor soup, spice up my salad dressings, and here used it to make a marinade for some skirt steak! Harissa is a hot chili pepper paste from North Africa made with with paprika and olive oil. It can be found at your local grocery store so I highly suggest giving it a whirl! I've also made my jalapeno tahini sauce a couple times since posting the recipe so naturally wanted to use up the leftovers to make a delicious dinner for us. I combined the tahini sauce with yogurt to lighten it up a bit, and give it some tang. Then I used spices I had on hand and the harissa to make a Middle Eastern inspired marinade to make a beef shawarma. The wraps with tabouli were AH-MAZ-ING!!! It's really a recipe for the books! 
Ingredients
1 package naan or pita

1 lb skirt steak, thinly sliced
Tahini yogurt 
1/2 cup yogurt + 1/2 cup prepared jalapeño tahini sauce

1 clove garlic

2 tsp oil

1/4 tsp
Harissa marinade 
1 tbsp harissa

1 tbsp oil

1/2 tsp salt

1/2 tsp ground ginger

1 tsp curry powder

1/4 tsp ground cinnamon

1/4 tsp ground nutmeg
Marinate skirt steak in harissa marinade for 30 min or up to 2 hours. Grill or sauté in a hot pan for 2 minutes on each side. Set aside.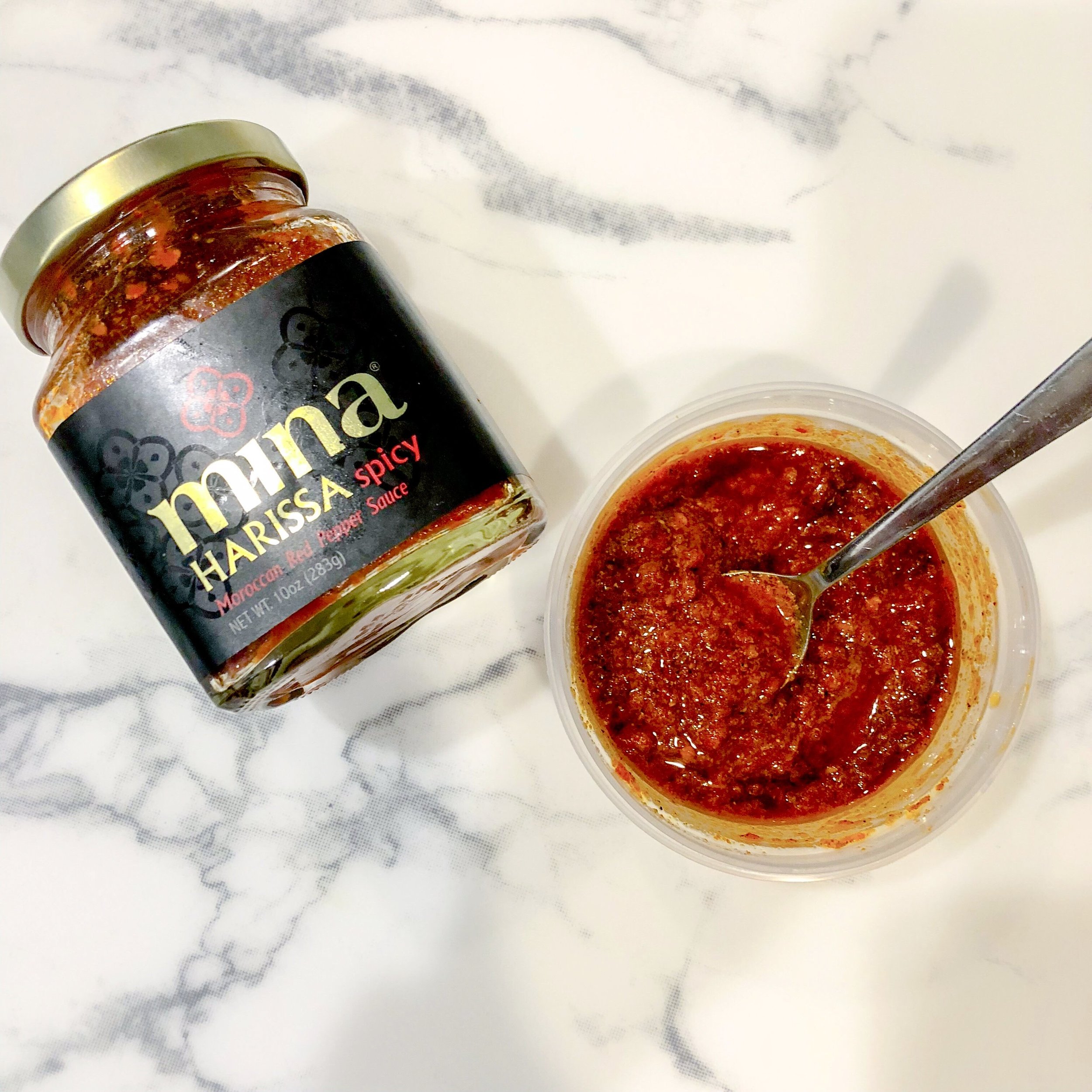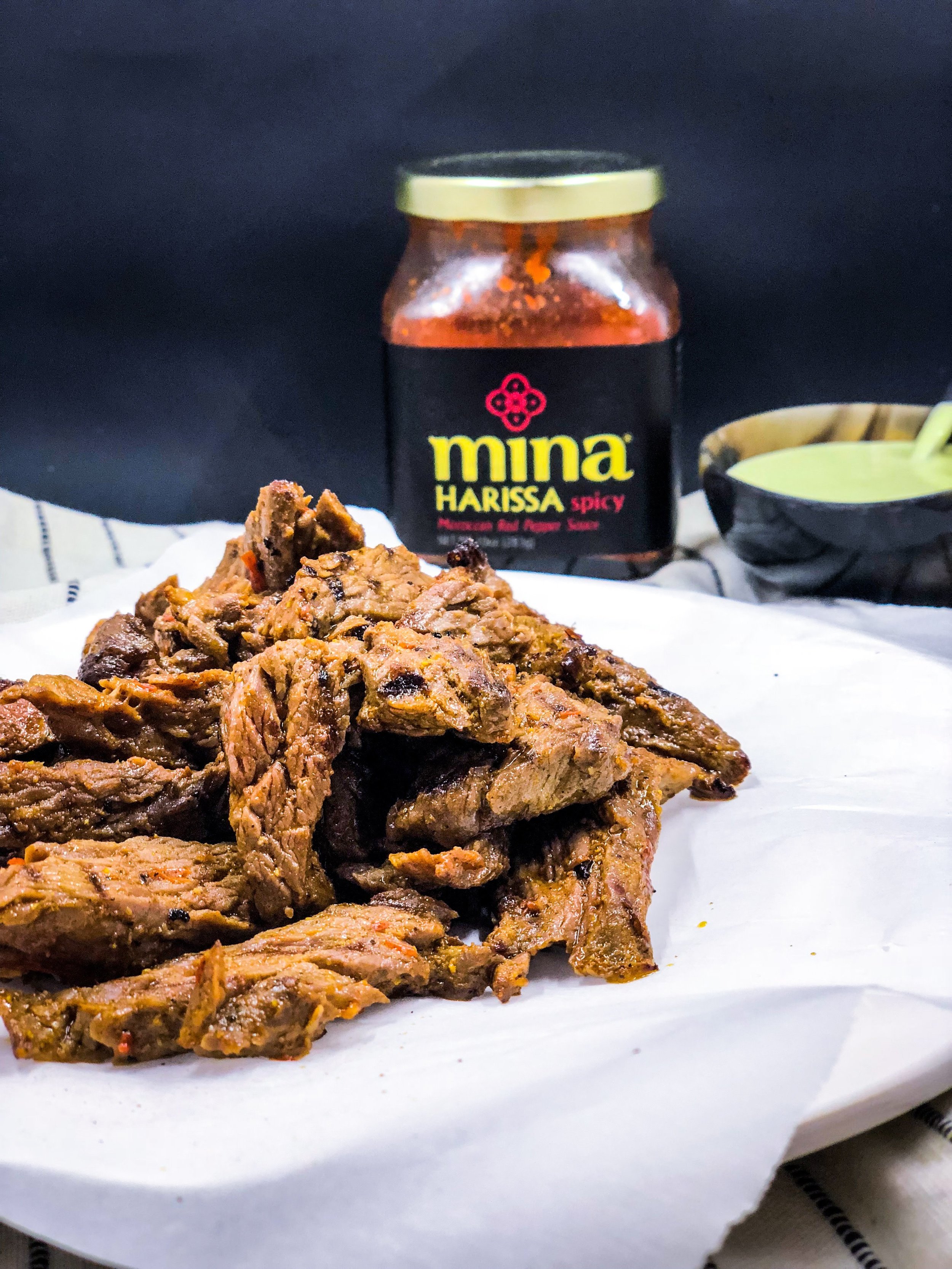 Chop cilantro, dill, tomato, and cucumber finely with a sharp knife or pulse in a food processor. Mix together and add lemon juice, salt, and pomegranate seeds. You can find the full recipe for the Cilantro Tabouli Salad here.
Blend together ingredients for tahini yogurt sauce. The recipe for Jalapeno Tahini Super Sauce can be found here. 
Assemble wraps with warm naan or pita, beef shawarma, tabouli salad, and sauce!