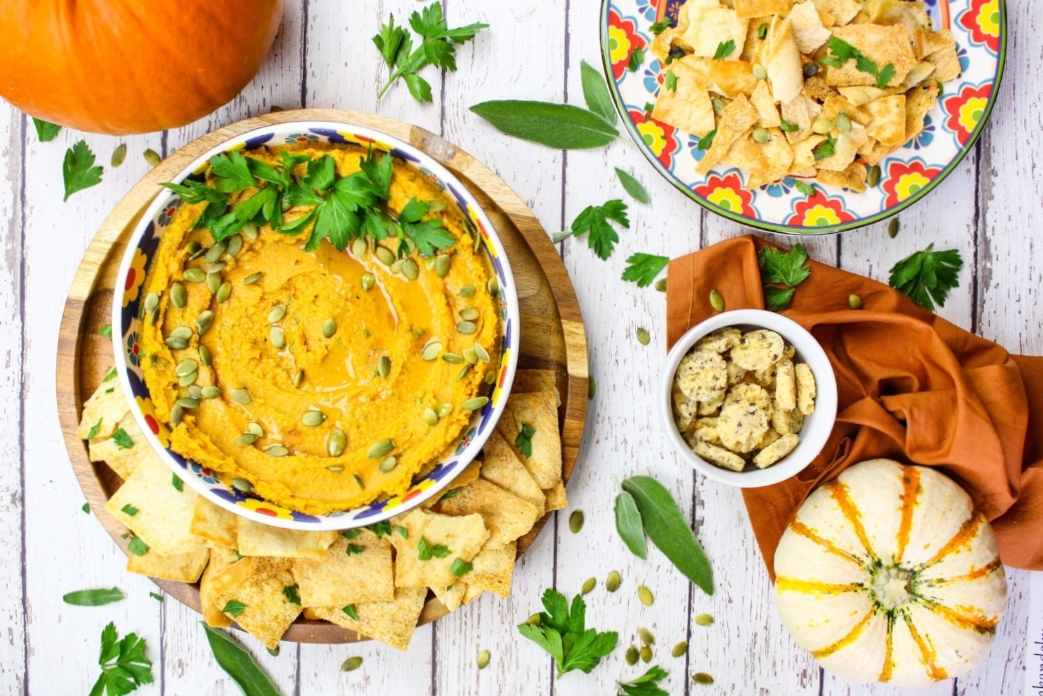 Oh, November….the month when you really see pumpkin everywhere. Personally, I am a HUGE fan of pumpkin in recipes. I love that you can make it sweet or savory, incorporate it into almost anything, and it's nutritious! Have you tried pumpkin turkey meatballs yet? If not head over to Paleo Running Momma's page and use her recipe as a guide. I tweak that recipe a bit since we aren't really paleo at our house, and I also use a jarred sauce.
Anyway, back to pumpkin! It seems like pumpkin hummus is all the rage this year. It's not a new concept, but maybe more people are coming around to the idea of pumpkin flavored things that aren't pie. I'm not sure.
I made this recipe as easy as I could since you really don't need to cook anything, BUT I had to give you one more layer of flavor and added fried sage. Sorry! Not really sorry, though.
I know you guys want easy, but just because you have to turn on the stove doesn't make it hard!! And honestly, leave out the fried sage if you don't want to get it from the store or fire up the range.
Ingredients
1 can chickpeas

3/4 can pumpkin purée

2 cloves garlic

1/4 cup olive oil

1/2-1 tsp pumpkin pie spice

1 tbsp lemon juice

1 tsp salt, or to taste

4 leaves of fried sage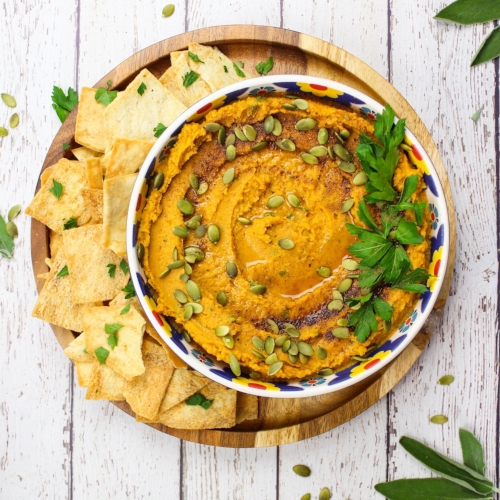 Place chickpeas, pumpkin puree, oil, pumpkin pie spice, salt, garlic, and lemon juice in a food processor. Blend until smooth and creamy.
In a small skillet heat 2 tablespoons of oil. When hot drop in sage leaves and fry for 4-5 seconds. Be careful since their is moisture in the leaves, and there will be some splatter!
Remove sage leaves and place on a paper towel. This process is quick; the sage leaves should keep their green color. If you have a lot of browning on leaves from frying then you will get a burnt, bitter taste in your hummus.
After the sage leaves have cooled place them in the food processor with the hummus and pulse to incorporate.
When plating hummus drizzle with sage infused oil,sprinkle on pumpkin pie spice, pepitas, and more fried sage or chopped parsley if desired.