As a food lover and cook it is so important for me to know where my food comes from. Especially because I cook for people that I love…my husband, son, brother, sister, parents, friends, and even sometimes for people that I've just been acquainted with.
Recently I partnered with Illinois Farm Families to raise awareness for our local farms and the food that comes from them. I was lucky enough to be able to speak with a generational farmer, Thomas Titus, about the farm that he and his family care for.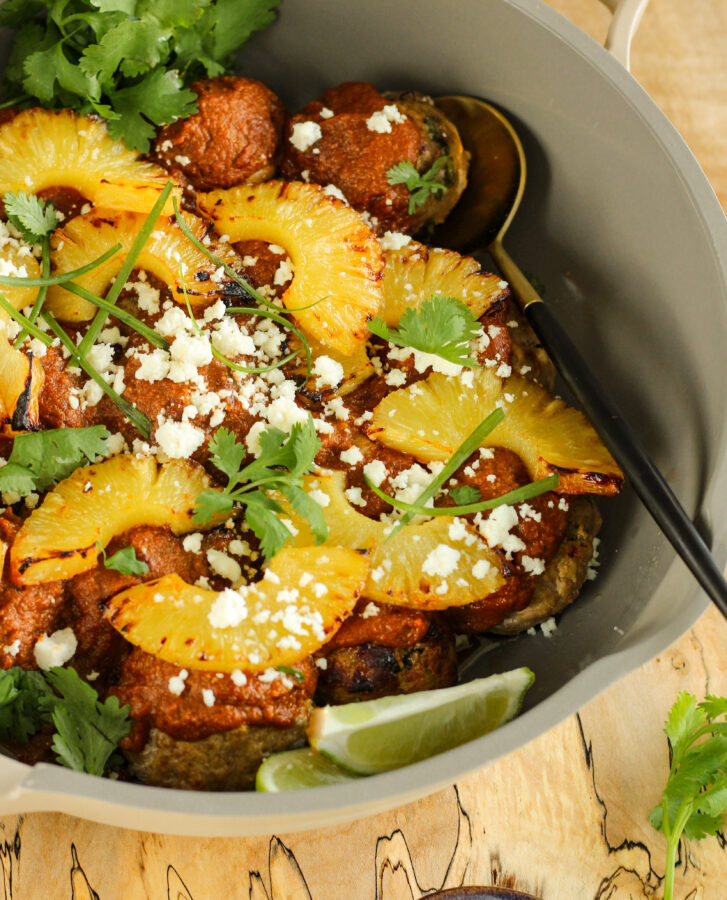 Illinois Farm Families
Illinois Farm Families is a consumer outreach program representing more than 70,000 farmers in Illinois. They help drive conversations and awareness of Illinois agriculture, food, and farming today through farm tour experiences, digital campaigns and social media.
Illinois Farm Families is a great resource for consumers (like me and you) to learn about our food. Like me, maybe you didn't know that 96% of today's Illinois farms are family-owned, and Illinois farmers are dedicated to providing nutritious, affordable food for our families. I was lucky enough to be able to interview Thomas and get an inside look at what happens on his family's farm in Elkhart, Illinois. Catch our interview on my IGTV later this week!
Visit the Illinois Farm Families website at https://www.watchusgrow.org for more information and follow them on Facebook and Instagram.
Thomas Titus, The Family Farm, and Tri Pork Inc.
Thomas and his wife Breann are sixth-generation farmers in Elkhart, Illinois. They manage a pig farm that is part of Tri Pork Inc. which provides high quality pork from the pigs they raise.
Sustainability is large part of today's farming and a key component to the Tri Pork Inc. farm and guides how they care for their pigs. Farmers are constantly finding ways to conserve the land's natural resources and improve their farms for future generations.
Thomas shared with me how raising pigs today contributes to less than one half of a percent (0.03%) to U.S. greenhouse gas emissions. Overall trend lines continue in a positive direction over the past five decades with 75.9% less land used, 25.1% less water used, 7.7% reduction in carbon footprint and 7.0% less energy used per pound of pork produced. Thomas also mentioned that they are producing more pork with a smaller carbon footprint!
"Pork. Powerful Protein."
Pork has a rich source of essential vitamins your body needs to function, such as iron and zinc. Did you know, today's pork is 16% leaner and 27% lower in saturated fat compared to 30 years ago? Better yet, there are seven cuts of pork that meet the USDA guidelines for "lean" by containing less than 10 grams of fat and 4.5 grams of saturated fat. Health tip: one of the easiest ways to choose lean cuts is to look for "loin" or "chop" in the name.
As I was preparing this recipe I was truly impressed with the quality of the product, which is so important to me especially when I'm cooking for my family. Most people use ground pork for sausages however this meat is so versatile and can be used in many recipes, like my Al Pastor pork meatballs!
Al Pastor Pork Meatballs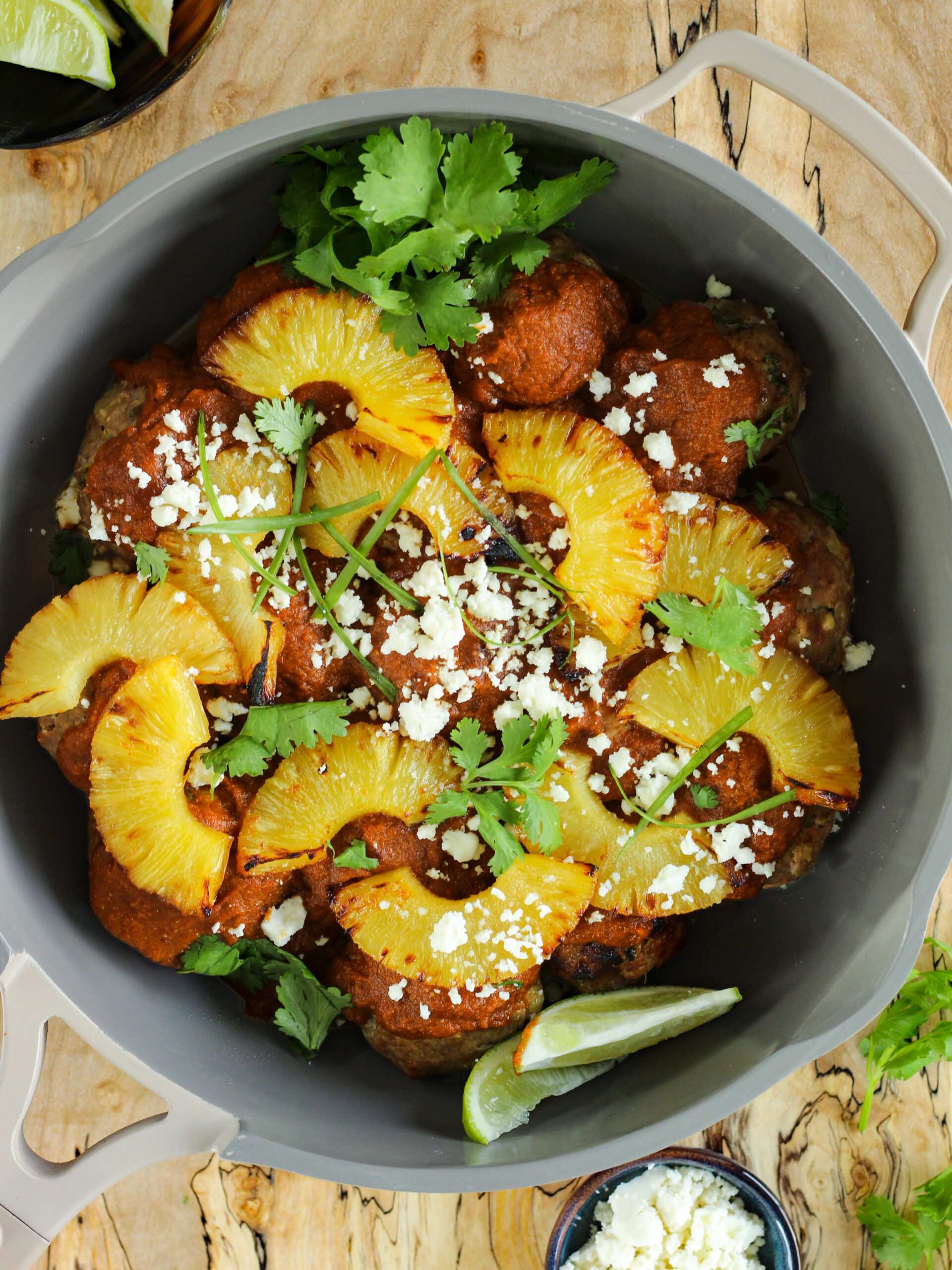 I had a lot of fun creating this recipe with Tri Pork Inc.'s ground pork. The idea came from enchilada meatballs that I made for my family during the holidays. They loved the Mexican flavors, and food that is drenched in a delicious sauce is always a hit! Al Pastor is traditionally a pork dish so I used those flavors to create an easy, healthy, and family friendly meal.
The sauce is made with the juice from canned pineapple, onion, chipotles in adobo, garlic, cilantro, cumin, sesame seeds, and paprika. I use sliced canned pineapple because it is readily available year round in the meatballs with a few of the same ingredients as I use in the sauce, and bake everything together until golden and delicious!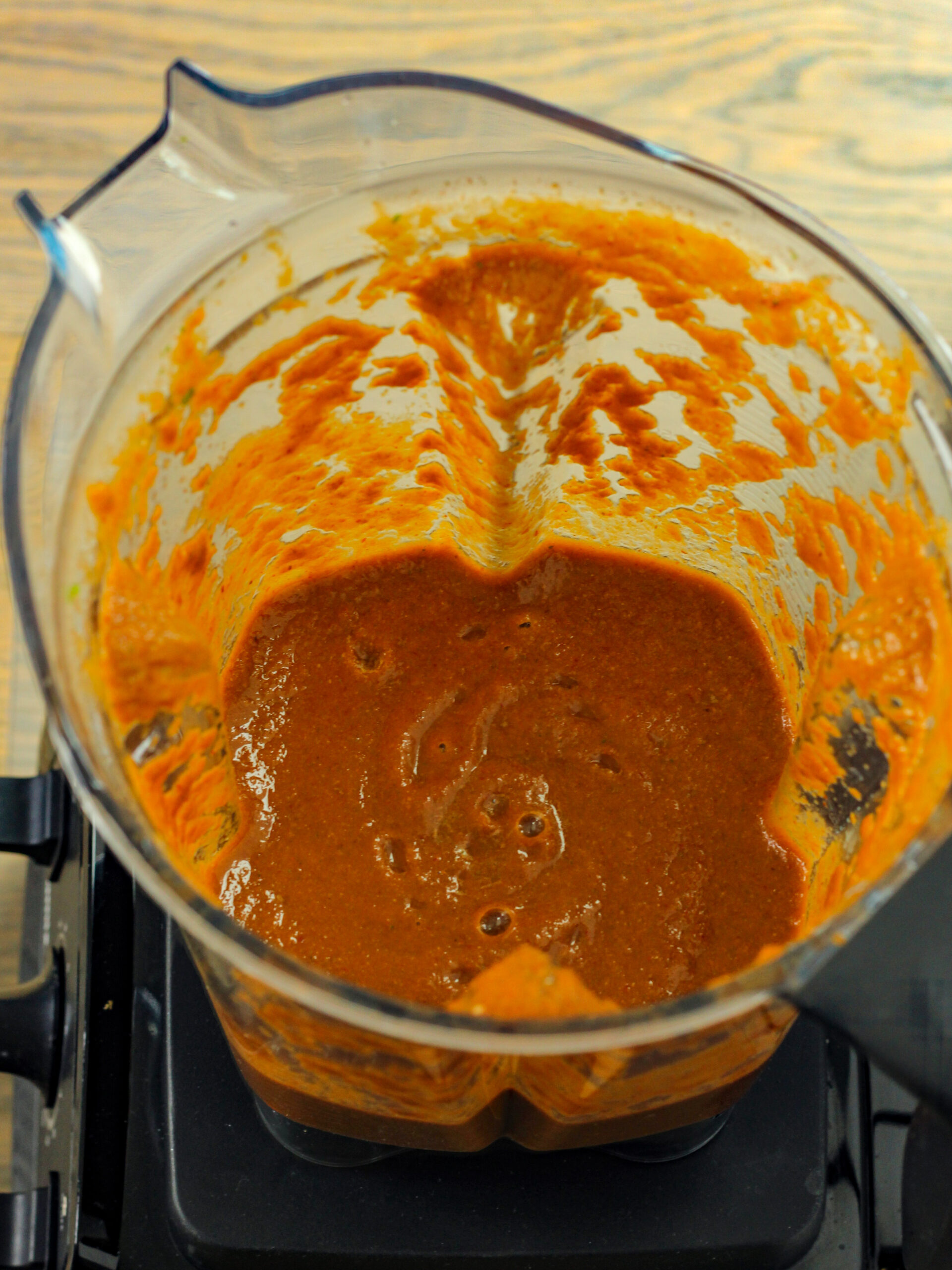 Al Pastor Pork Meatballs
Local, ground pork seasoned with garlic, cilantro, pineapple baked with a homemade chili-pineapple sauce.
Ingredients
Meatballs
2

lbs.

ground pork

1

cup

finely diced pineapple from a 20 oz. can of sliced pineapple in 100% juice.

drained

1

lg clove garlic

minced or crushed

1/2

cup

cilantro

chopped

2

tsp

salt

1/4

cup

prepared pineapple-chili sauce

cotija cheese or queso fresco for serving

optional
Pineapple-Chili Sauce
1

cup

pineapple juice from canned pineapple

1

small

yellow onion

4

chipotles in adobo with sauce

1/2

cup

apple cider vinegar or white vinegar

4

large

cloves of garlic

1

cup

cilantro

about 1 large handful; thick stems removed

2

tsp

sesame seeds

2

tsp

cumin

1

tsp

paprika

salt to taste

about 1 tsp
Instructions
Pineapple-Chili Sauce
Drain canned pineapple and set aside. Reserve juice for sauce.

Place all ingredients for sauce in a high-powered blender and blend together until smooth. Adjust seasoning if necessary.
Meatballs
Preheat oven to 475 degrees F.

Pat pineapple slices with a few paper towels to remove as much juice from them as you can. The pineapple will release a lot of liquid while cooking so make sure to dry them out as much as you can before putting into the pork mixture.

In a large bowl mix ground pork with 1/4 cup of reserved pineapple-chili sauce, garlic, cilantro, diced pineapple, and salt.

Oil hands, and form pork mixture into balls that are about 1 inch in diameter. Place in a deep oven safe dish.

Place in oven for 10 minutes until meatballs have lightly browned on the outside.

Remove from oven and carefully drain excess liquid.

Pour the rest of the pineapple-chili sauce over the meatballs, and top with canned pineapple slices if desired.

Cook 12-15 minutes longer until pork is cooked through and no longer pink in the middle.

If pineapple has not browned you may set the oven on broil for the last few minutes of cook time.

Garnish with crumbled cotija cheese or queso fresco, and serve with tortillas or rice.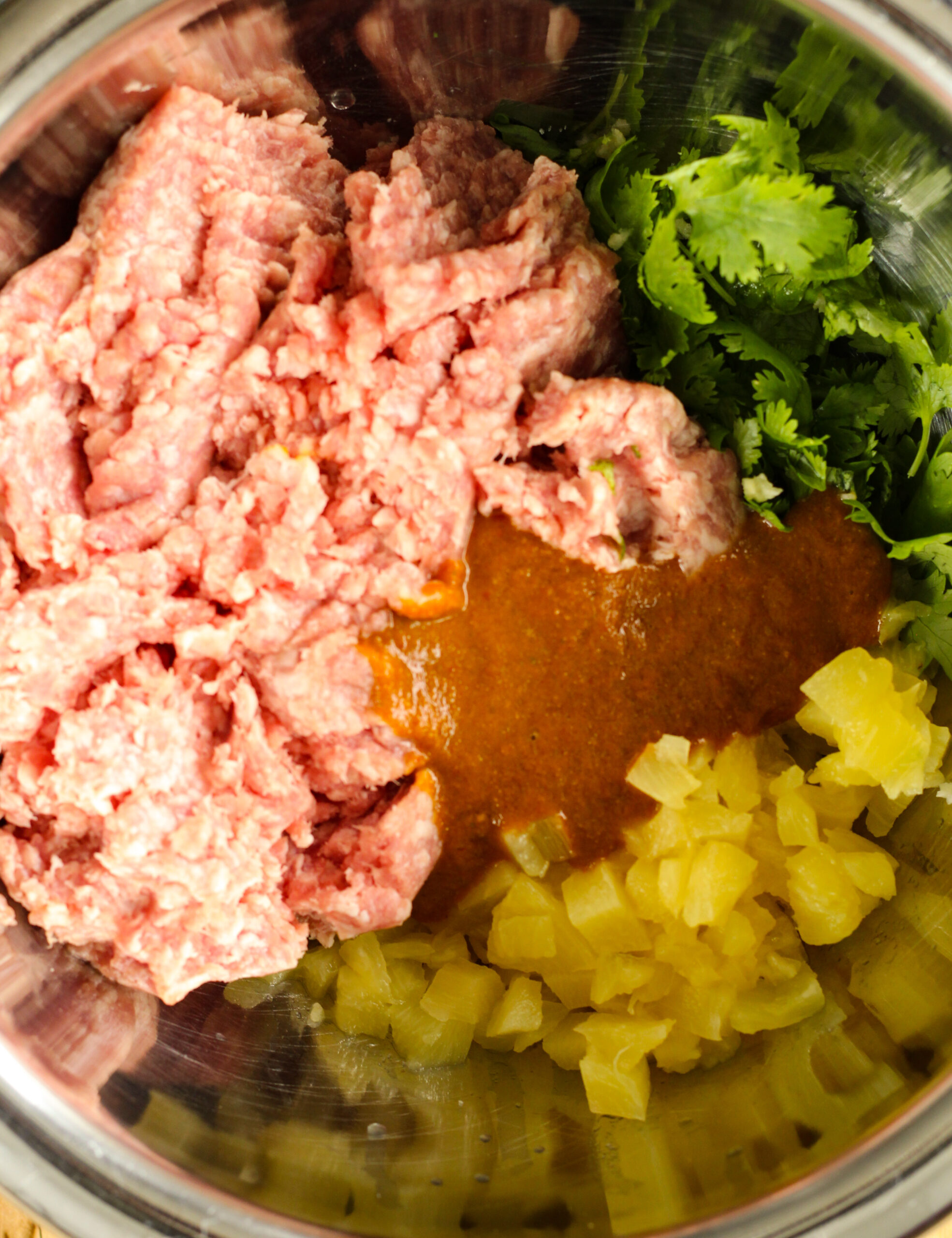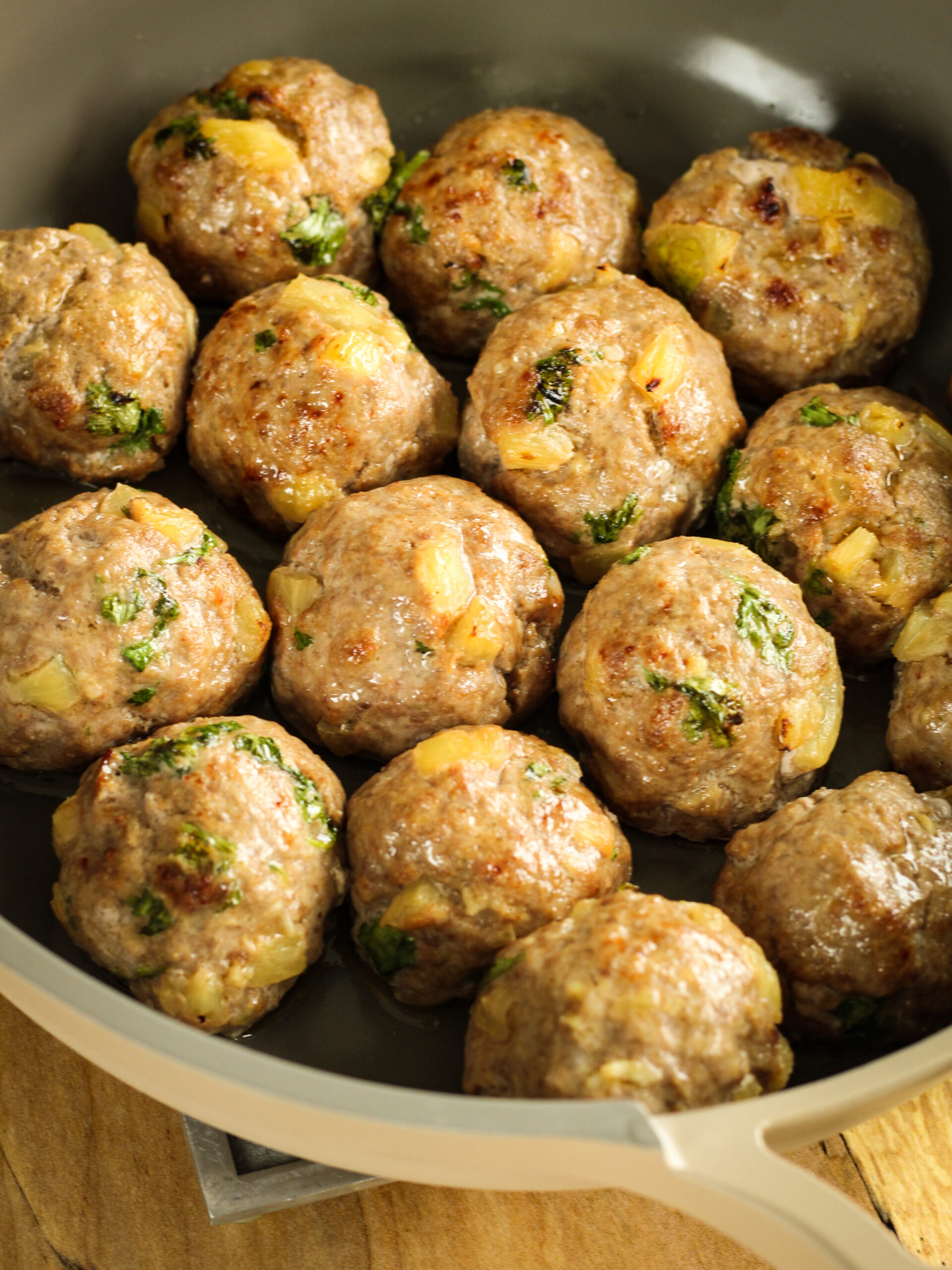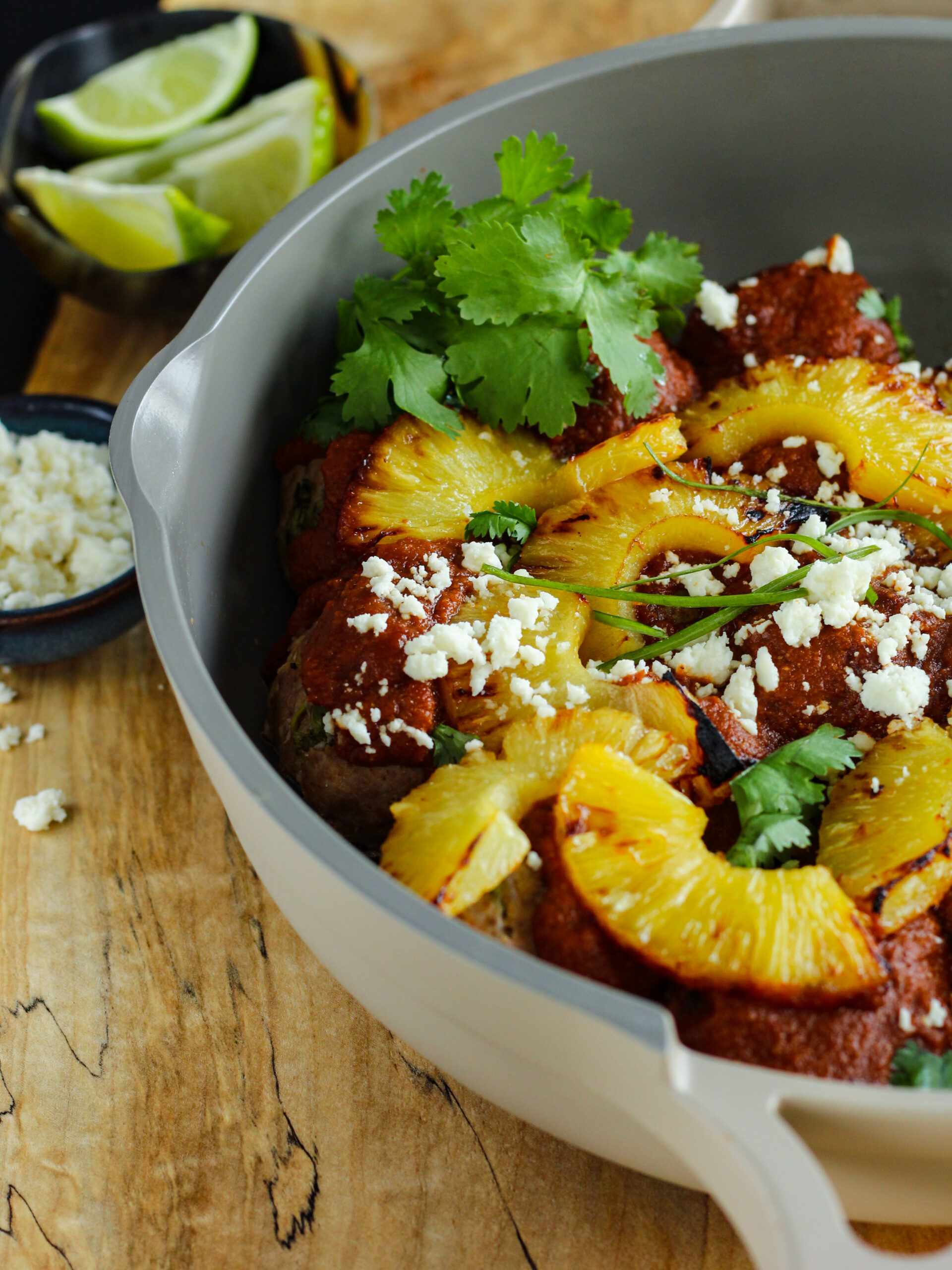 I hope you love this recipe. Tag me with your photos on Instagram and I will make sure to share them!