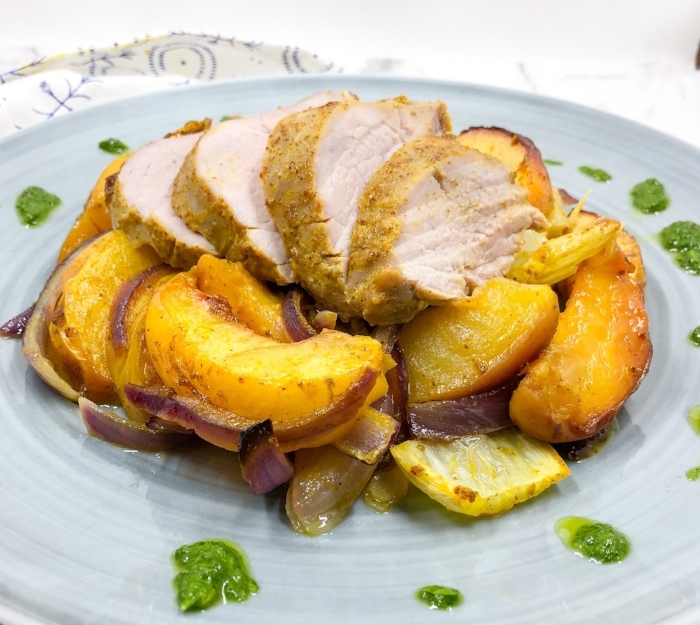 I used to be a huge pork chop fan, and will be posting recipes for pork chops in the future. But after I started getting pork tenderloins I was kind of over pork chops. I'm not sure why I was so intimidated by the tenderloin….I guess I thought I would mess it up since it's a leaner cut of meat and can dry out fast. Turns out that pork chops need more babysitting than pork tenderloins, in my opinion. Pork tenderloins are a great option for weeknights, and pair well with a wide range of spices, vegetables, and fruit. In this recipe I did a play on peach chutney using curry powder and fennel. The sweet juices from the fruit mix so well with the brown sugar and spices to give you a succulent piece of pork, and you end up with a delicious restaurant worthy dinner!
Ingredients
1 pork tenderloin (about 1.5 pounds)
4 peaches, cut into eighths
1 small red onion, sliced
1 bulb fennel, sliced
Marinade
3/4 cup oil
2 tsp Dijon mustard
2 tbsp brown sugar
2 tsp curry powder
2 tsp salt
1 tsp cayenne pepper
Preheat oven to 450 degrees. Mix ingredients together for marinade. Place sliced fennel, onion, and peaches in a baking tray. Pour half of marinade over peaches and vegetables. Combine well. Rub pork tenderloin with the rest of the marinade and place over peaches and vegetables. Bake pork for 20 minutes, then broil for 3-5 minutes. Internal temperature should be 140 degrees. Rest pork for 10 minutes before slicing.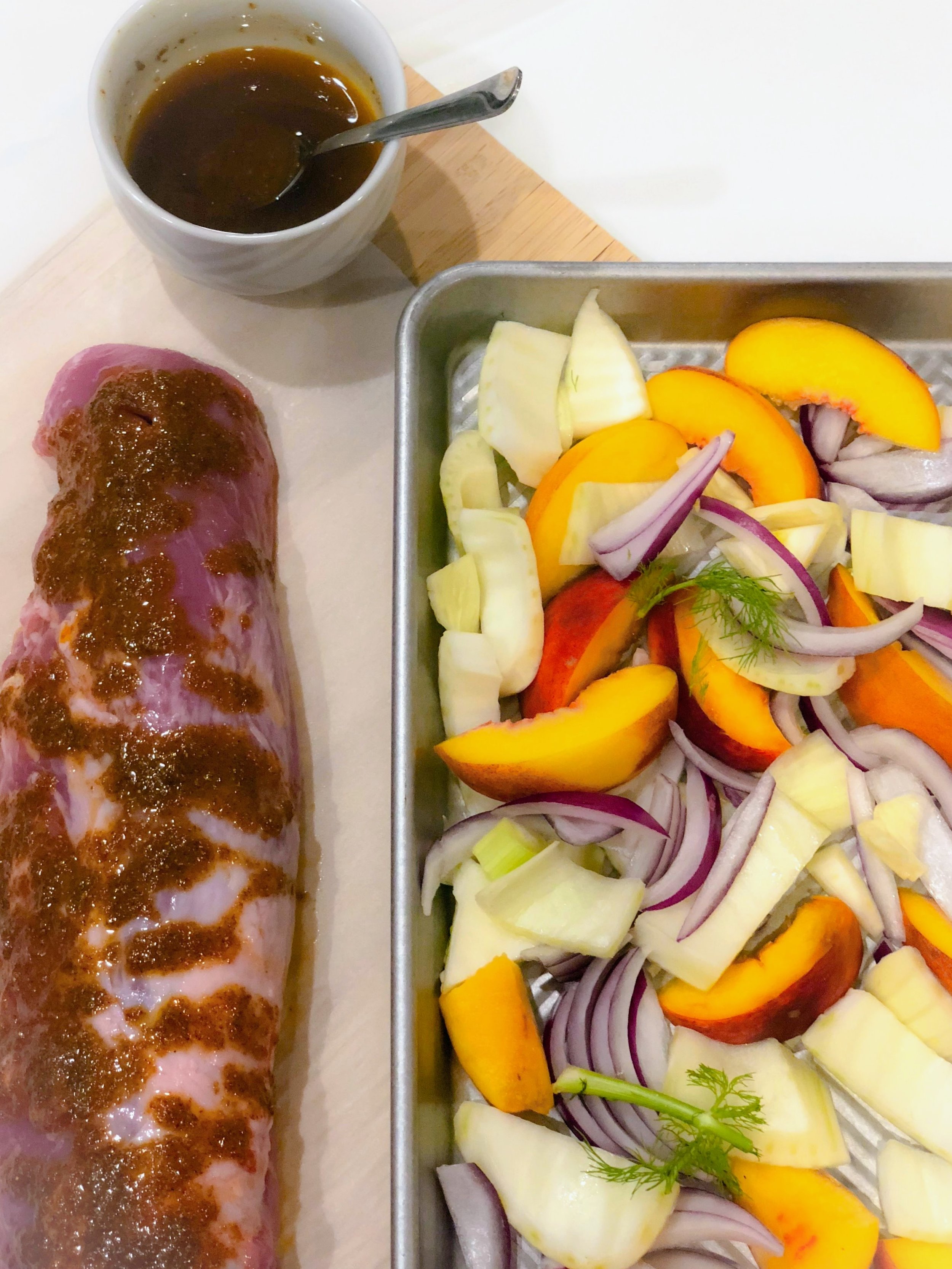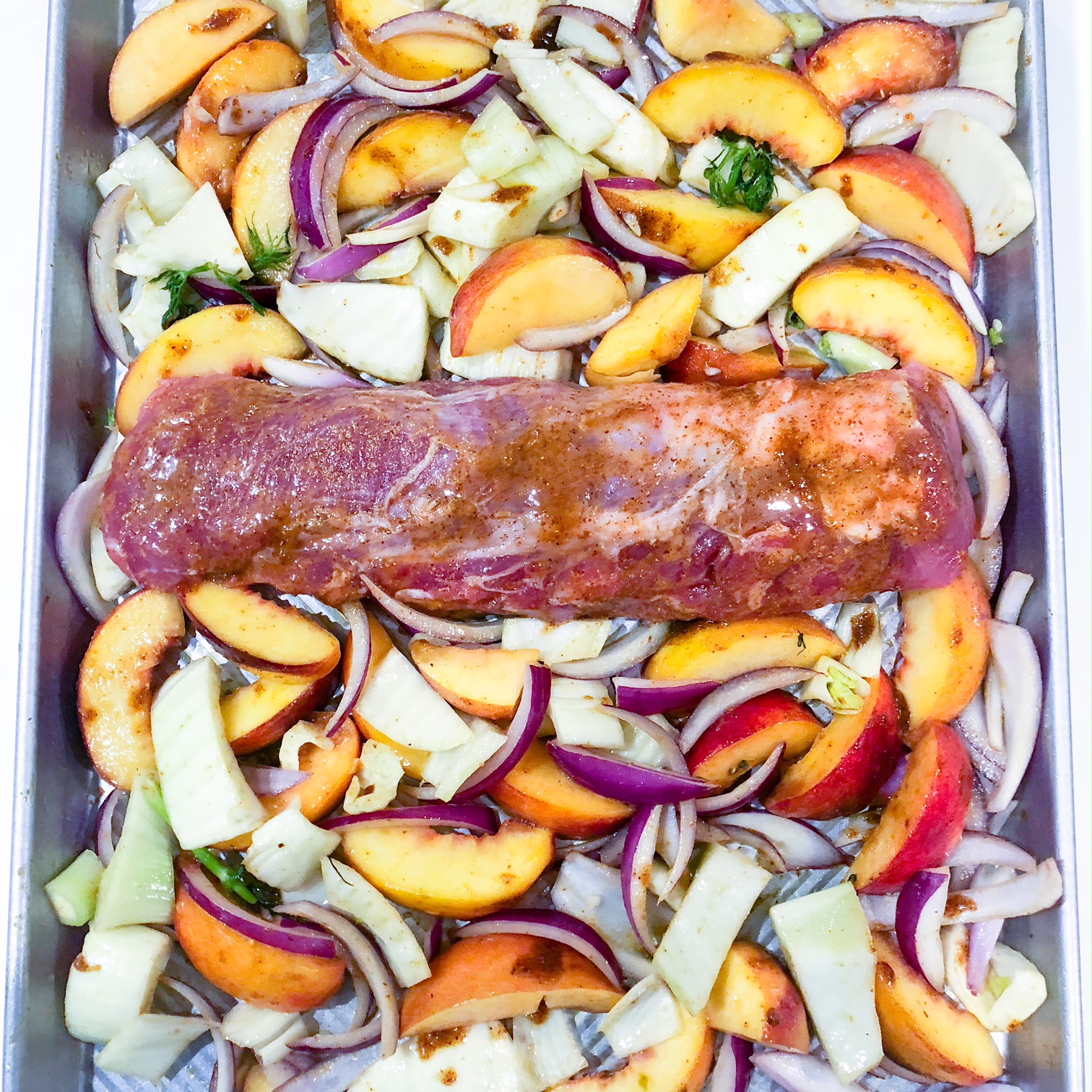 Optional: for arugula pistou blend a few handfuls of arugula with 2 teaspoons lemon juice, a tablespoon of oil, and a pinch of salt.