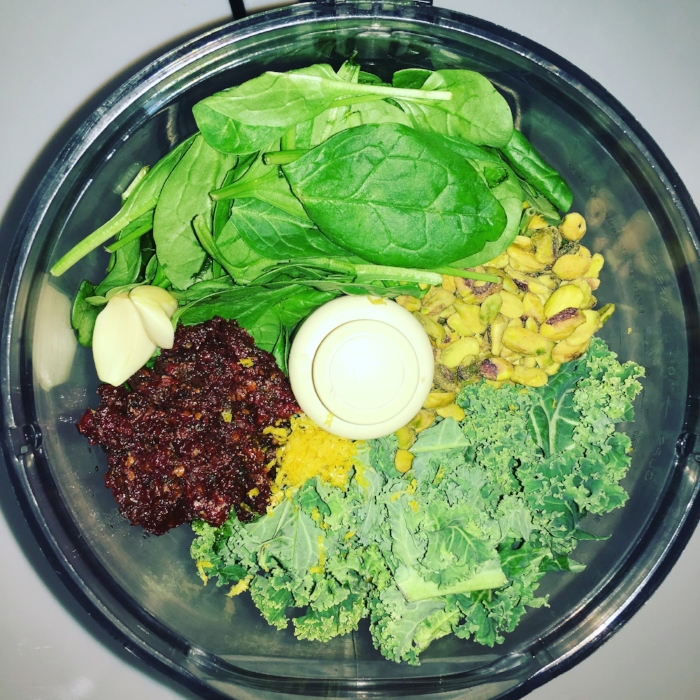 My "Christmas" pesto is packed with nutrients, and flavor! Instead of using basil (which is only in season during the warmer months anyway) I use kale and spinach. I never have pine nuts so subbed pistachios which are lower in fat and calorie content v. pine nuts and have more protein per serving!
The sun-dried tomatoes add sweetness and some much needed acid to the greens along with the lemon.
We've used this pesto on pizzas, mixed it into Shay's mac + cheese, on zucchini noodles, topped crostini, and meats like chicken and pork tenderloin. A little goes a long way, plus it freezes really well too!
Ingredients
2 cups spinach
2 cups kale
3 tbsp sun-dried tomatoes packed in oil
2 cloves garlic
1/2 cup raw pistachios
1/4 cup oil avocado or olive oil
1/4 cup grated parmesan
2 tsp salt
Juice from 1/4 lemon about 2 tsp
Place spinach, kale, sun-dried tomatoes, garlic, pistachios, lemon zest, lemon juice, and salt in a food processor or blender.
Start blending on low, and stream in 1/4 cup oil. Stop blending, and scrape down sides. If the pesto still looks a little thick and the ingredients have not coming together you can stream in another tablespoon of oil.
When mixture comes together and is smooth, add grated parmesan cheese. Then pulse until cheese is incorporated. @giadadelaurentiis has said to add in the cheese towards the end so that's what I do! .