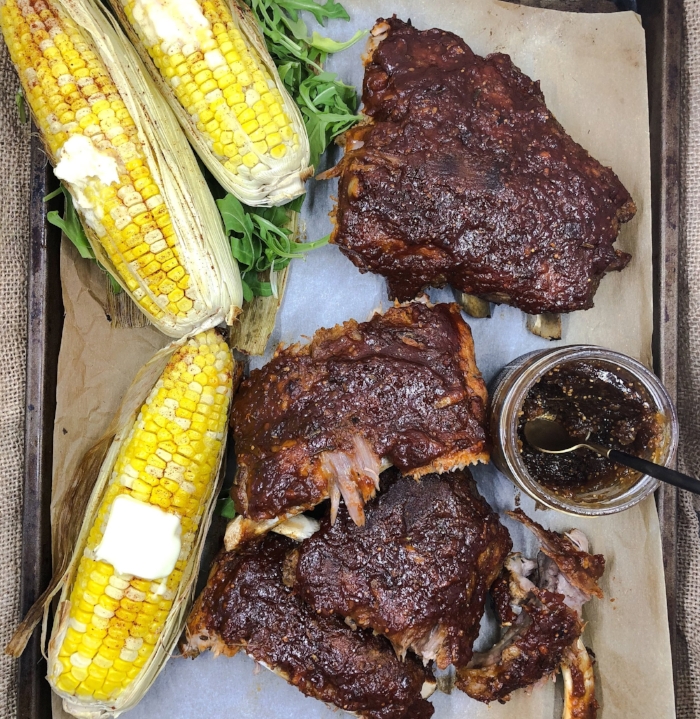 My, oh, my am I so excited to share this recipe with you!!! My husband and I love us some BBQ ribs, and last year we made them a few times in the Instant Pot. Before this we did not attempt ribs at home, but this magic contraption makes it so easy! We didn't have a store-bought barbecue sauce at home so I came up with a version using a delicious fig spread from Divina Specialty, that is literally finger-lickin' good. Even I was surprised by how good it turned out! Like this stuff needs to be bottled! I can't wait to make another batch to use on all. the. things!!!!
You don't have to use this particular brand of fig jam, but I highly suggest it because it's made from Aegean figs and other all-natural ingredients. This post is in no way sponsored by Divina, it is just my personal opinion!
Ingredients
Ribs
2 lbs baby back pork ribs, membrane removed

2 tbsp barbecue style dry rub of choice

1/2 cup apple juice

1/2 cup water
Fig Barbecue Sauce
2 tbsp fig jam (I used Divina Orange and Fig Spread)

3 tbsp tomato paste

2 tsp minced garlic

1 tsp finely chopped rosemary

1 tbsp oil

1 tsp low sodium soy sauce

1 tsp apple cider vinegar

1/2 tsp cayenne pepper

1/2 tsp salt

black pepper, to taste (I used 3-4 grinds)

1/2 cup water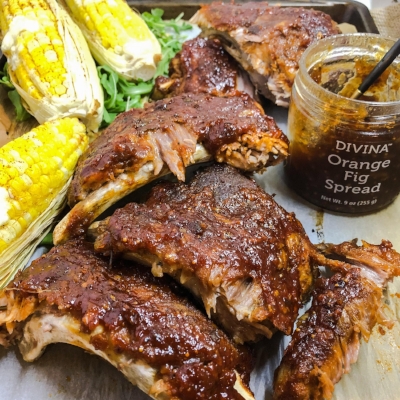 Season the ribs with a dry rub that you like. Here I liberally sprinkled them with kosher salt, ground black pepper, paprika, chili powder, and dried Italian seasoning. Let them sit for at least 2 hours, but overnight is best.
To make the barbecue sauce. Heat 1 tablespoon of oil in a small saucepan. Add minced garlic and rosemary. Let that cook at medium for 30 seconds to 1 minute or just until you can really smell the garlic and rosemary. You don't want the garlic or rosemary to burn because it can leave a bitter taste behind. Add the rest of the ingredients except for the water. Give everything a stir so it is combined well, and simmer for just a few minutes on low heat. The mixture will be a little thick. At this time you can add the water and mix again until everything is incorporated. Adjust seasoning as desired, and set aside.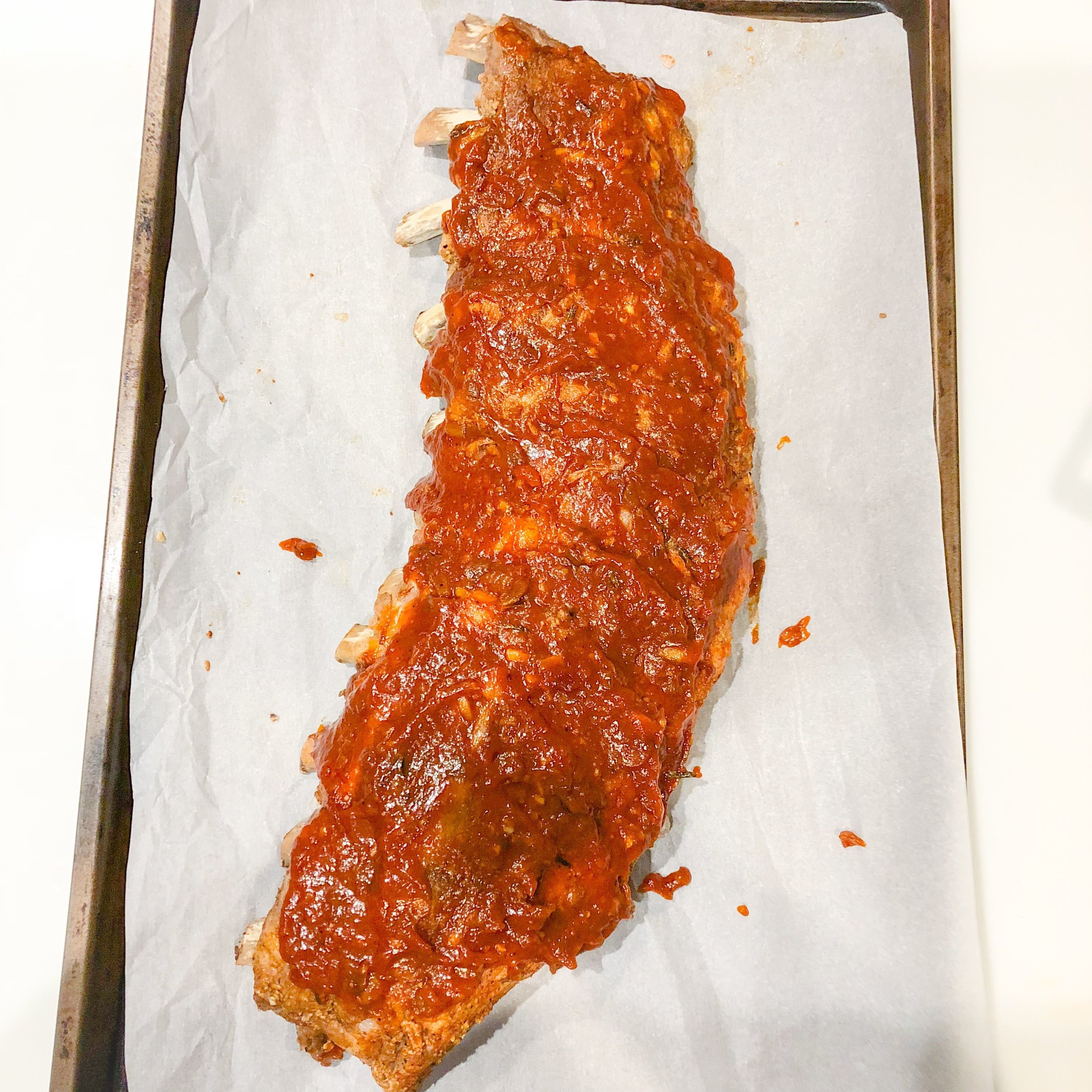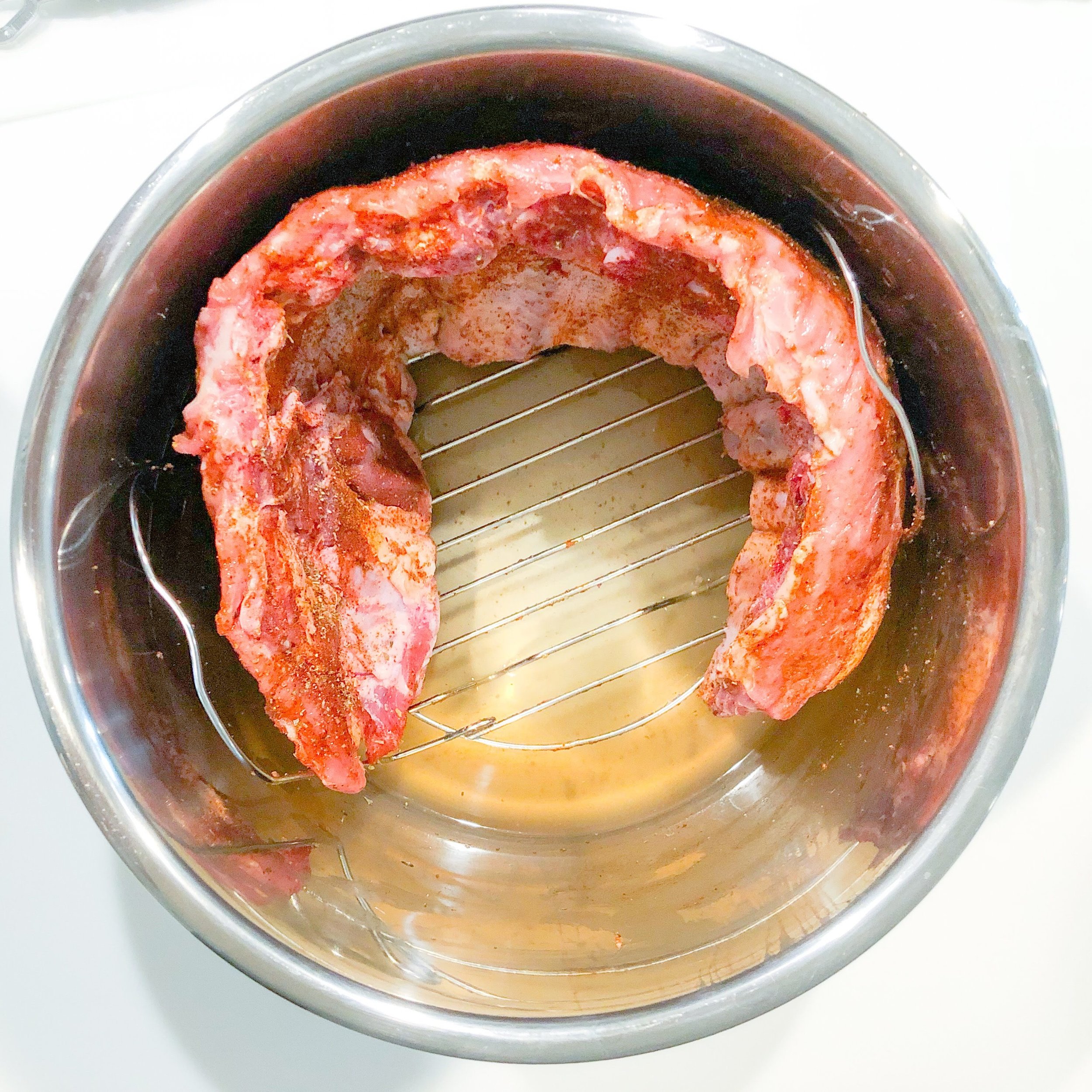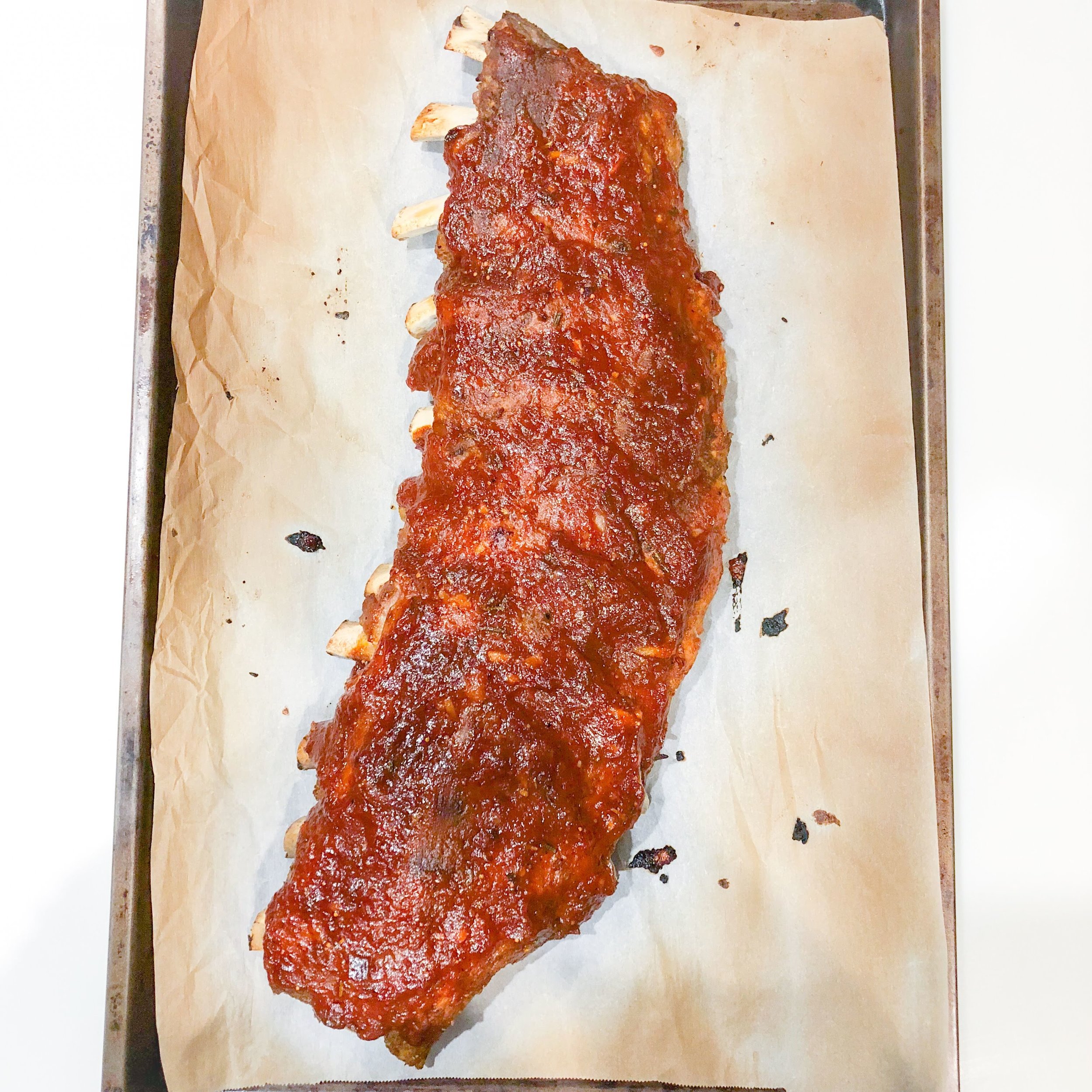 Pour 1/2 cup apple juice, and 1/2 cup of water into the bottom of your Instant Pot liner. Place the trivet in the liner. Then place your ribs in the liner by standing them up and wrapping them around as show above. The meat side should face the liner. Cook the ribs for 25 minutes at High Pressure then NPR (Natural Release) for 15 minutes. When the ribs are cool enough to handle, place them on a baking sheet. Slather them with the fig barbecue sauce and pop them under the broiler for a few minutes until the barbecue sauce is slightly charred and caramelized. These ribs are fall-off-the-bone tender so be careful when transferring!
---
Tips
This recipe makes enough sauce to glaze 2 to 2 1/2 pounds of ribs and then a little more for dipping. I highly suggest doubling the recipe!

If you don't eat pork this sauce would be crazy good with chicken or shrimp!!

The fig jam does not have to have orange, but I do like the citrus notes that this spread brought to the dish.

You can make the sauce while the ribs are cooking in the IP to save time.