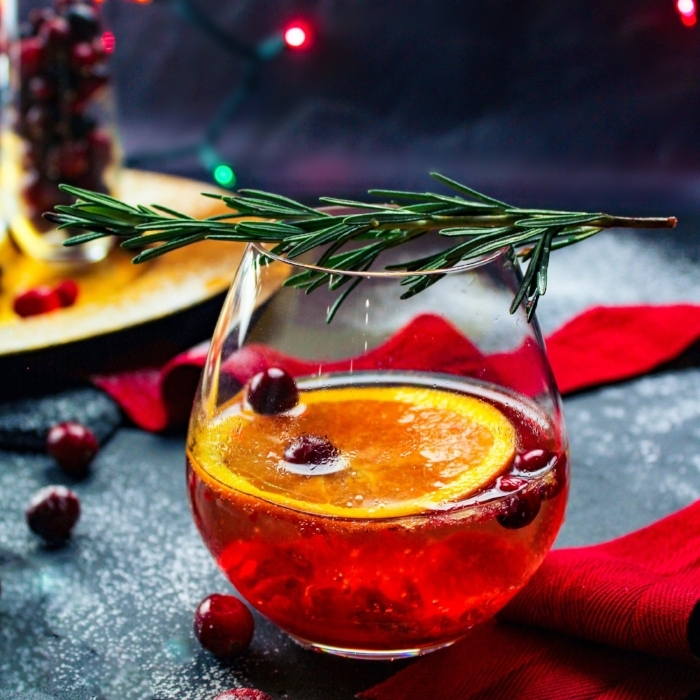 There are so, so, SO many holiday cocktails out there! A lot of them use cranberries and champagne, but I'm going to give you another recipe anyway! My version of a holiday mimosa has a fresh cranberry syrup (it's more of a jam, but either way it's SO good….even my 3 year old was licking it off of a spoon!) that's spiced with crystallized ginger and fresh rosemary. I saw most recipes use the rosemary sprigs just as a pretty garnish, but the rosemary gives an earthy flavor to the jam that truly reminds you of sitting around the dinner table with your family on Thanksgiving. I might be Indian, but growing up my family did Turkey Day BIG!
If you're someone who thinks mimosas are only for breakfast or brunch then you can call this cocktail a sparkling cranberry punch instead! So serve these up for Thanksgiving, Black Friday, Cyber Monday, Christmas Eve, Christmas Day, New Year's Eve, New Year's Day….okay, you get the point 😉
Did you count how many times I used the word "so" in this post?
Ingredients
1 cup fresh cranberries

2 sprigs fresh rosemary

4 chunks of crystallized ginger

1/2 cup of sugar

1 cup water

1 bottle champagne, prosecco, or cava (I used Brut here)

Oranges slices, fresh cranberries, and rosemary to garnish.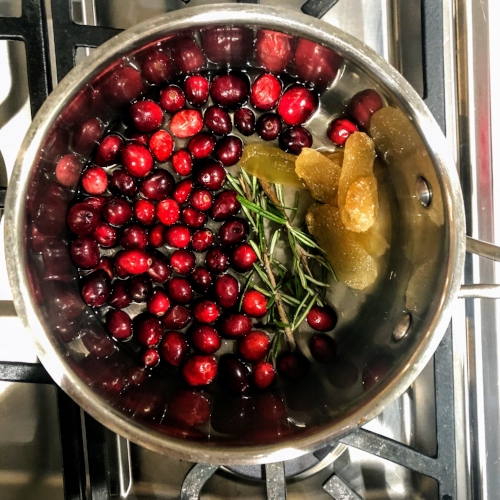 In a medium pot, bring 1 cup water, the sugar, cranberries, rosemary, and ginger to a boil over high heat. Boil 5 minutes or until the cranberries begin to burst, then remove from the heat. Let cool. Remove the rosemary and ginger. If desired, strain out the cranberries. I gently mashed them into a jam-like consistency.
Place 2 teaspoonfuls of cranberry syrup into a champagne flute or wine glass, and top with your choice of bubbly. Add orange slices, cranberries, and rosemary sprigs to garnish.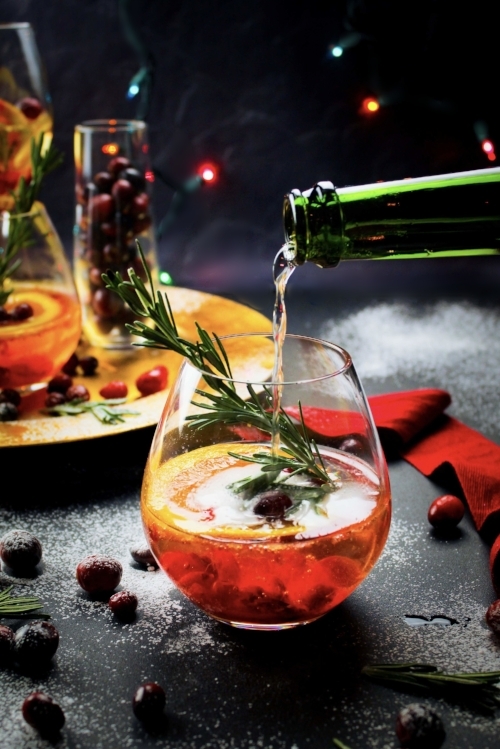 ---
Tips:
Use a pre-made cranberry sauce or jam in place of this syrup if you like, or simmer cranberry juice with fresh rosemary and ginger to get the same flavors without the cranberry pulp.

You can use fresh ginger instead of crystallized ginger

If the cranberry syrup is too tart for your taste add sugar or honey to sweeten