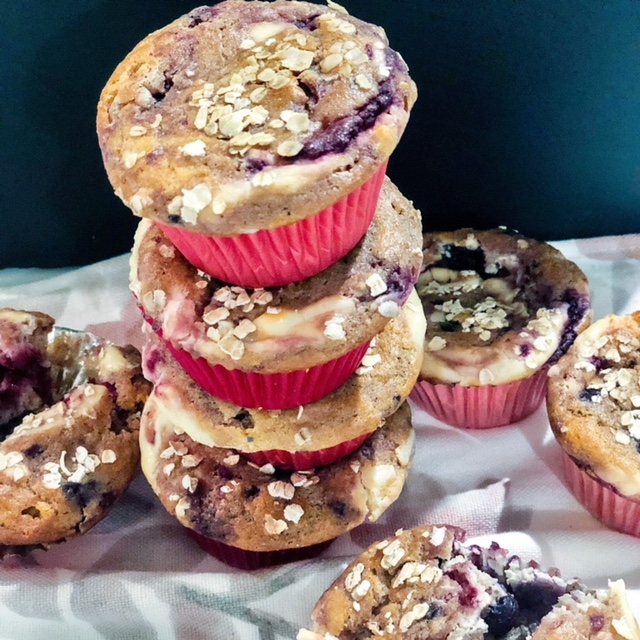 I have to start out by saying that I am not a baker. When I do bake,  I swap ingredients, or cut corners…that just doesn't work. But I seriously LOVE baked goods. Brownies, cookies, cake, bread…you name it and I will eat it! So when I come across a short-cut for making the things I love to eat faster, easier, and healthier I have to share it. This one is KODIAK CAKES Flapjack and Waffle mix. I'm sure you've seen it, and even used it for your Sunday pancake breakfast. But you can totally use the mix to make protein packed muffins for the busy weekday mornings.
I wanted something a  little more decadent so I mixed up these Berry Cheesecake muffins using Neufchatel (a low-fat version of cream cheese), and frozen mixed berries.
Muffin Batter
2 cups + 1-2 tsp Kodiak Cakes Buttermilk Power Flapjack and Waffle mix
2 cups berries (fresh or frozen that have been thawed and drained)
1 ripe banana, mashed
1 egg
1 cup milk
¼ cup honey
½ teaspoon baking powder
¼ cup butter, room temperature
Cream Cheese filling
1 8 oz. package Neufchatel, room temperature
2 tsp lemon juice
1 tbsp honey
Preheat oven to 350 degrees. Combine ingredients for cream cheese filling and set aside. Mix together wet ingredients (milk, egg, honey, banana) then add Kodiak Cakes mix and baking powder. Mix gently. Use 1-2 teaspoons of Kodiak Cakes mix and toss berries until coated, then add to muffin batter.
Line or butter muffin tray, and fill about ½ way. Then add a spoonful of cream cheese mixture to each muffin. Top with a little more muffin batter, and swirl with toothpick.
Bake for 25 minutes.